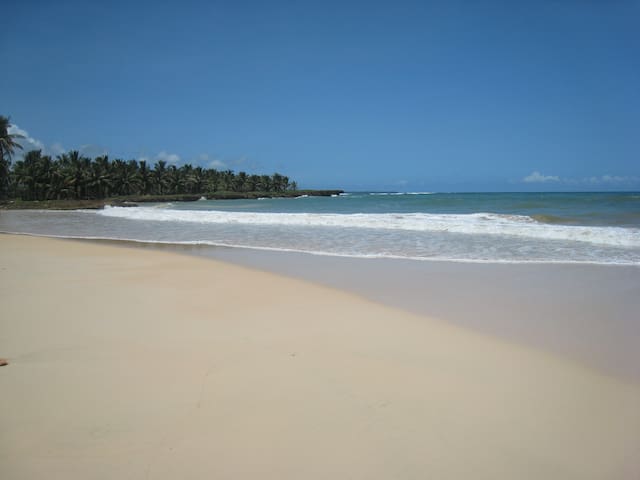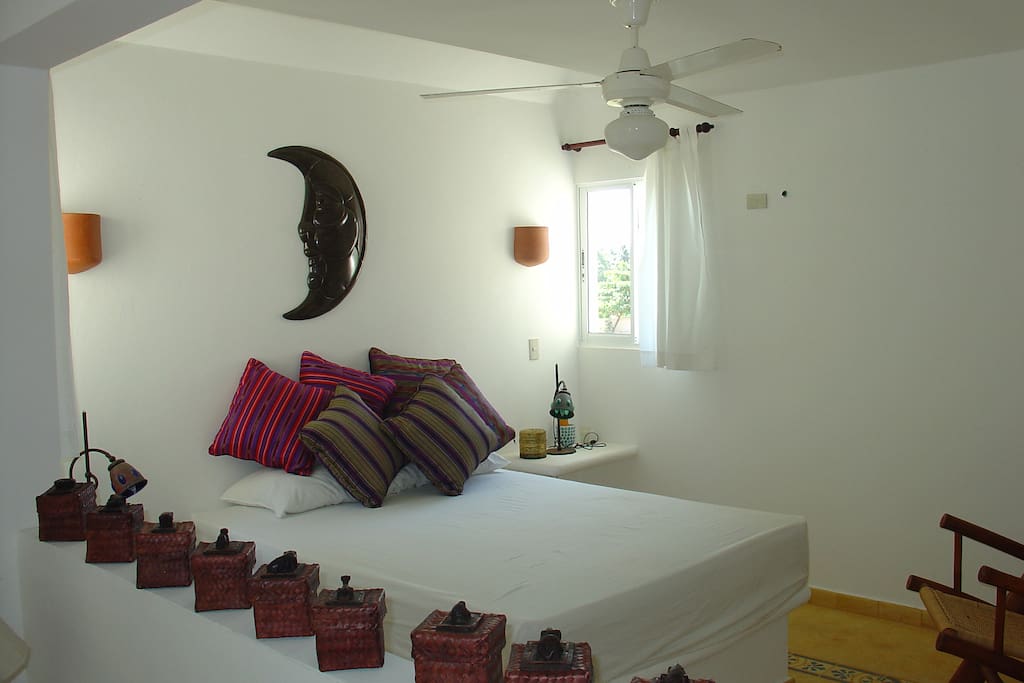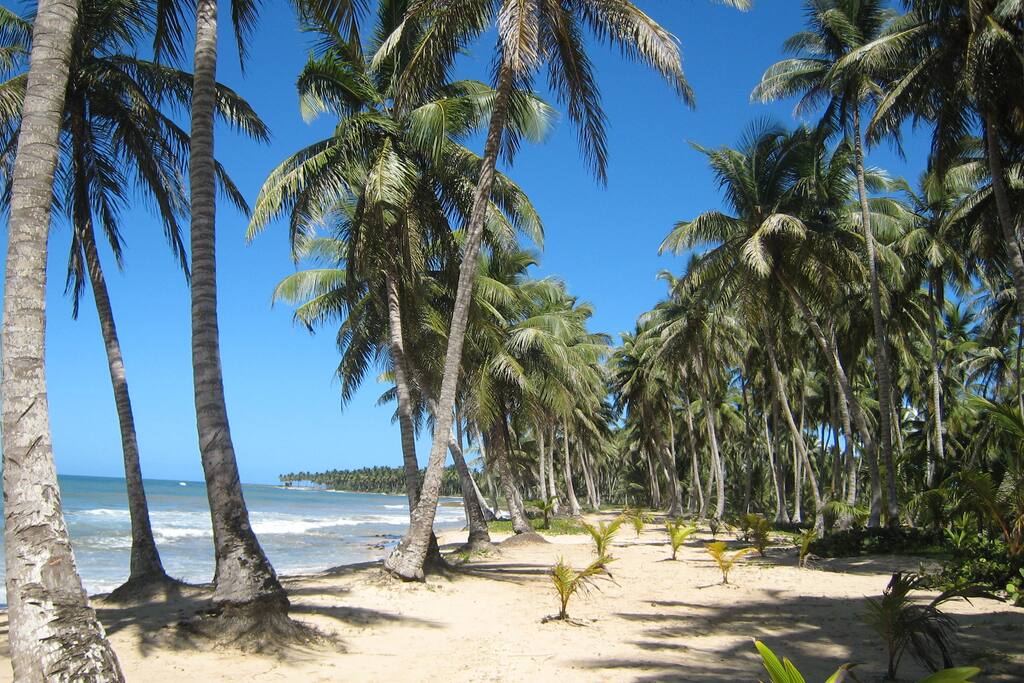 The space
Baoba Beach is a private beachfront community in the Dominican Republic between Samana and Cabrera. A little more than 1,5 hours from Santo Domingo International Airport, about 1 hour from Puerto Plata International Airpor and 35 minutes from El Catey International Airport.
Studio, Duplex apartments and Penthouses are nestled in tropical gardens with coco palm trees and a variety of exotic flowers and plants. Just on the white sand beach.
The studio apartment ( about 60 m2 ) has direct access to the swimming pool and beach, private outdoor space and afully equipped kitchenette. Towels and linens are provided. We offer daily breakfast and maids service to keep your studio clean and tidy. Baoba offers a wide range of amenities like swimming pool, tennis court, horseback riding, relaxing massages with different kinds oil, a restaurant with italian and local dishes, fresh fish and lots of fruits and juices. Frequently we do organize Yoga retreats, Detox and beauty weekends. On request you may hire your private Yoga teacher. Baoba Beach offers the beautiful nature you imagine when thinking of paradise, the project is located in a secluded private bay. The small town of Cabrera is 10 minutes away and offers everything you may need like supermarket, banks, hairdresser. Santiago with its cigar fabrics, cocoa plantations, shops, modern commercial centres, movie theatres and restaurants is about 1 hour away. Cabarete, one of the worlds kite surf centres is to reach in 45 minutes. The 24 holes Robert Trent Jones Golf Course of Playa Grande ( located on a rock over the Ocean ) is a short drive of 15 minutes away.There are several unspoilt white sand beaches to discover close by as is the lagoon Dudu, a natural sweet water hole with mangroves around. You may jump in from the 10 meter high rock. We do recommend to rent a car or motorcycle unless you want to deconnect completely and just feel the soothing sounds of the Caribbean.
Check-in time is 3PM - 8PM
You must also acknowledge
Dog(s) live in the house
The stay at Baoba Beach was well beyond our expectations. We originally booked the studio because of the very low nightly rate - knowing we were not going to be spending much time in the room (we traveled for a destination wedding, which was spent primarily at a villa down the road). When we arrived we were pleasantly surprised by the amazing grounds, which are very well kept, and hospitality of the entire staff. The grounds are very quite, secure and right on a beautiful beach. I would highly recommend to anyone looking to stay in the area!
---
Gabriele was great about corresponding. The studio itself is really lovely, with a bathroom and many nice touches, including fresh flowers. Rosa, the manager of the property, met us when we arrived and was extremely helpful in every way. Outside the building is a very nice small pool, which we enjoyed in addition to the beach, which is only a few minutes walk from the building. The breakfast was also satisfying and generous, with fresh papaya juice and more.. On the other hand, the manicured grounds look very artificial. I am used to more natural settings so this bothered me. The really bad part, however, was the tall spotlights which shone all night and lit up the grounds like a baseball field or a high security prison. I kept hoping they'd be shut off so I could sleep but they never were, and I was unable to sleep in such a well-lit room. When I first arrived, I wished I could stay longer, because the apartment and furniture are so nice...But after the brightly lit night, I changed my mind. I do not know, however, if these spotlights are on every night..
Dear Elish, one reason for " "manicured grass " which basically is the regular local grass cut - is that long grass attracts mosquitoes. We would have to spray and we do try to avoid that. Most of our guests appreciate a well taken care off garden and park. I am sorry you don't, also because this is a lot of work. As for the lights: I was never aware that maybe one lamp did shine in one of the apartments. We never received any complaint and as guests like to walk to the beach also in the evenings they are happy with the gardening lights. I do understand that guests have different tastes and wonder why you havnt said anything. We have staff 24 hours and it would have been easy for the doorman to put the light off. All best, Gabriele
---
Gorgeous secluded beach and clean, nicely renovated accommodations. Dinner was delicious. A bit bizarre to be the only guests, though, and the guard dog went nuts barking for hours at 3am- slightly frightening when in a questionable part of DR. The drive in through the neighborhood is a little intimidating and leaves guests wondering about the security of the place especially in the middle of the night. The saving grace was a peaceful sunrise swim.
Baoba Beach consist of different kinds of apartments right on the beach in a secluded bay. No tourists, no all-inclusive, all nature, sand, palm trees, the sea and the amenities we offer like a pool, tennis court, common spaces to dine among others. There is a very small village close by ( Cabrera is about 15 minutes away ) where locals live. Dominicans are peaceful, happy people and we NEVER had to face a security or other problem. My children go horseback riding in the village, buy a Coke in the local grocery store and have friends in the little wooden flats where the locals live ( a few minutes away from the gated community ). This is part of what some guests call " paradise ". Others may not appreciate the beauty of this country, the nature with just palm trees, tropical flowers and sand beach with its calmness so much but rather look for busy centres. I did have some communication problems with Lauren as she changed the booking dates a couple of times without informing me before. Maybe she ist used to a different kind of places and handlings and Baoba didn't suit her. Clearly so this is NOT a questionable neighborhood. As for the doggy, yes Coco barked that one night, I admit. She is a puppy and my son who she is very attached to had just left, I guess she was sad. Also, she was locked as I didn't want to bother guests with a dog on the land and being a baby she wasn't used to that. Sorry about that.
---
Baoba Beach is stunning. Once we arrived, we really couldn't believe our eyes. The staff was very caring and considerate and dealt fairly well with our poor Spanglish. The property is beautifully designed, and very well kept. We were surprised to find out that we were the only ones there for the whole week- our own paradise. Leading up to our arrival, Gabriele was very responsive and answered all of our questions. Fortunately, tropical storm Chantal didn't upset our travel plans. This place is great for decompressing; a little off the beaten track, but with access to other beautiful beach towns. We were planning on using WiFi, but had some problems connecting, mostly I think because the infrastructure in the DR is still undeveloped. This place is a great, hidden treasure. Stefan The staff were so thoughtful. The beach itself was stunning and during our stay, they made sure there were always two beach chairs under a gorgeous palm tree by the ocean for us. They did their best to accommodate all of our needs and even prepared elegant place settings for dinner each evening. The horses that were casually roaming around the property only added to the feeling of being in paradise so I would definitely recommend staying there. Chernise
---
Baoba Beach is beautiful! We very much enjoyed the privacy and excellent hospitality. Staying here was part of our honeymoon DR experience and as we did not rent a car, we had dinner and breakfast at Boaba Beach all three days. Make sure you communicate clearly which nights you will be wanting dinner. This is definitely a place to unplug and relax. We even had the grand experience of hearing the wild horses talking in the night through the ocean breeze. It rained 2 of our 3 days there and we played cards, tennis, pool. I recommend bringing some snacks or having a car in order to go out into Cabrera as Baoba Beach is at the end of a little dirt road among the locals. There is a mini mart to walk to if you need Rum or juice or chips. My only regret about our visit was that we had no idea about the local holiday week leading up to Easter Sunday. Our little paradise was infultrated by locals from the South wanting to party it up loudly. Next time we will not choose the last week of March. Sincerely, Allison and JD
---
Happy when my guests are happy!
Honesty, responsability and communication !
Languages:
Deutsch, English, Español, Français, Italiano
Response rate:
100%
Response time:
within a day
Explore other options in and around Cabrera
More places to stay in Cabrera: