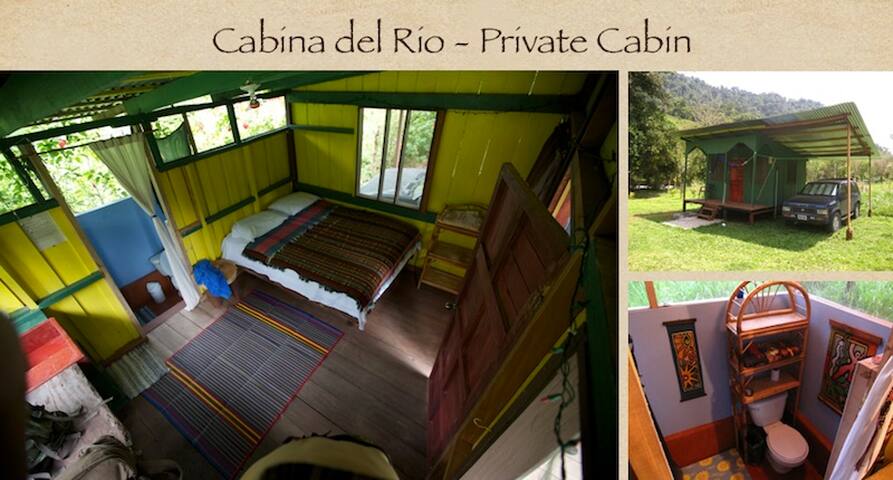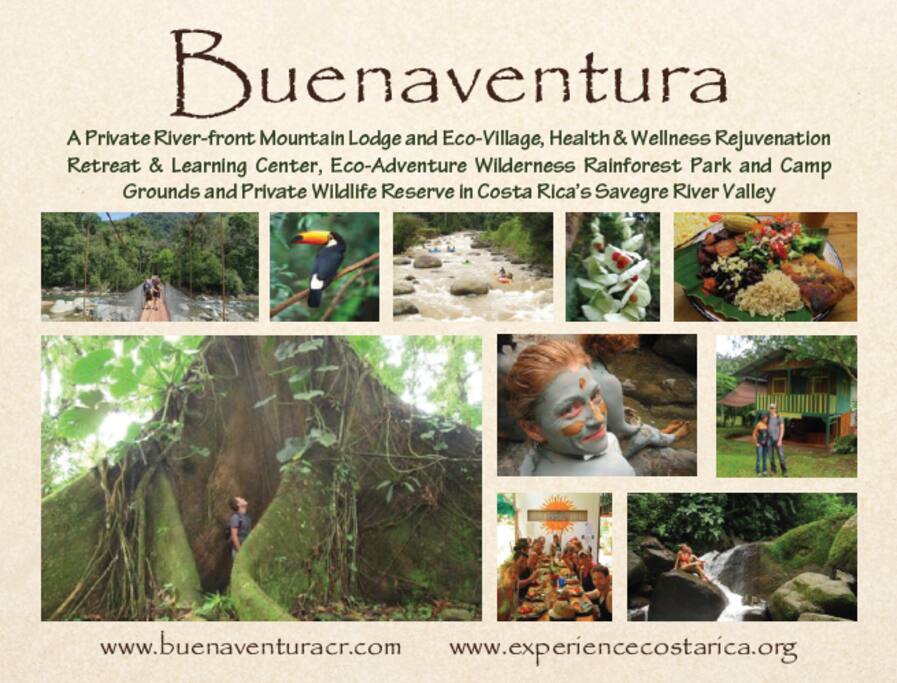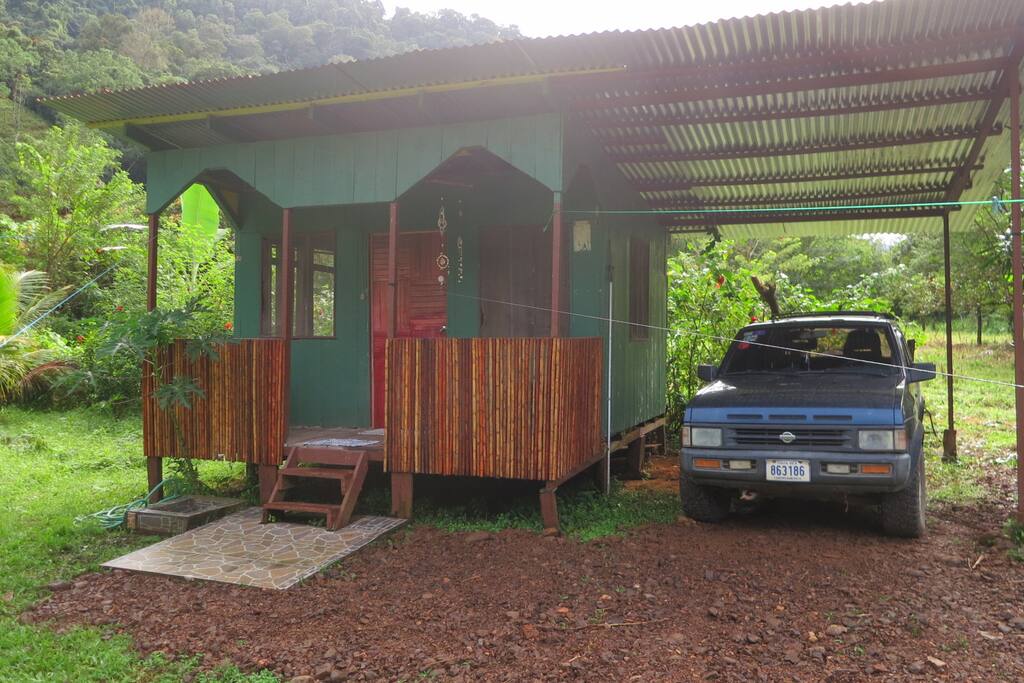 The space
Are you looking for a private, serene and rejuvenating place in Costa Rica to Retreat and Experience Costa Rica's rural country living right up against pristine rainforest?
Buenaventura welcomes you to come stay at Cabina del Rio in Buenaventura's Pueblo Nuevo Eco-Village!
We Invite You to Come Live and Experience:
* Costa Rica's Warm Summer Days & Clear Sky Nights (every Nov - May)
* Tranquility, Serenity & Rejuvenation
* Diverse Flora & Fauna surrounded in Lush Tropical Paradise
* Fresh Mountain Spring Water
* Nourishing Home Grown Organic Meals & Foods
* Pure Cleansing Oxygen
* 100% Nature and Rainforests
* Costa Rica Country Living
* Organic Farming & Permaculture Gardening
* Eco-Adventures and Outdoor Fitness
* Spanish Language & Tico Culture
* Yoga and Meditation in True Serenity
* Re-freshing Waterfalls, Swimming Holes, Natural Waterslides
ABOUT CABINA DEL RIO:
Cabina del Rio is located in Buenaventura's "Pueblo Nuevo Eco-Village", in a private and serene valley, between dense rainforest mountains in the valley of River Division in Costa Rica and directly across the river from Sacred Mountain and Buenaventura Eco-Adventure Lodge & Rainforest Rejuvenation Retreat Center, 160+ acres of mountainous rainforest with trails, waterfalls, and swimming holes.
The bungalow is a 300 sq ft 1 room wooden cabin with wood walls/floors, tin roof, kitchenette, front porch and views overlooking the river (Rio Division).
The bungalow has been recently painted and screened, with a new cement landing and foot-wash basin. Cabina del Rio is furnished with a sink, table, chairs, fan, and hammock, small fridge and private bathroom/hot shower. Cabin can be outfitted with 1 Queen bed or 2 Single Beds. Includes Free Wi-Fi!
This Vacation Rental is great for individuals, couples, honeymooners, researchers (biologists/anthropologists), artists, authors, volunteers, and folks on sabbatical. It is also perfect for vacationers wanting to really soak in the rural farming culture and rainforest and looking to experience the Costa Rican rural countryside away from tourists. This is a 100% no artificial ingredients, back-to-nature type of place owned by a Central American-U.S. family that runs Buenaventura Rainforest Retreat Center and Tres Semillas Mountain Restaurant.
This bungalow is located on the southern border of the Los Santos Forest Reserve - 150,000 acres of premontane, montane and cloud forest and steps away from the edge of the Division River, which offers wonderful swimming. There is a beautiful old growth tree forest, gardens and organic fruit trees on the property and within the Eco-Village. Rental includes access to the riverside area of the Buenaventura Eco-Park which has a great little riverside picnic area where you can hang out in a hammock.
This destination is especially great for individuals or families with children since there are children to play with on the nearby farms and ample space to run around. There's even a small soccer field nearby and there are waterfalls less than 10 min. walk up nearby creeks within Buenaventura's 160 acre Wilderness Adventure Tent Camp Park & Wildlife Private Reserve.
Location: 36 km to the north-west of San Isidro de El General, and 17 km inland from the Pacific Ocean - between the two small farming communities of El Llano and El Brujo de Río Nuevo.
Driving Times:
1 hour from Manuel Antonio/Quepos
1 hour from Dominical
1 hour 15 minutes from San Isidro (Perez Zeledon)
4 hours from San Jose airport
--- * ---
RENTAL INFORMATION:
Cabina del Rio is available for nightly, weekly or monthly rentals
(Maximum of 3 consecutive months at a time)
2014 Dates Available as Rental:
Now through December 31st, 2014
--- * ---
2014 RENTAL RATES:
Nightly Rental Rates & Terms:
House Rental: $75.00 p/night (Single or Double Occupancy)
(2-6 nights) (Max 2 Adults)
Kids 3-12 years old: Add $25.00 p/night p/child
(Max 2 children) (Kids under 3 Stay for Free)
--- * ---
Weekly Rental Rates & Terms:
House Rental: $500.00 p/week (Single or Double Occupancy)
(Max 2 adults)
Kids 3-12 years old: Add $125.00 p/week p/child
(Max 2 children) (Kids under 3 Stay for Free)
--- * ---
Monthly Rental Rates & Terms:
House Rental: $800.00 p/month (Single or Double Occupancy)
(Max 2 Adults)
Kids 3-12 years old: Add $175.00 p/month p/child
(Max 2 children) (Kids under 3 Stay for Free)
Rental Includes:
* House-keeping every 3 days (clean your room, kitchen, bathroom, clean sheets/towels)
* All Utilities (Garbage disposal and electricity/power)
* Free WiFi
* Hot Shower and Bathtub
* Kitchenette (Mini Fridge, Hot Plate, Dishes, etc.)
* Daily Entrance Pass to Buenaventura's Wilderness Adventure Tent Camp Park & Wildlife Private Reserve (Park and Reserve open 8 am - 4 pm)
* Puenta Alma Bridge Toll
* Lots of Free Activities!
FOOD & MEALS:
Local groceries or meals can be purchased at Three Seeds Eco-Education Rainforest Camp and Mountain Restaurant or you may also purchase groceries in the El Llano Pulperia/Store (small town 3 miles up river) or El Brujo (small town 1 mile down river) or make a weekly trip to San Isidro to stock up on food at one of the major supermarkets (1 - 1.5 hours away)
Three Seeds Mountain Restaurant is located directly across the river next to the entrance to Buenaventura's 160 acre Eco-Adventure Wilderness Park.
Three Seeds serves A La Carte or "all you can eat" buffet style Home Grown and Home Cooked Organic Meals and Fresh Fruit Drinks. Plato del Dia (Plate of the Day) is $10 and a Buffet-style All You Can Eat Meal is $15.
Local Organic Groceries available at Three Seeds include:
* Fresh Milk, Cream, & Cheese (made from Buenaventura's Grass-fed Free-Range Organic Dairy Cattle Farm)
* Eggs
* Fruits (Bananas, Oranges, Mangos, Avocados, Lemons, etc.)
* Vegetables & Grains (Beans, Corn, Yucca, Yampi, Squash, Tomatoes, Cucumbers, etc.)
* Herbs & Greens (Cilantro, Basil, Lettuces, Rosemary, Mint, etc.)
* Juices (Fresh Fruit Juices made from Guanabana, Cas, Tamarindo, Oranges, etc.)
* Natural Sugar (Tapa Dulce made from Sugar Cane)
* Pizzas (ready to eat)
WORKSHOPS & COOKING CLASSES:
Workshops and Classes are available at Three Seeds Eco-Education Rainforest Camp. Below are a list of the workshops and classes offered at Three Seeds Eco-Education Rainforest Camp:
Workshops:
Cow Milking & Cheese Making Workshop
Chocolate Making Workshop
Sugar Cane Juicing Workshop
Organic Gardening Workshop
Cooking Classes:
Fresh Corn or Meat Tamales
Fresh Corn, Bean or Chicken Empanadas
Fresh Corn Chorriadas
Salvadorean Pupusas
Home-made Whole Wheat Flour Pizzas
Fresh Corn Tamal Asado
TRANSPORTATION INFORMATION (GETTING THERE):
Transportation to/from Pueblo Nuevo Eco-Village from San Isidro (1 - 1.5 hours away) or from Quepos/Manuel Antonio ranges from $60 - $100 each way, depending on whether you take Buenaventura Express Guest & Cargo taxi service ($60 each way) or hire/call a private taxi ($80-100 each way depending on taxi driver).
If you have a car or plan on renting a car during your stay, you can park your car in the parking lot next to the house.
Please note that there is no public transportation to our area, so if you don't have your own vehicle and you need to run errands in San Isidro, you will need to factor and budget for additional transportation costs. Ride share is available between $5-$10 each way (depending on the vehicle/driver).
We offer Mountain Bike rentals ($5 per day) to bike to the El Llano or El Brujo general stores (pulperias) or you can rent a horse for $25 per day.
--- * ---
OUR PRIVATE AND REMOTE LOCATION:
Pueblo Nuevo Eco-Village is located in a serene and private valley, and due to our remote location, there is limited internet and phone service available in Pueblo Nuevo Eco-Village. 3G cell phone service through ICE (Local Telecom Company) is now available in our area and internet can be accessed on 3G enabled cell phones. Buenaventura recently installed a cell/internet tower at the top of the mountain to provide internet service to the area. All rentals come with free Internet WiFi service. For those renting over longer periods, renters and visitors can purchase calling cards from ICE and use their 3G cell phones to make calls and check e-mail.
--- * ---
LEAVE NO TRACE POLICY:
Pueblo Nuevo Eco-Village has a Leave No Trace policy, so we please ask that whatever you bring in, you please take out with you (clothes, personal items, plastics, garbage, etc.). We do offer limited garbage disposal (composting and recycling) as part of the rental agreement, however, we require that you pack out anything that isn't going to be useful or reused at Pueblo Nuevo Eco-Village.
-- * --
FREQUENTLY ASKED QUESTIONS:
How far are you from the ocean?
We are located 13.5 miles from the Pacific Ocean (between Quepos/Manuel Antonio and Dominical) and it takes between 45 minutes to 1 hour to drive from Pueblo Nuevo Eco-Village to Quepos/Manuel Antonio or Dominical, on a back-country dirt road through the valley of Savegre (a beautiful scenic drive), followed by 10-15 miles on the paved Coastal Highway to either Manuel Antonio or Dominical.
How far are you from a major town and the capital?
We are 20 miles northwest of San Isidro de El General, one of Costa Rica's largest and fastest growing cities in all of Central America (population 50k). San Isidro (also known as "Perez") is located 73 miles south of San Jose (Costa Rica's capital), along the Panamerican Highway. By car from San Jose, a non-stop drive to Pueblo Nuevo Eco-Village takes approximately 4.5 - 5 hours, and from San Isidro it takes approximately 1 - 1.5 hours (depending on road conditions).
Are there bugs and mosquitos?
Yes, we are living on the edge of the jungle in one of the most biodiverse regions in the world! So we have our share of insects and little critters, most are harmless, but we do have poisonous ones. If you can't handle seeing a bug, snake or spider, this may not be the right place and experience for you. In terms of mosquitos, fortunately due to our elevation and climate at 1,000 feet above sea level, we have a minimal amount of mosquitos (especially in the cleared areas and houses). We can provide mosquito nets over your beds if requested.
Are there dangerous animals?
Being that we are on the edge of the Los Santos Forest Reserve, with 150,000 acres of protected primary and secondary rainforest, the area is home to jaguars, ocelots, jagarundis, wild boars, and several poisonous snakes. It is incredibly rare to see a jaguar or wild boar, so snakes are generally the only thing you need to watch out for, and they usually come out at night.
Is there phone and internet?
Yes, we offer FREE Wi-Fi in Pueblo Nuevo Eco-Village and 3G cell phones work in the valley. You can buy Calling Cards/Minutes from ICE at the airport. They provide you with a SIM card that you can place in your phone (your 3G phone must be unlocked in order for the ICE cards to work). You can also use your US carrier SIM card, however, the roaming charges are outrageously expensive. We suggest that if you need to place Long Distance calls, you use (SENSITIVE CONTENTS HIDDEN) on your laptop (if you bring your computer).
How far is the nearest hospital?
The closest major hospitals are either in Quepos or San Isidro 1 - 1.5 hours away (depending on road conditions). In the event of a serious medical emergency that required hospital care, we would call an ambulance to begin driving out towards Buenaventura and take the person in our vehicle to meet the ambulance on the road. In the event of a critical life-threatening emergency, we would call in a MediVac helicopter located in San Jose and fly the person to either the San Isidro or Quepos hospital or the new hospital down near Uvita or in San Jose. We don't expect to ever have to take one of our guests to a hospital, but due to our remote location and adventurous surroundings, we have to let our guests know that medical attention can take up to 1 to 1.5 hours at the earliest.
What should I bring?
First and foremost, bring your adventurous spirit and an openness and willingness to immerse yourself into Pristine Nature and Costa Rica's simple country-living and culture!! Buenaventura is a private property and retreat center and unlike a hotel or resort, the experience we offer our guests is Real Country-style living with the comforts of home.
Headlamp Flashlight (A MUST! - We suggest Petzl Headlamps)
Light Weight clothing (Short and Long-Sleeve Shorts, T-Shirts, Blouses, Pants, etc.)
Fleece or Sweater (It can get cool in the late evenings and early mornings)
Rain Shell (Light-weight)
At least one long sleeve shirt and long pants, and clothing you don't mind getting dirty/muddy in the wet season
Close-toed Tennis Shoes or Hiking Boots (you don't mind getting dirty and/or muddy)
Tevas/Water Shoes
Flip Flops (for inside the houses)
Bathing suit
Camera
Sun hat, Sun Glasses and Sun Screen
Organic Insect Repellent (you can buy it at Rainbow or Whole Foods)
Good Book to read
Zip Lock bags (Small and Large - to keep things drive if it rains)
Laptop (We offer Wi-Fi if you need to check email or connect to the Internet)
Yoga Mat and Props (if you are coming on a Yoga Retreat)
A flag or shot glass from your Native Country (to add to our Flag and Shot Glass Collection)
We look forward to hosting you here at Buenaventura! Pura vida! - Harlow (your host)
---
---
Always communicate through Airbnb
To protect your payment, never transfer money or communicate outside of the Airbnb website or app.
Learn more
---
No Smoking inside
No Shoes inside
No Pets
No Burning Plastics or Dumping Toxic materials
3 Night Minimum Stay
---
---
what a unique Costa Rican experience. a great way to get away from the tourist areas and explore the real Costa Rican jungle. Tamara provided us amazing local dishes and Harlow let us sample some of his locally made chichas drinks! very hospitable and the accommodations were just perfect for my fiance and I. Having the river right out front was amazing. As an avid fly fisherman i brought my flyrod and caught many fish. The road to Harlow's place was an adventure in itself, passing by many local villages and seeing great views of the valley. Although a 4x4 is probably a good idea, the drive wasn't that bad at all. Overall best part of our trip was Buenaventure. We recommend this place for anyone with a sense of adventure and looking to experience something other than just the beach. We'll be coming back one day!
---
Harlow Salvador Newton
Owner/host of Buenaventura - Eco-Adventure Rainforest Retreat & Cacao and Superfood Forests in Costa Rica and owner of Tico Guide Travel, a professional Costa Rica and Latin America travel logistics specialist, trip planner, real estate facilitator and in-country tour guide, providing his clients with personal knowledge, insight and local recommendations to make their trips to Latin America a truly enjoyable and memorable experience.

As your host at Buenaventura, Harlow provides turn-key simple living experiences, gatherings and retreats for individuals, couples, honeymooners, families and groups and to nourish them in nature through clean live water, fresh pure oxygen, home-grown & cooked organic meals, and salt-to-the-earth grounding experiences...!

Harlow also owns VIDA BLUE - Natural Blue Clay product line. Natural Blue Clay, also known as "Healing Clay", has been used by Indigenous cultures as a natural medicine, remedy and cure for various diseases, infections, and other bodily ailments.

Languages:
English, Español
Explore other options in and around Brujo
More places to stay in Brujo: