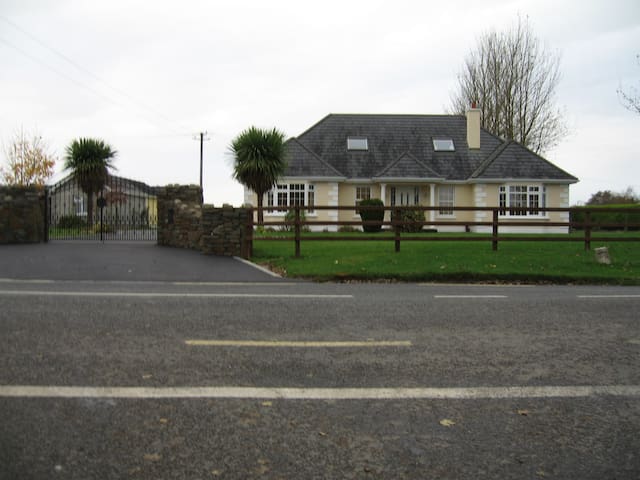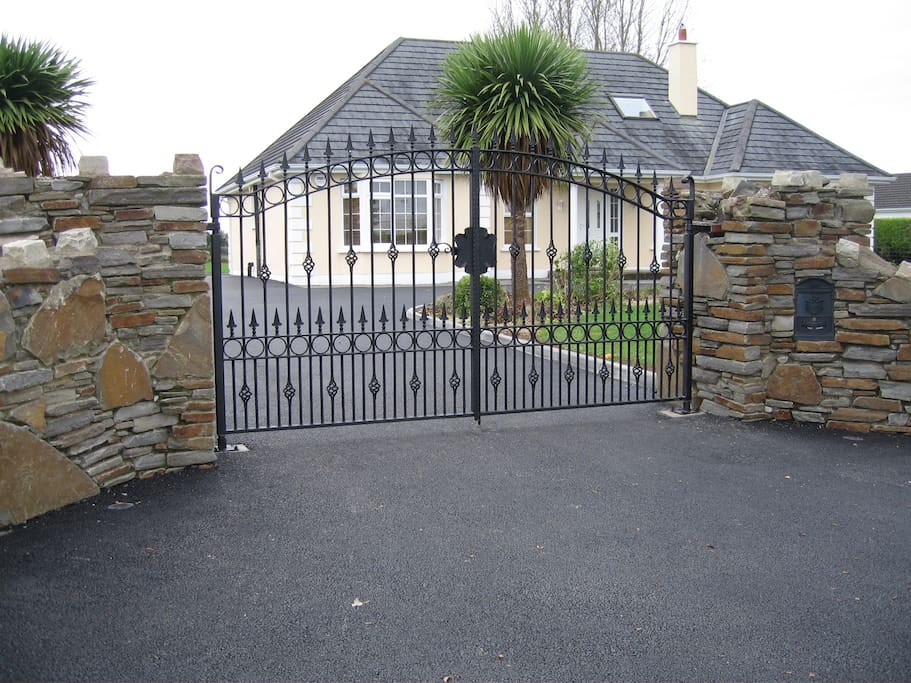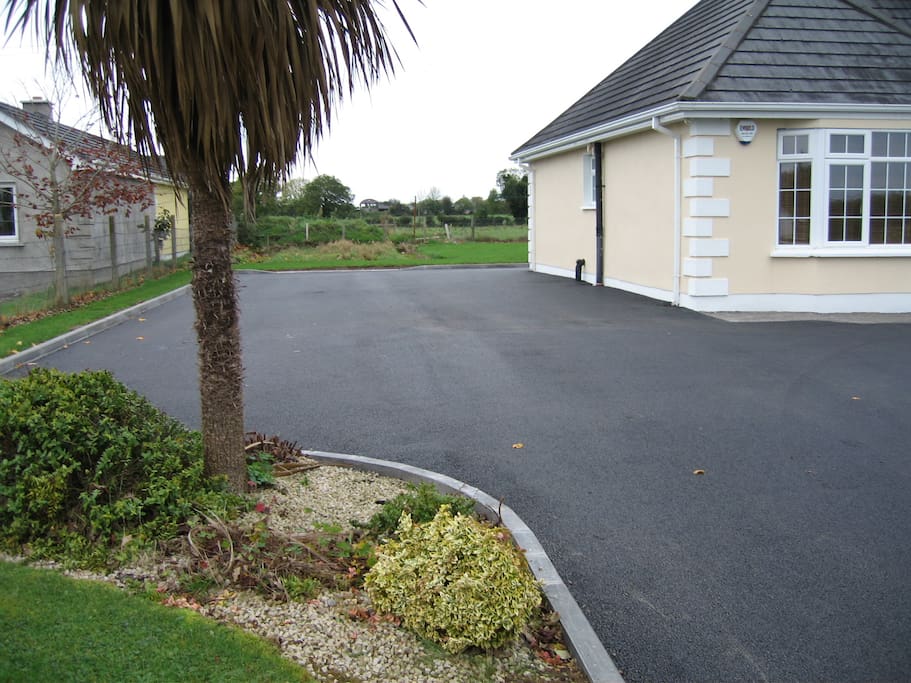 Spacious and luxurious 4 bed roomed dormer bungalow in Kildare in the heart of the Irish Countryside.
Enjoy our beautiful home and rural Irish living in peace and tranquility in a friendly neighborhood. Pubs, Restaurants all close by.
Always communicate through Airbnb
To protect your payment, never transfer money or communicate outside of the Airbnb website or app.
David's home has great potential.  It is a modern home in a nice neighborhood, directly across from the Carbury GAA, which has a bar open to the public.  There is great parking at the front and side of the house.  The WiFi is excellent.  David's parents live next door and are responsible for the property. That being said, the house is not set up to be a proper AirBnB.  There are way to many personal items through out the house, including family photos, clothing, personal papers, children's toys, musical instruments, computers, etc.  It's not just a few (URL HIDDEN) is like the family was at home and was suddenly abducted by aliens in a spaceship!  All indications are that David has not been to the house for several years.  The calendar in the kitchen is several years out of date and one of the kitchen cabinets is full of outdated medication...must be fifty or sixty items. In addition, both the upper and lower floors are covered in poorly installed laminate flooring.  If you walk from the bedroom upstairs to the bathroom in the middle of the night you will disturb the perple downstairs with the creaking of the boards.  The downstairs flooring is just as bad.  There is nowhere to walk without creaking. The home is listed as having two full bathrooms.  The upstairs bathroom has only a toilet and a sink.  There is no shower and the garden tub is "out of order" according to David's mother.  By the look of it, it has been that way for some time.  Also, the upstairs bathroom has a pile of toys in one corner and a pile of personal items in boxes and black plastic garbage bags in another.  It's not just one or two items...these are large piles.  I have photos! Many of the light fixtures are not fully functional.  For instance the upstairs bedroom has a nice fixture for four bulbs. Only two have bulbs in them, and there are large cobwebs hanging from the fixture.  One of the bedside table lamps does not work. Downstairs, the kitchen has a nice fixture for four bulbs.  Only one lights up.  Out front there are two porch lights, neither of which works. One of the downstairs bedrooms appears to be originally occupied by a pre-teen girl.  There are dresser drawers filled with clothing and there are several, maybe ten, pictures torn from magazines and taped to the wall with masking tape.
We are frustrated by paul's ridiculous review as this is the first negative review we have ever received and is not reflective of the home we lease through airbnb. This is proven in the many public reviews our guests have placed on the website. It's true I am abroad however my parents host the property. Paul seems to think we have not been there in years even though we spent the whole summer there departing our home just before the schools reopened as our kids returned to their international school a few weeks back in early Sept 2017. I also now understand following a discussion with my parents that Paul and his group left the house in a bad state. We had to organize a major clean of the property as soon as they departed. Both kitchens and bathrooms had to be cleaned by a professional cleaning company to bring our home back to the standard we would be comfortable with to live in or rent out. We believe in the highest standards of cleanliness and comfort and these guys did nothing but abuse our home from the moment they arrived. For the first time ever a guest left the keys on the kitchen counter and left by the front door locking as they closed. We had to arrange for a locksmith to open the door following their departure. We are long standing airbnb hosts and have received 100's of positive reviews without ever receiving a negative review. We suddenly host Pauls group and everything takes a turn for the worst. Paul and his friends are not good guests and I would warn against hosting them. We have many families stay at our home who love the fact that we provide lots of toys for the kids to play with. Many guests have commented that its like staying in a funpark as their kids love it. We are family orientated and made a mistake allowing these two to stay in our home. They complained to my mum about their previous host and accommodation leading us to believe its their hobby to travel around complaining about everything. They wish for the Ritz but don't understand the airbnb concept. We love hosting the great guests that return to our home time and time again however the likes of these guys are not welcome and we will never allow them to darken our door again!!! We have continuously upgraded our beautiful home over the last years installing a modern kitchen and bathroom and are currently installing a full blown TV and games room. Finally my wife read Pauls review and wished to point out that we have not been abducted by aliens rather we are here for guests providing everything they require and listening to their needs and suggestions. My wife jane added that her view which I share is that Paul and his mate is a complete narrow minded imbeciles that makes comments because they like to be heard and without any understanding of the facts. Our advice following 4 great years of airbnb hosting is do not allow these people in your home
---
David's home is exactly what we needed after traveling to Ireland from Los Angeles. His parents live next door and were there to greet us and show us around the house. There was a local market and take out nearby. Our 5 year old loved her room and there were plenty of toys to play with. We stayed 4 days and wish we would have stayed longer.
---
We had five people in our group and it fit all of us comfortably. This house is not too far from Dublin and we were able to drive to the city without any difficulty. There are several small towns only a short drive from the house as well, and the people in derrinturn are very friendly. I did not meet David as he was out of town, but his mother greeted us and was very kind and more than willing to help us with directions around the area. That being said, the traveler should be aware that this is a family home filed with pictures and memorabilia. There was even a used bar of soap left in the shower, many bottles of used shower items on the floor by the sink and left over food items in the kitchen. It defently felt like you were staying in someone else's home, and in some ways I felt like I was invading a little bit. It's also worth mentioning that the floorboards creaked quite audibly everywhere except perhaps the kitchen. Overall, we did enjoy our time here and we were very comfortable. I got a sense of the host and his family from the home and enjoyed the local community.
Hi Katie many thanks for your feedback. We are living abroad so I can only assume the soap and empty shower gels were left by the previous guests and missed by the cleaner. Apologies that you found that and please note it has been resolved. Otherwise glad you enjoyed your stay. Best wishes Dave
---
Our family had a relaxing time at David's home. It was quiet and spacious. The beds were comfortable and the fluffiness of the comforters were a delight. The central heating system was easy to use and worked really well. The wifi also worked very well. And, we had fun with the monopoly game. Enjoyed the 15 minute walk into the nearby local stores, where we bought some Irish beef and lamb; very good. And, we had driven to the Wicklow mountain area. Had a wonderful time. It was good that it was less than 2 hours from the house. Special thanks to his kind parents who helped us find the house and showed us all the necessary details. And, thanks again for the milk!;)
---
David Nally from Dublin Ireland. Will be living in Milan in the coming months and renting our home out to great people who wish to discover Ireland's traditional Irish comforts in a peaceful and tranquil environment. The house is a modern build constructed in 2001 with 3 double beds and 1 single. Large garden to the front and rear and set in a small countryside village.
Response rate:
100%
Response time:
within a few hours
Explore other options in and around Kildare
More places to stay in Kildare: