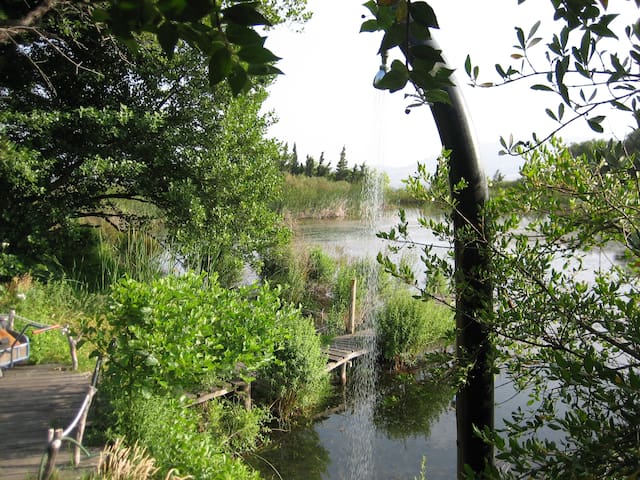 About this listing
MAGICAL "LAKE PARADISE" is a completely secluded, private space protected by brush and trees adjacent to our beautiful lake. It has it's own outdoor bathroom in the midst of a lush jungle surrounding.
The space
MAGICAL "LAKE PARADISE" By the water´s edge…
Spacious comfortable tent on wooden platform in the lily woods at the shore of the reed circled lake in the shelter and shade of the trees. Wooden pier to the lake. Private shower, hot or mud bath tub, open air toilet and bidet with a view to Afica.
Absolutely unique setting in our finca. Cooking facilities in community house or in the carpentry/office kitchen. Swim or surf across the lake to your temporary home. An idyllic path also leads to it.
DESCRIPTION FOR THE GUESTHOUSE AND MORE
The whole first floor of the rebuilt and recently refurbished 100 year old rural country house is divided into 5 unique bedrooms, each one with its special charm. All are equipped with wooden shutters to keep out the sometimes too bright sunlight and the heat in summertime. The views are breathtaking and one cannot get enough to fill ones heart with the beauty of this almost untouched zone of the Spanish peninsula. The tip of Europe, only a dolphin's leap accross to Marrocco, the African continent.
The community kitchen with inside and outside stoves invite to cook your favorite meals and devour them at the oval wooden table in the middle of the shaded patio. The grill invites to cook shrimps and eggplants on it. Gazpacho the famous, delicious mixture of cucumbers, tomatos, olive oil and dried bred is being prepared in the blender and kept in the fridge to refresh you in the heartwarming heat of the long summer days. Fresh fruit juices are centrifuged in the practical kitchen appliance and will guarantee a stay in Paradise, gastronomical bliss. The hammock await you for your after lunch siesta. La dolce far niente par excellence. The climate is incomparable to anything in the northern hemisphere. Cool seabreezes, coming wavelike across 6000 km of pure, cool waters of the gigantic Atlantic ocean, often bring fresh relief from the dry, hot desert wind risen over the Sahara sand which is so loved by the many windsurfers only 4 miles to the southwest.
A reed encircled lake born from the springs on the hilly side of our land the national park, "Los Alcornocales", an Eden, an untouched fleck of earth.
A picture is worth a thousand words and it is left to you how to indulge into the phantasies how deep you will enjoy your leasure and enjoyment with us.
Inspired as you will feel you will heat up the pizza oven to bake your favorite cakes in it after a few hours of warmup time. The turning grill is apt to grill the fish that you have caught in the ocean or bought in our local fishmarket.
Locate us on the map and you get the idea in which ideal location we are for all the activities you can imagine during your stay with us.
HOW TO FIND ALL OUR LISTINGS IN AIRBNB
WIE DU ALLE UNSERE ANGEBOTE IN AIRBNB FINDEST
COMO ENCUENTRAS TODOS NUESTROS ANUNCIOS EN AIRBNB
Copy and paste following websites into your browser and add the arabic numbers with your keyboard:
#00 ROMANTIC COUNTRY HOUSE, PARK & LAKE
https://www.airbnb.com/rooms/
fi5ve fi5ve ni9ne ze0ro ze0ro fi5ve
#01 "ESTRELLA" our "STAR" bedroom
http://www.airbnb.com/rooms/
fi5ve thr3ee eig8ht tw2o si6x on1e
#02 "LUNA" the ROMANTIC bedroom
http://www.airbnb.com/rooms/
fi5ve fo4ur se7ven tw2o fi5ve ze0ro
#03 "LEVANTE" the SUNRISE bedroom
http://www.airbnb.com/rooms/
fi5ve fo4ur se7ven thr3ee fiv5e eig8ht
#04 "MAR" The COSY SEA bedroom
http://www.airbnb.com/rooms/
fi5ve fi5ve eig8ht sev7en sev7en sev7en
#05 "AFRICA" The PANORAMIC Bedroom
(URL HIDDEN) fi5ve w.airbnb.com/rooms/
fi5ve fi5ve eig8ht nin9e sev7en sev7en
#06 "GEODESIC DOME" & COSY Space
https://www.airbnb.com/rooms/
s6ix t2wo o1ne nin9e fo4ur z0ero
#07 "ECSTASY" Bumgalow Tent & Cabin
https://www.airbnb.com/rooms/
s6ix t2wo t2wo z0ero nin9e z0ero
#08 Magical "LAKE PARADISE" Tent
https://www.airbnb.com/rooms/
s6ix o1ne fi5ve fo4ur z0ero t2wo
#09 CRISIS PRICES SLEEPING SPACES
https://www.airbnb.com/rooms/
s6ix th3ee t2wo sev7en nin9e fi5ve
#10 "WOODEN BOX" With a View
https://www.airbnb.com/rooms/
s6ix th3ee sev7en o1ne eig8ht o1ne
#11 "BIG DOME" - Dinner-Dancing-Dormitory-
https://www.airbnb.com/rooms/1250117
o1ne t2wo fi5ve z0ero o1ne o1ne sev7en
or
1.Choose location (Ort wählen)(elegir): TARIFA Spain or FACINAS Espana
2.Click: Search (Suche)(Busqueda)
3.Click: More Filters (weitere Filter)(mas filtros)
4.Choose (wähle)(elige): Keywords (Schlagwörter)(palabras clave):
5.Insert (einfügen)(entrar): e.g. ECSTASY or WOODEN BOX, ESTRELLA, GEODESIC DOME, LAKE (see following list)(siehe nachfolgende Liste) (ver lista siguiente)

register your telephone number in your Airbnb-profile. We can then phone you through the airbnb system and answer all your questions. Trage Deine Telefonnummer in Deinem Airbnb-Profil ein. Wir können Dich dann durch das Airbnb-Telefonsystem anrufen und alle Fragen beantworten.
Entra tu numero de lelefono en tu perfil de Airbnb. Asi podemos llamarte a traves del sistema de telefono de Airbnb.
Please be my guest
Bitte sei mein Gast
Por favor se mi huesped
Saludos cordiales
Buzzel
The main migrations flight paths of all migrating birds to Africa and back are straight above our land. The swallows nest here in spring and early summer. Storks breed their young here before they fly on to the North. Various colonies of vultures permanently live here and feast on dead animals. The artists of gliding are so apt to use the slightest breeze to lift them into the heights. Thousands of birdwatchers come here every year to indulge to their beloved hobby.
You have not seen a sunset if you have not seen a sunset at the Costa de la Luz, the coast of light. A natural phenomena extends the twilight of dusk during almost 2 hours. The sunlight is being relayed through the water of the Atlantic ocean and reflected back to the sky in our area. This is what gave the name to our region.
AND IF YOU CHOOSE THE WRONG SPACE?
No problem, if you booked one of our individual spaces and you see something that even attracts you more, we'll swap you around (upgrade or downgrade). If you want to try out another one of our diverse rooms and spaces after a few nights or experiment the first nights in the tent by the lake or in the Wooden Box and then settle for a more conventional bedroom with real walls around you, you are welcome to do so, if we have vacancies. Experience your hearts desires.
HOW TO GET HERE:
Details will be provided once you've booked/paid via this AirBnB site as per our agreement with them. You will then have access to the instructions, maps and photographs of the roads leading to Los Baños, all the data (name, address, phone numbers, exact location, directions etc.)
FOUR AIRPORTS, FOUR WHEELS, TWO WHEELS, NO WHEELS!
We're only between 40 mins and 2 hours away from four international airports. In order of distance:
1 - Gibraltar International (code GIB), the monkey rock, 40 mins
2 - Jerez De La Frontera (code XRY = Sherry!), 1 hour
3 - Malaga "Pablo Ruiz Picasso" airport (code AGP), 2 hours
4 - Seville airport (code SVQ), 1 hour and 40 mins
The bus stop is at the bottom of the hill and we pick you up or bring you there if you wish. Direct buses to and from Jerez, Sevilla, Cadiz, Tarifa, Algeciras. 2 direct buses to and from Malaga Airport to Algeciras per day.
-Car rental is available at all these airports. Search the Internet for deals. Off-season you can rent a car for as low as 7 euros per day. Otherwise 30 euros per day is a normal price in high-season.
- Motorbike, scooter and bicycle rental are available in the area. Approximate prices for a scooter are 25 euros per day upwards. Bicycles are about 15 euros per day.
-We have a limited number of bicycles here that you can use free of charge. If you want it for your sole use, than it costs you € 3 per day.
-Tarifa has a large pool of taxis should you need it.
-We can arrange transfers at a lower rate than the taxi fees if you so wish
COMMUNICATIONS:
We do not encourage our guests to bring their smart phones and computers with them and you are requested not to use them in the public areas of the Guesthouse when other guests could be molested by it.
Wireless and wired Internet is available at our offices 300 metres downhill from the guesthouse, there you can chat and surf as long as you want. Fax, copy and scanning services are also available. We have a strong signal for all the mobile telephone companies.
We maintain an emergency message service for people who come here for silent retreats and want to disconnect from the craziness of modern telecommunication.
DISTANCIASDISTANCESDISTANZEN
The distance to: BEACH OF VAL DE VAQUEROS is approx. 6 km, (1 km = 0.62 miles) by road approx. 8 km
The distance to: BEACH OF BOLONIA is approx. 8 km, by road approx. 11 km.
The distance to: TARIFA is approx. 18 km, by road, approx. 20 km
The distance to: FACINAS is approx. 2 km (20 minutes walk), by road, approx. 4 km
Other things to note
The main migrations flight paths of all migrating birds to Africa and back are straight above our land. The swallows nest here in spring and early summer. Storks breed their young here before they fly on to the North. Various colonies of vultures permanently live here and feast on dead animals. The artists of gliding are so apt to use the slightest breeze to lift them into the heights. Thousands of birdwatchers come here every year to indulge to their beloved hobby.
You have not seen a sunset if you have not seen a sunset at the Costa de la Luz, the coast of light. A natural phenomena extends the twilight of dusk during almost 2 hours. The sunlight is being relayed through the water of the Atlantic ocean and reflected back to the sky in our area. This is what gave the name to our region.
---
Pet Owner: Dog(s), cat(s), and other pet(s)
Room type: Entire home/apt
---
---
Extra people: 10 / night after the first guest
Weekend Price: 51 / night
Always communicate through Airbnb
To protect your payment, never transfer money or communicate outside of the Airbnb website or app.
Learn more
---
Check in time is flexible
SPECIAL HOUSE RULES FOR SPECIAL TIMES (RETREATS ETC.) REGULAR HOUSE RULES, SEE BELOW

A GOOD HEART ALWAYS BRINGS GOOD RESULTS
ABANDON ALL HOPE ABANDONA TODA ESPERANZA GIB ALLE HOFFNUNG AUF
LOVE JOY DANCE THRIVE
AMOR ALEGRIA BAILAR FLORECER
LIEBE FREUDE TANZEN BLÜHEN
Blissful tantric radical honesty, pre- and orgasmic states of Here and Now,
For radically honest free spirits without taboos and whoever wants to glimpse how it works.
Expect to open your heart and connect
Banned or EXCLUDED:
Whatever is not here and now
Small talk and bullshit
Your life's story
Links to the outside world from the guesthouse (please use your mobile phones, laptops etc. only in the business area)
Certain vocabulary (like e.g. you should or don't)
Shame and moral restraints
Radically entering into the eternal here and now
We want to feel each others hearts
Availability on a first come first serve basis, we cannot guarantee you a room but we guarantee you at least an air mattress in an indoor camping space.

Subjects: Radical Honesty, HSIN HSIN MING, AYP (advanced yoga practices), "From the cock into the heart", The 3 stages of "The way of the superior man", Microcosmic Orbit, singing, breathing, cooking, dancing, laughing, drinking, joking, screaming and crying together, "Buddha and Moses and all the noses".
Special arrangements are possible, please ask.
Please leave all your worries in the business area.
If you feel attracted to other non-normals , please come.
Saludos cordiales
Ananda y tripulacion
Association Los Banos de la Luz

REGULAR HOUSE RULES
We assume that our guests know the basics.
The use of the kitchen is communal, that means everybody can use it and store food and provisions in the fridge, cabinets and freezer.
The left behind provisions of previous guests are to be consumed. Please eat first of all the perishable foods. Please separate the different trash, (metal cans and bricks, glass, compost) from the general garbage.
We stock a certain health foods in our warehouse at the main entrance and it can be purchased there during normal business hours.
Our staff takes care of the basic cleaning and washing. If you use the kitchen, cutlery, dishes and glasses etc., please clean and wash them afterwards. If you want to use the washing machine, please coordinate with our staff.
If you rather wish, that our staff does the cleaning for you during your stay, they will gladly do so at a cost of € 12.- per hour.
If you are planning a loud party, please coordinate with us and the other guests on the property (you may have to invite them too). If you watch movies or are listening to music, please coordinate with the other guests or use headphones. Please use your mobile telephone only in the office area at the main entrance.
During the dry season, especially during windy periods, there is a very high risk of fire. Please only smoke or use open fires (grill) in the patio of the house and extinguish cigarette butts with water. Do not smoke in non-safe places or while walking around on the property. In case of fire, call the emergency number: 112 and advise our staff and the other guests and also help extinguish it. There are various water hoses in different places.
If you are bringing your animals, please make sure they do not not harm or disturbs other human or animal inhabitants. Extremely loud dogs may have to spend the nights in the kennel. Dog and cat hairs are extremely difficult to clean. The extra cleaning fee per pet visit is € 15 per stay. If your dog shits in public areas or on the paths, please remove it.
Please make sure that the gates to the property are closed again behind you because otherwise cows, horses and donkeys will enter the property, eat our flowers and the planted vegetables, damage our trees and shrubs and leave their droppings. It is hard work to herd them and send them out again. They like it very much on our land. Please advise our staff, if you see intruder animals on the property or arm yourself with a stick and take care of it yourself.
Thank you for your cooperation
---
Strict
Cancel up to 7 days before your trip and get a 50% refund. Cancel within 7 days of your trip and the reservation is non-refundable.
---
We had an unforgetable time at #7 Ecstacy and #8 Lake Paradise, if you can stay at both sites you wont regret it. This is one of the most extraordinary nature hide outs we have ever experienced. Highly recommended! Antonia is a wonderful, lovely host - thanks a lot for your kindness
---
Buzzel's land is filled with incredibly serene and breathtaking landscapes. It was truly a great experience staying here! Highly recommended: I was very well received, taken care of when needed and allowed all the privacy and space I was looking for when taking this trip.
---
Buzzel made us feel very much at home. We had booked to sleep in the tent by the lake, but as it was very windy when we arrived Buzzel let us stay in one of the rooms for the same price. That was very generous of him. The views from the communal house is magical! If you have the chance to book the room with a bath-tub in the room please do. From there you can watch the sunset every day!!!
---
My partner and I stayed together for a getaway. The set up is very nice. Took us some time to find anyone. We was welcomed by a nice lady who helps Buzzel. She showed us around and how everything works. It is a nice place to feel relaxed. There is a main path/driveway other people use to get in and out on the other side of the lake. So we where completely private. The outdoor bathroom was nice and refreshing, although you can see the main house, but we were not bothered by that. A little walk up the hill there is a large bath which uses lake/stream water. There was a lot of leafs and stuff coming out so we did not use that. There was lighting at night for late bathroom trips. There is also a shower by the tent too but you will be seen by anyone walking/driving by in the property. The Tent was very comfortable and very thing was clean. The only downside was after reading the description of the property it was a lot about Buzzel. We really wanted to meet him. However he never came over.
Hello Marie Sorry we did not meet. I love connecting with the hearts of my guests, because every one of them is unique and beautiful. Inch Allah we will get to know each other in this lifetime. I promise there will be clean water for the big tub next time you are here. We were also thinking of making a mud bath with real black mud coming out of the spout. hasta siempre Buzzel
---
The Airbnb profile page does not give him a choice. There is only one possibility:
("Hi, I° am Buzzel") (°=whoever that is)

Let's try it a little differently:

"Hello", "I° am known as BUZZEL"

Buzzel is beyond description...

After 70 years, Buzzel still does not know, who he° is.

¡To be, or not to be?!

¿Who am I?

¿What exactly is he referring to, when he says "I"?

¿Is there a real "I"?

¿Is God now hereor … ¡God is nowhere!

¿God, Allah, Jehovah, Manitou, Space, Emptyness or Consciousness?
Jesus, Mohammed, Buddha and Moses and all the noses have brought some anwers and a lot of new questions.

¿ What if THAT has been here all along?

¿The divine comedy¡…. ¡The dance of existence?

Questions, questions, few clear answers. ¡Better stop asking!

Buzzel° knows that he° does not know much.

He° knows, that moral and beliefs brings no solution to the enigma.

Certainty, that even all these insights have grown in his° own garden and that there is nothing out there, out there.

He° returned the God they had sold to him. The old clunker is finally gone.

Noone to blame anymore but myself°.

Divinity yes, in every being and thing, yes, the in love, in god feeling remains…

Flowering in it without limits.

There is no Buzzel, there is nothing, to what he° could hold onto.

Living the ecstasy in peaceful bliss.

¡Yes, or maybe not!

Hi, they call me Buzzel, but I° don't have a clue who this is.
Born: Yes, along time ago.
Died: Not yet.

Avoiding the herd, the norms and the "normals".

Buzzel has journeyed and stayed in many places and spaces throughout time.

Come and stay with him for a while, where horses and cows, donkeys, foxes and rabbits roam around freely in the meadows and hills and where you don't have to lock the doors of your car, the doors of the house or your heart. Shed your burden, your clothes and your sorrows.

Enjoy living in our space and share the radically open ways and views of life. Leave your mind, come and share the peace or find it here with us and likewise other travellers, for a brief moment.

¡Be my guest!

Buzzel° is not just trying to sell you the use of a bed for a night or two for a certain number of €uros, £ounds or $ollars. He is offering you an experience:
The space of the place, something you can take with you and where you can return to anytime.

Come here and feel for yourself.

Die Airbnb Profil Seite gibt ihm keine Wahl. Nur eine einzige Möglichkeit:
("Hallo, Ich° bin Buzzel") (°=wer auch immer das ist)

Lass es mich ein wenig anders versuchen:

"Salü", "Ich° bin als BUZZEL bekannt"

Buzzel kann nicht beschrieben werden.

Selbst nach 70 Jahren weiss Buzzel immer noch nicht, wer er ist.

Er lebt in der Gewissheit, dass das Gewissen nicht der Weisheit letzter Schluss sein kann.

¡Sein oder nicht sein?!

¿Wer bin ich?

¿Auf was genau bezieht er sich, wenn er sagt "Ich"?

¿Gibt es ein wirkliches "Ich"?

¿God is now hereor … ¡God is nowhere!

¿God, Allah, Jehovah, Manitou, Raum, Leerheit oder Bewusstsein?
Jesus, Mohammed, Buddha and Moses and all the new noses haben einige Antworten gebracht und noch mehr neue Fragen.

¿ Was wenn ES schon immer hier ist?

¿Die göttliche Komödie¡…. ¡Der Tanz der Existenz?

Fragen, Fragen, Fragen und nur wenig klare Antworten.

Buzzel° weiss, dass er° nichts weiss.

Er° kann das"Ich" nirgends finden und trotzdem erscheint Buzzel in seinem Geist.

Leben in der Ungewissheit. Lieben in der Leere. Alle Wesen nur flüchtige Erscheinungen. Keine Materie, kein Bestand.

"Ja, oder vielleicht auch nicht."

Mit dieser Ungewissheit leben, darin aufzublühen mit aller Kraft. Mit der Kraft der bewussten Unsterblichkeit.

Da ist kein Buzzel, da ist nichts, woran er sich festhalten könnte.

Er° hat den Gott zurückgegeben, den man ihm angedreht hatte.

Jetzt ist niemand mehr da, dem er die Schuld zuschieben kann.

Göttlichkeit, ja, in jedem Wesen, jedem Ding. Verliebt sein mit Allem.

Es ist ihm bewusst, dass all die Einsichten auf seinem eigenen Mist gewachsen sind.

Hervorquellend, ungläubig, wissend, dass es nichts zu wissen gibt. Glorreich und einfältig.

Das Eine tun und das Andere nicht lassen. Den Sinn leben, keinen Nutzen, keinen Zweck mehr im Leben suchen.

Tanzen, weinen, singen und verzweifeln und sich wieder aufraffen, kurz: superlebendig, in alle Richtungen gleichzeitig rennen, um wieder zum Zentrum zurückzukehren.


Bald wird keiner mehr an mich denken. Hat es überhaupt je irgend wer getan?


-----

Buzzel° kann nicht beschrieben werden.


Buzzel verkauft Dir nicht nur den Gebrauch eines Zimmers für eine bestimmte Anzahl €uros, £ounds oder $ollars, er bietet Dir eine Erfahrung, etwas was Du mitnehmen und zu dem Du zurückkehren kannst.

Komm her und sieh für Dich selbst.

-----

Buzzel esta mas allá de una descripción


Buzzel no te vende el uso de una habitación para un cierto numero de €uros, £ounds o $ollars, te ofrece una experiencia, algo que puedes llevarte y a donde puedes regresar.

Ven a verlo por ti mismo.

Por favor lea lo que nuestros visitantes escriben y
por favor se mi huésped.

Bitte lese, was unsere Besucher über ihre Erfahrung schrieben und bitte
sei mein Gast.

Please read what our guests said after having spent time here and please be my guest.


Languages:
Deutsch, English, Español, Français, Italiano, العربية
Response rate:
100%
Response time:
within an hour
Exact location information is provided after a booking is confirmed.
Explore other options in and around Facinas
More places to stay in Facinas: