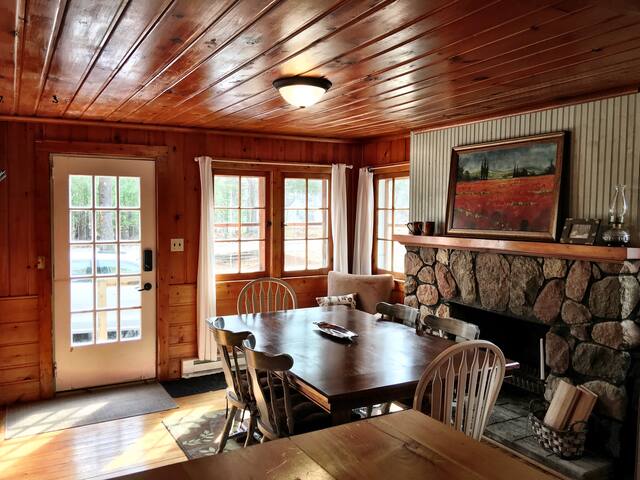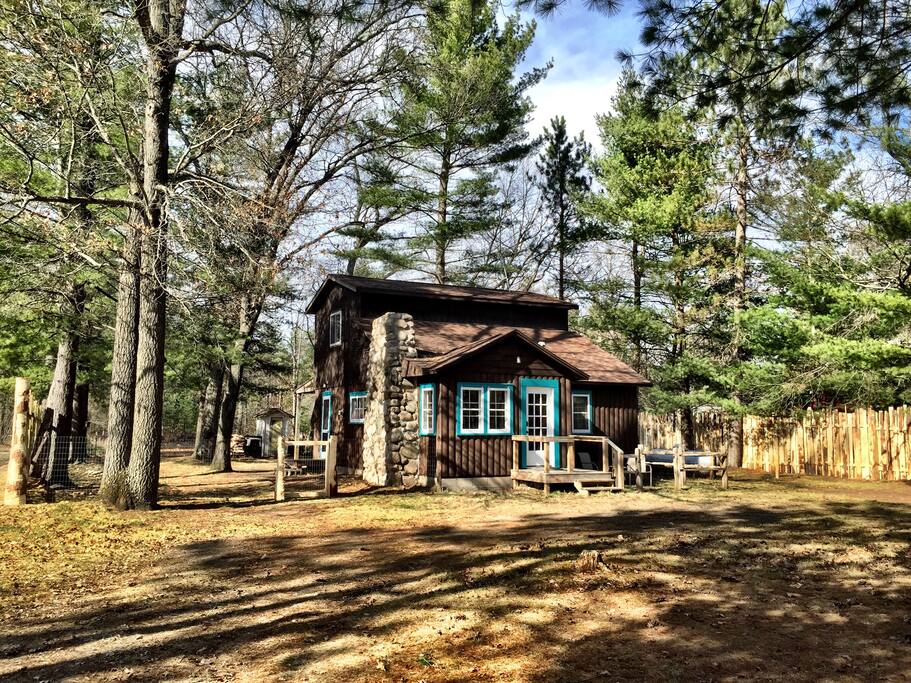 About this listing
Vacation means relaxation, tranquility and time to escape. That's exactly what you'll find at the Hunger & Ransom cabin. You'll feel right at home and before your trip is over, you'll be counting the days until you can come back.
SPECIAL! Book 7+ nights during the summer or 5+ nights during all other times and we'll waive the cleaning fee. :)
7+ night stays automatically earn a 10% discount!
---
Check In:
4PM - 2AM (next day)
Room type:
Entire home/apt
---
---
Extra people:
$10 / night after 6 guests
Weekend Price:
$138 / night
---
The space
Vacation means relaxation, tranquility and time to escape. It's exactly what you'll find at the Hunger & Ransom cabin. You'll feel right at home here and before your trip is over, you'll be counting the days until you can come back.
Top to bottom renovated cabin in the Huron National Forest with Air Conditioning and WiFi.
Located directly on the national forest trailhead for miles of ATV riding, Biking, and Snowmobiling; pull out of the driveway and go (all the way to Lake Huron if you're up for it!). Just a couple miles away from 60+ lakes and the AuSable river. Go tubing, kayaking, canoeing or relax on one of the nearby public beaches. Find a boat launch and fish until dark or spend your days hiking the trails and admiring scenic overlooks along the Au Sable River.
* * Pets are more than welcome here! * *
Got pets? You've come to the right listing. We have a Doberman and Boxer so we know what it's like trying to find a sitter, let alone being apart. It's not a vacation without them! Well-behaved dogs and cats, big to small are welcome. Please, give us a call before booking with pets. We might be able to give you a discount off the $25 pet fee depending on the length of your stay.
++Fenced Yard++
Let your dogs run free in the backyard. No packing the dog leads and countless trips around the tree to untangle the dogs. We've got a completely fenced yard for your pets and some extra privacy along either side of the property. The split log pickets are a perfect mix of up-north feel and added seclusion!
* * Everything you'll need is included * *
Fully furnished with linens and towels. No need to waste space in your luggage trying to pack sheets and pillows; it's crowded enough on the trip!
We've also got all of the pots, pans, silverware, and general dinnerware you could possibly need. There's a microwave, coffee maker, and toaster in addition to the refrigerator and stove.
For the nights you decide to spend indoors, we provide free access to high speed (60 MB/s) WiFi, Netflix, Amazon Prime Movies/Shows, Premium Channel Networks, and Cable TV.
Keep the kids occupied with children's movies or spend a rainy night in catching up on your favorite shows.
Bringing some work/study with you on vacation? The WiFi is more than capable of handling all of your internet needs including multi-person video conferencing.
* * Comfortable accommodation for up to 8 people * *
There's a bunk room with 4 beds (great for the kids or families). The second upstairs bedroom has a full-size bed with a desk and chair for the work & play vacationers. The first floor bedroom has a queen-size bed.
Each bedroom has a dresser and closet with plenty of storage for everyone.
* * Get away on a day trip * *
Aside from all the forest has to offer, the cabin's not far from tons more. Wicker Hills golf course is only 5 minutes away (professional 18 hole course). Rose City, just 15 min away has two awesome wineries with free wine tasting. In under an hour you could be on a Lake Huron beach or over in West Branch doing some shopping at the outlet mall.
* * Perfect for Outdoor Adventures * *
The cabin is located directly on Butler/Jose Lake Trail that runs through the Huron National Forest. Take off out of the driveway and you're on your way down miles of ATV trail. Come winter time, snowmobilers will be hard-pressed to find a better rental.
Not into trail riding? We're located on a residential road where everyone passing by is extremely courteous.
* * How about some cabin charm? * *
We've got that too. Awesome knotty pine interior, real fieldstone fireplace, wood pane windows, original wood floors, and plenty of new touches that makes the Hunger & Ransom cabin so much more than a boring, new build rental.
Rain or shine, take in all the up-north greatness under our covered outdoor area. Enjoy a BBQ dinner and unwind by the fire pit. Spending time outside in beautiful Northern Michigan is why you're looking to get away as it is, right?
* * Newly Renovated * *
We have put a lot of effort into making this cabin exactly what you're looking for in a place to stay. Everything from a brand new bathroom, flooring throughout, ceilings, to the stain is updated. If there was something we could do to improve, we did it!
* * We do our best to make it Affordable * *
We know the pains of finding a cabin and what's most important when choosing the best one. That's why we allow pets, offer free high-speed internet (60 mb/s), and forgo those tacky cleaning fees when you book extended times.

* * Get in touch. I'll call/text/email back right away * *
If you have any questions, please contact us. I do my best to respond to every inquiry as quickly as possible. If you're already in love with the Hunger & Ransom cabin, go ahead and book it now!
Enjoy your stay and we can't wait to have you back!
Guest access
Welcome to our whole cabin. Find your favorite spot, whether it's under the stars by a fire or cuddled up on the couch for movie time, you're welcome to use the entire space and property.
Interaction with guests
We're always available by phone or email (day or night) and make sure you're ready for an incredible time at our cabin. If you need us, we'll be there but you'll have all the space you need–vacations are best spent with the people you choose to bring along. :)
The neighborhood
The Hunger & Ransom cabin is located in the heart of the Huron National Forest in South Branch, MI.
Situated directly on the Huron Butler ORV trail, we're in the perfect location for trail riding. From driveway to Lake Huron, you can ride on authorized off-road vehicle trails. No trailering your toys or unloading–just fire up the engine and go!
We're far enough away from the city to experience undisturbed nature, but close enough that you can still have dinner out, pick up the ingredients your meal's missing last minute, and grab a drink on the lake.
There are over 60 lakes within a short drive, many with public beach access and boat launches. The Ausable River is accessible from multiple nearby locations and hiking trails with breathtaking scenic overlooks run along the river and throughout the forest.
Spend a day at the wineries in Rose City just 20 minutes away or golfing at Wicker Hills Golf Course around the corner. Enjoy hand-scooped ice cream at the Victorian Café or pizza and smoked meats at Main Street Pizzeria & BBQ in Hale.
---
Check-in time is 4PM - 2AM (next day).
When it comes time to leave, our philosophy is: 'leave it as you found it.' If you take the time to tidy up before checking-out, you help keep this cabin cleaning fee-free for everyone.
Before booking, please take the time to read our complete rules and guidelines. We hate setting long rules, but these are in place to protect you and keep our home open to all future guests. By booking through Airbnb, you agree to all of the terms and conditions set forth in this rental agreement.
RENTAL AGREEMENT
This Rental Agreement ("House Rules") constitutes an agreement that outlines the terms of stay between Hunger & Ransom LLC and the vacation renter, booking through Airbnb.
This Agreement outlines a rental stay selected through Airbnb. The total amount required to satisfy this rental agreement (including Damage Deposit and Tax) is calculated through the Airbnb booking service and is due in full prior to your check-in time.
*Terms & Definitions*
The property, home, outbuildings and all assets of this Airbnb listing will be herein, collectively referred to as the: CABIN, HOME, COTTAGE, PROPERTY, PREMISES.
The owner of the PROPERTY, will be herein referred to as: WE, OWNER, HOMEOWNER.
The temporary tenant herein, bound by these rules when completing a booking through Airbnb, will be referred to as: YOU, RENTER, TENANT, VACATION RENTER.
You are responsible for the behavior of any and all of your guests, visitors, and invitees. Such persons may not break this Rental Agreement or the policies and terms outlined within this document. You are responsible to pay for any damages or clean-up resulting from the conduct of your guests, visitors, and invitees.
You acknowledge that this Rental Agreement is for short-term occupancy of the property and you have no intention of making this your residence or household.
You and your guests shall hereby indemnify and hold harmless the owner against any and all personal injury or property damage claims or loss arising from use of the property regardless of the nature of the accident, injury or loss.
You agree to pay all reasonable costs, attorney's fees and expenses that arise or are incurred by the Owner enforcing this agreement.
*Check In & Out Procedures*
Check-In
Check-In Time: 4:00PM
You may not arrive earlier than the beginning of your stay described at the beginning of this Rental Agreement. Unless you have made prior arrangements with the owner, arriving before the above check-in time may result in an additional full night charge. Arriving any day prior to your check-in date may result the immediate cancellation of your stay and forfeiture of all monies paid for your booking including the full damage deposit.
If you would like to arrive earlier than your checkin date/time, you must contact the owners prior to arrival and you may be responsible to additional rent, taxes, and other fees.
Check-Out
Check-Out Time: 11:00AM
You must vacate the property on or before the term of your stay ends. Unless you have made prior arrangements with the owner, leaving the property after the above check-out time may result in additional full night charges and forfeiture of your damage deposit.
You are required to secure the premises upon the termination of your stay and return all belongings to their original state. You may not remove any property from the cabin. All doors, windows and other points of entry should be closed and locked.
For a full list of check-out requirements, please see the following document named Check-Out Guide.
*Use of the Property*
During the time of your stay at the cabin, you are permitted to use the property to your comfort and with care so long as your use does not include or closely resemble any of the below Prohibited Uses of Property or violate the Cleaning and Pet Policies described in this rental agreement.
Prohibited Use of Property
You may not conduct or facilitate any illegal activities in violation of national, state, local, or any other applicable laws.
Smoking is strictly prohibited within the cabin. If evidence of smoking within the cabin is found, you will forfeit your full damage deposit and may be held liable for additional cleaning and repair charges not covered by your damage deposit.
Fires within the cabin are strictly prohibited. Do not use the indoor fireplace at anytime. At the owner's discretion, you could forfeit your full damage deposit for starting a fire indoors and may be responsible for extensive repairs beyond your damage deposit as a result of starting a fire.
You may not act in a manner that is deemed to be excessively loud or disturbing to surrounding property owners.
You may not tamper with or attempt to repair any utility service, appliance, or other concealed portion of the property. This includes, but is not limited to: the breaker box, hot water heater, water pump, electric baseboard heat, household appliances, cable boxes, routers, electrical equipment or fixtures. Doing so may result in serious injury or cause damage to the property. The owner is not responsible for any negligence in violation of these prohibited uses of the property or any incurred medical or related expenses. If any portion of the property is not in working order, contact the owner immediately. Do not attempt to repair anything.
Linens and Towels
We gladly provide every guest with clean bed linens and a single towel. If you plan to use more than one towel or additional bed linens during your stay, please bring your own extra sets. Do not use additional linens or towels from the upstairs closet. These extra sets are intended for use by the next guests. Linens and towels should not be used by visitors.
If you use more than your allocated linens and towels, you will be responsible for paying an additional laundry fee of $5 per day, multiple by the entire duration in days of your stay. This fee will be deducted from your damage deposit.
Do not use towels to clean-up spills and messes. Instead, use paper towel and cleaning supplies.
Towels are not intended for use outside of the cabin and should not be taken off of the property. Do not take cabin towels to the beach.
If you damage, tear, or permanently stain any linens or towels you will be responsible for paying the replacement cost. This cost will be deducted from your damage deposit.
Campfires and Outdoor Burning
Prior to starting any outdoor fire, you must verify that burning is allowed in Iosco County, MI by visiting their website or by calling the local DNR office.
Read all available fire warnings available through the Michigan DNR website above. Under most circumstances, recreational fires are allowed despite color warnings presented on the online map. You are responsible for verifying against special notices posted by the presiding government.
Only if burning is allowed, you may have a small outdoor fire within the designated fire pit, as marked by a ring of stones. Burning outside of the designated fire pit is strictly prohibited.
If burning is not permitted and you violate any laws by starting a fire, you assume responsibility for all charges and fines imposed by the presiding authorities. These fines may be in excess of $1000 and could result in imprisonment.
Fireworks
Fireworks are strictly prohibited on or around the property.
Campers, RVs, and Pop-Ups
Campers, RVs, Motorhomes, Pop-Ups and similar mobile housing units are strictly prohibited. If you violate this policy, you will be responsible for twice the nightly rate of your stay and will be required to vacate the premises immediately, thereby terminating the remainder of your stay and forfeiting your full damage deposit.
Tents
You must have prior approval before using a tent on the property. You may request to put up one 4-person or smaller tent on the property to accommodate paid guests.
Tents are not meant to house additional overnight guests in excess of 8 people. Tents are only permitted for use by the overnight guests of the property during your stay.
*Owner's Right to Access the Property*
The owner reserves the right to access and monitor the property at all times, without notice, to enforce the terms of this agreement or to maintain the property. If you are found in violation of this rental agreement, your stay will be terminated immediately and you are required to leave the cabin at such time regardless of the remaining length of your stay.
*Guests, Invitees, and Visitors*
Maximum Occupancy
No more than 8 guests, including yourself, may occupy the property at any one time. Visitors are permitted at the cabin during your stay; however, no visitor shall stay for any period longer than 6 hours and no visitor is permitted to stay at the cabin overnight.
If, at any time during your stay, there are more than 8 people on the property, you may be responsible for additional fees including the forfeiture of your damage deposit.
Overnight Guests
No more than 8 overnight guests are allowed at the cabin during your stay. Your nightly rate includes the cost of 6 overnight guests. Up to 2 additional overnight guests are permitted at a rate of $10 per person per night. e.g. If your nightly rate is $115 and you are accompanied by 7 overnight guests, your nightly rate will increase to $135.
If more than 8 overnight guests stay at the cabin you may be responsible for paying twice your nightly rate and forfeiture of your damage deposit.
*Cleaning Policy*
During your stay, you are expected to maintain the cleanliness and order of the property. This includes but is not limited to the following: washing used dishes, cleaning any spills/messes, removing trash to waste receptacles on the property, sweeping excessive debris off floors, and returning all furniture and articles to their original places.
You are not expected to wash linens, towels, furniture, flooring, or any other portion of the property except to remove stains, spills, and or damage caused by you.
Following the cleaning policy above and attached Check-Out Guide document, there is no additional cleaning fee for your stay; however, if it is determined by inspection of the owner upon the termination of your stay that an excessive amount of cleaning is required (e.g. dishes left uncleaned, linens left stained, food/waste left out) you will be responsible for paying a $100 cleaning fee. Cleaning fees are deducted from your damage deposit.
*Pet Policy*
Some pets are welcome to accompany you during your stay at the cabin: acceptable pets are outlined below.
Do not bring pets that are known to damage furniture, are not housebroken, have shown aggression toward people/other pets, or are excessively loud.
You are responsible for any and all damage or financial loss caused as a result of your pet staying at the property. This includes replacement cost (money for time spent, product expense, and taxes) of damaged property, imposed fines, medical expenses, or any other financial burden that may be imposed as a result of your pet.
Acceptable Pets
Dogs and Cats (pre-approved by Owners).
Pet Fees
$25 per stay. This is a single fee per stay and covers the cost of 2 pets. If approved to bring additional pets, you may be responsible for additional Pet Fees.
*Modification of the Property*
Modification of the property is strictly prohibited. This includes, but is not limited to: removal, modification, or addition of permanent structures, building materials, or any other changes of lasting fixedness beyond the term of your stay.
Insurance
You acknowledge that the Owners insurance does not cover personal property damage caused by fire, theft, rain, war, acts of God, acts of others, and/or any other causes, nor shall the owner be held liable for such losses. You are hereby advised to obtain you own insurance policy to cover any personal losses.
*Financial and Other Responsibilities of the Vacation Renter*
You are responsible for paying the set rate of your stay as determined through the Airbnb booking system no less than 30 days prior to your arrival at the cabin.
You will be held financially responsible for any expenses detailed within this agreement as a result of violating this Rental Agreement and for the misuse or damage of the property.
You will be assessed a fee for all property that has been damaged, destroyed, lost, or stolen during the term of your stay. This fee includes the following: replacement expense of property, labor costs to replace or repair property, and any and all taxes or additional costs associated with replacing/repairing property incurred by the owner.
If it is determined by the owner that you are financially responsible for anything beyond the rental rate of your stay, all costs will be first deducted from your damage deposit. If damages exceed the value of your damage deposit, you will receive an invoice detailing the additional costs incurred and payment in full will be due immediately.
If some or all of your damage deposit is retained by the owner to cover additional costs as outlined within this Rental Agreement, you will receive an itemized list of charges made against your damage deposit.
*Payment Terms and Cancellation Policy*
Payment Terms
An initial damage deposit of no less than $200 is due immediately upon booking your stay. Full payment is due no later than 30 days prior to check-in. Bookings made less than 30 days prior to the start of the stay are immediately due in full and immediately subject to the cancellation policy.
A valid credit card must be on file prior to the start of your stay, regardless of your booking method.
Damage Deposit
In order to secure your stay, a $200, refundable damage deposit is due at the time of booking. This damage deposit is in addition to your nightly rate charges, taxes and any other fees.
Within 10 business days after your check-out date and after a through inspection of the property, the owner will initiate a refund of your damage deposit, less any deductions outlined within this rental agreement or as outlined in the above section: Financial and Other Responsibilities of the Vacation Renter.
Bank transfer times outside of the owner's control may further delay the time before you receive your damage deposit.
Cancellation Policy & Refunds
Bookings cancelled at least 30 days before the start of the stay will receive a 100% refund.
Bookings cancelled at least 14 days before the start of the stay will receive a 50% refund.
Bookings cancelled less than 14 days before the start of stay are not eligible for refund.
Damage deposits are fully refunded when you cancel prior to check-in or do not stay at the cabin.
Cancellation Due to Weather or Other Circumstances
We occasionally experience utility outages that are beyond our control. In the event that an outage does occur, we are not obligated to offer refunds or compensation. We will, however, attempt to reschedule your stay without additional fees unless you choose to extend the length of your original booking period.
We do not offer refunds for shortened stays or ruined expectations because of weather conditions, work and family related emergencies, or other commitments.
*Receipt of Agreement*
When booking this property through Airbnb, you agree to be bound by the terms and conditions outlined within this Rental Agreement and acknowledge that you have read and understand this Rental Agreement.
*Checkout Guide*
In order to keep rental costs down, please follow this simple guide to checking out of the cabin. When you leave the place a mess, we have to spend more time prepping for the next renter and you could be responsible for a $100 cleaning fee; that's something we never want to charge or build into the cost of nightly stays! Thank you for maintaining a pleasant rental experience.
Tidying Up
Sweep Floors
Vacuum Rugs
Living Room
Front and Back Door Mats
Wipe Down Surfaces
Countertops
Stove
Kitchen Sink
Bathroom Sink
Dining Room Table
Any other Surfaces Made Dirty by Your Stay
Clean all Dish/Dinnerware
Return all Items/Furniture to their Original Places
Clean any Spills, Stains, or Accidents
Juice Spills
Food Messes
Pet Accidents
Any other Messes not from Normal Use
The broom and vacuum are in the first floor bedroom closet. Cleaning supplies are located under the kitchen sink.
Pet Policy
We gladly welcome all of your house-trained and well-behaved furry friends at the cabin; this includes both dogs and cats. Accompanying pets also come with extra care in returning the property and cabin to it's original condition. Please remove all pet waste from the lawn and thoroughly clean any accidents in the home. Should you pet cause damage to the property, you may be responsible for charges beyond the cleaning fee. See your Rental Agreement for full details.
Trash Removal
Please, bag and remove all trash from inside the cabin and place it inside the large trash can outside the cabin.
Locking Up
Close and Lock all Windows
Lock Back Door
Ensure the Locking Switch is in the Correct Position
Latch the Back Screen Door
Lock the Front Door by Pressing the "Trubolt" Button
We want you to feel right at home during your stay, please treat the cabin and property as if it were your own. We have never had an issue with a stay or charged fees in addition to the nightly booking costs in the past; Let's keep it that way! enjoy your getaway and let us know if you have any questions!
---
---
The minimum night stay for this listing varies.
Hey there! I'm Aaron. I love exploring new places, trying new things and enjoying moments spent away with family and friends. But, when the day's over, I want to unwind somewhere like 'home,' without the routine of being home. It's this level of comfort and simple peacefulness that I want you to feel when you stay at our cabin.

Kick off your shoes, sleep in a little, and be spontaneous. This is your home away from home.
Response rate:
88%
Response time:
within an hour
Explore other options in and around South Branch
More places to stay in South Branch: