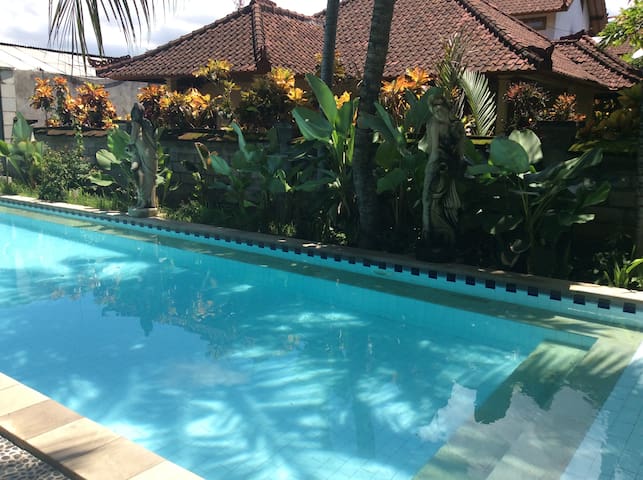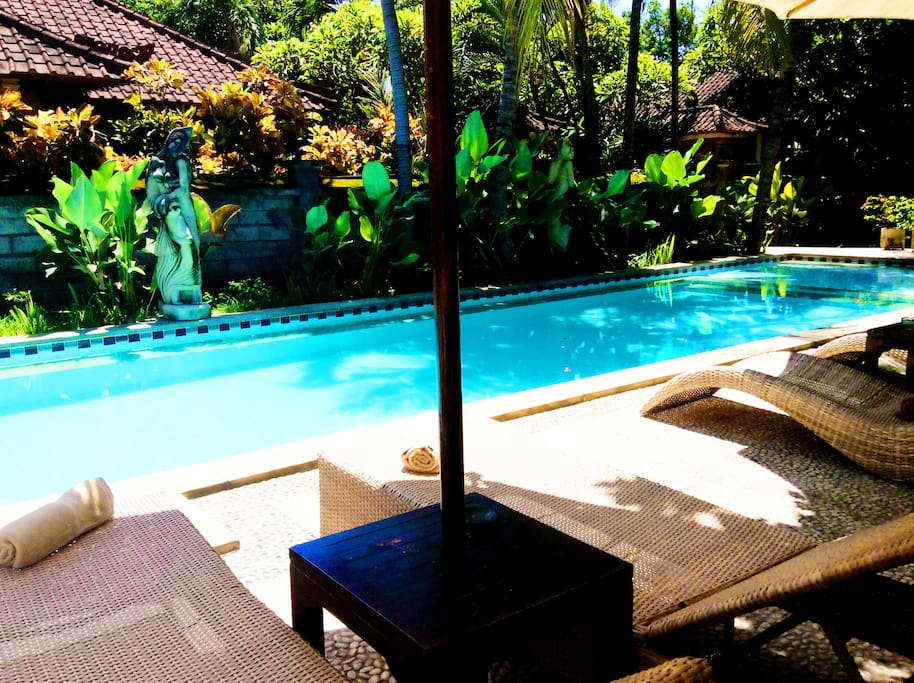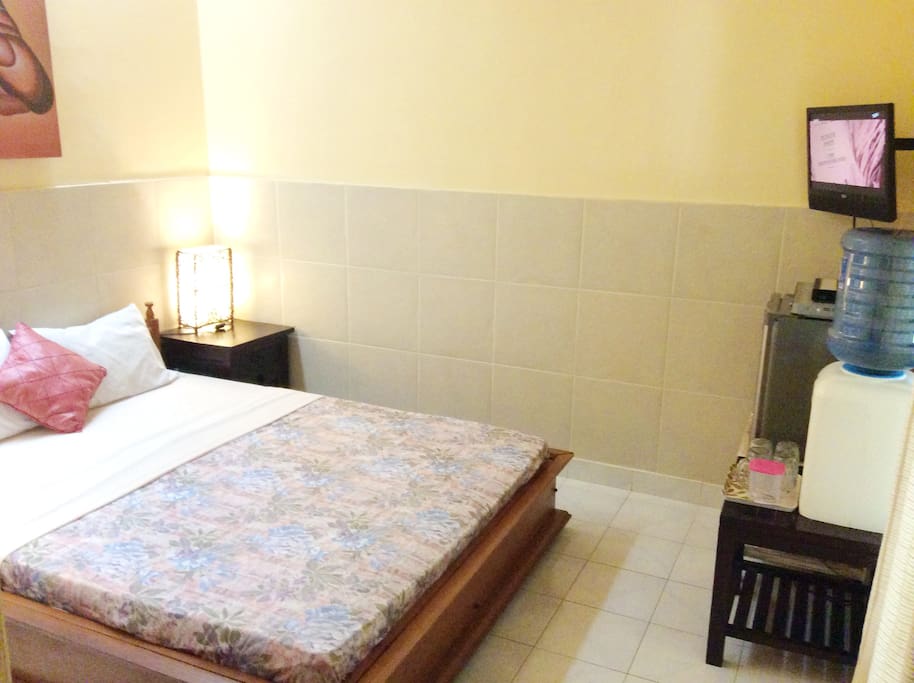 Nice to Meet You!
*IMPORTANT - PLEASE READ ALL BEFORE BOOKING*
AIRBNB DELETES ACCOUNTS (FOR GUESTS & HOSTS) UNDER 4.5 STARS.
MY FAMILY SURVIVES OFF THIS WEBSITE, WE NEED IT.
I CAN ONLY HAVE 5 STAR REVIEWS.
I CAN NOT HOST ANYONE WHO WILL WRITE LESS.
PLEASE DO WRITE ME PRIVATE FEEDBACK ABOUT ANY ISSUES OR SUGGESTIONS. WE ALWAYS WORK TO IMPROVE.
THIS THE REASON THERE ARE FEW CHEAP PLACES IN OUR AREA ON AIRBNB. MOST HAVE BEEN DELETED ALREADY!
MY PLACES ARE BUDGET, MID-RANGE, SO THEY'RE AFFORDABLE.
The space
-FREE BREAKFAST
-FREE FAST WIFI
-FREE FLATSCREEN SATELLITE TELEVISION
-FREE DRINKING WATER PROVIDED
-GOOD SHOWER WITH HOT WATER
-PRIVATE PATIO WITH TABLES AND CHAIRS
-FREE COFFEE/TEA PROVIDED
-QUEEN SIZE BED
-REFRIGERATOR
The PERFECT LITTLE ROOM for a COUPLE or A SOLO TRAVELER! Everything you need in this nice quiet, private space. Secluded and peaceful in the heart of Legian.
SUMMARY:
-------------
- FREE BREAKFAST
-FREE FAST WIFI
-FREE SATELLITE TELEVISION MANY CHANNELS
-FREE DRINKING WATER PROVIDED
-GOOD SHOWER WITH HOT WATER
-BRAND NEW BATHROOM REMODEL
-PRIVATE PATIO WITH NEW TABLES AND CHAIRS
-FREE COFFEE/TEA PROVIDED
-QUEEN SIZE BED
-NEW REFRIGERATOR
-AIR CONDITIONER
-LARGE SHARED SWIMMING POOL -15 METERS AWAY
-CLOSET
-DESK/CHAIR
-SKYLIGHTS
-LARGE GARDEN/YARD
-7-10 minute walk to Legian/Kuta beach
-3 minute walk to bars/restaurants/shopping
-5 minute walk to poppies lane
This is a small to medium private room with private bath and hot water in a duplex villa. Its totally private and has its own patio and entrance, and is shaded by bamboo curtains. There is a shared large swimming pool in the complex about 15 meters from your villa. Its a three minute walk to Legian street and Kuta beach. This location is great and super central. Its really quiet yet very close to the action.

It has a private locked entrance and its own bathroom, etc. t is a private entrance with your own key, so it is very secure and not shared with anyone. There is also an outdoor patio looking out to the large garden area with lounger chairs and table.
*PLEASE SEND YOUR RESERVATION REQUEST VIA THIS SITE TO INQUIRE ABOUT THE DATES. Once I receive the request, I will confirm the dates. I can't confirm the dates on just an inquiry in a message. NEED THE RESERVATION REQUEST.
*WE ALSO HAVE SURF LESSONS with great INSTRUCTORS for $30 including the board and a 2 1/2 hour lesson.
We will pick you up at the villa for the lesson, so please let me know in advance. Thanks!
Ask us about any help with a driver to go around the island or tours in Bali or neighboring islands.
Other things to note
Just a reminder, AIRBNB deletes accounts for BOTH Guests and Hosts who have under 4.5 stars so we need to help each-other. I can have only 5-star reviews and will do the same for you. We really want to keep offering good budget accommodation in Kuta to future guests. We want to keep improving as well. So please send me private feedback, suggestions and comments. Thank you!
Always communicate through Airbnb
To protect your payment, never transfer money or communicate outside of the Airbnb website or app.
Check-in is anytime after 12PM (noon)
My messages to host went to his spam so I did not get a response until we arrived. However we were upgraded to a bigger room upon check in. Found bed bugs on our second day and was immediately moved to a smaller room (probably what we had originally booked). Host was very responsive about the issue though. Would recommend booking a villa instead of a room if you can as it is much cleaner and has more amenities. Location is great. Nightlife and beaches are walking distance. Pool and staff on property are nice. Breakfast was wonderful.
---
I turned up quite late, about 10:30, so the guys in the reception area were asleep. After 10 minutes or so convincing them I had a room, they took me through. The bathroom leaked, there were no towels, there was a blood spot on my sheets... so no shower in the morning (as I had to leave at 7:30 and they guys in reception were only just waking up as I left).
---
The stAff was very helpful and the woman at the front desk spoke perfect English. The room was clean, air conditioning nice and cold and the atmosphere of the place was amazing with the pool. Advertised with wifi however while I was there there was none. Right in the middle of kuta, excellent location. Requested a car from the airport however nobody showed up, the email provided on that page, (EMAIL HIDDEN) does not appear to be in use anymore, use other email provided. Also could not get someone on the phone with either number provided.
---
We just got back from Bali and I would definitely suggest this place. We had a large group (30+ people) and Michael's houses worked out perfectly for us and he was great throughout the whole booking process. The houses look exactly like they do in the pictures- most have a private bedroom and then a bed in the living area with plenty of seating. If you are not high maintenance you can fit plenty of people in each house fairly comfortably. The places were clean, pool was lovely, and it was set apart from the main street so you could get some quiet if you need it but also so that everything was very easy to walk to. The staff were great as well, I would definitely stay again :)
---
The location is the best part. You're in the heart of Kuta with clubs, restaurants, and everything else, but far enough you can't hear any noise. Going the other direction, you'll get to the local part of Kuta, where there are food stands and a market for super cheap and delicious food. The beach is 10-15 mins away walk. When you first get there, you may be in for some culture shock as Mangga street is super narrow and bumpy. Thats totally normal for Bali!
---
**EXTREMELY IMPORTANT PLEASE READ ALL BEFORE BOOKING!!!**
*I CAN ONLY HAVE 4.5 STAR REVIEWS OR ABOVE!!!*
** BECAUSE THIS WEBSITE, (AIRBNB) NOW DELETES ACCOUNTS UNDER 4.5 STARS!** MY FAMILY SURVIVES AND EATS BECAUSE OF THIS WEBSITE, SO WE NEED IT!
**I CAN NOT HOST ANYONE WHO WILL WRITE UNDER 4.5 STARS!**
This is the reason why there are almost no low-cost places in this area left on Airbnb. ALL HAVE BEEN DELETED ALREADY!
IMPORTANT! PLEASE READ!
*MY PLACES ARE BUDGET ACCOMMODATION!!! They are NOT high-end or luxury, that's why they are CHEAP.
SO I WANT TO MAKE SURE YOU UNDERSTAND. YOU ARE NOT BOOKING A LUXURY ACCOMMODATION. YOU MUST HAVE REALISTIC EXPECTATIONS BECAUSE OUR FAMILY SURVIVES OFF THIS WEBSITE AND WE CAN ONLY HAVE 5-STAR REVIEWS.
-------
PLEASE UNDERSTAND: Future guests will not be able to enjoy our low-cost accommodation and we will die and our families will lose everything.
MYSELF, MY WIFE, OUR FAMILY, AND OUR HELPERS FAMILIES ALL NEED THIS BUSINESS AND WEBSITE FOR SURVIVAL.
*This site (Airbnb) is EXTREMELY STRICT NOW. This is for BOTH guests and hosts.
-------
BUT PLEASE DURING YOUR STAY YOU CAN MESSAGE ME ANYTIME and I WILL QUICK AS POSSIBLE HELP WITH ANYTHING YOU NEED. THEN AFTER YOUR BOOKING PLEASE ALSO SEND ME YOUR FEEDBACK AND SUGGESTIONS.
*WE ARE ALWAYS WORKING TO IMPROVE* We always want to get better, just don't write something in review, instead send it to me in a message and I will do my best to quickly and efficiently take care of it.
IF YOU HAVE ANY ISSUES OR PROBLEMS, MESSAGE ME ON AIRBNB, and I WILL RESPOND AS QUICKLY AS POSSIBLE TO TAKE CARE OF YOU.
If you check, you'll see I am one of the only in this area to offer affordable accommodation in this part of Kuta.

There used to be many more, but because of their lower star-average they have been deleted.
SO WE NEED ONLY GOOD 5-TAR REVIEWS.
*The properties I offer are budget mid-range*
So this is why they are affordable. You need to HAVE REALISTIC EXPECTATIONS.
So we really need to be able to continue offering budget accommodation in this area on this site and to be able to keep upgrading.. PLEASE, PLEASE! keep this in mind for future guests when you write your review, because if not, no-one else will be able to enjoy it. SERIOUSLY! WE REALLY NEED YOUR UNDERSTANDING AND SUPPORT!
Thank you so much, MICHAEL, wife, and staff.

We have housekeeping staff but I don't promise they will come every single day if we are very busy. Many guests don't want our housekeeping staff to come in, so it's better you ask them. If you see them and ask them, they will come clean. If not, they may either not be able to come in if you're outside door is locked from the inside or if they see you there and don't think you want cleaning.

The prices basically match the standards. My places are not luxury, they are budget, mid-range. Please don't expect luxury, but of course we aim to give comfort to all our guests. The price is basically in-line with the quality. We appreciate all our guests and we do our best to accommodate you as best as possible. We have a full-time staff ready to assist you. Please ask if you need anything. We have custom rooms inside the complexes specifically for these types accommodation websites.

As soon as you complete the booking, all directions and details including phone number and address will be emailed to you and immediately available on this site. It's important you check your itinerary for complete details and directions. We're very easy to find Thank you.

ALL OF OUR PROPERTIES INCLUDE FREE BREAKFAST AND ARE STAFFED 24 HOURS WITH HOUSEKEEPING AND NIGHT SECURITY GUARD AND RECEPTION.

We have 24 hour staff on site so you can check in any time, late at night if needed, no problem.

We have a variety of villas in the same single complex with a large shared swimming pool. Within this complex we have private one bedroom and two bedroom villas as well as single rooms, double rooms, triple rooms, and quad 4 person rooms.

The complex is quiet and secluded, yet only a 2 minute walk to Legian street and a 10-15 minute walk to Kuta or Legian beach. It's also about a 5 minute walk to Poppies Lane 2. We think it's a nicely balanced location, with direct access to the center of town, yet still quiet and secluded in our villas.

All of our villas have full amenities like Free Satellite Television, Free WIFI, Free Shower, Shared Swimming Pool, Air Conditioning, Free Cleaning, Towels/Linens, and some villas and rooms have covered Patio Kitchens with fridge, sink, stove, and dishes.

These are affordable mid-range villas, they are fair-value for the price. They are not luxury, therefore they are priced accordingly. They are self-contained, like your own house. We have kitchen sets with dishes, pots, pans, etc already inside for your use, so please cleanup after yourself and take care of the dishes, etc.

We also have another complex consisting of 2 x Two Bedroom Villas, 6 x Quad Rooms (suitable for 3-5 people) and 8 Queen Rooms (suitable for up to 3 people) with a queen size bed and free extra single. All of these rooms also have full amenities same as mentioned above and a cafe with room service on-site. There is also a swimming pool on site.

We try to create unique, nice places based on quiet setting, and close proximity to attractions with a fair value.

We are continually improving and upgrading our facilities, so every guest typically gets a better place than the last.

We look forward to hosting you.
Sincerely,
Michael, my wife Neny, and all of our Staff
Languages:
Bahasa Indonesia, Bahasa Malaysia, Deutsch, English, Español, Français, Italiano, Nederlands, Русский, 中文, 日本語, 한국어
Response rate:
100%
Response time:
within an hour
Explore other options in and around Kuta
More places to stay in Kuta: