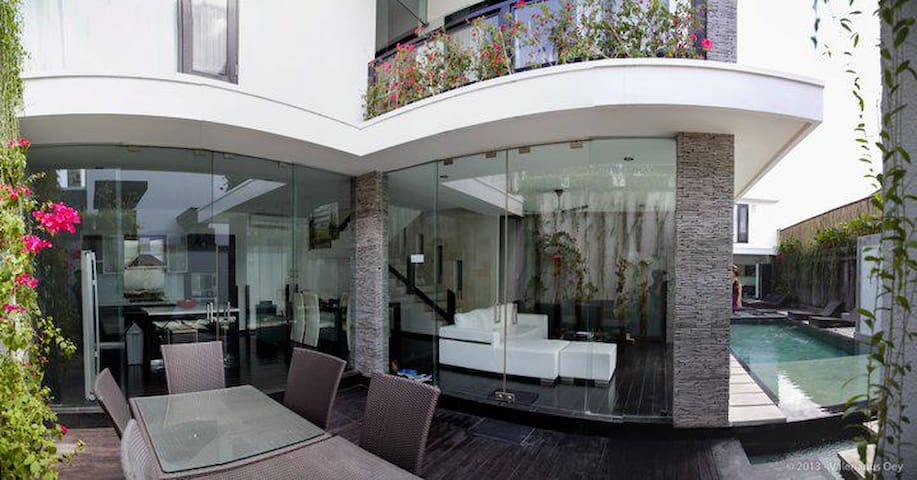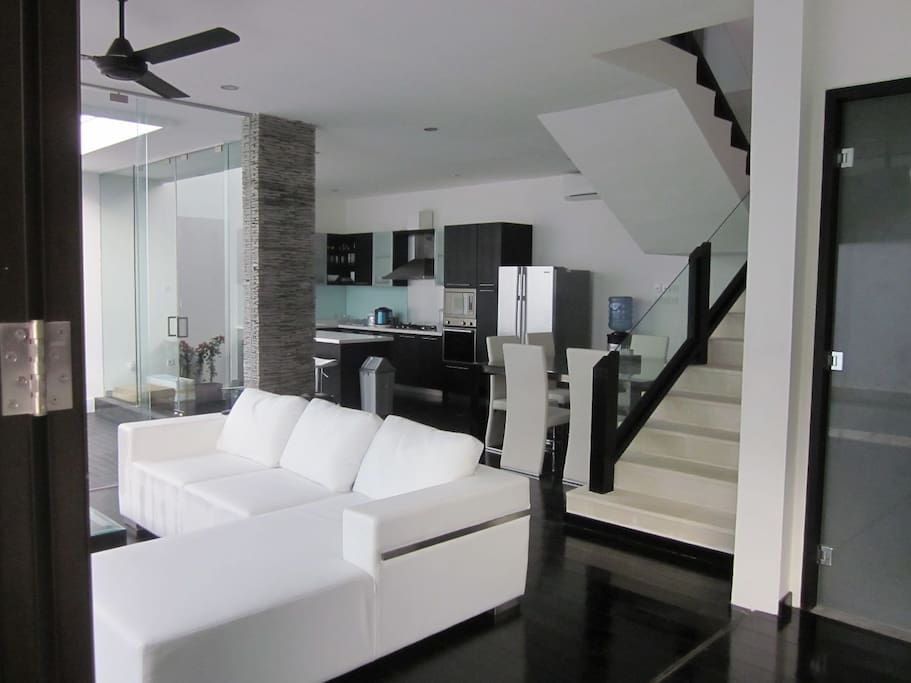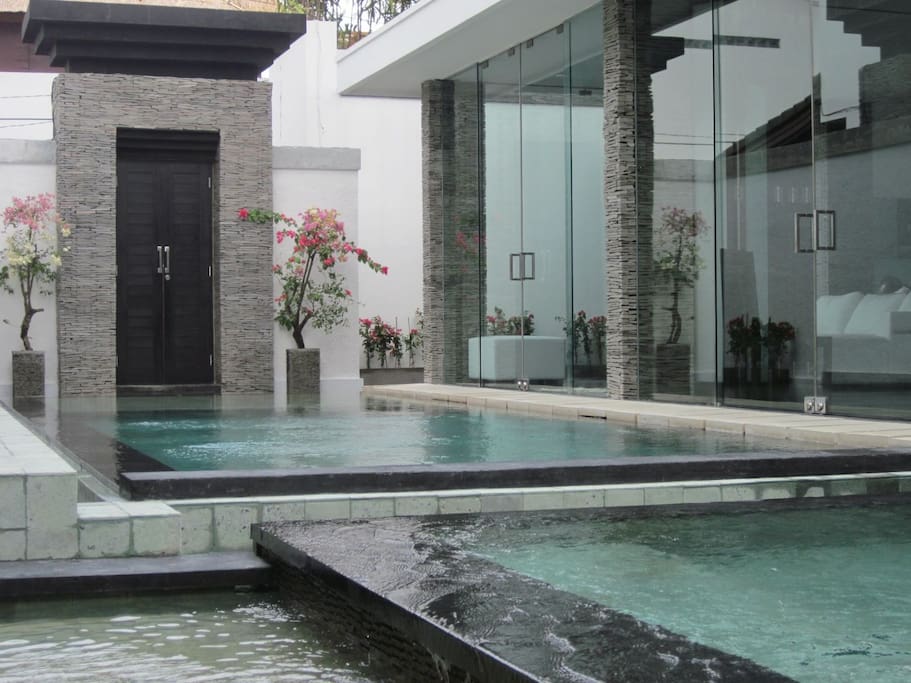 FREE EXTRA ROOMS!Seminyak 2,3 to 8BR
VERY HIGH SUPPORT and great SERVICE
PRICING Per / Bed Room (En Suites) and Headcount.
If you need 4 or 7 BRs Prices Vary,
- Extra Guests are 39USD plus tax
HIGHLY FLEXIBLE + Configurable.
The space
FREE EXTRA ROOMS
HIGH SUPPORT, THE BEST PLANNING, CONCIERGE AND BUTLER / BUTLERETTES
"Our Large Staff are YOUR Servants" you do not need to lift a finger if you do not wish.
Use TXT to summon support.
SCALABILITY AND FLEXIBILITY
We actually do configure the rooms and suites to your exact needs so everyone is happy.
Very Scalable - For Example: there is a private family suite that sleeps 5.
VERY REAL VILLA DIFFERENCES
There really are over 20 unique advantages designed for "Western or Hotel Tastes".
So if you have a family, and you want to keep the funnest youngster happy, and a mature adult happy,
New, clean, modern etc.
INCLUDES:
Breakfast
______________________
FOR PHOTOS Go To:
(URL HIDDEN) VIDEO
(URL HIDDEN) VIDEO
(URL HIDDEN)
(URL HIDDEN) REVIEWS
______________________________
> 20+ SIGNIFICANT SKY-VILLA DIFFERENCES:
I. ALWAYS LOCATION -
II. SERVICE - We hire only "Butler Trained People" Instant 24/7 Butler App and TXT! (Who else has that?)
III. AMENITIES - 20 + Unique Amenities (See below)
IV. PERKS - We, Ourselves Live for Perks! - Generous Configurations, Upgrades and Pluses
V. VASTLY SUPERIOR TECHNOLOGY - Great Comfort and Capabilities in Lands Far Far Away
- FREE International Calling! Robust Internet, WIFI, VOIP, Local Cell Phones, 3 Virtual Offices with Laser Printers and MUCH MUCH MORE! International and 66 Cable Stations, Mostly English. Vastly more Electrical Capability.
-----------------------20+ UNIQUE SKY-VILLA FEATURES----------------------------------------
> 1) MUCH BETTER "FUNCTIONAL SIZE " - we really have up to 6 EN SUITE Suites and Bonus Sleeping Rooms
> with 2 Pools AND Kiddie Pool in Seminyak, which is extremely rare.
>
> 2) FAR BETTER LOCATION - 250 steps from the Bintang Supermarket, (By Far the Best) and you are surrounded by a VERY quiet "relatively" private (and quiet) streets. All short walking distance to 50 restaurants and Bars Clubs and very reasonable Entertainment. This is Seminyak, not Kuta, so everything is to a much higher standard.
>
> 3) SUPERIOR BEACH SIDE OF TRAFFIC LOCATION - "Beachside of the Crazy Main
> Streets" like a private, little uncrowded, relaxing enclave inside of
> Seminyak. And you do not have to cross dangerous main streets to get to
> great restaurants, shops and places. SHORT DISTANCE DOWN cute little scooter roads to the Beach, shopping and great places.
>
> 4) BRAND NEW - Quite a big difference.
>
> 5) ULTRA MODERN - Fun Difference - Custom Built-In Furniture, Glass and
> More, but Living Rooms are Enclosed, Air Conditioned so few insects!
>
> 6) SUPERIOR TRANSPORTATION and AIRPORT PICK UP AND SCOOTER OPTIONS.
>
> 7) BETTER ELEVATED VIEW AND BREEZES FROM BEDROOMS (Big Big Difference)
>
> 8) LIVE-IN STAFF - you get a lot more service, 24/7 security etc. With Mobile Apps and Advanced Communications.
>
> 9) COOKS - only $29/day
>
> 10) FAR BETTER BREAKFAST -
>
> 11) UNLIMITED VIRTUAL OFFICE - Multiple Computers, Laser and Inkjet
> Printers, Robust Internet, VOIP etc.
>
> 12) UNLIMITED INTERNET - Broadband and WIFI in every room
>
> 13) FREE VOIP INTERNATIONAL PHONES - Free, but Limited
>
> 14) FREE USA PHONE NUMBERS - So you are seamlessly connected for free
>
> 15) GAMING CONSOLES and GAMES - Internet Connected with IP TV
>
> 16) 7 TVs and Deluxe 64 Chnl CABLE IN EVERY ROOM - That is 7 New Samsung Flat Screen TVs while many villas have only2!
>
> DVDs are fun in Asia ($1) with a library of 400 Already. Buy anything new from all the stores nearby.
>
> 17) THREE (3) KITCHENS - One is a Wet Kitchen for cooks and staff so you can
> keep your own "entertainment kitchens" clean.
>
> 18) Dual Full Size Refrigerators - Safe Ice Available
>
> 19) FREE UNLIMITED - COLD DRINKING WATER - 5 gallon Drinking Waters and
> Large Refrigerated Dispensers etc.
>
> 20) FULL SIZE CLOTHES WASHER -
>
> 21) REDUNDANT SUPPORT SYSTEMS - You have 24 hour Management PLUS 24/7 Virtual
> Management for Back Up. But almost every system has back up for reliability and guest comfort.
>
> 22) FREE LOCAL CELL PHONES - For Excellent intra-party communications always. Great for Transport and Drivers.
>
> 23) NEW GAMING SYSTEMS:
> PS III / PS II, You should bring your favorite games!
>
> 24) FLEXIBLE BED CONFIGURATIONS as 2 king beds can be split into singles,
> as needed. Plenty of Extra Singles for "Non-couples"
>
> 25) SKY VILLA 24/7 SERVICE with electronic paging and attention systems for
> enhanced service, and you can call the Owner Direct and any time for free.
>
> 26) LIVE IN 24/7 BUTLER - The Best Staff (read the (EMAIL HIDDEN)
>
> 27) IRONING (2 pieces of clothes per Adult upon arrival.) Just Tip the Staff
>
> 28) DOUBLE MASSAGE TABLES! (Get those inexpensive massages, any time) we go for the 3 Hr ones! Low Low Cost.
>
> 29) CUSTOMIZABLE SPA-VILLA PACKAGES - Ask your Manager, but try a 3 Hour Massage w/ facial.
>
> 30) IMMEDIATE IN ROOM SERVICE BY IPHONE / BLACKBERRY - Yes, we are always real time available.(LIKE A CONCIERGE APP)
___________________________________
> WITH FULL WEEKLY STAYS:
>
> 1) Two (2) free Hour Long Massages - Additional is HIGHLY DISCOUNTED 66% to
> $11 an hour! **
>
> 2) One (1) free Van Tour (Vans do have limited space 4-6) **
>
> 3) One (1) free Motorbike Rental - More Available Reasonably
Staff can change without notice and can vary with guest headcount.
____________________________________________
GREAT STAFF (May Vary +/-):
There is a superior team to support your vacation:
1 -- 24/7 Butler / Manager - Komang, very experienced, always available
2 -- Maid / Babysitter - Mrs. Tut
3 -- Maid - Miss Ketut
4 -- Cleaning and Repair Person - Mr. Har
5 -- Pool Man - Ferrar
6 -- 24/7 General Manager - Call or email any time.
That is 5-6 permanent staff PLUS:
7 -- Plus optional cook $29/day, Superior Breakfast is always included.
8 -- Plus optional babysitting $29/All day or $5/hour
9 - Extra Maid with Large Groups
10 -- Plus car and driver - Ketut at ($49/ 8 hours)
(Integrated Next Door with 2 vans/ Drivers)
11-- Plus fantastic on call masseuses $12/hour (that is about 60% off even Bali prices! ) first two are our gift to weekly guests.
All Integrated for maximum service. Staff can change without notice and varies with guest headcount.
(Subject to change without notice)
_____________________________
READ OUR GUEST BOOK COMMENT:
(URL HIDDEN)
(URL HIDDEN)
(URL HIDDEN)
_____________
DISCLAIMERS
> "Amenities, features and prices are subject to change without notice.
> "This is not a legal offer, Confirmations have to be signed and returned along with some form of payment.
> "The owner is held harmless for Indonesian Laws or changes in them that are outside of the owner's control, or risky behavior on the part of guests."
> "Neither the Villa nor its principles ever take responsibility for airline tickets or travel expenses.
These should be managed after guests have booked confirmed accommodations These should be managed after guests have booked confirmed accommodations.
Guest access
Extra Permanent Guests are $39 per night. One night guests, don't worry.
Guests are defined as anyone in addition to the ABB headcount in the villa that is not just a temporary visitor past midnight.
Paid guests are entitled to breakfast, and all amenities.
INDONESIAN LAWS are supreme and anyone violating laws (IE Drugs, Prostitution, or others) or immoral or un-neighborly behavior is subject to immediate eviction without refund.
NOISE - Everyone in Bali has neighbors who need to sleep. Even in Rice Fields, so the community enforces a 10PM Music Curfew until 10AM and violators will be fined by Police and Banjar.
Interaction with guests
Extra Guests are $39 per night.
Guests are defined as anyone in addition to the ABB headcount in the villa after midnight or in the early AM when staff arrives.
Paid guests are entitled to breakfast, and all amenities.
INDONESIAN LAWS are supreme and anyone violating laws (IE Drugs, Prostitution, or others) or immoral or un-neighborly behavior is subject to immediate eviction without refund.
NOISE - Everyone in Bali has neighbors who need to sleep. Even in Rice Fields, so the community enforces a 10PM Music Curfew until 10AM and violators will be fined by Police and Banjar.
Other things to note
Extra Guests are $49 per night.
Guests are defined as anyone in addition to the ABB headcount in the villa after midnight or in the early AM when staff arrives.
Paid guests are entitled to breakfast, and all amenities.
INDONESIAN LAWS are supreme and anyone violating laws (IE Drugs, Prostitution, or others) or immoral or un-neighborly behavior is subject to immediate eviction without refund.
NOISE - Everyone in Bali has neighbors who need to sleep. Even in Rice Fields, so the community enforces a 10PM Music Curfew until 10AM and violators will be fined by Police and Banjar.
---
Check In: Anytime after 3PM
Room type: Entire home/apt
---
---
Extra people $44 / night after 2 guests
Weekend Price $210 / night
Always communicate through Airbnb
To protect your payment, never transfer money or communicate outside of the Airbnb website or app.
Learn more
---
Check in is anytime after 3PM
1 ____________INITIAL
STANDARD BALI VILLA POLICIES
I. ARRIVALS and DEPARTURE TIMES:
IF someone is checking in on departure day, we have to maintain 11AM departure time. Lessee is notified.
IF someone is checking out on arrival day, we have to maintain the 3PM arrival time. Lessee is notified.
If there is a conflict, guests can shop and leave all bags securely in the Front Kitchen so staff can clean.
Late Check-Out is never to be assumed.
II. RENT and PAYMENT POLICY: includes any taxes and cleaning service
Furnishing Credit Card information or Transferring Funds is considered "Acceptance of these Terms"
2.5% charge is collected for Credit Cards… Wires are preferred, not having a 2.5% Credit Card fee, ,
The first payment is needed to activate any booking or agreement, along with the owner's and guest's
signature. It is the Lessee's responsibility to make payment, keep payment receipts, and have a documented, paid
agreement before they make or change travel plans. "The Lessor is never responsible for anyone's travel."
III. MAXIMUM PEOPLE & EXCALATOR CLAUSE:
Children count as full people.
Additional Headcount of any ages creates a $45US per person per night times (x) total length of stay charge,
determined by: cleaning services, managers, security, photos or electronic means, payable from the deposit.
Extra People over the Maximum are Charged 99US per person per night.
.
IV. SECURITY CREDIT CARD AUTHORIZATION in lieu of damage & incidentals
deposit is required 14 days before check-in to avoid any confusion or administration problems for: Damage,
Unpaid Rent, Fees, Taxes, Phone, Keys, Services, Items, Extra People &/or Repairs is:
Payable as an easily reversed: 1) Credit Card Authorization or Charge, or 2) Cash, NOT (SENSITIVE CONTENTS HIDDEN)
Credit card section at the bottom of this agreement to help Lessee with Incidentals (It is an Authorization Only)
or the Lessee will risk cancellation, forfeiting all rent paid and forfeiting all rights to occupancy.
Changes in Lessee(s) plans are not the responsibility of the Lessor. There is no cancelation, but adjustments
can always be made by mutually agreement, dates slid if workable etc.. Moneys paid are usually not
refundable but with specific permission by the ownership board, might be re-bookable.
V. MAJOR NATURAL DISASTERS, are Repairs, Fires or Certified Hurricanes that close
the DPS Airport for at least 24HRs and are the only reasons to delay, reschedule or slide (only if dates are open and
mutually agreed, and available,) to shifted time frames of the same rate class.
This is solely at the owner's discretion who:
will be held harmless completely if he gives a credit for the interrupted part of their stay.
is never responsible for airfare, tickets or travel plans; and is not responsible for "acts of god" or weather.
if necessary, may transfer guests to an appropriately large, new replacement unit of similar value & location.
For legal reasons, we have to include for everyone: -
Any Payment from the Lessee is considered Acceptance of all 4 pages of terms, and binding.
"We recommend the lessee purchases 3rd party trip insurance to protect their investment & vacation."
'Time is of the essence, ' meaning time is relevant to all issues in this agreement."
"Severability - any illegal or invalid clause of this agreement does not void the rest of this agreement."
Amenities & prices not included in this agreement are subject to change without notice."
Any Legal Action must be in Binding Arbitration not Court in the Owner's Home Country, the USA.
"Bottled water is always recommended"
VI. LESSOR SHALL PROVIDE:
1. KITCHEN MATERIALS, utensils, kitchen equipment, pans, plates, glasses, cups, laundry soap & cleaners.
AROUND THE POOL everyone must use acrylic, disposable or plastic glasses, even if not supplied, get some
disposable as a critical Safety rule. In consideration for this agreement, the Lessee(s) agree: to accept and be solely liability
for: their own or any guest's, or child's injury or damage incurred in or around the kitchen, villa or Pool; infants going through
2 ____________INITIAL
kitchen cupboards, and laundry room, playing with knives, tools, utensils, ingesting chemicals or anything else, and agree(s) to
exercise extra care and supervise them at all times, and hold the Lessor harmless and free of liability.
2. LINENS & BEDDING which will be clean at time of occupancy (may be in process for early check-ins.)
3. NORMAL CLEANING SERVICES are included, if you need extra cleaning it may be billable.
Not included is: LUNCH, DINNER clothes washing, & ironing, for which Lessee agrees to hold the Lessor
harmless, but extra services may be arranged inexpensively in Bali.
Extra services: massages, cooking, etc. must be discussed with the management, & be acceptable to all parties.
Our people report always primarily to the Manager. Guests should neither be secretive nor negotiate "lowball"
alternative prices with workers, or they will be billed the normal price regardless for such services.
Extra Mess, Damage, Vomiting or Party Materials will be billed on the damage deposit. Please avoid this!
VII. IMPORTANT VILLA RULES:
All Lessee(s) and all their guests, risk of losing their damage deposit, rent paid and possible eviction, for repeated
rule breaking.
ALL GUESTS AGREE TO NOT:
1. Break Indonesian Laws, Ordinances or Villa Rules or they risk eviction and/or
forfeiture of damage deposit. Damages & civil fines will come out of, but are not limited to, the deposit.
Lessee shall be exclusively responsible if they break any local laws.
2. Use or posses any "Contraband," drugs, or illegal items in or around the property.
Contraband and drugs are serious federal felonies and can be prosecuted by Indonesians.
3. Do Not Use Glass or Loud Stereos around the pool, use provided plastic cups and glasses.
4. Display Laundry, Towels and Bathing Suits, visually or publicly on a balcony, or windows.
5. Hold the Lessor liable for Indonesian Laws & rules
6. Sub-let the demised premises, or any part thereof, or assign this agreement.
7. Alter or improve the said premises, without written consent of Lessor.
8. Make loud noise or music that disturbs neighbors repeadedly before 10AM or after 10PM, an evict-able or
police finable rule. "
9. Allow Smoking Inside, "Especially Pot" or any Pets Inside at any time including their guests or visitors!
10. Increase the head count or make a "false reservation" without written permission, or lose your deposit.
11. Allow Children to use the pool alone unless accompanied by an adult.
If there is any injury to children using the pool, it is agreed that the Lessor will be held harmless.
12. Take bath towels, linens or Villa property out of the unit, except for blue beach towels & plastic cups.
13. Lessee(s) are liable if property is not returned to its original unit, even in the case of multiple villas.
14. Stay in the villa beyond 11AM check-out, unless there is a "written late check-out. "
15. Trash or damage rooms, fail to clean up seemly garbage, leaving personal hygiene materials and
prophylactics, throw up, or damage premises - or pay significant cleaning fees.
16. Stain the Couches or Bedding with Oil, Blood or TEMPORARY TATOOS as these may not be cleanable.
17. Overload the premises with events or extra guests. Weddings, Events or Parties exceeding the headcount on
the premises without written authorization.
AND GUESTS ALL AGREE TO:
18. Close all Doors & Windows when using Air Conditioning, or it may fail!, " over-work 250%" and cause:
19. A/C to Blow Difficult to Access Fuses, The system to overload and shut down
20. Give Lessor Immediate Notice of any damage, theft, serious injury or legal involvement.
21. Pay all costs, expenses & Lessor's reasonable attorney' s fees, if there is any failed legal action brought against
the Lessor. The Lessee agrees that disputes are to be tried and resolved only under Indonesian Law, in Bali.
22. Exercise extra care around the Pool and Jacuzzis, and consider the Lessor harmless for liability as they are
considered dangerous for adults, and especially for children or minors.
23. Return all keys. A key deposit of $200 is part of the damage deposit. All keys must be returned.
If a key is lost, it is anticipatable that doors will have to be re-keyed.
24. Keep Smoking and Sand from the Beach, Outside. And place sandy towels right in the washer, after shaking
them outside, downstairs, so no sand or Sand Fleas get inside the villa.
25. Cleanup after all guests and themselves, and take final responsibility for their own mess.
26. Clean up Vomit or unsavory party materials, or be charged extra for maid's services, possibly losing deposit.
3 ____________INITIAL
27. For liability & fairness reasons, keep cleaning expectations to those items listed in this contract.
28. Pay the Lessor all payments and Credit Card Authorizations before check in or Lessor has the right to bar
occupancy until paid, possibly by credit card with Lessor, before given occupancy.
29. Limit Group Activities & "Events" to the contracted number of occupants, or get a waiver in writing from the
Lessor "in advance."
30. Disclose in advance any events or large gatherings, such as a wedding or party.
Observe the security, noise, wear & tear, loud music and "good neighbor" standards of the area or risk part
of the deposit & possible eviction.
31. Respect Force Majeure and hold Lessor harmless for unforeseeable events or failures. In the event that a 'force
majeure' (fire, earthquake, hurricane, flood, political revolution or other circumstance outside all party's control)
prevents the client from normal use of the rental property. Lessor may always supply an equivalent size and
quality replacement property for the lessee if necessary and is then not liable for refunds.
VIII. PROPERTY & SECURITY ISSUES:
In consideration of this agreement, it is mutually accepted that:
1. LESSOR MAINTAINS THE RIGHT OF INSPECTION & ACCESS TO REPAIR AT LESOR'S WILL, and
at any time. This extends to the Property Management Company, representative(s) or repair persons.
2. THIS WRITTEN AGREEMENT IS WHOLE and ENTIRE AGREEMENT, so there is no confusion.
3. FURNITURE IS NOT TO BE DRAGGED ARROUND INSIDE. Scratching the wooden floors is billable.
4. GOVERNING LAW IS INDONESIAN: THE PARTIES HEREIN INVOLVED IN THE CONTRACT SIGNED, RECOGNIZE
AND ACKNOWLEDGE THAT OBJECT OF THE CONTRACT IS LOCATED IN THE COUNTRY OF INDONESIA, IN THE ISLAND OF
BALI, Therefore, the signing parties recognize that: this contract shall be construed and interpreted in accordance with the laws of Bali,
Indonesia. It shall not be construed against the party in whose behalf it was drafted solely because of the fact that party drafted it. With respect
to Lessor nothing herein shall be considered as consent to personal jurisdiction in (any country or state) or waiver of such additional and
further rights & protections as may be entitled under Indonesian law. Lessee agrees to binding arbitration in the owner's country (USA) in
place of court. Meaning that there would always be a fast and neutral determination, not involving court in any case,
3. LESSEE'S (GUEST'S) PROPERTY IS THE LESSEE'S AND THEIR GUESTS' SOLE RESPONSIBILITY,
who may purchase their own insurance for their protection. In consideration for this agreement, Lessee waives and
holds the Lessor harmless, for any claims against the LESSOR for any theft, damage or negligence.
4. AMENITIES AND SERVICES are subject to change without notice. Extra services are chargeable.
5. LESSOR IS RESPONSIBLE FOR SERVICES & AMENITIES only on a best effort basis. Lessor is to use all
reasonable skill and effort, but is not responsible for temporary service outages such as an elevator, power, or hot
water, if it is not under his control, caused by, or being fixed by the building staff.
6. NO VACATIONING STUDENTS under 25 yrs unless accompanied by parent or responsible senior adult.
7. ANY LEGAL FINES associated with only the guests actions only, are chargeable to the Lessee.
8. ALL TRASH, DEBRIS, rubbish and discards must be placed in dumpster regularly and must not pile up.
9. MULTIPLE RULE VIOLATING TENANTS MAY BE EVICTED by the owner, representative of the owner,
local law enforcement, or security company employed by the complex.
10. CANCELLATIONS or shortened stay, are charged the full rent. - EARLY DEPARTURE is not refundable.
11. LESSOR and STAFF to be given a fair opportunity to correct any shortcomings, dirt, damage, or issues that
would bother a tenant, and hold the Lessor harmless as long as they react immediately on a best effort basis.
12. VILLA ITEMS TAKEN AWAY BY ACCIDENT are considered missing and chargeable.
Fees can include: reasonable time, materials & transportation expenses.
And if they are critical to other amenities, may effect charges for those amenities also.
Returning missing items is not always a remedy because it may already be replaced purchased by the Villa.
13. MAXIMUM OCCUPANCY IS LIMITTED TO PAGE ONE (1), and is material to this price & agreement.
Exceeding it may force eviction and/or a $49 additional charge per person, times total length of occupancy.
14. AMENITIES & THEIR PRICES not in this agreement may change or be billable without notice.
15. FALSE RESERVATIONS obtained under false: names, ages, pretense, headcount, undisclosed events or use,
will make subject to forfeiture any payments & deposits. Lessees may be barred from entry.
16. THE LESSOR and STAFF will be held harmless as long as any REPAIRS or SERVICES (IE: HOT
WATER, CLEANLINESS, WIRING, SANITATION, CONDITION or ANY DIRT ) are handled
expeditiously and on a "best effort basis. " The Lessee must give the Lessor and staff immediate notice of
anything out of place, and Lessor will be held harmless for outages when reasonable efforts are made to identify
and repair any problems, if fixable or not, and will always give the Lessor and Staff the opportunity to fix or
4 ____________INITIAL
"make good any issues. The owner must always be quickly and fairly notified of any problems, for Lessor to
respond or be responsible.
17. OWNERS, LESSORS & AGENTS ARE NOT RESPONSIBLE for any loss, injury or or liability outside of
their immediate control, including personal property or valuables that occurs during the rental period. Use the
safes;. . Signatories are acting as all guest's and their visitors' agents, who are expressly releasing the owners
from liability from harm or loss arising from their use of the premises.
18. ANY CREDIT CARD INFORMATION FURNISHED to the Lessor is authorized by the Lessee, even if
charged after departure, for: services, shopping, transportation, taxes, rent charges, extra occupancy charges,
incidentals, legal fines and/or damage, but "only as associated only with this rental. "
IX. ON DEPARTURE DAY:
a. TOWELS, SHEETS & DISHES are cleaned by the maids so it is best they be left in place, or on floor.
These are the Maid's responsibility for cleaning (but not damage.)
b. KEYS and ANY VILLA CELL PHONES MUST BE RETURNED TO "Manager" or designated party,
c. FURNITURE, chairs, flowers, and things must be placed in their original, appropriate positions.
19. "IF NEW GUESTS ARE ARRIVING ON YOUR DEPARTURE DAY:"
a. CLEANING SERVICE BEGINS at 9AM. Lessee & guests must not interfere with cleaning. If guests, extend
their stay or re-dirty rooms or they must pay a significant $90/hr.fee past 11AM.
b. BY 11AM ALL SUITCASES must be packed & left safely in the Kitchen. We can keep luggage one (1)
afternoon if necessary. Never Assume Late Departure! New guest could be arriving so it is charged!
X. GUEST LIST SIGNED UPON ARRIVAL:
ALL GUESTS MAY SIGN THIS PAGE (5) UPON ARRIVAL (or Before)
"WHEN ARRIVING," UPON ENTRY, & BEFORE UNPACKING,
GIVE YOUR PASPORT OR XEROX OF PASPORT TO MANAGER.
HE WILL RETURN IT VERY QUICKLY.
It is very efficient to make two (2) copies of your passport before leaving home !
Hand one to the Manager, he will need one for the legal police administration,
keep one for ease of identification or future Indonesian requirements.
XI. DISCLAIMERS
1. "Amenities, features and prices are subject to change without notice.
2. "This is not a legal offer, Confirmations have to be signed and returned along with some form of payment.
3. "The owner is held harmless from: Any limitations from Indonesian Laws. Changes in them that are outside
of the owner's control, or risky behavior on the part of guests."
4. "Neither the villa nor its principles ever take responsibility for airline tickets, booking cancellations or any
travel expenses which should be managed after guests have paid a deposit and have booked confirmed
accommodations
---
---
---
---
The Good: - the staff were really great! The onsite staff worked really hard at fulfilling all of our requests including pick up from a nearby hotel. The lady made fantastic breakfasts every morning (best banana pancakes ever!) - villa looks like a rockstar accommodation when you enter with the pool right in the middle - unlimited filtered water - very spacious for our 14 person group - good location close to main road - portable mi-fi was very useful and worked well The Bad: - lots of issues with the water (every day), e.g. trickling water in the showers, brown water at times, water backing up in the sink at times, no water at times (the staff tried their best by bringing someone in to change the water pump and other maintenance tries) - was a bit dusty but staffed cleaned up - had some ants but staff sprayed and that worked - in short, no one wants to shower in brown water Conclusion: - we were booked for 4 nights but we checked out a day early. We couldn't shower in those conditions anymore (for those that could take a shower). The owner would not provide a refund for the final night indicating that measures had been taken to rectify our issues. - we had to book a hotel last minute which was very costly but couldn't stay at the villa given the water issues
We loved these guests, "All our guests are treated like KINGS" in fact - .................. We Uniquely Use Butler Trained Staff! so "Our Staff is YOUR Staff," and that includes all mechanical issues. THAT is a FANTASTIC VALUE Uniquely at this (URL HIDDEN) your extremely important vacation ........always!.......................................... It does not stop there! We are 25 Years Experience as SYSTEM ENGINEERS, and there are OVER 10 superior designs Including Double Independent Water System + Triple Independent Internet + Double Suped Up Power System, and Even Complete Concierge 24/7 Back Up, SUPERIOR COMMUNICATIONS ..... 9 Air Cons which means we can do ANYTHING for you 24/7! .......................... But the FULLY INDEPENDENT - Double Water System is Electricity Independent, and When City Water had a brief issue one time we UNIQUELY HAVE FILTERS and technology that is superior in class ............. we have not been able to recreate this problem! But we will never, ever contradict our guest, AND we love them, and we wish all our guests back with a big discount........ THEY HAD BEEN GIVEN A BIG UPGRADE ALREADY as a standard perk................... With all our resources, we spent Hundreds of Dollars Pulling Apart the VERY GOOD FILTER SYSTEM and a lot of time, and we have one of the best systems in the entire UP MARKET AREA, so I hereby guarantee that it can not happen going forward, and will pay someone who has that problem......... Our Guests are Always Right, and Always (URL HIDDEN) we will never stop to support them. So we do have a problem if people dump Sand in the Sink, And shower heads are rutinely maintenanced. ............ They loved and Used, Used, Used our FREE CLOTHES WASHING, so maybe that had some sand from the beach in it. if they do not give our staff an extra bit of time to fix things................. so there was something else going on, wish we could help....... We could tell the guests had spent very Lavishly Elsewhere, Very Lavishly, and they really felt they needed to correct their budget, hense that discussion, which was not as they say. and this was just a weird exercise and test for us. .................................. But vacation is big money, we have spent very big money even UPGRADED our filters, Since NO ONE drinks the Water ANYWHERE in South East Asia, we provide UNLIMITTED Bottled and 5 Gallon waters, to make sure everyone is well Hydrated, but i have pictures of clear water! I have pictures of "Sand in the Sink from the Beach" so we examine all this, and I personally even did the taste test. I have drunken this villa water several times.... and only THIS VILLA have I had NO reprocussions. BUT YOU DO NOT DRINK TAP WATER IN BALI. EVER! NOT EVER EVER. so this issue was a big nothing, maybe vacations are expensive. .................. If you do not like one shower we have 6 Amazing very Large good Showers on 2 systems and a superior WESTERN TEAM that can fix anything very fast......... BIG DISCOUNT FOR ALL OUR GUESTS, RETURNING. and these nice people too! ......... and frankly we loved these guys, and will do anything for them.
---
The location is the best point that SkyVilla has. It is a central location. You can walk down one of the main streets with shops and brands from all over the world and also from Indonesia, and restaurants. Breakfast included and quality. The staff and manager are always attentive to what one orders; Every request is answered and solved quickly The cleanliness of the house is a point that should improve. Need to fix plumbing problem as the water seeps out and you can smell the drain Rooms well equipped with air conditioning and spacious spaces It offers transportation as a separate rate but it is worth hiring. The driver is friendly and efficient, always punctual.
---
Sky-Villa Seminyak Bali ( operates several "best in class" villas on three continents, with excellent Guest Satisfaction, and even better Vacation Experience. results.
Unsurpassed service, being organized and professional. makes a difference.
I welcome all guests from all over the world.
Languages:
Bahasa Indonesia, Bahasa Malaysia, English, Français, 한국어
Response rate:
100%
Response time:
within a few hours
Explore other options in and around Kuta
More places to stay in Kuta: