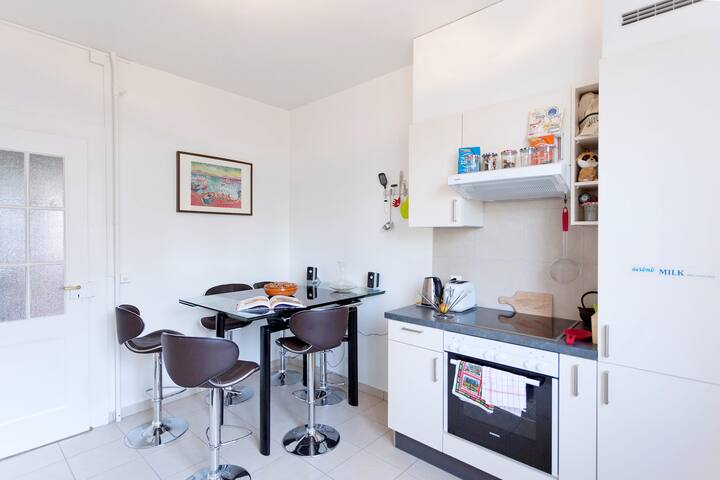 Private room
2 Guests
1 Bed
About this listing
Located behind the station, in the greenest and safest city district, the apartment offers a strategic location for your journey. Guests can enjoy a view of the lake Leman, gastronomy, and a home with all the modern amenities.
---
---
---
---
---
---
None
Smoke Detector
Carbon Monoxide Detector
---
About the Host, Alberto M.
Well, I don't know how to start talking about me... but I'll try!
I'm Alberto, an italian 25 guy; I live in Lausanne after a whole life spent in Rome with my family, mama dad one brother and one lovely, fantastic and charming dog, called Daisy (she is just a pet).
I've studied to be a Medical Doctor till a few time ago! It has been a very hard road but stimulant and full of satisfaction. My professional fields of interests orbit around neurosciences, from human genetic and molecular biology to the cognitive and behavioural sciences.
Apart from it, I really love to make every istant something unique and special; travl is the way to create it, to photograph is the way to keep it; inside, outside of you. So, I've been trying to surround myself and make my life full of emotions and new interesting and positive experiences.
During my everyday life, I wait a little bit of spare time to take my motorbike and drive it all along the country hills surrounding my city; otherwise, if it is too late and I've to stay at home, why don't I try to cook some really nice and experimental meal? Yes I do, is an interesting and pleasant pursuit; not only italian food, i catch every possible chance to learn something about new international cooking.
What else? Mmh.. I think it's time to come here and discover it by yourself, if you think to be interested in.
I'm back from Malaga where i studied thanks to Erasmus program, and back from New York City where I did an internship following a lab in the Albert Einstein College of Medicine.
While i'm studying, i'm a hard reader: i like to delight my mind first of all with novels, especially modern licterature, writed all over the world. for example, now it's time for Beat the reaper, Josh Bazell... wonderful!
i like to play sports, in my life i've tried so many things... but the must for me is kayaking over hard and fast rivers and falls; then running, waterpolo, diving, soccer, surfing, tennis-table (ooh, i love it!), swimming, volleyball, golf, i can continue till tonight ;)
Then, my second life: i love above all the Theatre, going to see comedies or tragedies, the important is Going; naturally i love as well playing on the dais, also if I did nothing for fwo years. i'd greatly to resume it.
regretfully, i'm addicted to my pc, i spend a lot of time watching film on it (i'm very enthusiastic of cinema), studying on it, trying to improve my knowledge of languages and many other things; for that reason i think that Internet it's one of the most powerful and important things that is ever born... but it needs a good and judicious use.
So, what about my studies... Neuroscience means life. Neuronal networks don't mean only biology and genetic studies, but also talking, thinking, sharing... Anthropology, philosophy, cultures, history, all is based on our thoughts and experience. That's what I work with and the passion I want to share with my guests.
Then I can teach you how to shoot a nice pic or how to plan a very funny cooking session!
I'm always trying to be an open-minded person; that means that I want to learn what people desire to teach me; I found the best people at all so far, and they teached me atoms of life day by day. Thank you all folks :)
Talking about who or what a person expects to meet is very boring. I could say:
Oh, yes I love amazing, adventurous and easygoing people!
..but..
Apart from the canonical way through the world is thought, I believe - and I hope - that in each person there is always something really unexpected. Although I hardly love engaging, cultivated and crazy guys, a lot of times what is unforgettable to me belongs to the apparently shy, wan, even boring one.
So, I don't look for a preferred one, I can be more attracted from him, of course. I don't look at all.
I smell, taste, savour the company of someone. I think it is like a new meal; you'll be more or less inspired thanks to your sensations, but it is only after you tried it that you really know if and how it surprised your sense. Even negatively, it'd be ever an experience.
Besides... Since I like people that make me laugh, dreamy and stimulated through their own adventures, I believe that such philosophy lays the basis for the adventure itself.
---
Something more about myself...
Movies, music and books are three things that really characterize myself; I love so much to watch many films (also more than one a day) and I read books and listen to music in every moment.
Some examples:
Movies
Million dollar baby
V for Vendetta
Remember the titans
Rain man
Philadelphia
Full metal jacket
Patch Adams
Dances with wolves
Books
Essay
Did you spot the gorilla? How to recognise hidden opportunities in your life - Richard Wiseman
How Many Friends Does One Person Need? - Robin Dunbar
Il cervello anarchico - Enzo Soresi
Living Loving and Learning - Leo F. Buscaglia
The emerging mind - Vilayanur Ramachandran
Where good ideas come from: the natural history of innovation - Steven B. Johnson
Fiction
The picture of Dorian Gray - Oscar Wilde
Extremely Loud & Incredibly Close - Jonathan Safran Foer
Oceano mare - Alessandro Baricco
Seta - Alessandro Baricco
Se una notte d'inverno un viaggiatore - Italo Calvino
Marcovaldo - Italo Calvino
The Third Twin - Ken Follett
A Dangerous Fortune - Ken Follett
World Without End - Ken Follett
Oliver Twist - Charles Dickens
The hobbit - J. R. R. Tolkien
The lord of the rings - J. R. R. Tolkien
The Stieg Larsson's trilogy
La solitudine dei numeri primi - Paolo Giordano
Gomorra - Roberto Saviano
L'Élégance du hérisson - Muriel Barbery
Music
International music
Queen, the best of the best in the world.
Cat Stevens, that i love so much and remember me my childhood.
The Beatles, the milestone.
Dire Straits, exciting rock.
James Blunt, sound of my soul.
Bob Marley
Acoustic Alchemy, magic guitars.
Frank Sinatra
Dean Martin
Amos Lee - latest news from U. S. music.
Italian music
Lucio Battisti
Francesco de Gregori
Roberto Vecchioni
Negramaro
Gianna Nannini
Fiorella Mannoia
Zucchero Fornaciari
+ More
Lausanne, Switzerland
Member since June 2012
Response rate:
96%
(past 30 days)
Response time: within an hour
---
Explore other options in and around Lausanne