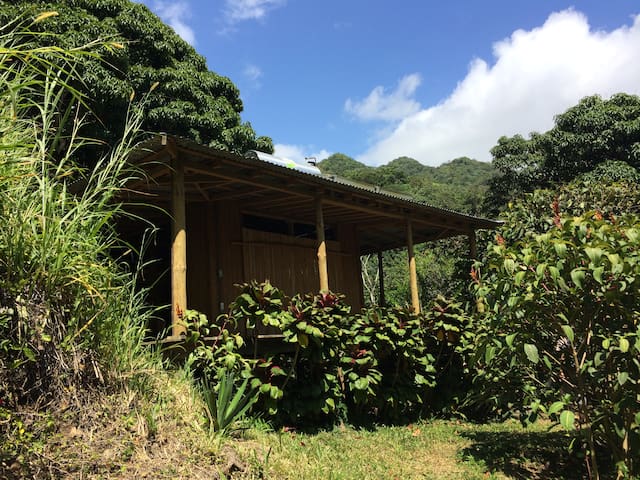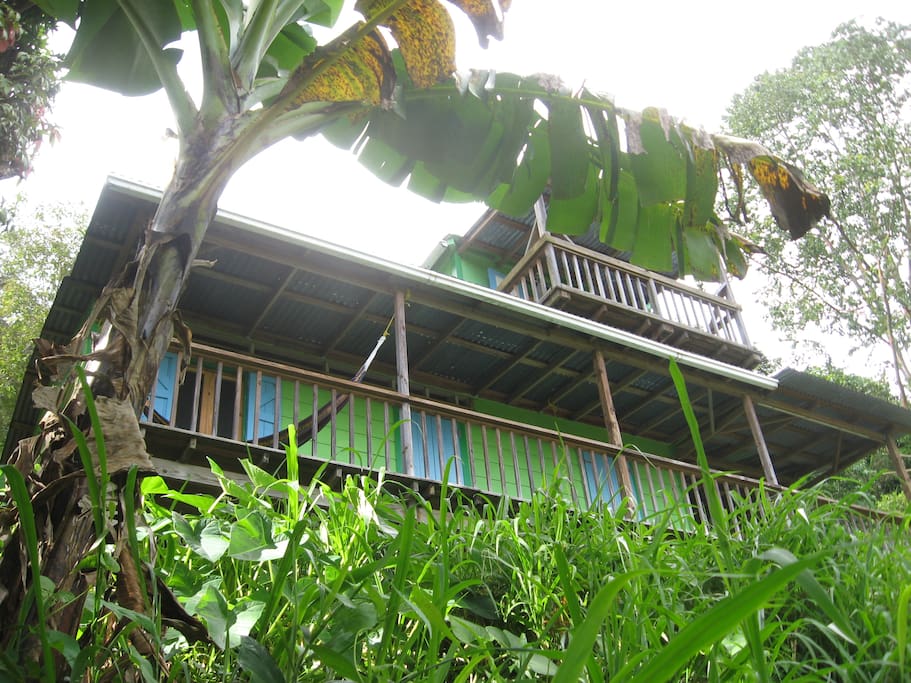 Casa del Mundo nestled in the tropical forests of the South Central Mountains of Puerto Rico in a high mountain river valley ( a river runs through it ) yet only 45 minutes to the Guanica beaches is a treasure. This is the original Jibaro farm house lovingly renovated for modern use yet retaining it's rustic feel. There is no environ or abode on the island that can match it's unique beauty. 15% discount for bookings of 3 or more days. Catered meals offered when available.
The space
Warm days (75-85F), cool nights (65-70F) of the tropical mountain jungle with virtually no mosquitos (no screens necessary!) to hinder your commune with nature. No air conditioning necessary. It really is a perfect climate! Explore the miles of trails that meander through the forest, perhaps into the edges of the Guilarte Forest Reserve or journey to the undiscovered beaches of Guanica a short pleasant drive down the mountain (45 min). Then return to your mountain retreat to take a dip in the pure refreshing waters of the finca's river just in time to see the moonrise above the mountains immersed in a symphony of jungle night sounds. The best of both Caribbean worlds! There is no other environ or abode on the island quite like Casa del Mundo. Once the Jibaro family dwelling of a small coffee farm, it has ben renovated for modern use yet still retains it's rustic feel. We offer two rental Casitas-CasaMundo (2 -6 persons) and Casa Kadam (2-4) each with unique characteristics but both with solar hot showers, state-of-the-art eco/composting toilets and fully equipped kitchen. The Peace Pavilion-- a large roofed meditation/yoga pavilion-- is available for guests (when not being rented for special events/retreats).
When available our our local friend and cook Daly will prepare and serve you in Casa del mundo traditional, local food using local, fresh ingredients. She does offer one Vegan/vegetarian curried platter. Daly's meals feature Frituritas de Guineo with curry sauce- Papo's organic green bananas pan friend and served with a tomato based onion curry sauce. All of Daly's meals are $18 per person.
Our friend Megan is a professional gourmet vegetarian chef specializing in Farm-to-Table servings. Megan has to travel almost 2 hours to get here and is not always available. The cost of her dinner is $25 per person.
Both Daly and Megan request (and require) that you make your inquiries via email from your personal email address to them 2 weeks ahead or minimum at least 1 week ahead of time.
The sooner you make your inquiries, the more likely you will be able to make a reservation.
Copy Sana on all correspondences from your personal email address
Sana-
(EMAIL HIDDEN)
Daly-
(EMAIL HIDDEN)
Megan-
(EMAIL HIDDEN)
Be sure to bring cash to cover your meal costs and other miscellaneous costs such as yoga or meditation classes, or purchasing fresh organic produce from Papo.
Daily morning Yoga and Meditation classes are available.
The hosts are fully qualified Kadampa meditation instructors. Private meditation instruction is offered for both beginning and experienced meditators.
*Ziki infection is virtually unknown at the mountain altitude of Casa del Mundo. There are no reported cases to date. (Daly recently gave birth to a healthy and beautiful baby!)
Guest access
River swimming holes, miles of well- maintained trails to explore the forest and views, organically farm-grown fresh produce available for purchase, solar hot showers, indoor state-of-the-art eco/composting toilets and the incredible have-to-experience-to-believe sounds & sights of mountain jungle life.
Interaction with guests
Sana & Papo, musicians by trade (both bilingual), live and work on Finca Caminos y Moradas and are always available to answer any questions or address any concern. They are well versed in all the local customs, flora and fauna (Papo is a trained forester) and can recommend short excursions from the farm (1 hour or less) to visit local points of interest. They have a close, harmonious relationship with all their neighbors.
Other things to note
Guests must purchase in town all the food (we provide organic coffee, sugar) they will need for their stay prior to arrival, but if your booking an extended stay you can journey down the mountain to Peñuelas (30 minutes) for more supplies or to eat out in Ponce or elsewhere.
We highly recommend guests bring flashlights, flip flops and a warm shirt or sweater for the sometimes cool mountain breezes
Please note: this space is appropriate for children ages 7 and up.
And, most important, be prepared to immerse yourself in the beauty and tranquility of this unique mountain valley.
There are 3 eco-casitas on this model tropical, mountain farm dedicated to ecologically sustainable cultivation of cacao, coffee, vegetables and diverse tropical fruit. It also provides a space for various retreats including monthly meditation/yoga workshops. Upon your arrival, let Papo know if you are interested in taking his morning meditation and/or yoga class. The donation fee is $10 per person.
This ecotourist offering is associated with the not-for-profit organization ECOSECHA.
Check out our web site: puertoricorainforestretreat
Long term guests can request Sana & Papo to set up an appointment to come to their personal home to use WiFi for urgent matters.
Cell device is excellent for ATT plans and most major 4G systems function well.
---
---
Common spaces
1 double bed, 1 sofa bed
---
Not safe or suitable for infants (Under 2 years)
Check in is anytime after 4PM
You need to plan carefully your trip to Casa del Mundo. We will meet you at the chapel in Barrio Barreal ( 30 min. from Peñuelas center ). Please read Other Things To Note. For those whose flights arrive after 12 pm we suggest you book a night in beautiful Old San Juan so that you have plenty of time to grocery shop and drive to Peñuelas in time to meet us. The cottages and terrain are appropriate for children ages 7 and up. One pet dog is allowed although will have to be restrained from going into the farm plantings. We prefer no smoking but on occasion allow smoking outside. Please be respectful of the local customs and considerate of the local flora and fauna. Gracias, S&P
---
Review from my husband: When we were planning for our family of 4 PR trip, we wanted a true island experience outside of the typical resort experience. We picked Casa del Mundo in the rainforest of Penuelas. The adventure started in getting up the mountains up to a meeting point with Papo. Once we met up with him, he guided us through this slightly treacherous terrain up to the house. I called it the surprise climb cause it kept surprising you every turn. Papo gave us a quick orientation of the house including the composting toilets, the shower, and the outdoor toilet. It was priceless to see the smiles on our 8 and 7 yo daughters' faces as they explored the house. For me as a photographer, every turn and every window presented a photo opportunity begging to be taken. Each window presented a breathtaking view of the mountains and pure nature. Immediately after we settled in, the rain started pouring and it was an instant stress reducer and relaxer. We congregated in the living room sharing stories, playing games including teaching the girls how to play chess, and listening to salsa music. TIP: make sure you bring your luggage in the home immediately before the rain starts. I had to walk out to our car in the rain and in the dark. I brought headlamps on the trip but they were of no use because I had left them in the car. Luckily, the house had two flashlights. My wife and I loved sleeping in the top loft. We kept the doors open as we listened to the rain and nature sounds emanating all around us. The girls slept together in the bedroom on the lower level. At the break of dawn, we were once again greeted with the beautiful landscape surrounding us. We were reminded once again that we were in paradise. We left for day trips including a local coffee farm and the beaches in Guanica. We made sure we got back by 4pm which seemed to be when rain typically started. We wanted to avoid driving in the rain. Drives to Penuelas from the house typically took 20-30 minutes depending on your capacity for risk. Don't get GPS'd like we did (see tip below). We had an harrowing experience through the mountain ridges with super steep climbs and turns that ended up in a dead end on top of the mountain. We didn't want to miss hiking the farm before we left. We did one of the quick hikes down to one of the water falls. Trails are narrow and overgrown vegetation in some areas. It was a nice short hike for us and it was a chance to see the land. You can see how much work this place takes especially with the steep terrain involved. In the 4 days we stayed at Casa del Mundo, we only interacted with Papo twice while checking in and while he took care of the property. He's a...
---
We stayed a total of 7 days and enjoyed every minute of it. The drive in is a bit windy, but use your horn and you will be fine. The directions are super easy to follow and you can't miss any of the land markers from their instructions. Take the showers at night if you want a hot shower otherwise it will be about room temp in the morning (also depends on how much sun was shinning) the trails are great and the waterfall and waterholes are fantastic! We ventured out a few times and per Papos recommendation went towards Playa de Tamarindo and other local day trip location s. All if his advice met our expectations. We will recommend this to everyone we know and hope to be back very soon.
---
We absolutely loved our stay. The privacy and tranquility of the property is outstanding. The owners of the property Sana and Papo are very welcoming and friendly. They stay out of your way unless you need something. We've stayed in five star resorts across Mexico and Puerto Rico and we actually prefer to stay in a place like their's. We have two teenage boys I don't think I would bring them to a property like this because I believe they would be a little bored. This is definitely a place to take your significant other and have some peace and quiet. Definitely have Daly come and make dinner for you. This is an extra service and is definitely worth it. The property is beautiful and there are many trails to keep you busy walking around the property. We will definitely be back!
---
Casa Del Mundo was heavenly. Although, I'm reluctant to write how wonderful it was to keep this paradise all to ourselves:) Sana and Papo were fantastic hosts giving us space to enjoy the exceptional beauty and tranquility while guiding us to waterfalls; providing fresh kale and collard greens as well as egg fruit, star fruits, bananas, oranges and grapefruits from the property. The house itself was very comfortable and well appointed with all the amenities one would need. The composting toilets were well thought out and contributing to the environmental well being of this treasured spot. It is quite far from the town so don't bring anything but a swimsuit, sturdy shoes and a head lamp! We can't wait to go back.
---
Casa del Mundo is absolute paradise in Puerto Rico! We loved the house, our hosts and their eco-friendly approach to living. The Peace Pavillion was so perfect for morning yoga. We loved Papo's led meditations, and our walks through the jungle, along paths so well maintained. The lush green jungle, sing-song birds, swimming hole and waterfall were so deliciously restorative. Sana and Papo are the most gracious of hosts. We very must hope to return!
---
My husband, Papo, and myself are musicians by trade but here on the Finca we are establishing an alternative small scale agriculture with terraces, cacao forest, and an ecotourism integrated with the local community and environment. We are meditation teachers that have been pract…
Languages:
English, Español
Response rate:
75%
Response time:
within a few hours
Explore other options in and around Peñuelas
More places to stay in Peñuelas: