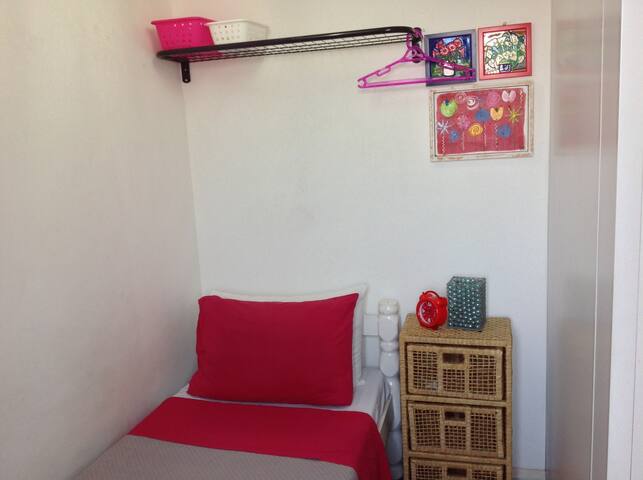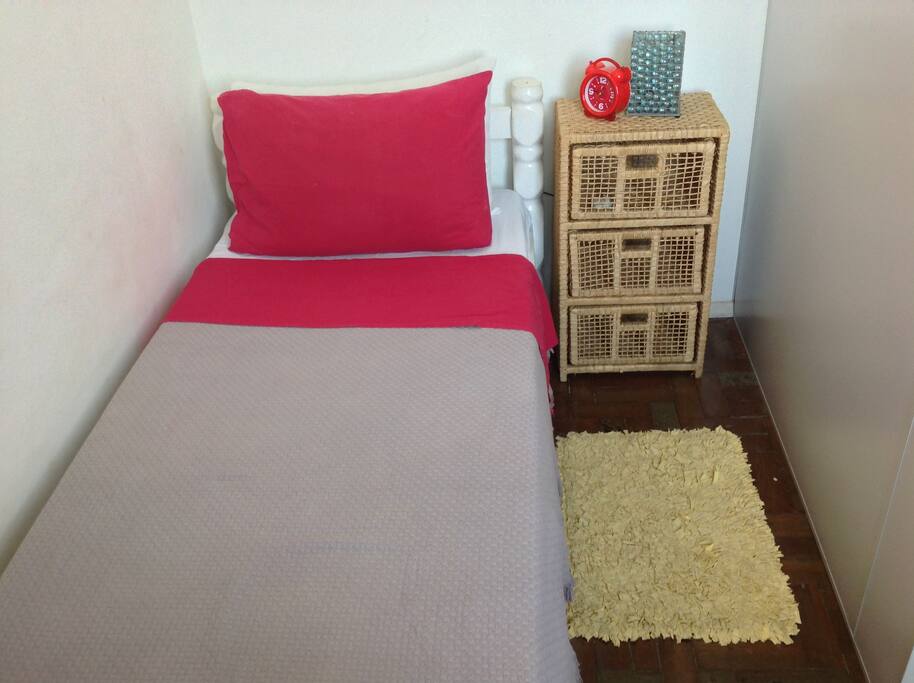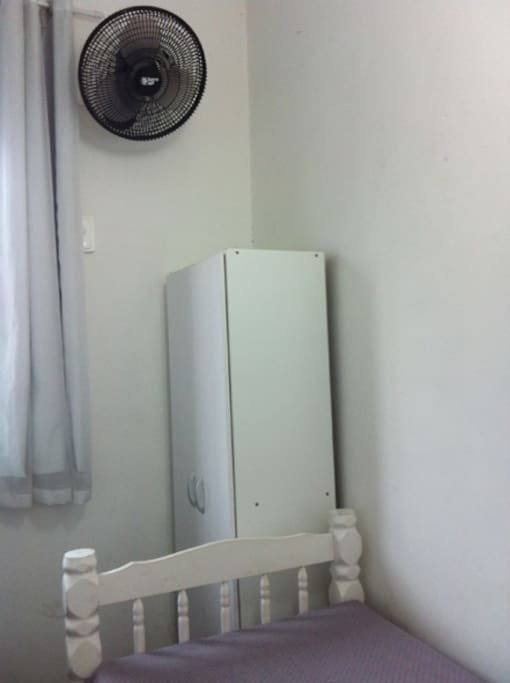 The space
I live in a house located in the historical neighborhood of Santa Teresa, with lots of green around in a very peaceful place. It's a charming area, with bars and restaurants. Very near to the best spots in the neighborhood (stores, restaurants and bars), only 10 minutes by taxi or 20 minutes walk from Lapa (the most bohemian neighborhood in Rio) you will be staying at a quiet street, in a pleasant house, with a garden to relax.
Guest access
Kitchen
Living Room
Bathroom
Yard
Always communicate through Airbnb
To protect your payment, never transfer money or communicate outside of the Airbnb website or app.
Check-in is anytime after 2PM
1. Occupation of the rooms
All house guests must be registered. Any non-registered persons will be charged the fee of R$ 150,00 per person per night. If there are people in the house that were not previously identified and named in your booking, you will be in breach of contract and may be denied access to the property. No refunds will be issued due to breach of contract.
2. Payments
It must be done at your check-in (NEVER AT YOUR CHECK-OUT) plus the cleaning fee. Payment only in cash (brazilian currence). I do not accept credit or debit cards / checks.
3. Linen and towels
Return bed linen and towels in the same condition you received at your arrival. You don't need to clean it but spots as fat, blood and whatever will be charged in R$ 50,00 each.
4. Check-in and check-out
Check- in: 2pm
Check-out: 10.30am
* After the check-out time, you will be charge in a full daily;
* If the guest decide to leave the house before the whole period finish the amount paid will not be reimbursed;
* Early check-in: it will be charged a value of R$ 30,00
* I don´t have half daily.
As I am not a hotel and I have no reception. From the moment the guest informs the arrival time, I'll be at home from the time informed. My contact number is (PHONE NUMBER HIDDEN). If there is delay in flight or on the bus ask that I be informed so I can rearrange your arrival.
NOTE: However, if your flight or bus arrives before the agreed time I ask you to wait at the bus station or at the airport until next time we agreed by email. I organize my day based on the time that the guest stipulates as arrival time. If you arrive outside the scheduled time and I'm not home, I do not give back your deposit.
5. Storing your luggage after your check-out
If your transport (plane or bus) is after at 10.30am, you may leave your luggage at the first floor of my house. However, I charge R$ 20,00 per suitcase independent of the size. The procedure is as follows: pack your stuff, leave them at the place that I will determine and give me the keys back. After we will combine a return time when you will only pick your luggage up. Don't forget your daily ends at 10.30 am.
6. Electrical appliances and lights
Please turn off the fan, all electrical appliances and lights when not in use and when you leave.

7. Kitchen
After using the kitchen to prepare your meal, PLEASE wash, dry and STORE everything you used. Failure to comply with this rule will result in immediate charge of R$ 50,00. Not provide salt, sugar, oils, condiments. All these items are guest's responsibility.
Kitchen hours: the kitchen is open to guests for breakfast in the morning and dinner. The maximum time of use of the kitchen is up to 21pm. After this time will no longer be possible to use it. The kitchen is small and it has free access for all who are in the house, so always observe if other people are not willing to prepare the meal.
8. Toilet
Please, NEVER throw toilet paper inside the toilet. The hydraulic system of the house does not support this procedure.
9. Silence Time
Between 10pm and 9am keep all noise levels within the acceptable minimum. And remember, you are in a family home, surrounded by neighbors and there may be other guests wanting to rest.
10. Laundry
The washing machine is not included in your daily. If you need to use it, tell me and I will provide the prices.
11. Trash
This service is provided by the city of Rio de Janeiro on Tuesdays, Thursdays and Saturdays between 8am and 9am. Always remove the garbage from inside your room to prevent the spread of cockroaches.
12. Damage to property
Any registered guest is responsible for any accidental damage or not. You will be charged for any repairs, replacement and other related expenses.
13. Cleaning fee
The cleaning fee refers to the reorganization of your room at the end of your stay.
14. Doors and windows
When leaving, be sure to close the doors and windows. This will give you more privacy and prevent rain or strong winds causing damage to your belongings and home.
15. Notify lost or damaged objects
Remember that you are responsible for all objects and equipment installed in your room. If you lose or break something, it is not a drama, just report it immediately so I can arrange the concert.
16. Talk openly
If you are dissatisfied with anything in paricular report back to me that together we will solve your problem.
17. Keys
Return key at the end of your stay. Also make sure that nothing has been forgotten in the room. Anyway, do not worry if it does, I am committed to store your belongings for 30 days.
If you lose your keys will be charged a total of R$ 60,00 to make new copies.
18. Cigarrette
Smoking is not allowed inside the house.
19. Electricity
Please keep off the lights and the fan if you are not in your room or in any other area of the house.
20. Services
Please don't forget that you are not in a hotel, hostel or inn. I don't have room service or employees to organize the house, 24 hours reception, room service offers in hotels, hostel or inn but I assure the comfort of your stay, security of your belongings and good conversation if you are interested.
21. Living Room
Guests are always welcome at the living room but, please, use your sense.
22. Children
Children of any age are not allowed.
23. Animals
Pets are not allowed.
24. Notebook
My internet connection has very good quality and the wifi is available throughout the home.
My notebook can not be used for guests, please don't insist.
25. Phone calls
If you want to use my landline phone to make calls the value per minute is R$ 5,00 for national callings and R$ 10,00 per minute for international calls.
26. Air conditioning
If you are in a room with air conditioning, beware that it is not included in your daily. If you want to use it, I charge R$ 50,00 per use.
27. Food in the room
Do not take food to your room. If you want to make your meals, you can use the kitchen as long as you keep it clean and organized. Food inside the room will be removed.
28. Inappropriate behavior
It is not allowed to walk naked, sleeping drunk in any room in the house other than your room, fighting with his companion, another guest or me, etc. If one of these events happens I will ask the guest to immediately leave the house without payment return. If this behavior causes some damage to home, it should be reimbursed and the guest's immediate departure is required. No negotiations.
29. Arriving from the beach
Upon reaching the beach, remove the excess sand using a hose lying in the yard in front of the house. It has another hose in the yard behind the house.
30. What does your daily includes?
Wi-fi, bed linen, towels and access to kitchen.
31. Cancellation Policy
If cancelled or modified up to 15 days before date of arrival, no fee will be charged.
In case of cancellation, within stipulated above, the repayment will have a corresponding decrease to the value of the corresponding bank transaction.
At the Christmas Eve., New Year Eve, National Holidays, Rock in Rio, Olympic Games and Carnival the deposit is not refundable.
If cancelled or modified later or in case of no-show, 50 percent of the total price of the reservation will be charged.
32. Breakfast
If you have opted for a daily with breakfast: it is served from 8am to 9am. Your daily starts at 2pm (check-in time), even if you come to my house before this time you will only have breakfast in the next morning.
Breakfast items per guest, per day: 2 slices of white bread, 1 slice of cheese, 1 slice of ham, one piece of cake, one glass of juice, coffee, milk, buttler, jam and 1 fruit. Some of those items can be changed without notice.
The value of the breakfast is R$ 20,00 (brazilian currency - it can be changed without notice. Therefore, confirm with me before making the request) per person/per day. And this interest should be expressed before the guest's arrival. The items will be arranged on the table and it is self service and the dishes, regarding to this, must be washed by the guests.
33. This regulation
The House Rules may change from time to time without prior consultation with the guests.
Thank you for your attention!
Vera is such an amazing person, she has a great vibe and personality. Vera welcomed me into her eccentric home with warmth and friendliness. Vera's home is nestled in a little cobble street in the beautiful and laid back town of santa teresa, for me the best boheim gem of a city in Rio. Vera's house is simple, clean and colourful, and all the rooms are lovely. Great transportation links to the main towns. If you need to stay in rio from all the hustle & bustle of Rio, Vera's home is the place to be.
---
I must say when I first booked this place I was slightly nervous by the sheer amount of rules that were listed. What ever you do don't let that put you off staying here! Vera is generous and kind. She waited up late for me on the first night when I got lost in Rio, then she even parked my car for me and never once made me feel bad about it. Her place is in a really unique part of Rio de Janeiro. Coming from Sydney I felt like I'd arrived somewhere different and special. the room is perfect for a short stay with a cupboard for clothes and a desk. The desk was perfect for setting up my music gear, and it had a lovely view over the city.
---
Vera was a great host. A nice and very helpful person. The room was as described, although I thougt it was a shared room, but it was a single room. During my stay there was another couple living there at Vera's place. The atmosphere was very family-like. I enjoyed it a lot. The house is situated in an area where you can see more of the 'real' life of Rio apart from the highly touristic centers like Copacabana. I highly recommend Vera's place.
---
Clean and tidy. Very disagreable hostess who complained over guest spending time in living-room although that was supposed to be a shared space. Location is very far from the centre of Santa Teresa and close to unsafe favela. Also close to Sambodrome where at times low quality musical shows pestered entire weekends until four o'clock in the morning, I cannot in any way recommend this place.
Erling has spent all his time sitting at the living room, drinking, using the internet and trying to tell me about the disaster that was his marriage. Or, worse, complaining about my country and about the house where you were before arrive in my home. He dared to call us barbaros and compare Brazil with Europe, as it is possible. If you like Europe, stay there. We already have enough foreigners coming to Brazil. We don't need someone like you. He's not a nice person, he drinks the whole day and he doesn't mind to be impolite. Dear, you should stay at your country which one is much better than mine. When I complained with him about the time he used to spend at the living room - it was one day I have arrived at home and many of his stuff were spread around - he started screaming with me!!!!! You were renting a room not the whole house. You are the only guest who complained about it. It is a little weird, isn't it? I don't mind to share my house with people that, at least, know how to respect my country and the fact that the house is mine. Just an advise, Santa Teresa is not a place for someone in your age. Next time go to Copacabana, Ipanema or Leblon where you will find a lot of people like you. If your experience at my house wasn't good, having you here was worse and I was counting the time for you leave.
---
I stayed fot two weeks in Vera's house. It was a great time. Vera is an open minded, relaxed and helpful person who, from the first moment on, made me feel welcome in her house. And the great thing was that she always invited me to go out for a drink with her friends. A great way to learn the carioca's and the city. The location of the house is nice. At Largo das Neves, which is 100 meter from her house you already find some nice bars and restaurants and every 15 minutes there's leaving a bus to the centre. The only disadvantage is the fact that at nighttime you always need to pick a taxi to go back. The room is quiet small, but that's not a big problem, the living room downstairs is nice and you're always welcome there. And apart from that Vera has an garden where you can enjoy the sunshine.
---
My name is Vera and I moved to Rio de Janeiro more than 9 years ago. During this period I found out that I really like to receive people at my house.
Welcome and have fun!
Languages:
English, Português
Response rate:
100%
Response time:
within a few hours
Explore other options in and around Rio de Janeiro
More places to stay in Rio de Janeiro: