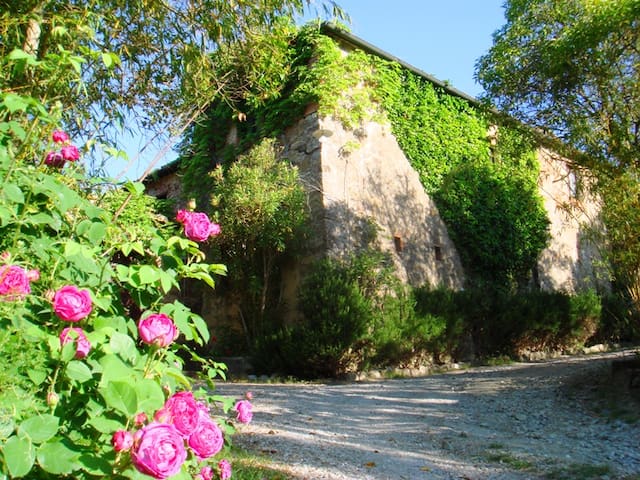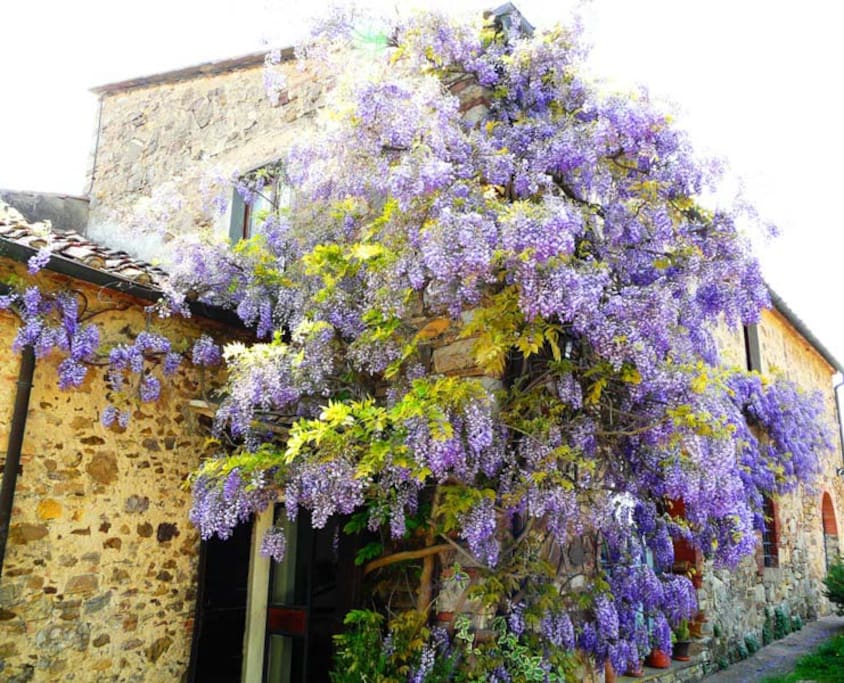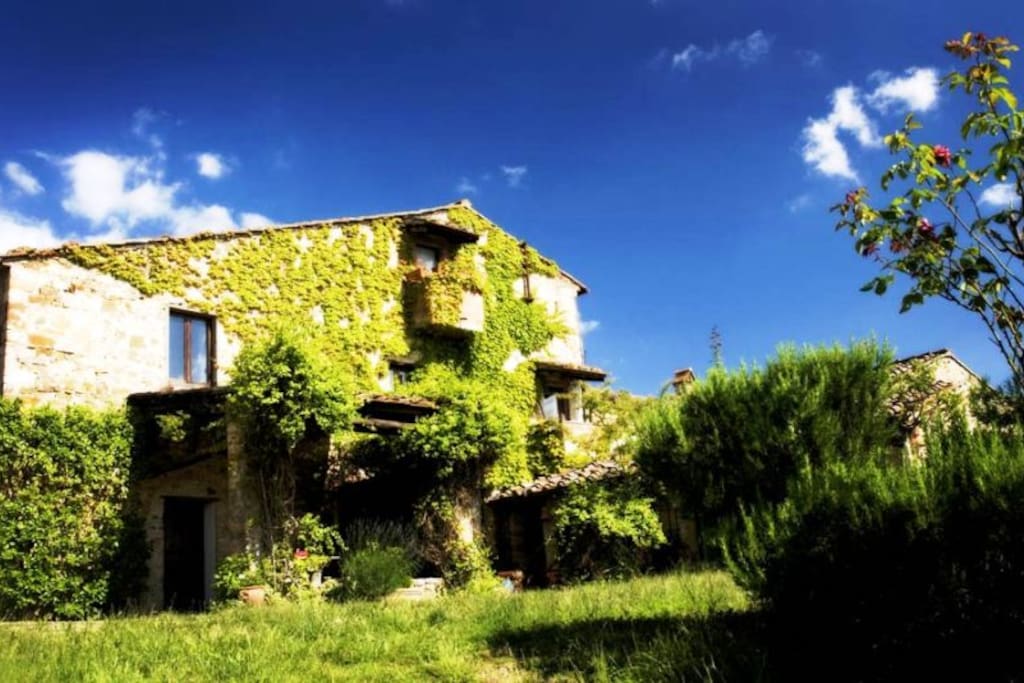 Large Estate in Chianti - 15 bedrooms, sleeps 33
Large Estate in Chianti - 15 bedrooms, sleeps 33
If you are looking to host a large group in Chianti, say a wedding, retreat, workshop, family reunion or a big celebration, Podere Patrignone has 15 double bedrooms, 15 bathrooms, and sleeps up to 33. There's a pool, amazing sunset views, and we can host al-fresco Tuscan banquets for up to 50 of your guests. We are expert planners and organisers, and we'll help you achieve the week you really want
The space
Welcome to Patrignone sleeps up to 33 for large gatherings and celebrations
Your Tuscan Villa for Larger Gatherings...
Three or four times each year someone decides to really put us through our paces and hires the whole of Patrignone for their family reunion, wedding, or significant birthday celebration. Of course, we welcome the challenge every time and hope we have acquitted ourselves well thus far.
There are added benefits to taking over Patrignone. For starters, you have the entire space to yourselves and can use the space in any way you see fit (within reason, of course*). You can use the outside spaces for all manner of celebratory events, meals, receptions and so on. We have even had discos on the Terracotta Terrace complete with fireworks, and torch-lit parties out in the woods.
The Patrignone dining room is also at your disposal, and we will be happy to help you with catering, either by cooking for you ourselves, or helping you select suitable outside caterers.
There is usually a fair amount of organisation that goes into these events, and we are happy to help out with local arrangements where we can. Please contact us well in advance so that we can get matters in hand. It goes without saying that you will need to book well in advance to stake your claim.
In our experience, the large gatherings we have hosted here have been some of the most exciting and memorable times, both for our guests and for us. I am sure you will have a great time.
About Podere Patrignone
Welcome to our villa in Chianti, our hide-away in the heart of the Chianti hills in Tuscany.
If you are looking for a peaceful place to stay while you explore the treasures of Tuscany, then this might be your perfect spot. Wind your way down a long road through the cypress trees, vines, oaks and olives...and when you run out of road, that's where you'll find us. Patrignone is set in 150 acres of olive groves and forest, miles from any traffic or noise. Yet we are in a very central location , close to all the places you might want to visit, and just a few minutes from some of the world's greatest cultural treasures.
Truly the best of both worlds
Patrignone is an working 'agriturismo' hidden away in the Chianti hills, not far from Castellina in Chianti. Our income comes from both visitors and agriculture. We have 5 apartments and the Villa, which together can accommodate up to 31 adults and 2 kids.
We pride ourselves on our eco-friendly values and conservation policy, and we produce our own 100% organic extra-virgin olive oil using traditional methods.
We are also very proud of our traditional Tuscan home-cooked food, using tasty local produce.
Patrignone is a family-owned and run concern, and we very much hope you will enjoy your stay in our Tuscan oasis.
* For large events like parties and weddings, a rental is usually charged for using the public spaces. See Patrignone Weddings for more details.
Guest access
All the grounds, the pool with it's amazing views, the Terracotta Terrace with its spectacular sunsets. There's the Old Frantoio which houses the Honesty Bar and the free Wifi.
Interaction with guests
As much or as little as you like! We live here all year around and we're here to help, if you need it.
Other things to note
Patrignone Weddings [page copied from our website]
The perfect place for a certain kind of Tuscan wedding
Please note: the next available wedding at Patrignone is in 2016.
If you are looking to get married in Tuscany, then you might want to consider a wedding at Podere Patrignone. Patrignone weddings are generally relaxed affairs, with lots of good food and wine served al fresco, maybe some dancing under the stars, maybe even some fireworks...who knows? That really is up to you. In any case, we're not really suited to formal, choreographed events, so if that's your dream, then there are lots of lovely places around so much more glam than our humble 15th century peasant farm.
We usually have a couple of weddings here every year (we set a limit on how many we do), and although they are a lot of work for us, they are fantastic fun and we love doing them.
There are some of the basics:
We can accommodate wedding groups here between 30 and 33 people & kids spread across the Villa and 5 apartments, 15 double bedrooms in total, each with an en-suite bathroom. There are other agriturismi nearby where you can rent additional space if you need it. There is a minimum rental period of 6 nights for all weddings. This can be flexible depending on the time of year, and what kind arrangement we work out, but you will be well advised to think longer rather than shorter; it will give you and your guests more time to get touched by the magic of the area. In our experience, a week is perfect. Wedding weeks should be planned on a Saturday-Saturday basis.
We are in a beautiful rural location with stunning panoramic views, an amazing back-drop for this amazing day (and not bad for your photos either).
We can cater for your reception to suit your budget, from our own catered wedding banquet with 5 courses of traditional Tuscan cuisine starting at around €80/head , to superb restaurant catering from my favourite local restaurant at €130+/head, to Michelin-star catering and beyond. We can host your reception on our Terracotta Terrace with its amazing views (up to around 50 people) or if it's too hot/wet/cold we can go inside the Old Frantoio.
The fee you will pay is for the basic room rental costs plus a one-off hosting fee of €(PHONE NUMBER HIDDEN) rate) for renting the Villa's facilities on the day, plus any catering, wine, equipment rental etc.
Have you thought about...?
Here are some practical considerations:
You need to start the process at least three months in advance in order to get the paperwork sorted out. But the biggest issue is finding a suitable venue and accommodation. We often take bookings as much as 18 months in advance, so you can't start the process too soon, in our opinion..
You two will need to be here a few days in advance in order to sort out your Italian paper-work, but apart from that, additional trips here are not necessary, though you will always be welcome!.
We can help you organise the paperwork, book the ceremony, and do the job of the Official Translator of the ceremony on the day. We can also book music/disco/bands etc. during the ceremony and back here afterwards. The fee for this help will vary depending on how much you want done, but budget on around €700 + expenses for the basics (paper-work, booking the ceremony, translation). If you want to get married in the Siena Registry office (actually in the Piazza del Campo, it's really beautiful there, the cost in 2015 is €1000) or in Castellina in Chianti (closer, and also very pretty, €8000) we can book that for you and liaise with the local Comune.
If you are planning anything more complex (such as organising a church service, marquees, etc.), you should think about hiring a wedding planner. We have some suggestions, or you can hire your own wedding-planner who will do all this for you and we will happily liaise with them.
Don't over-invite in the hope that lots will say no. You are planning a wedding in a beautiful, sunny place, steeped in history, culture and awash with great wine and food. Would you say no?
A reasonable budget for a beautiful but simple wedding for 30 might be:
a simple but beautiful budget
OptionsEuros €
Cost of ceremony in Siena€ 1000
Classical guitarist or disco€ 250
Italian-side paperwork expenses€ 200 *
Arrangement, liaison, translation€ 700
Accommodation bride and groom€ 1050 **
Hosting fee for reception€2 950
Reception meal (30 heads)€2 400
Wine and Prosecco budget€ 300
TOTAL€8 850

* as the rules have changed for 2015, this is an estimate, and will hopefully be much lower than this
** other accommodation is often paid for by the guests themselves
There may be additional things to consider, like a rehearsal dinner/pizza, an evening torch-lit party under the stars, the wedding clothes, fireworks, rings, hair, flowers, photographers, transport, a wedding cake (or two), decorations, and so on, but we can help you do as much or as little of these as you like, with no additional pressure from us.
The important thing is that you get the day you want, no more no less. And you know what? In our experience most couples married here believe they got all they ever wanted here, and more, and for a great deal less money than they would have paid at home.
If you'd like to learn more, drop us a line and let's have a chat.
Frequently asked questions about getting married in Tuscany
Why do we need to rent the whole place? Because most people who come to Patrignone look for peace and tranquillity, but wedding parties are a huge celebration. The two just don't mix. So it would not be fair to rent apartments to other people while your wedding party is here, and we can't afford to leave space empty. This means you can't cancel part of your booking with us.
Why do you charge a 'hosting cost' for weddings in addition to the accommodation rental? Because weddings are a huge amount of additional work for us over and above our normal duties as hosts. Don't get me wrong - we do love weddings. But we can't do very many of them because they are so exhausting, both mentally and physically. Trust me - we earn that fee several times over.
Is it much harder getting married in Italy than at home? It depends where home is and your nationality. For example, it's relatively straight-forward to get married in Italy if you're European, and only slightly more complicated if you are from the USA or Canada. But even then, the Italians have made things relatively easy for most groups, so don't be put off by the paperwork. It's a few hours extra work for you at most.
Will it be much more expensive that the same wedding at home? Of course, that depends on the wedding, but generally speaking, the answer is "no". Assuming your guests pay for their travel and accommodation, then it is hard to imagine a wedding in more beautiful surroundings, with such great food, for any money, never mind a budget of around €7k.
How far in advance do I need to book...how late can I leave it? You only need to leave around 3 months from the time you decide to get married to the wedding itself. We've organised and held lovely weddings here on just such time-scales. But we generally take bookings around 12-18 months in advance. So I would say you should try and get your venue and accommodation sorted out at least 1 year in advance. If in doubt, drop us a line.
What about other stuff...like flowers? We have lots of local contacts we can put you in touch with, or if you'd prefer someone else to look after it all we have a couple of good planners who would be happy to do all the organisation on your behalf. If it's something straight forward, we should be able to help you. We charge you an hourly rate for additional planning services, usually €40/hour, and we can set a maximum limit on this if you wish. You get regular reports on our progress in the form of a detailed budget sheet and action list. We can have regular meetings via (SENSITIVE CONTENTS HIDDEN) so that we all know where we are at any given time
What about same-sex weddings? These are not legally binding in Italy but we are happy to help you plan a symbolic celebration or a renewal of your vows.
---
---
Always communicate through Airbnb
To protect your payment, never transfer money or communicate outside of the Airbnb website or app.
Learn more
---
Deposit required on booking = 50% (non-returnable)
Final instalment due 90 days prior to arrival.
No cancellation allowed within final 60 days.
You must also acknowledge
Dog(s), cat(s), and other pet(s) live in the house
---
---
---
This home doesn't have any reviews. If you stay here, your review will appear here.
Likes:
Amazing North Italy, The Florentine, Bryan Hufalar Photo-artgraphy, i-Italy, Mubaloo, Hedonistic Hiking - Gourmet Guided Walking Tours, Gourmet Worrier, Hernan Cattaneo, If a cop stops me in Arizona and says "papers" and I say "scissors" do I win??
Languages:
English, Italiano
Explore other options in and around Castellina in Chianti
More places to stay in Castellina in Chianti: