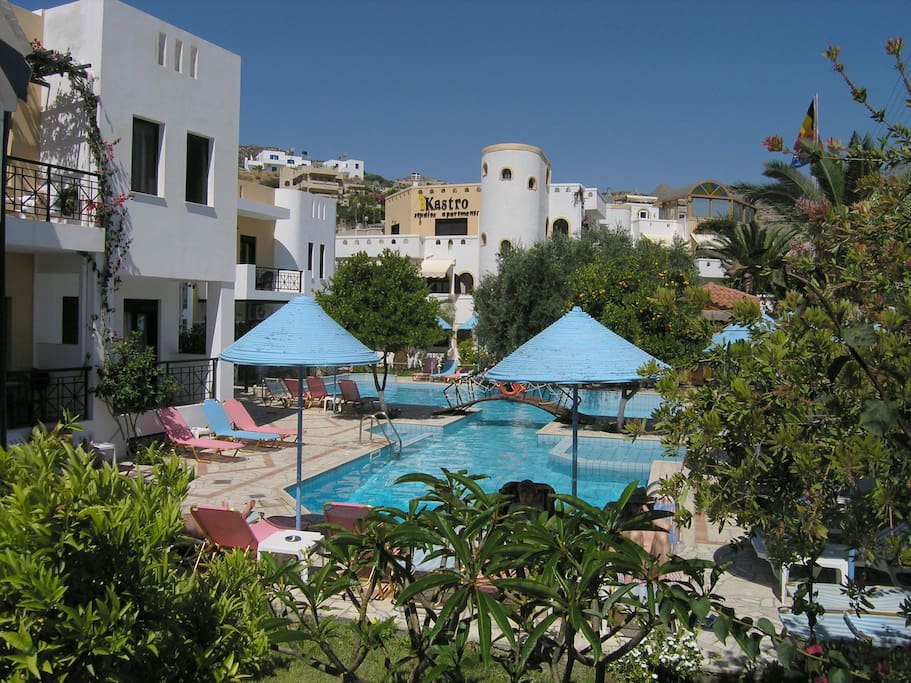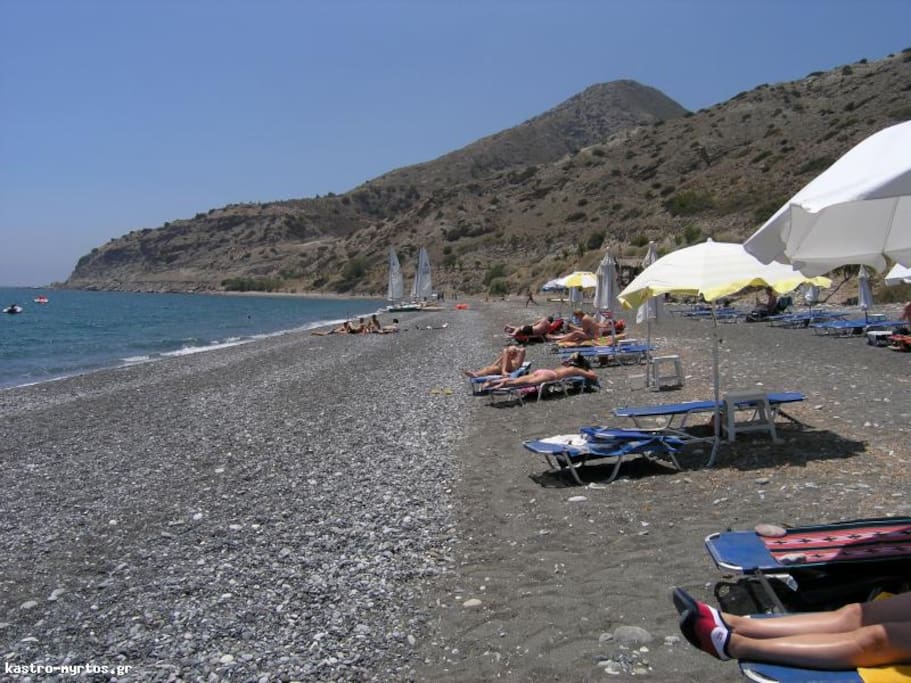 3 room apt with 2 bedroomd and living room for up to 5 persons
The space
Kastro st & apt is a "4 keys" complex of furnished one, two or three room accommodation fully equipped .

Kastro in Greek means castle and it has taken its name from the round-tower like stairs of the main building.

It is situated in a small traditional village on the south east of Crete, Greece, Myrtos.

The "Kastro" consists of 3 buildings,that were built gradually, two of them are in a traditional style and the latest has modern studios and apartments.

The "Kastro" is built within a 2000square metre beautiful garden at the edge of the village, 150m from the sea. It has 31 fully equipped apartments, studios, maisonettes; all are spacious, with independent comfortable balconies or patios, A/C, T.V., and wireless internet – hotspot, music, safe box and personal telephone.

Swimming pool big enough with Jacuzzi and children pool, enclosed by the full of orange, lemon trees and flowers garden

The " Kastro" offers reception service, snack bar (by the pool), a leisure room with books, games and computers with internet connection.

Our apartments are suitable for couples, families with young children, older people and people with disabilities (ramp access at the main stairs and individually in certain apartments in the modern building, along with elevators for all three buildings).

Myrtos is a traditional, seaside village on the coast of the Libyan sea, 13km west of Ierapetra. The history of Myrtos goes back centuries. An ancient landscape full of olive, orange and lemon trees hugs it from the north and on the south are the gorgeous, quiet Cretan beaches. It has a mild, temperate climate throughout the year and friendly, hospitable people.

Myrtos used to be a haven for seamen and pirates because the weather is always mild and the sea is calm even when the wind is blowing hard and the waves are rough in nearby Ierapetra.
Today pirates do not visit the beach of Myrtos any more, neither do seamen.
Times have changed. Yet Myrtos remains a heaven of beauty, anoasis of rest and relaxation for the tired people of the cit.

Kastro studios-apts is a block of furnished apartments which has been built, by hack value, among a 2000 square metres beautiful garden at the edge of the village, 150m from the sea.

Explore other options in and around Ierapetra
More places to stay in Ierapetra: