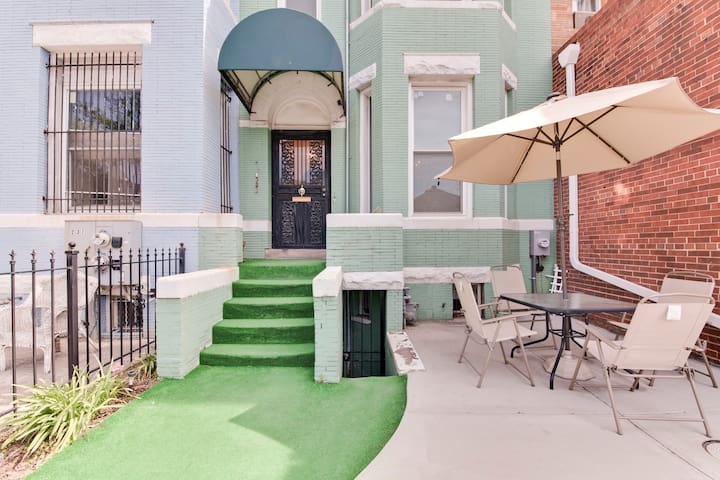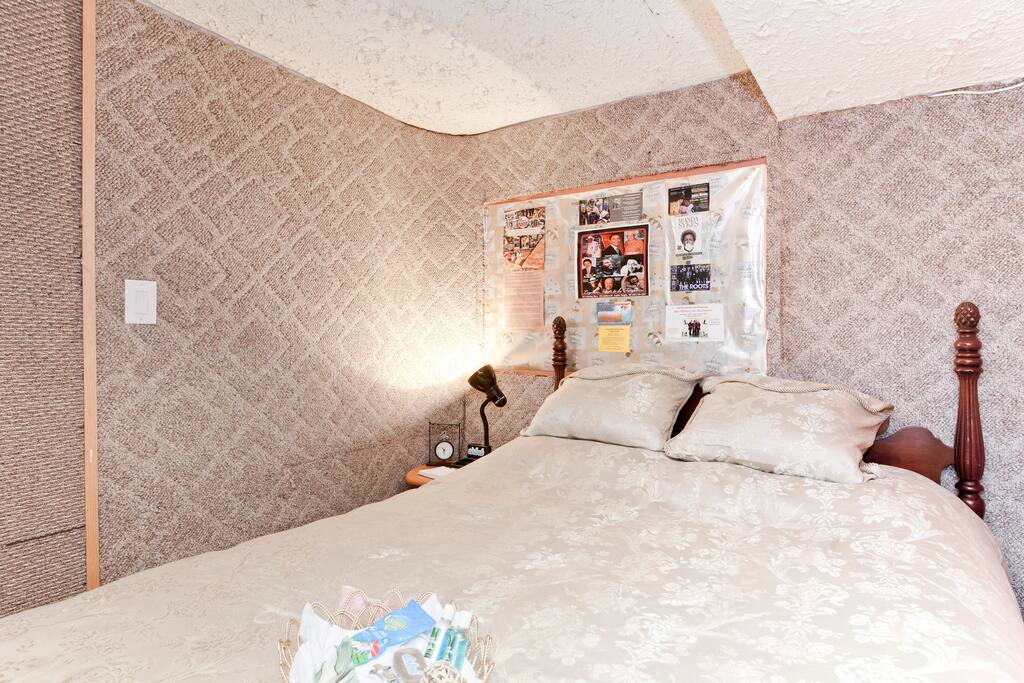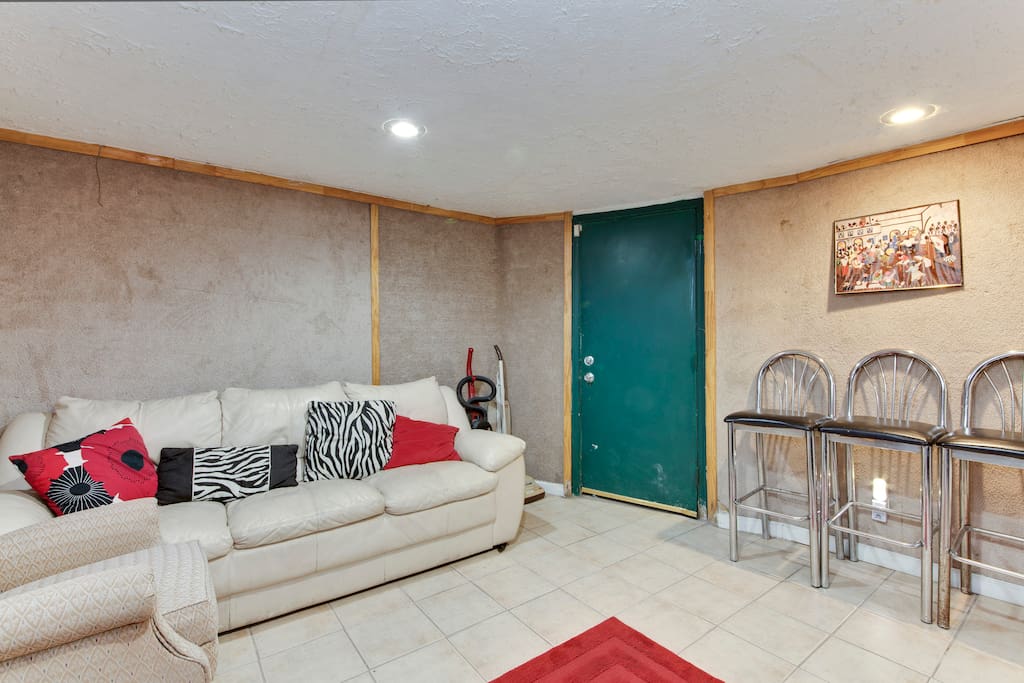 About this listing
You will love the comfort and serenity of this special room and the privacy most people thrive to experience in vacation stays or extended stay opportunities. What a great opportunity to experience NW downtown DC & all conveniences of "Location."
---
---
Extra people: $35 / night after 2 guests
---
The space
Enjoy a unique piece of history in DC. This basement room was once a Gospel Studio for the producer of a very popular TV Show that ran weekly in DC for 23 years during latter 1970's through mid-1990's.
The popular photos of yesteryear are still displayed in the sound-proof room. See if you can guess the many celebrities who are displayed along these walls, as well as in the main office.
This room has a private bath, and the personal use shower which is located outside of the room. The shower will only get used by you and NOT shared during your stay. It's just separated from your room around the corner since it couldn't be attached when it was constructed.
By the way, the room was initially a recording studio and sunken below the ground level since it is in the basement of the house. Therefore, the windows would not get constructed underground but located higher in the room instead.
You may share the kitchen with one other guest and common area of the basement which includes a washer and dryer of this rowhouse building. The room has a queen-size bed with a comfortable quality mattress, and all cleaned linens.
Although you may share the kitchen with another guest, please let us know if you will need cooking supplies like pots and pans. Make sure you replace anything thats borrowed in the kitchen for cooking as well.
A welcome basket with snacks may be included upon request. Quality and cleaned towels and a comfortable Spa Robes to use; and complimentary bath welcome products can be provided upon request.
You have two choices to descend into the basement. You may enter immediately down a short but narrow set of steps to the gate. Your key will open the gate to an area which will lead you to the building door. You will use the same gate key for the door as well. Immediately to the right, will be the bedroom. Use the other key for entrance.
If your luggage requires larger space to descend the basement, you may enter there from the main entrance of the house and another group of stairs will take you to the basement and to your room, past the kitchen, on the left.
A true conversation experience...enjoy this truly unique trip back in time, which includes the furniture. Although we have updated some features to accommodate this space as a bedroom, we have kept the wall covered with carpet as it was during my day producing records. If you are looking for a more updated look, we ask that you select another type of room to your specifications or choose another property. You will have to have a more open mind and be more understanding, or appreciate the past 60's or 70's to understand your stay in this room.
Although this listing indicates the minimum of 2 nights stay, we request a 5 night minimum stay (unless otherwise agreed) and we would like the guest(s) to stay for a more extended time period. Make sure you contact me first if you plan on staying less than 5 days. If your stay extends beyond two weeks, I will send you a special extended rate.
See my other listing in addition to this property and to view more property photos. We encourage you to take advantage of any of our current special pricing, when available.
Guest access
Guests will have access to the basement area where they will stay, your private shower, and for washing clothes. You may use the kitchen also. You may enjoy relaxing in the common area of the basement and use the exercise machine too. Do not use or borrow anything else while in the basement without permission. Also, do not tread in either corner room you don't occupy, where another guest or resident stay.
Interaction with guests
All of the rooms listed on my pages are arranged for your comfort, security, and as much privacy as feasible to give you during your stay. This suite room, in particular, is very private with options to enter or exit from the front steps into the basement or front hallway. So, interaction is more up to you and how much social time you would like, or keep it private! Its up to you.
The neighborhood
We are on the border of Bloomingdale, Shaw and LeDroit Park Neighborhoods. Great location with a Walkscore of 85 and a TransitScore of 92 (Riders Paradise). Centrally located in downtown DC, just a few blocks from the entrance of the Shaw station on Green and Yellow Metro lines. Tons of transportation options - steps to Green/Yellow Metro, many Zipcars close by, new Capitol Bike Share Stations nearby, bike lanes on 5th, R & Q streets, Buses (G2-Bus to Georgetown, 70 Bus lines, Circulator), easy highway access to the 395 tunnel. 5 stops on the Metro to Nationals BallPark; 8 stops to DCA/Reagan National Airport.
Less than a mile to many downtown attractions - National Portrait Gallery, Chinatown/Verizon Center, U Street, 9:30 Club, Washington Convention Center (many of our guests have been convention attendees). 1.5 miles to the Capitol Building, White House & National Mall. 5 minute walk to many restaurants and bars which are detailed on our check in sheet. Also close by are the Kennedy Recreation Center and 24 hour Safeway Food Store.
Other things to note
WIFI is offered as a courtesy and may need to be reset at times for better reception. You may need to move your equipment around too. Sometimes moving to the front of the house works better. If you still cant get your equipment to operate properly you can always go to a nearby coffee shop.
However, if WIFI is urgent to your stay, i recommend that you select another accommodation elsewhere to avoid your frustration with internet access here.
---
Check in is anytime after 4PM
Absolutely No Smoking Policy on property or adjacent to building. We expect you to be respectful to our other residence and guests. Your accommodations are designed for you to enjoy and relax. However we expect you to be responsible for your own tidiness.
Whether you have a fully private unit or share a part of it, we ask that you take into account our house rule for cleaning up after yourself. Each time you use the tub, for instance, clean it (don't leave hair and visibly anything that someone coming behind you can trace it to you).
Make sure you pick up the bathmat and rinse it, after your use. Place the floor-mat on the tub to hang dry after use as well. If you get water on the floor at any time, clean it up immediately. We want the bathrooms to remain the Sanctuary it is intended for escaping the outside busy days.
Do not wonder around to residences' area. Make sure you ask before taking anything that is not in your assigned area. Ask before assuming you have permission of taking anything that was not discussed upon check in.
Do Not leave the front door, or back door opened at any time. Make sure you close and lock any opened windows in the room before your bedtime, and before you leave the house!
If you decide to have more than the required guests you signed up for, let me know in advance to make adjustments to your reservations.
We are asking that our guests restrict any friends or other visitors from this house unless we approve them prior to their arrival. You may have any of your guests drop you off or pickup. Just not to enter the house without prior request and approval.
Also, continue to adhere to our House Rules about keeping the doors closed and locked where appropriate. We would appreciate your cooperation.
Let me know if you want to have family or friends other than yourself stay in this unit so that we know who is on the property and that they know the house rules. You will be responsible for any extra cleaning, repairs, or other services we may have to take if you or your guests leave everything "trashed."
Trash pickup locations and details should be adhered to each week. Apartment cleaning service available every two weeks for extended stay guests. Cleaning Fee is $55 per light cleaning, if needed.
Self-checkout instructions:
As you collect your belongings just tidy up the room. Take your trash and place it in the garbage bin in the back of the house (if you have a lot) otherwise a small bag can be placed in the trash on any front street can. Cleanup any kitchen area you used too.
Upon leaving, make sure the gate is opened and unlocked and take your luggage out before you leave the keys on the hook in your room (to avoid getting locked in between the gate and the house). You may leave the "bedroom door" opened. But, lock the knob on the outside door and close it behind you. Close the gate shut behind you as well. (You wont have the key to lock it obviously but that's OK, we will do it later) leave us a note that you are leaving or have left too.
---
Strict
Cancel up to 7 days before your trip and get a 50% refund plus service fees back.
---
---
---
Exact location information is provided after a booking is confirmed.
Edmond was great, we unfortunately didn't have an opportunity to meet him or his family. The area was nice and it was walkable to downtown, about 1.5 miles from union station. I would have walked everywhere but was with a friend who cannot walk too far so we arranged for uber service which worked out great! The room was clean and well prepared for our visit.
---
If you're on a budget, this place is perfect! You have a private bath and shower (we laughed because the shower is basically in a closet, but it actually functions quite well), privacy and quiet in the room, internet (worked well for me), a wardrobe and dresser, shelves in the bathroom for your toiletries, access to washer & dryer, kitchen, comfortable couch in the living room with a small table and chairs where you can enjoy a meal, and even an exercise bike! Very convenient access to bus routes, and right next door is a convenience store with a very friendly owner. The history of this place is interesting... All-in-all a great place for the price in DC!
---
A wonderful place to stay. A very short ride and not a bad walk away from almost everything in the city. We also had fun finding little places in the neighborhood to eat and hang out. Very responsive and helpful hosts that made sure we were comfortable throughout the stay, even though it was brief. I would love to go back and stay longer! Thanks again!
---
This place is exactly what you need at the price: a secure, safe place to stay with a perfect location. It felt awesome to have the privacy of a personal bedroom and also access to a common room/kitchen area. Everyone is extremely kind and accommodating. There IS a ton of carpet around, but my allergies did not bother me. Just be careful if you have a really sensitive nose. I brought my allergy-safe pillow case, because you always gotta be prepared. Great time, though! Totally perfect for my friend and I as we attended a conference on a budget.
---
My extended stay at Edmond's place was a wonderful experience. The room is small, but was cozy and always warm during the fall and winter months I stayed there. The kitchen is small, but adequate for cooking quick meals, and the washer and dryer are conveniently located right outside of the room. The owners were very kind and always communicative about goings-on in the house. The best part of this listing though, is the amazing location. It is right along a major bus route and only a few minutes from the nearest metro station. You can easliy walk to U Street for food and entertainment, and you can reach the national mall and chinatown in about 40 minutes by foot. Staying here was a delight.
Thank you Clinton for staying with us the 3+ months while interning here in DC. You were a pleasure to have as a guest and we appreciate your consciousness and total independence during your stay. We would recommend you to any Airbnb host of the future. Take care and we wish you good fortune in this New Year.
---
The location of Ed's location is amazing. The price was great. Just a few things to note. the photos make this place look a lot bigger than what it is. Also, the photos are really dated. There are new amenities and updates that should be included. The shower is really small. My husband, who is 6 feet 6 inches, had a hard time navigating it (fitting in the shower area). With that being said, he absolutely loved Ed's space and to him the shower was not that big of deal. We loved the kitchen and overall space. Just a side note: There is a restraint across the street that sells authentic Basque food. It is awful! It is really expensive and they serve hard cider out of wine glasses. Going their for drinks one night was my only regret of our trip. If you want to check out places to eat, Ed provides brochures and Ben's Chili Bowl is really close down on U Street. Overall we would stay here again and had a wonderful time. The communication was great and we had a lovely time.
---
Washington, District of Columbia, United States

·

Joined in January 2012
MAKE ANY OTHER STANDARD VACATION STAY BOOKINGS FOR MORE THAN EIGHT NIGHTS AND GET ONE NIGHT STAY FOR FREE! BOOK AT LEAST $1000 WORTH YOUR STAY AND GET $100 OFF YOUR TOTAL BOOKING. (Not to be combined with another offer. Does not include occupancy taxes or Airbnb fees).

ALSO, GET SPECIAL REDUCED MONTHLY PRICING. ASK AND WE WILL TAKE OFF CLEANING FEES ON MOST OF MY LISTING, BASED ON NIGHTLY RATES ONLY, FOR VACATION STAYS MORE THAN A MONTH.

FOR NEWLY BOOKED STAYS ONLY!

MENTION THAT YOU STAYED WITH US BEFORE AND RECEIVE AN ADDITIONAL 20% OFF YOUR TOTAL BILL, NOT TO BE COMBINED WITH ANY ABOVE SPECIAL.
==============================================================
I was born here in Washington DC and love the beat of this city. I've had several businesses; most lasting for more than 45 years. I know a lot about DC history and love telling interesting stories of yesteryear!

I am very friendly but have a great knack at serious business. It all began in 1969 when me and Hilton Felton, my music director, started our youth singing group named "Ed Gerald Gospel Sounds". Consequently, for more than 23 years I produced a local (Metropolitan DC) Gospel Show called, "Spread a Little Sunshine", on TV - WTOP, WUSA--CBS Channel 9. Simultaneously, I recorded and produced gospel music; started Paradise Productions Studio next door to this building, then obtained the current building in 1995. This current building produced records under the labels "Paradise Productions", "Energy for God Record Company", Gospel World of E.G., then "EG Record Company." Many notable gospel artists were produced in this building, including the Dorsey Team of Dr. Clayton Hannah and Dr. Thomas A Dorsey.

People who have stayed at my property have had a pleasant fun stay and usually don't like leaving on-time which is ok with me too!

Each of my rented rooms are arranged for your privacy as much as possible (even the few rooms with some shared spaces). These rooms will have some significant historical meaning of my times in DC during the years of TV or Radio producing or recording music or shows that were also performed and presented in metropolitan Parks and Recreation.

If you ask not you receive not, is my favorite motto! Be encouraged...life is truly too short.

Before booking: Link your Airbnb profile to a social network, verify your phone number; and complete your Airbnb profile. If your profile is not complete, upon checkin, expect us to ask to view a photo ID and possibly make a copy for our private records. The purpose is for emergencies and security, like hotels would expect.

After booking: Make sure you send a note letting us know when we will expect your arrival. You may give us your travel itinerary, for instance. It will be helpful in arranging your checkin, if you plan to arrive within our usual 4pm checkin timeframe. If you expect to arrive more than 1 hour later than the estimated time you gave us, call or send a text updating your arrival time. If we have waited longer than an hour and don't hear from you, you may get charged $20 cash when you check in, for arranging to return or getting someone else to let you in.

When you get the opportunity to stay as our guest(s), make sure you read the online House Manual for clarity in your stay and especially your checkout procedures. The Manual is located near the description of the room you selected and booked. Please read details so that you don't get locked out, for instance.

With some locations of the rooms there might be noises that you are not familiar with. This building is located on a busy travel street also. If you are sensitive to noise, we suggest you bring ear plugs.

Remember that Airbnb is not for guests expecting perfection, but for travelers who appreciate getting to know a host and our surroundings, and bonding with the neighborhood and who appreciate saving money. There are many hotel locations in DC but are two to three times or more the price per night.

This whole area of DC experiences very high volume of so many people from around the world, throughout the year. Security around this area in the District would most often have very active metro and other security police, secret service police, CIA, FBI, etc., to monitor and guard all types of politicians and especially our President and his staff and family. This includes the citizens and visitors who are here too. Therefore, DC is not going to be a sleepy little town that a lot of people may be used to living. You can not compare DC or other larger cities, to your own quieter hometowns. However, if you are a conscience traveler and use your common scenes and stay alert, you will adapt to our many unique neighborhoods and people the longer you stay.

We expect you to keep your room(s) and immediate areas as tidy as possible during your stay. This will help you to follow checkout procedures, avoid additional cleanup fee charges, and when you leave, possibly avoid leaving anything behind.

You may text or call us anytime before, during, or as you check out with any questions about your visit. Thank You and Welcome to Our Nations Capital, DC!

#########################

We can arrange to schedule a basic driving tour of NW DC including Smithsonian, NatL Archives, Air & Space Museum; Iwa Jima Memorial, US Capital, Supreme Court, White House, Washington Monument, and a few more popular sites around NW Washington. We charge $45/hour for your group, up to 4 people. By the hour charges only apply (no halfs calculated). This Is daytime 9-6. After 6pm til midnight, $55/hour basic evening/night tour. Ask about our airport transportation service or other arrangements as well. I operate in all the metropolitan airports. If you're interested in the above, let me know in advance what you prefer for scheduling.

If you are driving and want to know what to do about parking in our neighborhood, there are some options. There is free street parking. However, its imperative you follow street signs for areas that require you to move your car during street cleaning times. You must watch the dates and times when its restricted. Also, watch "Residential Zone" parking. Hefty fines are issued if there are violations and/or you may be subjected to towing. Make sure you do not fail to adhere to DC's parking restrictions. The restrictions are lifted for street cleaning between Oct 31 thru March1, each Winter season, however.

If you expect to stay and park in our neighborhood for longer than two weeks with another State license plate, you need to go to DMV to get a temporary parking permit. (The District's Parking Enforcers will keep track). There are also downtown parking lots and garages. You can find them on a "Parking Panda" App. If you don't want to be concerned about the parking, i also rent a parking space behind the home and I would need to schedule you, if its available during your stay.
Response rate:
92%
Response time:
within a few hours
Explore other options in and around Washington
More places to stay in Washington: