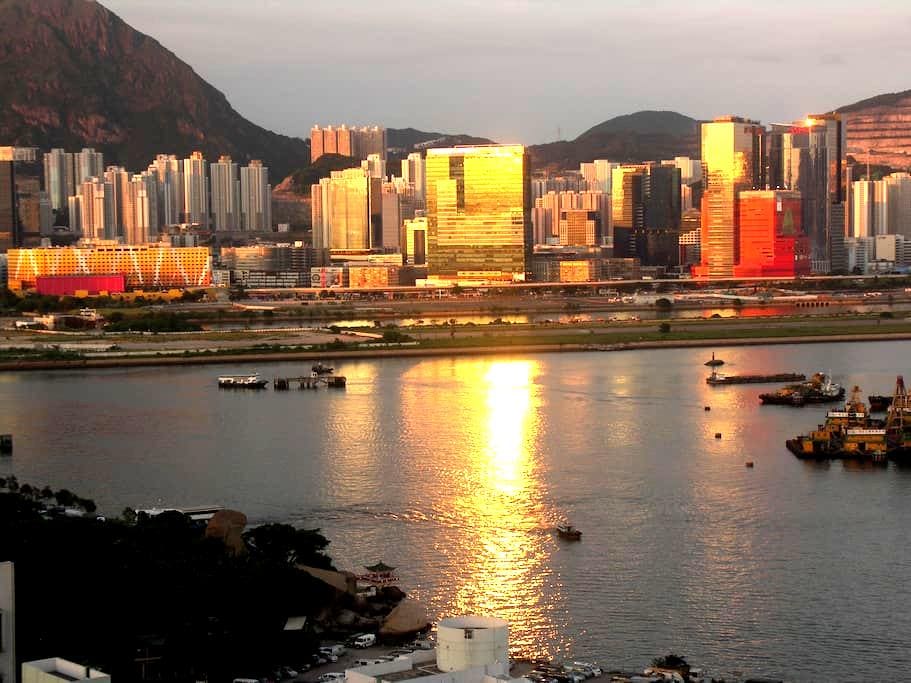 About this listing
---
Check In: Anytime after 12PM (noon)
---
---
---
The space
BEFORE YOU BOOK, PLEASE MAKE SURE YOU READ ALL SECTIONS OF THE LISTING PROPERLY (esp the House Rules) SO YOU ARE AWARE OF WHAT IS PROVIDED AND WHAT IS NOT.
---------------------------------------------------------------------------------------
I am very detailed, (hazards of being a writer!) and I believe guests need to have a clear and honest depiction of the place as much as possible. Also in spite of making mention of certain things very clearly, once in a while there will be guests, who do not bother to read the ad, or simply do not understand how Airbnb works opposed to hostels or hotels, resulting in misunderstandings.
Hence I strongly urge guests, to go through my listing properly, even though it may take a few mins. I have tried to cover most topics that guests generally tend to ask about, so i don't have to answer them individually each time.
Once you have read through properly, only then decide whether you want to book or not. Once you make the booking it is assumed you have read and understood and agree to everything.
Any confusion or questions, ask me, I am more than happy to answer them.
----------------------------------------------------------------------------------
1) MESSAGE ME FIRST WITH YOUR DATES, ( do not send the booking request straight away), AND PLEASE WAIT FOR ME TO REPLY, AS I MAY NEED TO CLARIFY A FEW THINGS BEFORE I CAN APPROVE A REQUEST.
I WILL REPLY BACK ASAP.
Thankyou!
2) HAVE A PROFILE PICTURE BEFORE MAKING A REQUEST AND KINDLY STATE THE "PURPOSE OF YOUR TRIP" IN YOUR MSG.
------------------------------------------------------------------------------------------
Firstly, the picture you see is the real view from the living room and bedroom windows on a clear, dry day... a rare commodity in HK. What you see is what you get. No exaggeration here as long as you are lucky and the weather is great, which is not often! It would be important to note, HK suffers from smog almost all year round and a clear day is hard to come by.
--------------------------------------------------------------------------------------
TRANSPORTATION:
HUNGHOM is in the heart of Kowloon. It is one of the oldest areas of Hongkong giving you the very authentic Kowloon experience. It is not a touristy area, but tourist spots are very close and easily accessible due to the central location and wide network of buses.
Since the closing of the old airport decades ago the area is undergoing a re- development process. Some blocks are being vacated and rebuilt. Therefore there is construction work being carried out nearby.
It is a 10 mins bus ride to Tsim Sha Tsui /Jordan. 18 mins to Central. If you take a taxi from the taxi stand in front of my building, you will reach Tsim Sha Tsui in 5 mins.
Construction of the new "Ma Tau Wei" MTR (underground) station next to my place, has been temporarily halted due to the remains of ancient ruins found there, but the next stop, "HOMANTIN" is only a 7 min walk to my place. "WHAMPOA" station is a 10 min walk away.
Also "HUNGHOM" station is a 5 min bus ride away.
Tons of buses to go anywhere. A few all night buses serving the area.
Two airport buses come to my place, and one overnight airport bus as well in case your flight is very early in the morning.
Kowloon city ferry, a 8 mins walk, takes you to HK island in 15 mins, and just outside the ferry terminal is the MTR station (North Point).
Please ask me more about how to get around when you are here, depending on what your itinerary will be and i will advise you on the best means of transportation to get to where you need to be, which will save time and energy on your part. I am more than happy to help. (:
---------------------------------------------------------------------------------------
Shopping, restaurants and supermarkets right by the building.
Sung Kit street, one of the most popular food streets in HK is right opposite my building.
---------------------------------------------------------------------------------
Now a synopsis of my place:
THE ROOM:
I have the small spare bedroom for rent in my 2 bedroom apt. The building is about 25 years old and the upkeep of the common areas of the building by the management staff is very good, but most of the flats are not brand new renovated spaces. My flat is quite old and has not undergone any renovation for a long time. Making any changes or improvements to it is not in my hands. Also, this is not my permanent home, I am in between places, so everything is simple and basic, nothing fancy, ( the reason why the rent I charge is way lower than market price). But if you are looking for a quiet peaceful place with a view, right in the heart of the city, away from all the bustle and noise at the end of a long day, then this is it.
FOR ONE PERSON ONLY. (Kindly do not waste my time or yours by asking for 2 people accommodation, there is a reason why I have mentioned "one person only". I make no exceptions to that.)
What is provided:
~1) Internet connection (WIRELESS).
~2) International Adapter that works with pretty much all devices.
~3) I provide shampoo, conditioner, bath and shower gel, ( but other than that please bring your own toiletries,I do not share mine! ).
I also provide hair dryer, iron, towel, and house slippers if you should need them. So it might be ideal for people who like to travel light.
( I have a shelf stand in the room, to keep your things, but no cupboard space, and no desk due to lack of space. But I can offer you a small portable table to keep your computer on, if you need, just ask.
And I will happily clear out a drawer from under the bed to give you added space to store your things if you need it).
If you have oversize/excessive luggage, bear in mind there is very little extra space. So be prepared for that.
~4) I always have some tea and instant coffee available, and you are welcome to warm up your own food or drinks in the microwave at any time. You can also keep a couple of items in the fridge. But that's about where it ends. Strictly no cooking.
~5) Bathroom is shared as is normal in most HK apts. and I make it as user friendly as possible for guests. Even though as I mentioned before, the fittings and decor is quite old, I try my best to keep it clean and tidy at all times.
~6) To give an idea based on the height of a person, lengthwise the bed measures approx 188 cms. from head to toe. It is a foam mattress, soft and very comfortable. Guests particularly like the mattress, however there might be some guests who prefer hard mattresses, hence i have made a mention of it.
------------------------------------------------------------------------------------
IMPORTANT : I would like to add here, (a little regretfully), that I do not normally encourage guests to have use of the living and dining area. That is pretty much my zone, sharing that space can get difficult as I have a very high guest turnover, and compared to most other Asian countries like Malaysia or Singapore or India, HK homes are notoriously small not withstanding it's quirky architecture to back it up!
======================================================
LAUNDRY:
There are various laundromats/dry cleaners around the area, they wash clothes in bulk for cheap. You will have to utilize their services if you need anything laundered.
-----------------------------------------------------------------------------------
Building has 24 hr security.
There are no time restrictions. You can come and go as you please. BUT please know that no visitors or guests are allowed at any time in the apt/room. The guest is the only person who is permitted to be in the premises.
------------------------------------------------------------------------------------------
Check in time: 12.30 PM.
(Pls make note the check-in time is listed as 12 noon on the main body of the listing but my check-in time is 12.30 and not 12. The system does not allow to choose the half hour mark hence the discrepancy.)
My check out is 12 noon, I can extend that to 1pm at the most, depending on my schedule and guest booking. And when you leave, you have to take all your belongings with you.
------------------------------------------------------------------------------------
I like a guest who would do his or her own thing, as I am mostly occupied with mine. Even though I enjoy interacting with people, I do like my privacy and would respect the same with my guest. As a rule I don't have the time to chat or hang out, even when I am at home I am mostly busy with stuff and like my space, but I will gladly be of assistance if you need it and will be more than happy to answer all your questions and help out with whatever you might need.
--------------------------------------------------------------------------------------
And lastly....( from experience ) : If you do actually stay at my place, please communicate freely if there are any questions or concerns you may have. Do not keep it to yourself. Every place is different and every guest's requirements, likes and dislikes vary. So please keep lines of communication open so both sides feel comfortable during the period of the stay. I am more than ready to make the effort if you are! It just makes your stay, and getting around and getting to know the area you are staying in, that much easier.
Looking forward to pleasant experiences. (:
Other things to note
FYI: In HK we have city check-in. 48 hours before your flight is scheduled for departure you can check in your luggage in the city at Kowloon station or Hongkong station where airlines have their counters. So if you are checking out at 12noon for eg and your flight is in the night, you can check in your luggage at either one of the above mentioned stations and then carry on with the remainder of your day.
---
May not be safe or suitable for children (0-12 years)
Check-in is after 12PM (noon)
IMPORTANT!! IMPORTANT!! IMPORTANT!! :
1) NO guests/visitors allowed inside the room or apartment at any time. The room is only for the person who is renting it.
2) You can come and go as you please, there are no time restrictions, however I greatly appreciate a bit of quiet. esp if you are returning late or leaving very early.
---
---
I have lived in HK and the US pretty much my whole adult life and for the last few years have been shuttling between the two countries for family reasons. When I'm in HK, depending on my length of stay, I rent out my spare room, and when I am out of HK I rent it out as a one bedroom.


I am a hybrid of sorts..(in my mental make-up, rather than genetically!). I like to see myself as a citizen of the world! However if i were to pin it down i'd say I'm a "New Yorker" at heart! As my favorite artist of all time Billy Joel once sang " I'm in a New York state of mind.." immortalizing that city and my feelings more poetically than i ever could.

I'm a very artistically inclined person, interested in photography, documentary film making, Television anchoring, and writing that includes articles, short stories and poems. I've worked in the Hospitality and Entertainment industry my whole life with brief stints in other fields. Currently I work on a freelance basis for various orgs and non profits.
Traveling and adventure is in my blood. Meeting people from various countries is a passion i've always had. I have traveled myself to over 20 countries and in some cases have lived in the homes of people just like family and turned them into life long friends!
Response rate:
100%
Response time:
within an hour
Exact location information is provided after a booking is confirmed.
Explore other options in and around Hung Hom
More places to stay in Hung Hom: