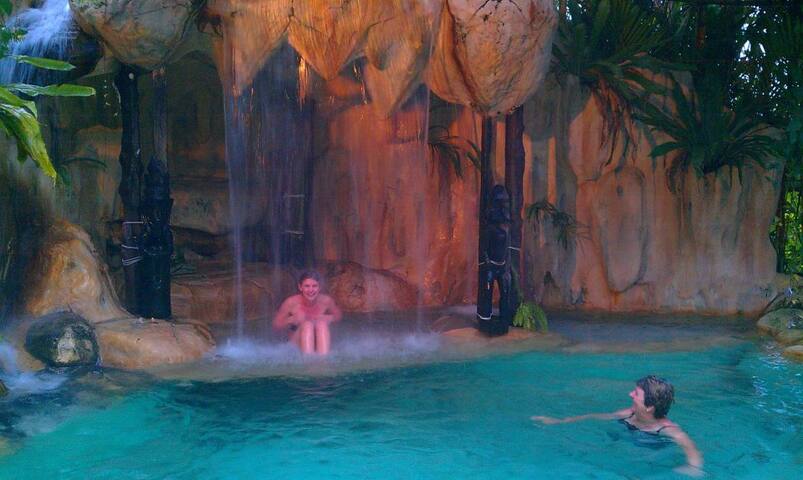 Bohemian paradise Holistic retreat
Next to Nature wildlife Forest Reserve . (Link between city & National Park) Our Objective : Peace. Sustainability. Transformation. Creative. Community. Consciousness. Compassion. Gratitude. Exploration. Organic Living. Gastronomic. Music. love.
The space
This is not a hotel . Home away from home.
Boutique cottage surrounded by exotic tropical garden. Once you enter the compound you will feel like in the jungle thus it is 15mins drive fr the city. We are next to the monkey forest. All room are unique decor.Clean and simple. Cozy room with king or queen size bed ,ensuite , fully air con and spa facility (sauna, jacuzzi, fish spa, waterfall pool).
It is a place to relax and lay back .toward the evening more local friend and family frequent the oneness gastro-lounge and the honesty bar for dinner or get together.
People are friendly here .

This is a place of simplicity,
Touching the lighter side of life ,
inner joy, obviousness & understanding.
The seed of clearness & realization .
The portal to your heart, the real self .

If you are interested , the owner is always happy to share his insightful observation of life .
This is one of his favourite quote :
Synchronicity
If you want to relax ,acceptance is the way .
Accept whatsoever is happening all around,
let it be the organic whole ,know or not know.
Everything is interrelated .Go with the flow .Stop fighting with water .
Be whole .Dont bother about (website hidden) real. Be Now.
Watever you do , do it totally .
You will be imperfect but your imperfection is full of your totality.
Love yourself . Stop condemn .
Start having a deep acceptance.
Be compassion.
Then you will become a healing force of this world of misery .

Be yourself .
Guest access
Spa facilities (fish spa, infra-red sauna, steam sauna, warm jacuzzi and waterfall pool).
For group booking 30 persons are welcome .
we can arrange tours : kayaking, caving, cooking class, hiking, energy healing, detox, diet & retreat .
Interaction with guests
I am the owner manager and chef too . Namaste to all my guest .
Other things to note
half an hour drive to Bako national park , Semonggok Orangutan sanctuary, Kuba national park, crocodile farm, hot spring, annah rais longhouse, damai culture village(45mins).
---
---
Check in is anytime after 1PM
Be bare foot after the second main .feel at home .Smoking is only allow at the smoking zone .
keep main gate at all time for privatecy .
Please make appointment/ inform us by watsapp/ airbnb chat one day in advance for check in time. In case of flight delay do let us know by watsapp/ airbnb chat. I would arrange the care taker to wait at the main gate.
I am using bike .if you do instant booking, please make sure that you contact me and communicate with me before you come. I might not be able to answer phone or message while i am riding . The best way is to communicate with me before make any instant booking . So that i can let the care taker know your time of arrival. Thank you so much .
You must also acknowledge
Cat(s) and other pet(s) live in the house
---
This is a great place to relax and experience a completely different atmosphere than a casual hotel. "Beauty is in the eye of the beholder" - some people may not like it, it depends. The lay out of the amenities is quite open and there is no hot water for shower. Cyril, the host, is quite an interesting and colorful character with a strong spiritual side which is apparent in the way he decorated the house and all the texts he put on display on the walls. My teenage kids enjoyed the pool and the fish spa. The food Cyril cooked for us (Japanese style) was really good. He has a kitchen herb garden and uses them in his cooking. Quick update on the "terrifying" monkey described in previous reviews: there is no monkey anymore. Nobody knows what happened to it, just didn't come back. There is only one, beautiful, friendly cat around. The beds were a little hard, but I got used to it in the five nights we spent there. Make sure you know upfront about all the charges for water, drinks and other stuff. There is some noise from the nearby highway, but a pair of earplugs at night solved the problem. Overall, we enjoyed our stay at Cyril's place and would stay there again. A unique and pleasant experience.
Thank You so much for your visit . There are two hot water heaters . One is at the top of the pool bathrooms and another large water heater at the jacuzzi pool share by 4 rooms. You might have to on the hot water a bit longer than one minutes to reach your bathroom . Really sorry for the inconvenient .I think i did not on the hot water heater pump because it is hot weather here now and usually no one using it .
---
My family and I spent two nights at Cyril's Secret Sanctuary. What a place! It is a lovely sanctuary filled with positive energy and good vibes, and I instantly felt at home and connected. Cyril has been a wonderful host, guide, chef, and above all, a great friend. He introduced us to hidden finds in Kuching, and was lovely company throughout. I appreciate the effort and intentionality he puts into the meals he cooked, and the sanctuary he built. Cyril – thank you for the good times, good food, good conversations, and I hope you keep finding like-minded people coming through your place!
---
The Secret Sanctuary is an incredible place unequaled by anywhere else I've stayed. Cyril and his staff were accommodating, friendly, helpful, and made me feel like family. I stayed for 2 months and I was very sad to leave. The property is beautiful, and almost impossible to do justice to with words, or even pictures. As nice as it looks in the pictures, the reality is better. I swam in the pool every day, and meditated under the waterfall as well. I often hung out in one of the many hammocks around the property. I left with friends and family I want to return to as often as possible.
---
The Secret Sanctuary is truly lovely and built on a wonderful vision. Though Cyril sadly wasn't around during my stay (I was looking forward to his cooking!!!) his staff and friends bent over backwards to make me feel welcome. In addition to walking the town and seeing the amazing Orangutan sanctuary, I got a wonderful off-the-beaten-track tour of the old mining towns by Evan and the irrepressible Edward, and was adopted by Chef Ani who made sure that I was fed (and had clean clothes!!!) approach to life -- and the Secret Sanctuary really helped to instill that philosophy. A note to travelers that has nothing to do with the Secret Sanctuary -- my only mistake was visiting Kuching during a 4 day weekend meaning that almost everything was closed! The bright side is that I tried almost everything on the menu at home. The Umai is amazing!!!
---
Our stay at Cyril was exquisite. As soon as you get through the gate, make yourself in a tropical paradise. Cyril is a quiet man, who makes great conversations. Outside the doors, the noise is a little noisy. Despite this, I did not suffer from this. Cyril is a perfect cook. Make good arrangements about the price when you use mask of his offer to cook. This is not in relation to Malaysian prices. We had a great time.
---
We stayed here one night and it wasn't really what we expected our last day of holiday would be. After a sweaty busride and walk we arrived at the door which was closed. We had to wait there half an hour untill he opened the door. This was after we asked his neighbour to look in the garden if somebody was there. It already occured to us that the owner had enjoyed his cooking with sake to much. He showed us to our room. The bed wasn't made and the airco was not working (in the evening the owner suddenly realised it was just a switch that he had to turn on). We found some sheets in another room and made our own bed. The conversations were not of a normal level (he aksed us 10 times from what country we were) so we tried to make the best out of it ourselves. In the evening there was no food as the owner fell asleep untill the next morning. So we didn't had breakfast either even after knocking on his door.
---
i am nature lover.Owner of The Secret Sanctuary Boutique Cottage.Ecohome .i love to ride my Harley to country winding road & walk in the jungle watch bird,frog,plant & swim in jungle pool with waterfall. My religion is LOVE .Every heart is my temple.
Languages:
Bahasa Indonesia, Bahasa Malaysia, English, 中文
Response rate:
100%
Response time:
within a few hours
Explore other options in and around Kuching
More places to stay in Kuching: