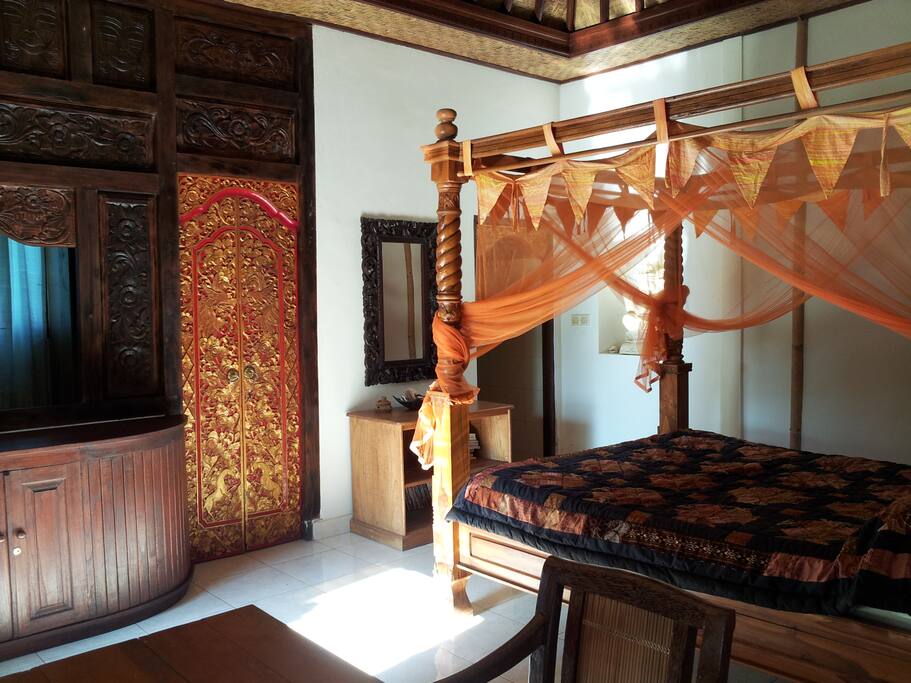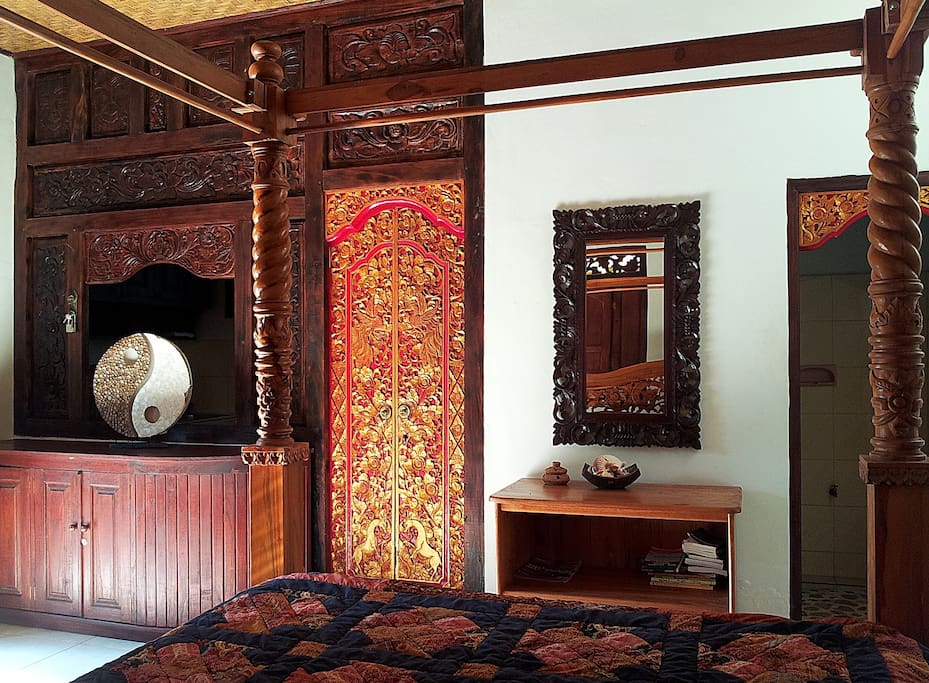 Spacious Sunrise suite, kitchen, WIFI, shared pool
Spacious Sunrise suite, kitchen, WIFI, shared pool
Large quiet beautiful hand-crafted favorite with romantic couples or solo travelers. Queen bed in carved teak frame, attached hot shower washing room, writing desk, WIFI, many storage cabinets. Relax, meet farmers in rice field, gaze at volcanoes, shop with locals and cook in shared kitchen. The 8x3m outdoor pool is shared with other like minded and quiet guests from the two other suites. Enjoy the REAL Bali karma spirit with hosts Wayan and Putri.
Enjoy the serenity of Pesalakan!
---
Bathrooms: 1 (Private bathroom)
Check In: 2PM - 1AM (next day)
---
---
Always communicate through Airbnb
To protect your payment, never transfer money or communicate outside of the Airbnb website or app.
Learn more
---
Common spaces
1 couch, 1 hammock
---
This is a quiet location. Please respect the other guests by no partying after 10pm.
Smoking allowed outside in lounge areas only. No smoking indoors.
Please place toilet tissue and other sanitary products into the waste bin and not the toilet.
Thank you for your co-operation. Any concerns, please discuss with host Pak Wayan.
---
---
---
---
My partner and I had been travelling through Bali for about 2 weeks before we stayed with Putri and Wayan at Swallow Guesthouse. It was a welcomed retreat from the hustle and bustle of the city. It's incredibly peaceful at night and we got to see fireflies, dragonflies, and other local wildlife within the rice fields. The guesthouse was absolutely beautiful, we stayed in the 'Sunrise' room and were welcomed on our arrival by Putri with some refreshing young coconuts. We didn't get to meet Suzan during our stay, but we found communications with her easy, and she made sure to check up on us and make sure everything was alright. Suzan also helped us arrange transport to the Guesthouse, which went very smoothly. We spent our days relaxing and reading in the hammock above the kitchen, walking around the rice paddies and the local village, and even went down to the river with Pankos (the neighbour's friendly dog who we formed a connection with - we're big dog lovers) in tow. Wayan always popped in to have a chat in the mornings and he gave us many suggestions about what to do (we were looking for a lot of down time, but if there's anything in particular you'd like to do make sure to ask, as he'd happily take you out for activities etc.). We also requested dinner from Putri on one of our nights, and it was the best Balinese food we've tasted. Putri makes everything using fresh ingredients - even the satay sauce was made from scratch. There isn't a whole lot in the local area if you're not prepared to either arrange meals with Putri (which are delicious and have to be ordered a day prior) or purchase groceries and cook for yourself. If you like to eat out, I would recommend renting a motorbike, as Ubud is a very short drive away. We've been using a motorbike on and off all throughout Bali and find that it's lots of fun. You can also get some food delivered from Bali Buda - just ask Putri for the details. We would recommend this place to anyone looking to experience the real Bali, away from the 'touristy' areas. It was incredibly relaxing. We only stayed for 2 nights, and would definitely stay for longer next time. Thank you to Putri, Wayan, and Suzan for having us :)
---
Staying with Suzan at the Swallow Guest House was the highlight of our month long stay in Bali. While we stayed in some beautiful places along the way, this was the happiest time we spent as a family. Staying in the company of someone who genuinely enjoys sharing what she knows of the Balinese culture ( and she knows a lot) meant that we experienced much more than we would have on our own. Suzan was so happy to share her experiences of Bali with us and each day we went somewhere with her, a temple or a meditation spot, or driving around the little villages of Tampaksiring on the look out for Ogoh Ogoh, stopping to meet the locals. The relationship that Suzan has with Wayan and his wife Putri is nice to be a part of. We were invited to a birthday party at their family compound down the road and they were generous and kind hosts. Putri will come and cook if requested and her delicious, fresh, natural food is worth every penny. Our room was spacious and open with beautiful views across the rice fields. After being in air conditioning for a few days it was so refreshing to have all of the windows open at night and the breeze coming in. There is plenty to explore in the area and having then stayed in Ubud for 4 days afterwards, we missed the Swallow Guest House terribly. There was nothing that we did in Ubud that we couldn't have done in Tampaksiring. In fact, there are some very special less known places near by that you may miss if you stay elsewhere. We hired Wayan to drive us around for a couple of days after we left, we enjoyed his company so much. This is why we use air bnb. Thank you Suzan, Wayan, Putri and family. We will return next time x
Love you all too!! I wonder where in the world you are now. It's such fun meeting families who take a year off school and work place activities to challenge the REAL world with wide open eyes and smiles. We all wish you a fabulous global year!! Please drop us a line with your blog links!
---
A very beahtiful guesthouse. A bit remote however. I recommend it for a couple. I went there with my mom and for us it didnt feel secure, the door almost has no lock and the house alsi has no lock. There is nothing much to do there unless you rent a car or a motorbike. Wayan and Putri were very friendy and welcoming. But there were only me and mom and the house. If you like being alone and just relax, you will love this place.
We are sorry you didn't feel secure in our safe, friendly village with plenty to see and learn about REAL Balinese culture with the basic values of famil and community life where they look after each other in harmony. Our guests too are in their ceremony prayers. The house style is hand crafted using traditional methods for doors and windows. We do have locks on the window that we found broken after you left. This is unfortunate. Yes, it suits a romantic stay away from the tourists. We hope you enjoyed the safety that tourism seems to provide. Next time stay a few days to experience the true heart of the people. Om shanti shanti Wayan, Putri and Suzan
---
The Swallow Guesthouse is a little out of the way. But that's the whole point. If you are looking for serenity, beauty, an artistic and comfortable accommodation, this is it. Wayan greeted us on arrival and gave us all the information we needed to settle in and enjoy our stay. The house is very well appointed inside and out, especially with old hardwoods recycled from Java and other artistic touches. The landscaping is mature and very nicely done. The pool is perfect for a relaxing afternoon. The surrounding paddy is gorgeous. We were treated to a delicious home cooked meal by Putri, Wayan's wife, on our first night. In the morning, we are awakened by ceremony and chanting from a local temple across the rice fields. Overall, a great value. This place is a good deal better than the description. A very pleasant surprise.
Terima kasih Gary for your honest review. I have updated Airbnb with new photos but as you said, its difficult to share the full experience and beauty on-line. I'm learning how to make a good video so stay tune! Wayan has worked so hard over the years at making Swallow Garden dream come true, he is happy for your kind words and hopes to see you back here one day! Sampai jumpa lagi, Wayan, Putri and Suzan
---
We can divide our review into three parts: House: the house is beautiful, very clean, spacious, new furniture, well maintained and comfortable. Every detail is thought for the convenience of the guest. It's far away from Ubud, about 10 km or 20 minutes, so renting a motorcycle is the best option. But this also has a good part as it is very quiet and private and stays in the middle of rice fields. Also, the kitchen (is a little small) and the pool are shared with another house. For last, there is only 2 GB internet in the house and you have to pay it yourself if you want more. Putri and Wayan: the couple take care of the house and they are amazing. Wayan is very attentive to guest requests and looking to every detail to make our stay better. Putri cleaned the house every 03 days and did it amazingly. The best part is Putri's food: it is one of the best we had in Asia, very tasteful! Also for the amount of food we had, it is cheap. As very nice people, they took us to local ceremonies in their village temple, took care of our little kid for one afternoon, invited us to their house and taught us how to cook - the best cooking class we had in Asia. Also, when we had problems with Suzan communicating, he was responsible for helping us find a solution. Suzan: she is the owner for the house and maintain Airbnb profile. We are not pleased with her since had a series of communication problems. When booking the house, she was blocked by Airbnb (we had to communicate through a worker from the site) to communicate with us. Also, she never advised us that there were constructing a new house in the same property during our whole stay making noise every morning and also decreasing our privacy, since there were at least 3 workers every day there. After we booked she tried charging us another US$ 100 deposit that was not agreed before. Lastly, when dealing with her to extend our stay, we agreed on price and dates but she did not honor the agreement, booked the house for other people, and simply told us to leave. Apart from all the problems with Suzan (as she does not live there and communicated only through e-mail, her actions influenced very little in our stay) we loved our stay for the cozy house and the lovely couple that take care!
Hi Gustavo, Thanks for your review and honesty, I agree we had some communication misunderstandings. Please check with your friends who I also was in contact with regarding the discounted rate you received for the time period we were under construction. Yes, I was locked out by AirBnB during the booking and I'm very appreciative of the AirBnB Team who finally managed to reinstate my account. Wayan is the owner of Swallow House, I'm his sponsor of his dream and help with marketing. I do go and advise other matters regarding the guesthouse but not there full time. I'm very happy both Wayan and Putri looked after you and that you enjoyed enough to stay an extra 13 days!! Great!! You were our first guest to use the new Garden Suite that the workers were eager to finish for you. Unfortunately work was delayed due to the rains earlier in May. Did you enjoy the new pool?? Best regards for your next adventure!
---
Come visit the REAL Bali. "My wife, Putri and I enjoy very much to share our culture and delicious food with you." Wayan

Who is Suzan Badgley?
I was born in 1962 in North Vancouver, known to locals as "Lotus land". As a young child, I respected all living things in mountain and ocean environments and, at the age of three when I began to travel, I learned about the diversities and similarities in different cultural settings.

Influenced by the First Nations People how to be one with the land and spirit, I began exploring the world on my own, volunteering my services in exchange for food and lodging: and later, after acquiring a Diploma in Hospitality and Tourism, and a BA degree in Adult Education, was employed in managerial and teaching positions both in Canada and Asia.

68 countries later, I'm blessed with a broad perspective of the world we live in and the people we perceive we are. When asked "Which is your most favourite place you have travelled to?" India, a country full of vast diversities, changed my life at the age of 25. It opened and challenged my mind and body; stimulated my six senses like no other experience in the past. I further learned about ancient cultures, social and family responsibility, and Buddhist philosophy while working in South Korea and Japan over a 15 year period.

I spent many winters in Bali, feeling a sense of home, perhaps a place of past life reincarnation, feeling comforted by the ancient Balinese culture and karmic ways, remembering "the Ring of Fire" in middle school when my finger was drawn to this tiny equatorial island on my well-worn map.

It was this time that I met Wayan Tagel, a wonderful man who lives by karma and loves to share his culture and family ceremonies. He became my sponsor, and I his supporter. For the past 12 years, my Canadian- based business, Swallow House Trading, has assisted in the marketing of the Swallow Guesthouse in the REAL Bali.

In Bali, needs are put forth to the Gods, a ceremony is done and right action is continued. The Gods do listen... As a westerner, I'm amazed at how things manifest when you put your dreams outwards.

Now semi-retired, I'm closely learning ancient lifestyle preserved by a unique combination of spirit and community belief. Enjoying sharing this knowledge to assist in the betterment of our environment and the beings upon it is my passion.

May I share with you? It would be my pleasure.


Languages:
English
Response rate:
100%
Response time:
within a few hours
Explore other options in and around Tampaksiring
More places to stay in Tampaksiring: