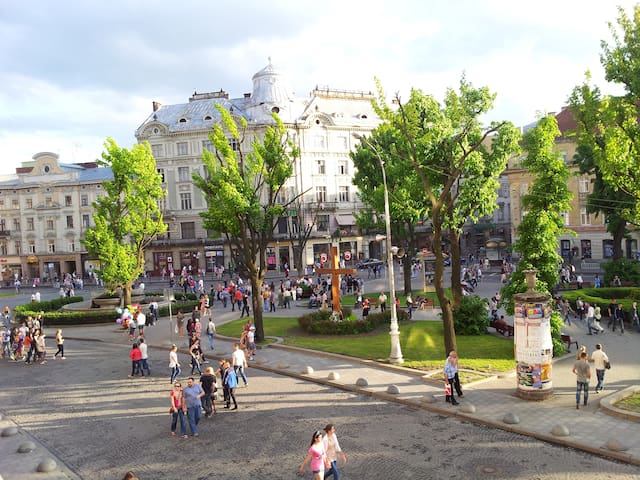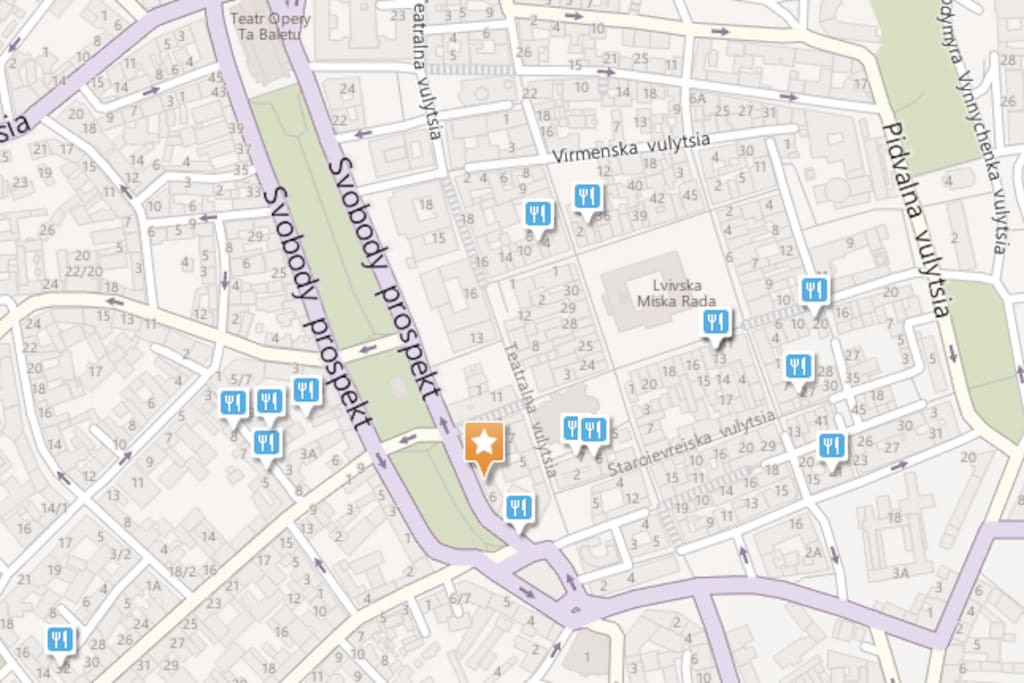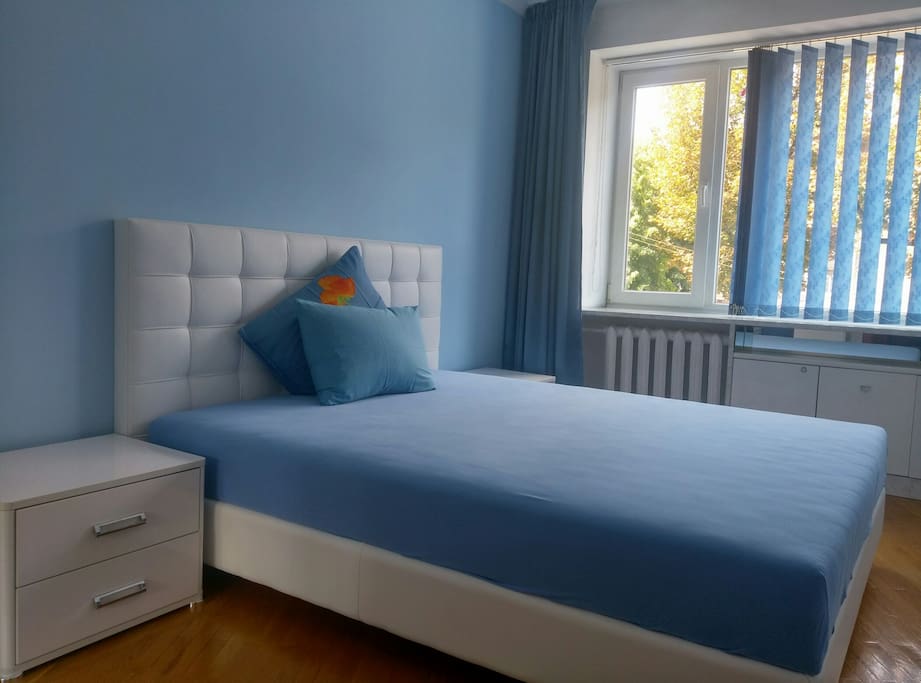 Entire home/apt
10 Guests
3 Bedrooms
5 Beds
About this listing
THREE separate rooms clean apartment right in the Lviv CENTER with the best VIEWs of the beginning of the main avenue: Svobody Ave, 1 block (3 mins) walking to Rynok (Market) Square and 5 mins to the Opera House.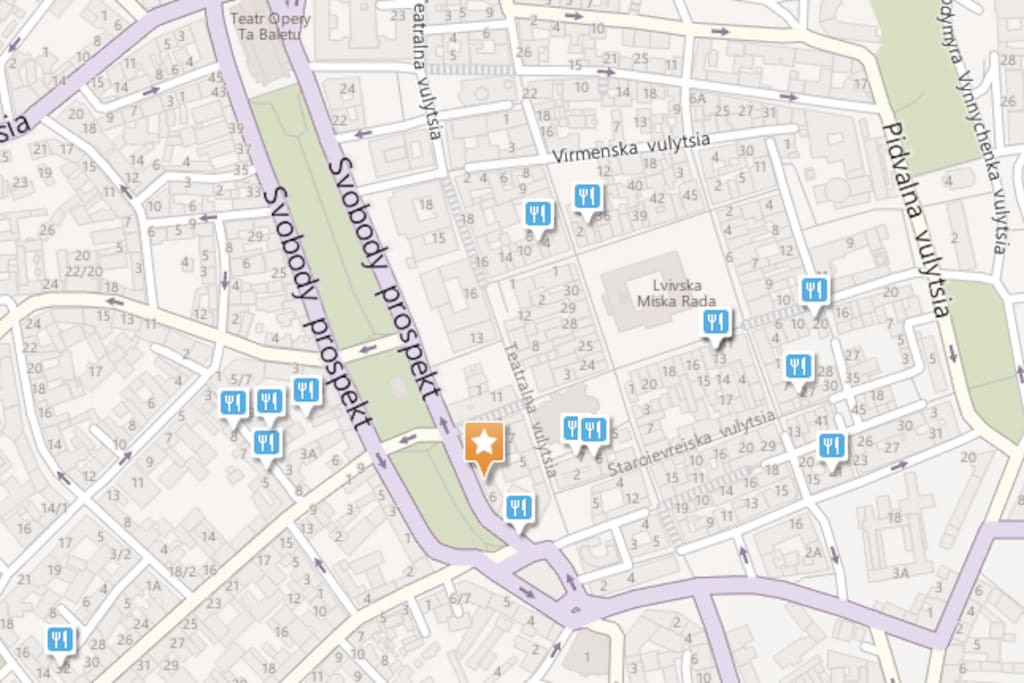 Starred location is your place. All the historical and best dining places are around and there are few popular ones right under the apartment.
---
Check In:
Anytime after 3PM
Room type:
Entire home/apt
---
Kitchen
Space where guests can cook their own meals
Essentials
Towels, bed sheets, soap, and toilet paper
---
Extra people:
$21 / night after 2 guests
---
The Space
FEATURES
- Perfect Location - all historical places are around you (see sketch map).
- Bright, eco-clean place equipped with everything you need (ask if you need something special).
- Suitable for both vacation and business stays (fully equipped kitchen and big office table).
- Free Internet/WiFi available in apt. and green square in front of the building.
- 4 new restaurants right under the apartment building (no noise from restaurants - isolated by 0.6m concrete floor): traditional Ukrainian ('At Mrs. Stepha's'), 'TEPAN', Japan 'Yapi Sushi Island' and modern Ukrainian art restaurant 'Salo'.
ACCOMMODATIONS
The place is ideal for 4-5 persons sleeping separate or if beds are shared it can easily fit 8-10 persons.
1) master bedroom (green avenue view): 1 wide double size bed (max. 2 persons)
2) office/guest bedroom (green avenue view): 2 double pull-out sofas (max. 4 persons)
3) living room (quiet backyard view) with TV and 1 semi-double pull-out sofa (max. 2 persons), additional sofa can be added (on request).
Room sizes: 11 + 18 + 18 m2.
Bathroom (with bathtub, shower and washer) is separate from toilet (with washstand).
There is enough space, so additional sleeping place can be arranged if needed. But if you need even more place or want to stay cheaper sacrificing privacy & cleanness, you can always find a hostel nearby with shared rooms (4-16 people in one room with bunk beds) for 10-15$/day/person (min 3 nights).
Fresh linens, bath towels and required toiletries are provided.
FEES: Additional guest fee (20$/night) is applied from the second guest if the second guest needs separate sleeping bed/bedroom (e.g. you come with friend, not as a couple).
Please request our convenient transfer service from airport / train station or if you come on your own you can be met anywhere on Svobody Avenue (best in front of 'ТЕПАН' restaurant) and guided to the apartment by me.
Please message or give me a call when you arrive.
You won't be disturbed until the day of your check-out (unless you need something) - this is your home! But feel free to call/message me on any questions or needs.
Welcome to the ancient and beautiful Lviv!

MISCELLANEOUS INFO
(skip if you are not first time Lviv visitor)
10-30 THINGS TO DO
(URL HIDDEN)
(URL HIDDEN)
MP3 TOUR GUIDE
- Lviv in 2 Hours
(URL HIDDEN)
- Ancient Lviv" Excursion
(URL HIDDEN)

RESTAURANTS / RECREATIONS NEARBY (5 min):
Restaurants under apartment:
- Тепан / Tepan
(URL HIDDEN) (lunch - 7$, dinner - 10$)
- Yapi Sushi Island - ЯПІ «Острів суші»
(URL HIDDEN)
- Ukrainian 'At Mrs. Stepha's'
(URL HIDDEN)
(not new but somehow got into top 10).
Other well known Lviv's creative and original restaurants/pubs/cafes are in few mins walking distance (in order of guests' preference):
(URL HIDDEN)
- Kryjivka / «Криївка» 24h ** (password is: "Slava Ukrayini - Heroyam Slava" [means: "Glory to Ukraine - Glory to Heroes]) at Rynok sqr. 14
- «Місько Пструг, хліб та вино» і «Петро Братванка» * at Brativ Rogatyntsiv, 49
- «Львівська майстерня шоколаду»*
Serbs'ka, 3
- Ресторація-музей «Гасова лямпа» at Virmens'ka, 20 *
- Masoch-Cafe/ «Мазох-cafе» *
(URL HIDDEN)
- The Most Expensive Restaurant in Galicia «Masonic Lodge» / «Найдорожча ресторація Галичини» *
- Галицька Жидівська кнайпа «Під Золотою Розою» / Jewish restraurant "Pid Zolotoyu Rozoyu" [Under Golden Rose] at Staroyevreyska str. [Old-Jewish str.] *
- Lviv Coffee Manufacture / «Львівська копальня кави»*
- «Міська пекарня штруделів та сирників»*
- Medelin / Меделін at пл. Коліївщини, 1 (на перехресті вулиць Староєврейської та Федорова)
- «Ресторація на Валовій» *
- «Дім Легенд» *
- «Лівий берег»
- «Зеник. Пиво з дерунами»
- «Зеник. Гламур»
- Beer Museum
(URL HIDDEN)
- Kumpel at Chornovola Ave 2b
(URL HIDDEN)
* - recommended by guests
Not expensive buffet type restaurants (5-3 mins away):
- "Пузата Хата" ("Puzata Hata" ~ "Belly House") at Shevchenka Ave, 10
- El Greko on Katedralna Square (open till 2am)
- «Час Поїсти» ("Time to Eat") at 3 Kopernyka St or 12 Starojevreis'ka St
Healthy/Tasty/Sweet Food:
- Smakolyk at 5 Mykhal'chuka St
(URL HIDDEN)
For those who want to cook themselves:
- Grocery store is in 'Opera Passage' (9am-11pm) is on the way to the Opera Theater (Svobody, 27) - closest but most central/expensive
- Supermarket Arsen on Soborna Square (preferable, better choice, average prices)
- There are farmer markets are nearby too - you can find organic food here.
- Fitness Center 'Sofia': gym, yoga, pool (speedo & swim cap required), spa. - 12 USD/day.
(URL HIDDEN)

NIGHT LIFE
Closest clubs (few mins walking):
- Club "Rafinad People" *
(URL HIDDEN)
- Fashion Club
(URL HIDDEN)
Other (also in walking distance)
- Metro Club *
(URL HIDDEN)
- Millenium
(URL HIDDEN)

LOCATION INFO SECTION
Do you know that you will stay on the banks of the river?
A little bit of history of the location.
In the XVIII century the old city fortifications were demolished, the moats were filled in, leveled and replaced by public gardens and parks. The architectural appearance of the city changed drastically. The modern city center appeared on the banks of the Poltva River. At the end of the XIX century the river locked into a concrete manifold, so basically you will be standing on a river. The construction works in the main avenue grew faster after Lviv was proclaimed the capital of one of the 26 provinces of Austro-Hungarian Empire. The nobility of Lviv wanted it to resemble the greatest cities of Europe. Local newspapers called Lviv 'a small Paris'. Public places, luxurious hotels and shops began to spread around.
Svobody Avenue is the main street of the city. Previous names: from the mid-nineteenth century. - Higher Karolya Ludwig and Carol Ludwig Net (Untere i Obere Karl Ludwig Straße, Karola Ludwika wyższa i niższa). In 1871 St. Louis High Karolya were called Hetman (Hetmańska), in honor of the great crown hetman Stanislaw Jablonovsk (Stanisław Jabłonowski), whose monument installed in 1859, and below - just Carol Ludwig. Since 1919 st. Carol Ludwig were called Legions (Legionów). In 1887, under the direction of engineer Vaclav Ibanskoho (Wacław Ibański) blocked Poltva River underground. In 1940 Hetmanska street and entered the Legion warehouse one - the first of May. In 1941 her first divided into Opernstrasse and Museumstrasse, and then merged under the name Adolf Hitler Platz / Ring. In 1944 - First of May, and then were called Lenin Avenue. In 1991 renamed to Svobody Avenue (year when Ukraine got independence from Soviets).

ENJOY your stay in LVIV
(by airbnb rules some links are visible after reservation)
Events & Restaurants Map (with virtual tour):
(URL HIDDEN)
(URL HIDDEN)
(URL HIDDEN)
(URL HIDDEN)
Public Transportation Map:
(URL HIDDEN)
Sketch map with historical places around:
(URL HIDDEN)
(you can get this or similar one in Tourist Information center on Rynok Square).
Lviv Video Guide:
(URL HIDDEN)
Some Nice Videos about Lviv:
(URL HIDDEN)
(URL HIDDEN)
and short timelapse
(URL HIDDEN)
Thanks for being interested in our city,
Alex
Guest Access
Guests will have 2 keys to open:
1) building entrance door
2) apartment itself (upper lock)
Apartment door locked from the inside can not be opened from the outside.
Let me know how many sets of keys do you need upfront if more than 2.

Interaction with Guests
We will meet you in the apartment (or airport/train station if your order transfer service) and will answer any questions you might have.
The Neighborhood
PERFECT CENTRAL LOCATION
This is really center, people walking down the Svobody Avenue won't make you feel alone.
Note, there is traffic on the avenue during work days and although we have double glassed windows which eliminate most of the traffic noise some guests still consider it was distracting them, so if you are light sleeper you may want to check some other place or let me know and we can prepare bed in quiet backyard facing room for you. There is no traffic on Sundays.
Our building is best featured in this unique aerial video right after airport and train station and before Opera House / fountain (28-43 sec):
(URL HIDDEN)
Getting Around
Walk everywhere, you really don't need transport, except if you are lazy take a tram or bus. There is also Chudo (Mirracle) Train that will get you to all popular places in an hour if you are limited by time.
Other Things to Note
PLEASE WRITE TO US BEFORE BOOKING (rates may vary depending on the number of guests/beds needed, length of your stay, season and rooms that you will use).
NOTE:
We are private rent out not a business like most of the other apartment offerings that you can find in Lviv, so we are much more flexible and human. Also offering convenient transfer service. We want our guests to be our friends not our clients. :)
If you are with car, we recommend to put to paid parking few mins walking from home (around 4$/day). It is not possible to park in the backyard as gate is locked.
---
Please:
SECURITY
1. LOCKING. Ensure that the entrance door is locked when you leave and when you are inside (inside lock can not be opened outside, use Intercom, do not open doors to strangers). Windows can be tilted inwards for optimal, draft-free ventilation (especially from backyard side).
2. EXTRA-PEOPLE. No guests except those registered in advance. Do not bring people you don't know to the apartment - any spontaneous overnight extra guests are subject for extra guest fees on check-out (enforced by airbnb). No local visitors please for security reasons except when agreed upfront.
CLEANNESS / RESPECTFULNESS
3. SHOES. Leave your shoes at the entrance hall (there is plenty of space for it) and let your feet breathe and stretch. We have clean floors and you don't probably like breathing germs and chemicals brought from street. You can use your home slippers though.
4. SMOKING. No smoking in the apartment. Though smoking on the balcony is possible for a fixed fee, please ask. (I want you, someone around you and those who will stay after you to be healthy). Note, Ukraine adopted no smoking laws in all public places (including cafes/bars, restaurants, bus stops etc).
5. DRINKING. Do not get crazy drunk or do any illegal things. If neighbors suspect something suspicious they can call police.
6. NOISE. Please stay quiet after 11pm (supported by Ukrainian law). Neighbors can complain and call us or police.
7. CLEANNESS. We expect you to be a clean and organized guest. If not, there could be additional cleaning charges on check-out (10-30$).
8. DAMAGE & INCIDENTALS. Any damage to the apartment (furniture, linens, kitchen stuff etc) is subject for double compensation of the damaged item costs when reported during stay or on check out. Guests MUST report any damage/breakage/incidentals to avoid flat fee charges to deposit. Minimal - $10.
~ Please inform me if I miss any detail or if you have any issues, concerns or suggestions about the place. Looking forward to meet with you :)
-Alex
---
---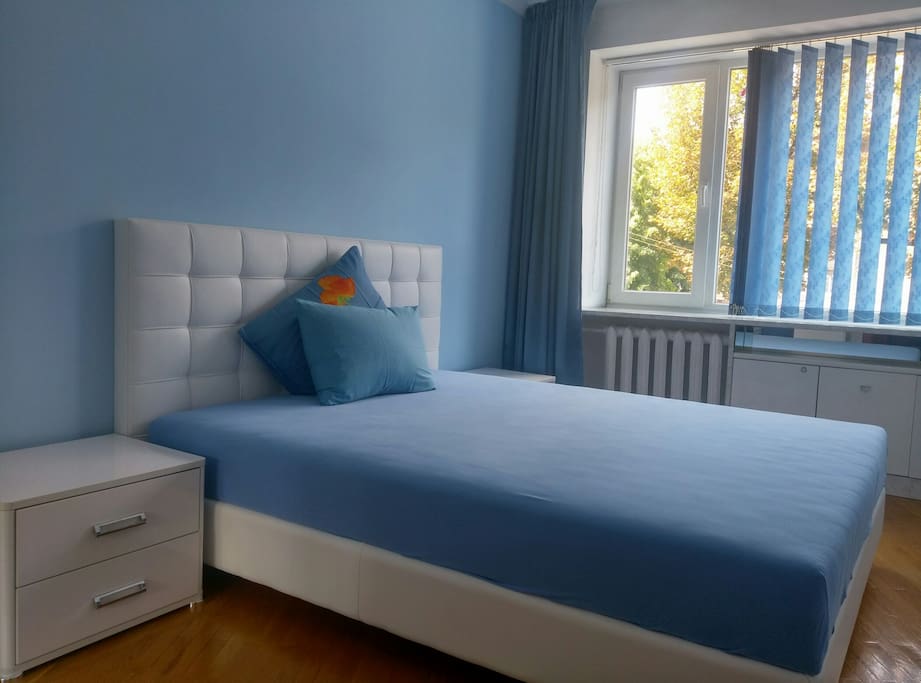 Master Bedroom (Avenue Views): Perfect morning view from the master bedroom after restful sleep on full wide double bed with firm orthopedic mattress (best for your back).
Your Host
---
L'viv, Ukraine
·
Member since June 2012
Motto: Be Simple Creative!

- "Making the simple complicated is commonplace; making the complicated awesome simple, that's creativity." ~ Charles Mingus
- "Simplicity is about substracting the obvious, and adding the meaningful." ~ John Maeda
- "Perfection is achieved, not when there is nothing more to add, but when there is nothing left to take away." -- Antoine de Saint-Exupery
- "We suffer from not we don't have, but mostly from what we have."

I'm a happy father of 2 children (4.5 years old son and 1.5 year old daughter) and love to spend time with them and my lovely wife. But most of the time I spend working on my MBA from anywhere (software development is evolved to be my best skill after I math study in Lviv University).

I moved to Lviv with my family 15+ ago and liked it so much that can not find better place to live in the world (except of few tropical places), so I think you would want to stay in our lovely city at least for few days to explore it a bit and will love it.

I like to meet new people and will be glad to help them being as a host or as a guest.
I mostly have chance to travel North America, and also use this site to find good places to stay and connect to local people when I'm in the city. I'm open to home exchange and couch surf ing options too!

I have tent, sleeping bag/pad and you would find it crazy, but I find it more comfortable to sleep on a floor (which I think it is good for my back) than on a bed, so I don't even need a comfy couch, but I don't mind to trying out new sleeping surfaces. Clean 2 m2 and access to a bathroom is all that I really need. :)

If you are nature lover and want to go to mountains (e.g. Carpathian) I'm always ready and can share a second sleeping place in my small tent! :)

I prefer traveling by plane/train or by bike. I don't like cars and forgot how to drive them (my wife overtook it :), but we don't have and need car (at least yet).

I like to be super-flexible and I'm minimalist with some sense of perfection.
I would like to learn more on simple living not being bound to once city/country - life without borders.

Listing apartments here help me to meet different people and to travel other places, not mentioning paying raising bills & support/cleaning fees and investing remaining to make the most comfortable and cleanest place to stay in Lviv for our guests.
I would love to simply do home exchange with other owners to avoid involving money component, though it is not the most flexible possibility.

You are welcome in my home city Lviv - a capital of Western Ukraine, a unique city you won't find anywhere else, and if you are here, you will most likely find good people like you and want to stay for a while! :)

3 days is average recommended minimum by guests to explore Lviv. The good about city is that you won't need a car - it is pretty much walkable, bad - it is not very bike friendly (yet - there is some progress), though it has good public transportation which will get you to anywhere.

Thanks,
Alex

P.S. I'm Evangelical Christian so I posses most common true Christian character traits which you can expect from me.
Response rate:
100%
(
last 10 contacts
)
Response time:
within an hour
Explore other options in and around L'viv