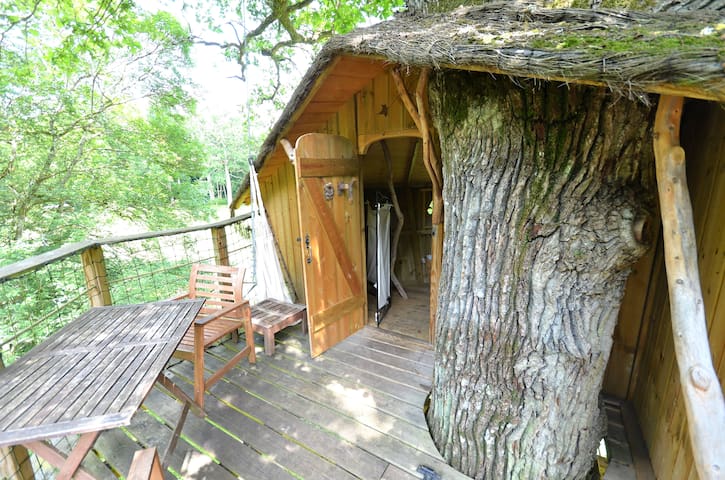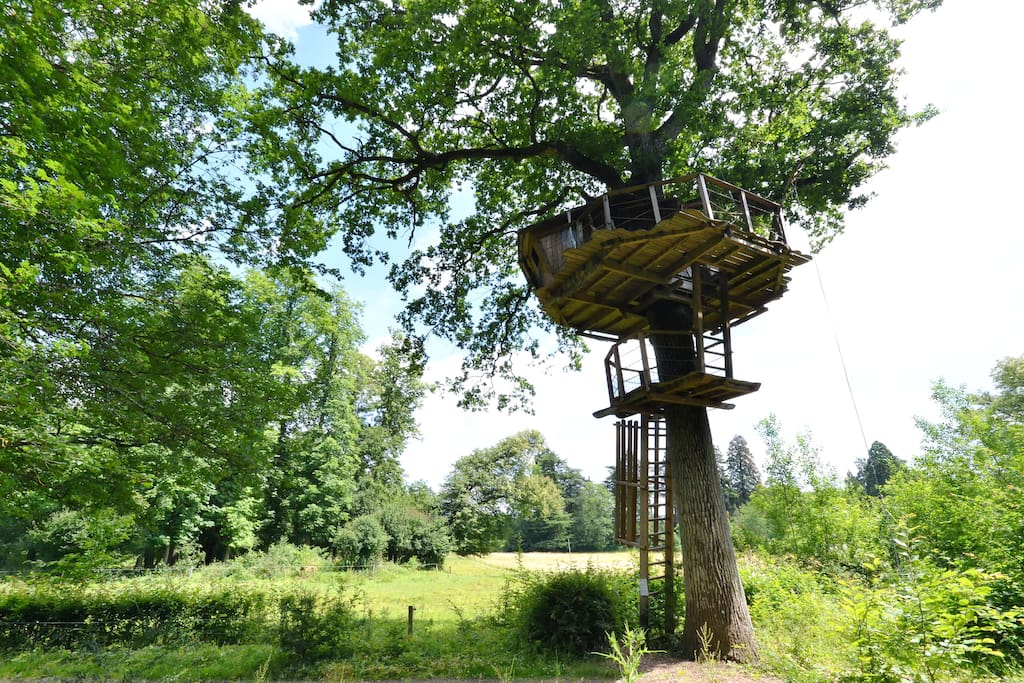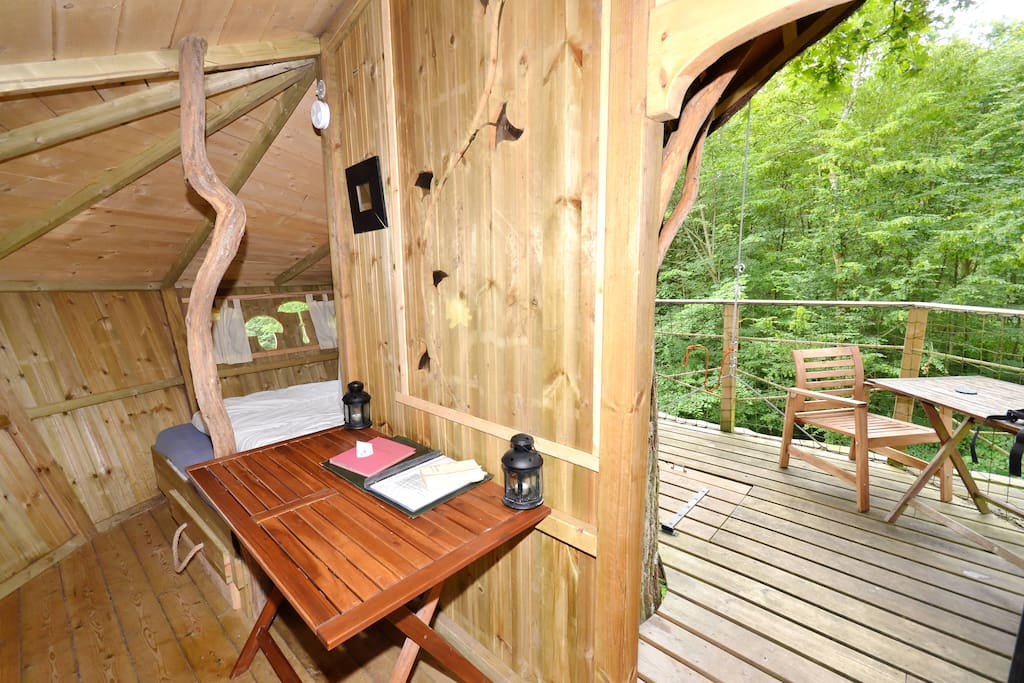 The space
Gabrielle d'Estrées is a treehouse built on a 150 years old oak tree. It is located between the impressive Castle of Graville and the surrounding forest, in a quiet area over fields and woods.
It can host 2 people. There is comfy double bed, and a hammock on the south-oriented terrasse so you can enjoy the early morning sunlight. No electricity in the tree house ! Candles lights only, which makes for an old school, romantic atmosphere in the evening.
A dinner can be delivered to you upon request, light pic nic or gourmet hot meal, depending on your fancy. Around 9 am in the morning, a basket with your breakfast will be delivered at the bottom of your tree, tied up to a rope, ready to be pulled up and enjoyed on the terrasse.
Water bottles and a bucket provided for brushing your teeth and freshening up. Dried toilets in the treehouse.
Showers and regular toilets accessible during the day in the castle.
You will be totally cut from the rest of the world, surrounded bu birds singing, horses running around, squirels and rabbits in their morning quests and the sound of the wind in the leaves. A pretty unique experience.
The car ride from Paris will take you around 1 hour. The train ride is 47 minutes, and then you can either take a cab, ride your bikes or walk from the station (the castle is 6 kms from the train station, so around 45 minutes walk).
You have to bring with you a quilt cover or a duvet cover, a flash light (especially if you're planning to go out for dinner) and a charged cell phone. Check-in during the week (including saturday) are from 3 pm to 6 pm, and from 3 pm to 5 pm on sunday. Check out at 11 am.
---
---
Not safe or suitable for infants (Under 2 years)
Check in time is 3PM - 6PM
---
Highly recommended. Secluded, romantic, magical, and wonderful. Book immediately. The treehouse is actually part of a complex of five treehouses all run by the same chateau, each secluded completely in its own part of the woods. The breakfast was delicious with warm pastries. The dinner was good but if we could go back in time, we would probably arrange a picnic ourselves. The welcome was fantastic and everyone spoke very good English. They even gave us bug spray and a wine opener because we forgot. In short, we will return!
---
Diane was a fantastic host. The treehouse was amazing. It was like reliving our childhood although with all the comforts a warm wood burning stove, duvet, delicious meal including the most decadent mushroom soup that Diane made for us because it was chilly the evening we arrived. We walked in the forest in the morning after a breakfast of pastries, hot coffee and other goodies were delivered in a basket at the base of the 150 year old oak tree. Such a perfect, romantic place to stay. Diane even called other Airbnb locations for us to stay when we were departing hers. The history of the chalet dating back to 1200, the 300 hectares to roam in the warm sun, priceless.
---
Even better than we imagined. My fiancé and I felt like Snow White and Prince Charming staying in the lovely treehouse. Grounds are amazing with horses and sheep roaming through. Sweet golden lab to pet. Definitely get the dinner! Diane and her family made it themselves and source all local ingredients, including special cheese made by her brother in law ! It's really a one of a kind experience! We will definitely be back!!
---
The treehouse was one of the coolest experiences my girlfriend and I have ever experienced. The pictures don't really do the place justice. The scenery and animals add so much more. Not to mention it is very romantic with all the candles they provide, the fire, and meals they offer. We were worried about being very cold but the furnace in the treehouse is more than enough. There was never a point when we were cold even with it being around 30 degrees Fahrenheit outside, just make sure you keep the fire running. I highly recommend this place. It's exactly as advertised and more. It's a wonderful escape and definitely one of the highlights of my trip.
---
An utterly charming experience. The chateau, grounds and treehouse were very beautiful and comfortable. This was one of the best nights of our trip. We loved the location and atmosphere with all the farm animals and acres of forest. Service was superb as well, very clean, great breakfast, thoughtful touches like fresh flowers and firewood for the stove. We loved it! Highly recommend to anyone visiting the Paris area. :)
---
We stayed in Henri IV and fell in love with the tree houses and entire grounds. This place is pretty magical. It's exactly as she says - you wake up surrounded by nature, birds singing, and realize how cool it is that you slept in a tree. It was clean inside, surprisingly very few bugs, the deck with chairs and table was nice to lounge on, and the gardens surrounding were beautiful. Our favorite part was reeling up the basket of breakfast goods and enjoying the morning in our treehouse! I highly recommend this experience, it's like none other.
---
Welcome to our wonderful forest! You will be totally cut from the rest of the world, surrounded bu birds singing, horses running around, squirrels and rabbits in their morning quests and the sound of the wind in the leaves. A pretty unique experience whether you chose to stay in…
Languages:
English, Français
Response rate:
80%
Response time:
within a day
Explore other options in and around Vernou-la-Celle-sur-Seine
More places to stay in Vernou-la-Celle-sur-Seine: