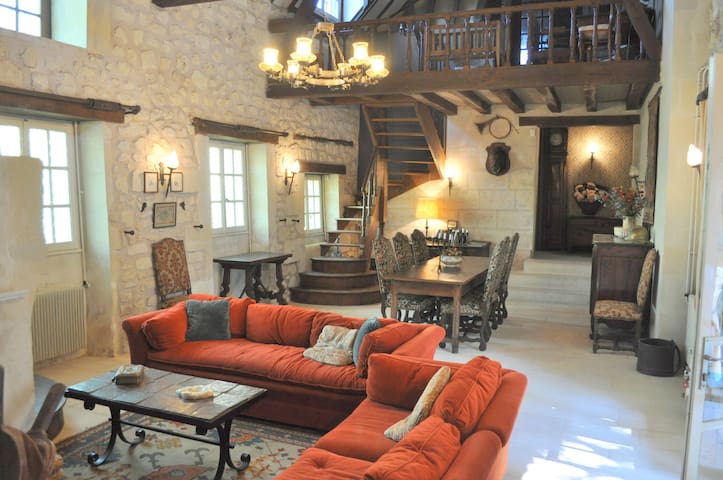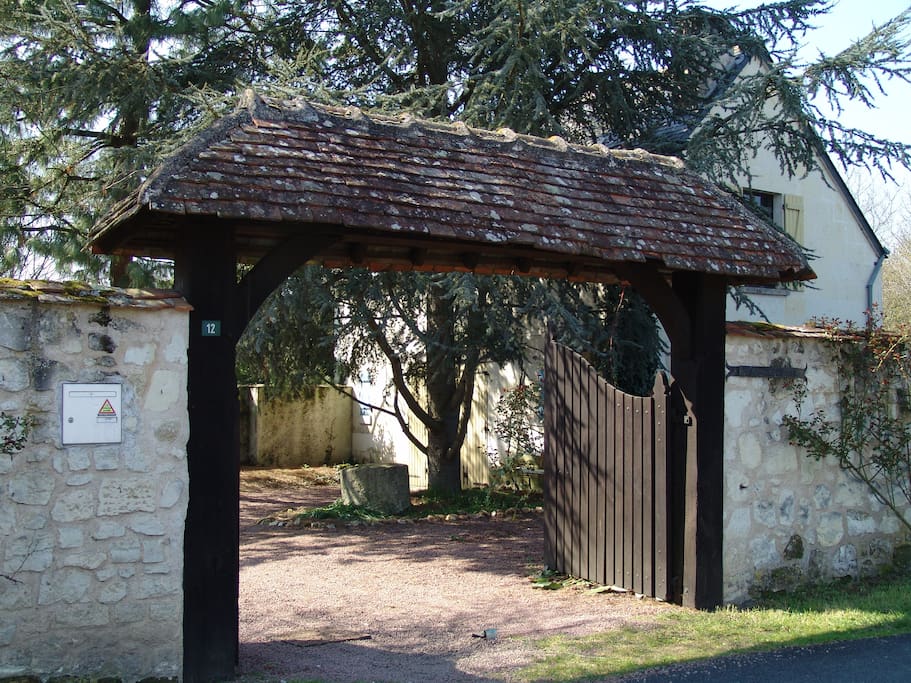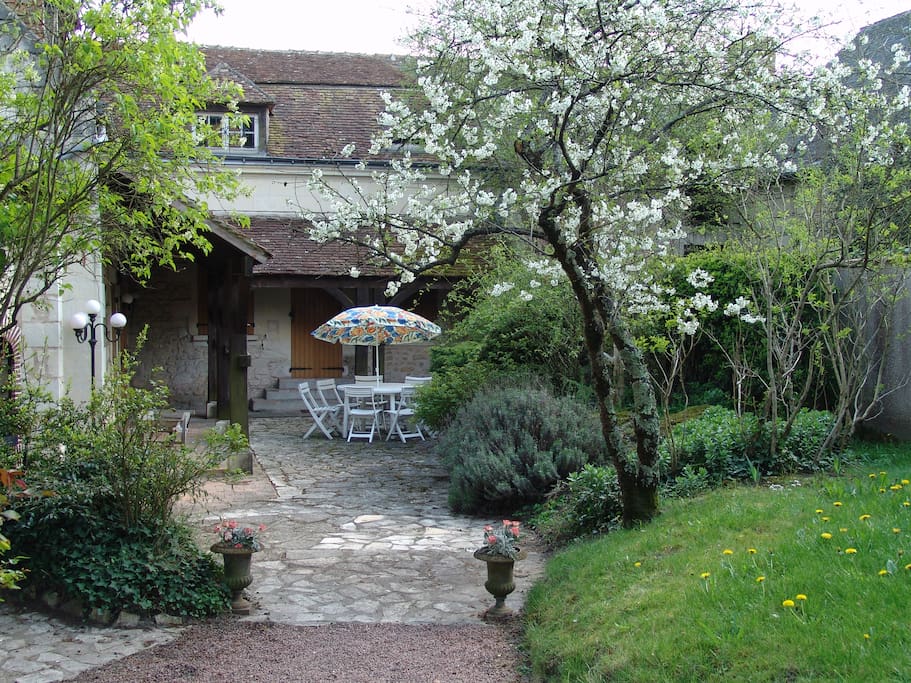 Large Historic Farm House recently renovated, in the heart of Chateaux Country. Sleeps 10
The space
Loire Valley Living: Southern Style
Alabamians in France
A UNESCO classified World Natural Heritage site*
The small village of Bréhémont lies thirty minutes west of Tours by car, in the Val de Loire, through which runs not only France's longest, but Europe's last remaining undeveloped river, whose deceptive calm is in fact treacherous to navigate. The area is known as the garden of France and for centuries was considered a princely playground. More recently, no longer at play but in all earnest, Prince Philip, Duke of Edinburgh, traveled to the Valley to campaign for the safeguard of this exceptional river, proclaiming along the way "Long live a wild Loire !".

A dream come true
Here under the rosy skies so favored by court painters, an American couple from Alabama set their hearts on finding an unconventional second home. With incredible good fortune, they stumbled across it on the very first day of serious searching.
The late 17th-century farmhouse had been tastefully renovated by the French owners, turning what had once been the entire house into what is now the bedroom wing, raising the roof to accommodate two additional bedrooms and baths in the former attic. The adjacent barn had been joined to the main structure to form a spacious living and dining room area with its tall stone fireplace and a kitchen with its own large fireplace, as well as a library and study on the mezzanine above.

The American couple bought the farmhouse on the spot. Once the papers were signed and the purchase was a fait-accompli, the real fun could start. The previous owners had left the house with carpets, wallpapers and draperies intact, but the rooms needed furnishing and the new owners immediately set about exploring the region's antique shops and brocante flea markets and soon made the old house a new home, one that reflected the period of its original construction and provincial character.

Thus an American couple realized their dream of putting down roots in France, to which a quintessential, 25 year-old Southern Dogwood tree planted in the front yard will attest. A quarter of a century later, this Southern family continues to enjoy and share the special charms of one of the most enchanting parts of France.

The road home

After crossing the Loire from the northern, right bank at Langeais with its fortified château, a dike road to the right leads westward along the river's left bank. At first all that is seen from atop the dike is a dense growth of trees to one side, with small gardens and a scattering of white limestone houses on the other. Then the road turns, and suddenly the Loire comes into view. At the same moment, Bréhémont, resplendently white, appears on the horizon, its church spire silhouetted against the western sky. This approach to a riverside village is one of the loveliest in France. On entering the town, a left turn south from the dike road towards the village of Rivarennes leads to the house, roughly 100 yards on down.
Privacy is highly valued in French country homes and the house at Bréhémont is no exception. Shuttered windows on the street and a white stone wall with ornamental climbing roses shield the interior and inner courtyard from inquisitive passers-by. Through the large wooden gate, however, guests find a welcoming courtyard, its graveled center bordered by trees and beds of flowering bushes. To one side a small pool reflects a towering hazelnut tree. Shallow steps lead to a stone terrace where a table and parasol speak of lazy lunches and late afternoon aperitifs, following a day of visiting nearby medieval towns, châteaux and gardens, or sampling wines at area's vineyards.

The terrace leads into the high-ceilinged salle de séjour serving both as a living and dining room. The eye is drawn to exposed beams overhead, a comfortable grouping of sofas before a grande cheminée carved of stone, and the large farm table and Louis XIII-style chairs that provide the dining area. Wooden stairways anchor the lofty room at either end. But the room's most striking feature is its unique floor composed of 5-inch thick cross-cut rounds of wild cherry trees. Set in resin, these random-sized rounds make for a stunning, one of a kind floor.
Across the room from the large fireplace, three stone steps lead to two bedrooms, each with one of the farmhouse's original 17th-century Renaissance fireplaces and its own private bath. Above, two more bedrooms and baths. Despite five bedrooms and baths in all, it soon became apparent to the new owners that they needed extra guest quarters, so they proceeded to convert an empty 18th-century dependency on the property into a cozy, independent guest house on the opposite side of the courtyard.
In their widespread quest for furnishings, they chanced upon a rare find at an antiques shop near Reims in Champagne: an ensemble of an alcove, a grandfather clock and an armoire combined into one piece of furniture. It was this find that determined the floor plan for the guest house. They created a bedroom behind the alcove and the clock and armoire were put to use as a pantry for the small adjacent kitchen. Two additional sleeping spaces were added upstairs. Compact but comfortable, the guesthouse can accommodate four-to-five.
About town
The village of Bréhémont is not your usual riverside village but was once a thriving community bustling with river commerce. The cultivation of chanvre**, or hemp, used for rope-making at Langeais across the river, supported a population more than twice the size of today's. In its hey-day the village had four hotels, several small grocery stores, a barber shop, bakeries, meat markets and a service-station garage. Most of these have gone today, vanishing with the demise of river transport a century or more ago, but the decoratively-carved façades of the stone buildings that compose the village center still attest to Bréhémont's former affluence. The region's beautiful white limestone is called tuffeau. Soft and easily carved into intricate designs and figures, it is the same stone used in the Loire Valley's châteaux and churches.
*The Loire Valley and Loire River were both recently classified by UNESCO as World Natural Heritage, to be nurtured and protected under a special status that will greatly limit future development. Everything will be done to maintain and protect the existing historical infrastructure of castles, farmhouses, natural countryside, and keep the river itself as clean and unadulterated as possible.
**The rope scaffolding for safety nets used in the restoration of the Statue of Liberty in the 1970's was made of chanvre from Langeais
Guest access
This beautiful, historic stone farm house has recently been renovated to a very high standard. There a 5 bedrooms and 5 baths with heated floors. You will find all of the modern comforts in pristine order!
Interaction with guests
The Property Manager and long time resident, who lives just around the corner, will take very good care of you during your stay.
We will be delighted to offer advice regarding the surrounding area, sites, restaurants, and any special requests that you might have. We will be glad to help with anything that you might need during your stay, such as tours, a private chef to visit and prepare a special meal, etc....
We know this area quite well and are thrilled to share our 'insider tips' for any activities that you might have in mind!
Arrival and Departure: An arrival meeting will be scheduled at the property before arrival and we will meet you, show you around, answer any questions that you might have and hand over the keys.
Normal check-in time is between 2 PM and 7 PM; although we do allow for people to arrive earlier if there is not a departure on your arrival day. Every so often, we have same day arrivals and departures, which can lead to a cleaning overlap with your arrival. In such cases, we ask that you please be patient while the cleaning team finishes up their work.
Any late arrivals must be cleared in advance with the property manager.
All arrivals on the following Holidays in France are subject to a one time $75.00 charge, due to the difficulty and cost of finding people to greet tenants on these days:
May 1st - The French Labor Day
July 14th - The French Independence Day
Christmas Day
New Year's Eve
New Year's Day
Checkout is normally 10:00 am. (We can offer a late check-out for 1/2 price of the daily rate, but we if there is not a check in on the day of your departure, we can often be flexible. If you may require a later check-out, please check with us upon arrival to determine if this will be possible.
Other things to note
17th Century
5 Bedroom, 5 bath farmhouse
Features Optional guest house
Level/Security Ground level with electronic security system
Located in the Neighborhood of the Loire Valley Chateau Country
Television with NO cable TV
Portable CD player and radio
Telephone
Internet/WIFI
Fireplace Yes, 4 in main house, 1 in guest house
Fully Equipped "country" Kitchen featuring:
Full size Oven
Electric 4 burner Stove
Microwave
Full Size Refrigerator/Freezer
Dishwasher
Washing Machine and a separate Dryer
No Smoking Allowed in building
Items Provided: Linens, paper products, hairdryer, soap
Not Provided: Shampoo, electrical converters, electric plug adaptors

Always communicate through Airbnb
To protect your payment, never transfer money or communicate outside of the Airbnb website or app.
This property is NON-SMOKING and we do NOT ALLOW PETS.
We expect respectful behavior from our guest. Whereas we wish for you to have a wonderful time while living in the French countryside, we are keen on making all of our tenants fully aware of their obligations with respect to their surrounding neighbors while they are in residence. We ask for your understanding when we say that we cannot permit disturbances to the neighborhood.
Maintenance: Please report any maintenance or housekeeping problems immediately. Even the best appliances occasionally malfunction and we cannot guarantee them to perform 100% of the time. We do, however, promise to correct any problem as soon as possible. There will be no refunds due to maintenance problems.
Important Notice regarding telephone, internet and television amenities. The owner of this property provides these amenities. We do our best to assure that these services are operating at time of your arrival. Should you encounter a service problem, please call our property manager and we will attempt to solve the problem during your stay.
Please understand that we are not able to warrant against service interruptions, which are rare but are beyond our control, since service providers may perform maintenance work or systems may suffer life cycle service interruptions. Please note that no refunds or account adjustments will be made for such interruptions.
Noise, Construction, Unavailability, Repairs, Substitutions, and Related Refund Policies: If you are renting a vacation home in France, please understand that France a busy country, with lots of growth, visitors, construction and changes. That means there may be noise from the streets and construction in the neighborhoods and buildings, and inconvenience to you. Since this is beyond our control, no refunds will be made. We strongly urge that you buy travel insurance at the time your booking is confirmed. We are a management company, and do not typically receive any advance notice of such construction. When we do, we block the apartment from our Available Dates Calendar. When you arrive at your property, if there is construction, noise, inconvenience, or your property is otherwise unavailable for any reason beyond our control, please notify us immediately. As soon as we are so notified, and assuming we have any comparable properties that are not being used during your planned stay, we will endeavor to make one available to you, as a substitute, at no extra charge. However, there will be no reimbursement for such inconvenience or unavailability, and we are not liable for any discounts, costs of other substitute accommodation's that are not from our portfolio, or other direct or indirect costs which you may incur as a result of such noise, construction, inconvenience or general unavailability. This policy also applies to acts of God, war, flood and other climatic events, fire, strikes or work stoppages, public events or other circumstances that may impair the access to or use of your vacation property. Again, since these reasons are beyond our control, we strongly urge that you purchase travel insurance to guard you against such possible inconvenience.
Should you have a problem arise within your vacation property during your stay, such as a power, plumbing, heating, or other mechanical or structural problem or construction within the property that may impact or impair the use and enjoyment of your vacation property, our refund policy is different than as stated above. Please notify us immediately of the problem, and we will oversee the prompt repair of the problem within the property, usually within 24-48 hours of receipt of your notice. If in our assessment we will be unable to make a prompt repair, then we will endeavor to make a comparable property from our portfolio available to you at no extra charge. If there is no such property available as a substitute, you may check out of the property and request a refund for the unused portion of your stay, less the applicable cleaning fee. Such refund will be processed from the payments we have already received from you, and will be credited to you within 20 days of your departure. No other payment or liability will be applied.

Should you have any particular needs, strong preferences, physical limitations, or other factors that may make it unsuitable for you to be relocated to another comparable property in our portfolio, or limit your access or use of another one of our offered substitute properties, please make such conditions and limitations known to our team at the time of your reservation booking. An example would be the need for elevator service, which is not always available in every property in our portfolio. Please make our team aware of your particular needs when you book, and do not wait until you have arrived. It is our policy to relocate you to a comparable vacation property that may be available within our portfolio, at no extra charge. Should a substitute property not be available or acceptable to you, then travel insurance is what we urge you to purchase, in advance, to guard against any such inconvenience, because refunds are not available, except as strictly limited as set forth above for problems within the property.
Restrictions: This property is limited in the number of guests it can accommodate. These restrictions are there to protect both the interests of the apartment owner and the serenity of the adjoining neighbors. Accommodating overnight guests in excess of the agreed number in your party is prohibited and will result in immediate cancellation of the rental with no refund.
Limitation of Liability: Our liability is limited to the amount of any rentals and deposits paid. In no event shall we be liable for consequential damages.
Pawleys Island, South Carolina, United States
Joined in August 2014
Hi! I am the property manager for a great company, called I Love Paris Apartments. I spend about half my time in South Carolina and the other half in Paris, on the ground, making sure that all of our apartments are always in Tip Top shape! We have a full time staff of great people in Paris year round who will make sure that your stay is exceptional!!

Our company is dedicated to providing the perfect apartment and the service for your visit to our city.

As a devoted traveler myself, I understand what our guests are expecting when they rent one of our apartments. You have my promise that my staff and I will do everything that we can to ensure that your stay with us is a wonderful experience!
Languages:
English, Español, Français
Response rate:
100%
Response time:
within a few hours
Explore other options in and around Bréhémont
More places to stay in Bréhémont: