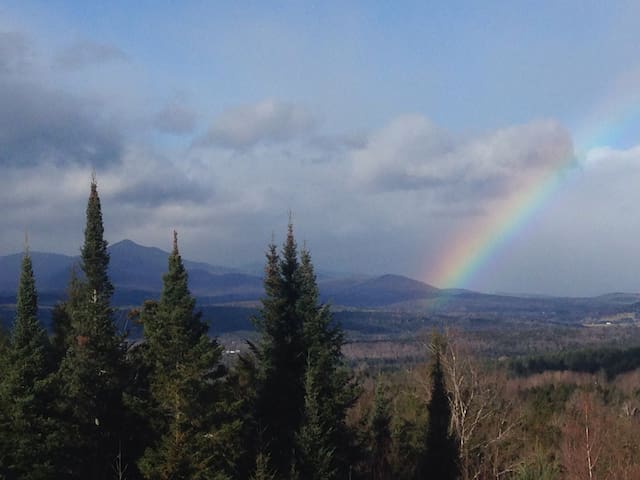 Private room
10 Guests
10 Beds
About this listing
We take good care of our guests! Spacious Mountain Suite - 2BR, 1BA, 1LR - entire ground floor of house. Sleeps 2-8. Private French doors lead to gardens, lawn, forest. Full kitchen, deck, grill available 24/7. Steinway Grand. Peace, tranquility, privacy. Awesome sunsets. Stars, fireflies. Amazing mountain views!
---
---
Kitchen
Space where guests can cook their own meals
Essentials
Towels, bed sheets, soap, and toilet paper
+ More
---
Extra people:
$50 / night after 2 guests
---
The Space
Welcome to your Vermont home away from home! As previous guests have said, "Like staying at the charming and gracious country home of close friends, you will feel completely comfortable and taken care of here."
We have been AirBnB hosts for over three years and have had hundreds of visitors from home and abroad. We are proud to offer you a quality, beautiful, outstanding, destination worthy, vacation AirBnB experience.
The Mountain Suite sleeps 2-8 comfortably and is warm and welcoming for couples, friends, or families, with gorgeous views of meadow, mountains, gardens, valley, and sky.
The Mountain Suite is the whole Ground Floor of our house - it's a dedicated private floor and includes all these private rooms:
-the Blue Bedroom (sleeps 2)
-the Yellow Bedroom (sleeps 2)
-the Livingroom in between (can sleep 4 more)
-the Full Bathroom
-the French Doors to outside access 3 season garden/lawn/meadow
The house sits on a completely private piece of property in the bucolic Vermont countryside. We are surrounded on all sides by private forest and meadow, with natural forest up to the ridge behind us, and views out over the valley below us.
It is wonderfully quiet and peaceful here. You may hear owls at night and warblers and thrushes echoing from the forest by day. The night sky, moon, and stars are amazing! We have fireflies on summer evenings, and deer wander across our meadow. Maybe you'll even see moose, fox, coyotes, turkeys, or bear!
The house is cool, breezy, with fresh mountain air in summer, and flower gardens all around. In winter, the house is flooded with sunshine, cozy and tight, with beautiful deep snowfall and just minutes to world class skiing.
Inside, you are guaranteed an immaculate, bright, and warm environment with plenty of space and privacy. Lots of light and fresh air. Ultra clean and clutter free. Huge windows and amazing mountain views everywhere. Guests tell us our photos don't do justice to this beautiful place.
The Mountain Suite also includes a laundry room, treadmill, breakfast, and use of the rest of the house including deck, grill, another livingroom/diningroom, and a full kitchen 24/7. There are two Steinway pianos in the house (one in your Suite), as well as lots of games, books, and toys.
Ideally suited for....
....one couple, who want lots of space - a private bedroom and bathroom plus your own private livingroom, office space, and 3 season french doors to outside gardens/lawn/meadow
....two couples, each with their own private bedroom on either side of a private livingroom, and 3 season french doors to outside gardens/lawn/meadow
....a family with two to four kids, plenty of beds and books and toys and games, , and 3 season french doors to outside gardens/lawn/meadow
... a group of up to eight friends, as there are four double beds available
Our pricing includes all rooms and meals VT 9% taxes. No security deposit required - we trust you'll treat this as your own home.
We provide high quality hotel linens, goose down duvets, fresh towels daily, and much more.
MORE DETAILS AND AMENITIES:
*Real Goose Down comforter duvets
*Ultra thick Memory Foam toppers
*100% Egyptian cotton linens
*Radiant floor heat - your own zone
*Cozy, clean Berber carpet
*Large opening casement windows
*Fresh mountain air
*French doors open to garden/lawn/meadow
*Dust free environment
*No clutter and very clean!
*Eco-friendly cleaners
*Closet space & hangers for your clothes
*Fresh 100% cotton bath towels
*Shampoo/conditioner, soap, lotion
*Hair dryer
*Iron available
*Yoga balls available for stretching
*Treadmill right in the Suite
*Laundry washer/dryer right in the Suite
*All free/clear detergent
*High Speed WIFI
*Fast AT&T and Verizon cell service
FOR FAMILIES WITH CHILDREN:
We are family friendly! We have a warm welcome and plenty of room for children. The Mountain Suite's closets and cabinets of board games, puzzles, wooden blocks, trains, Legos, children's' books, and more. We have Tintin, children's DVD's, Calvin & Hobbes, Asterix, windup gizmos, stuffy birds, classic children's' novels, and more. We have bubble bath for the bath tub. We have sleds for sledding in the deep snow in winter. We have the amazing stars and moon, and fireflies to catch, plus flowers, frogs, and crickets, and a whole forest to explore!
Guest Access
In addition to your Private Mountain Suite, you also have shared use of:
*Full KITCHEN facilities 24/7
*Steinway Grand Piano
*Dining room
*Living room
*Half Bathroom
*Sunset deck with Weber gas grill
*Front porch & swing
*Trampoline
Shared FULL KITCHEN facilities on the Common Floor. You can use the kitchen anytime day or night. The kitchen has a gas range top, an electric oven, a microwave, a toaster, a dishwasher, fridge, French press coffee makers, and of course all the usual cookware, utensils, and dishes. There is a gas Weber GRILL on the deck. Feel free to use the kitchen just like your own at home.
Relax in the Adirondack style chairs on the deck, porch, lawn, meadow, and gardens. Go sledding down the snowy hills. Feel free to relax in the livingroom. Play chess. Enjoy the dining room for meals (playing cards in a drawer on the table). Read one of the many books. Play the grand piano. Chill on the deck chairs. Cook up a meal in the kitchen. Grill out on the sunset deck. Relax on the porch and the swing. Bounce on the trampoline!
ABOUT OUR BEDS:

*Real Goose Down duvets
*Plenty of pillows and extra bedding
*100% Egyptian cotton linens
*Ultra thick Lucid memory toppers
*Full cotton/foam layer mattresses
*Double/full size frames
About Lucid MEMORY FOAM MATTRESS TOPPERS:
*Superior comfort/pressure relief
*Conforms to body weight/position
*Correctly aligns the spine
*Supports head/neck/shoulders
*Regulates sleeping temperature
*Ventilated to increase air flow
*Hypoallergenic and anti-microbial
ABOUT OUR PIANOS:
We are classical pianists and violinists in our family. In your Mountain Suite is a 1974 Steinway Upright. On the Common Floor is a 1916 completely restored and rebuilt, historically accurate Steinway M Grand Piano. You are welcome to play our pianos anytime.
One floor up from the Mountain Suite on a separate level is the Common Floor. This is the shared living space of our house. You may see our family and other AirBnB guests on this floor.
Interaction with Guests
Need tips on where to go and what to do in the area? We can help you with that! We know all the best places to go, and we'll share all the locals' secrets.
Please see our profile for a description of our family. We love hosting and meeting guests. If we're around and you're around, we hope to get to chat
... but on the other hand, if you're busy or would just like total quiet and privacy, that's fine too!
While you're here, please make yourself at home. Early mornings and late evenings are totally fine. We will be in and out during your stay, but you will have access to the house all the time.
Good morning!
To start your day,
we are pleased to offer you an
ORGANIC CONTINENTAL BREAKFAST :
*Vermont fresh roasted, fair trade, organic FRENCH PRESS COFFEE
*Jersey cow, grass-pastured, organic, fresh VERMONT MILK from a local farm
*European style, naturally leavened, organic, whole rye VERMONT BREAD/TOAST
*VERMONT HONEY, naturally crystallized, unheated, unfiltered
*Organic certified pastured BUTTER from cows on spring pastures
*A variety of Twinings English TEA
*Organic ORANGE JUICE
*Organic BANANAS
*Organic New Hampshire EGGS
Breakfast is available 7:00am - 11:00am, or as early as 5:00am by request. We will set up breakfast in the kitchen, and you can come and help yourself at your convenience.
We have one small 20lb Shihpoo dog named Cookie. She is a hypoallergenic breed, she doesn't shed due to her breed, and we keep her immaculately groomed and clean. Absolutely NO pet hair, NO pet dander, and NO pet smell! We have allergies, and we especially selected the Shihpoo breed because it is a people oriented, well trained breed. We always keep both Cookie and our surroundings very clean. Cookie is a polite, gentle, calm, friendly presence. In fact, she is the most popular host of our family! ; )
The Neighborhood
From our place, it's:
*10 minutes to Stowe Village
*25 minutes to Stowe Mtn Resort
*40 minutes to Craftsbury
*45 minutes to Sugarbush
*45 minutes to Montpelier
*45 minutes to Jay Peak
*45 minutes to Indoor Water Park
*50 minutes to Burlington, VT
*2 hrs to Montreal, Quebec, Canada
*3 hrs to Boston, MA
*5 1/2 hrs to New York City
GUIDED TOURS
available in the area include:
*Carriage rides with draft horses
*Fly fishing
*Kayaking
*Canoeing
*Lantern tours
*Horseback riding
*Lake fishing
*Sleigh riding with draft horses
*Snowshoeing
*Moonlight / dinner / fondue
*Snowmobiling
*Dog sledding

We live in a hotspot of amazing Vermont craft beer MICRO-BREWERIES, where you can take tours, fill growlers, buy cases, and taste samples. We are just 5 - 60 minutes to:

*Alchemist Brewery
*Hill Farmstead Brewery
*Rock Art Brewery
*Lost Nation Brewery
*Trout River Brewery
*Trapp Family Lodge Brewery
*Crop Bistro Brewery
*Switchback Brewery
*Magic Hat Brewery
In winter, we're just 25 minutes to:
*BEST SKIING/RIDING IN THE EAST! At Stowe Mountain Resort - we have steeps, glades, parks, half pipe, and excellent sunny, groomed beginner/gentle terrain!
*CROSS-COUNTRY NORDIC SKI AREAS - Trapp Family, Stowe Mtn. Resort, and Craftsbury Nordic Center with snowmaking, classic and skate trail grooming, and snowshoeing.
In summer, we're just 5-25 minutes to:
*AMAZING WATERFALLS & RIVER SWIMMING HOLES
*WOODED WALKING TRAILS
*MOUNTAINS TO HIKE with rocky 360 degree views
*TRAIL RUNNING in the forests
*DRIVE TO THE TOP OF MT. MANSFIELD - tallest mountain in Vermont with outstanding views to Canada, New York, and New Hampshire.
*WORLD CLASS RACING - cycling, running, trails, extreme
*Award winning 5.5 mile beautiful paved RECREATION PATH through the village, along the river, past restaurants, into the forest/farmland, and toward the mountain
*BIKE RIDING rentals and kid trailers available
*gorgeous LAKES with PARKS and BEACHES and BOAT RENTALS
*GOLF three courses - moderate to very challenging!
*ROAD CYCLING routes people come from all over the world for
*MOUNTAIN BIKE TRAILS award winning Hardy designed in several forests
*RESTAURANTS an incredible selection of from casual to fine dining, cool bar scenes, hopping après ski, outdoor patios/decks/gardens, romantic white tablecloth
*MAPLE SUGARHOUSES
*COVERED BRIDGES
*ANTIQUE SHOPS
*LIVE THEATER, MUSIC, DANCE
*ART GALLERIES
*RIVER TUBING
*ZIP LINE RIDE
*GLIDER RIDE
*GONDOLA RIDE
*CANOEING (lakes/rivers)
*KAYAKING (lakes/rivers)
*PADDLEBOARDING (lakes/rivers)
*ALPINE SLIDE
*HORSEBACK RIDING
*MODEL SAILBOAT RACING
*SHOPPING art, clothes, jewelry
*BREWERIES - Vermont craft beer
*WINERY - Vermont ice wine
*CIDERY - Vermont fancy hard ciders
On your way through Stowe, there is a Shaws supermarket on your left, which is a good place to stock up on anything you might like to have at the house.
There is also a wide selection of coffee shops, cafes, restaurants, markets, lunch spots, and high quality dining in Stowe, only 10 min. away.
Vermont is so beautiful in all seasons!
Here's what you can expect to see in our area:
In SUMMER, the resident broad-winged hawk soars overhead, and the flower gardens are blooming all around the house. There are always gentle cool breezes blowing here. You're welcome to sit out on the deck or porch and enjoy the gardens and the view. You can jump on the trampoline! You can explore the woods around our house and up to the ridge. We know beautiful trails to hike, with amazing views, waterfalls, lovely 1/2hr to 1 hr strolls through the forest, rigorous 2-4 hr mountain hikes with rocky tops and firetowers. We also have recommendations for kayaking, canoeing, swimming in our many rivers and lakes. You can bike ride on our national award winning recreation path and or tackle the forest trails. You can rent all the equipment you need, bring your own, or even take a guided tour. You can explore Vermont's tallest peak, take a gondola ride, a glider ride, a zipline ride, go shopping at our 60 shops, eating at our 40 restaurants, and don't forget Ben & Jerry's!
AUTUMN brings harvest festivals and Octoberfests in town, and the changing leaves on the mountainsides. Geese honk overhead and the woods turn a glorious shade of orange. The farmer's markets are full of harvest foods, and you can visit breweries, wineries, antique shops, and stroll the village. There are lantern tours on selected fall nights in Stowe! Driving up Mt. Mansfield and hiking the ridge, or taking the gondola up are popular ways to look at the leaves, in addition to many scenic drives (with covered bridges!), walks, and hikes.
NOVEMBER LOCAL'S SECRET - The light is beautiful in this month as the sun angles lower in our northern latitude. You can see deeply into the forest now that the leaves are gone, and the sunlight makes beautiful patterns on the trunks of trees. Walks and hikes are lovely. The moss and ferns glow green on the rocks and boulders. Single yellow birch trees stand out on the purple/grey mountainside. The valleys are dry, warm, and snow free, with cyclists, hikers, bikers enjoying the pavement and trails, but the mountain tops are beautifully kissed with snow and frost. You may be able to catch some early skiing. Restaurants have specials galore. Shopping is amazing - with deep discounts and sales from the summer season. Music, galleries, and theater are all happening. Breweries are open for tours. Vermonters hold locals' festivals. Everyone is in a relaxed, happy mood. Come visit!
In WINTER, while the winter wonderland snow piles up outside, our house is super warm and full of light - sunshine pours in the windows of the kitchen and diningroom, and we have a gas fired "woodstove" as well. We get tons of snow! Sledding down our driveway is fun. You can even jump off the deck if there's enough snow. We have sleds, and you're welcome to sled anywhere around the house. You can even jump on the trampoline in winter - great fun! We work in the ski industry at Stowe Mtn. Resort, so we can give you tips if you are skiing and riding there - it's the best on the East Coast! You can also ice skate, cross country ski, go on sleigh rides, and go dogsledding here in Stowe.
APRIL LOCAL'S SECRET - Once again, the light is lovely in this month as spring returns to the mountains. While the valleys are greening up, snow remains on the mountain tops, creating a beautiful tableau. The maple sugarhouses are steaming with boiling sap into maple syrup! They often have tours and samples. You may be able to catch some late season spring skiing. You'll see cyclists returning to their scenic routes in the valleys. Restaurants have specials galore - we even have a whole statewide dedicated restaurant week. Shopping is amazing - with deep discounts and sales from the winter season. Music, galleries, and theater are all happening. Breweries are open for tours. Vermonters hold locals' festivals, such as maple sugar festival. Everyone is in a relaxed, happy mood. Daffodils are blooming and the trees are budding out.
We love kids! We provide BABYSITTING for $25/ hour if we are available.
Private individual, family, and group downhill PROFESSIONAL SKIING LESSONS for all levels are available with Steve - a former collegiate racer and now a PSIA master level, fully certified instructor since 1987. To book Steve, call Stowe Mountain Resort and ask to book a private lesson with Steve Ames.
Getting Around
This is a rural, country area of northern Vermont. You will need your own transportation. You can rent a car at the Burlington Airport. In winter, please rent a 4WD vehicle with snow tires. This is a mountainous, snowy, wonderful winter wonderland area!
Come visit and enjoy quiet and peace in Vermont's nature paradise! Don't hesitate to ask us any questions or contact us at any time for more information. Thank you for taking a look at our place, and we hope to see you soon!
Other Things to Note
In addition to ice cream and brewery tours, we have 60 shops and 40 restaurants within minutes. You won't run out of skiing, snowshoeing, hiking, boating, swimming, waterfalls, biking... and more, either!
Our place is just 15-20 minutes to:
*Ben & Jerry's Factory Tours
*Apple Cider Mill
*Fresh Cider Donuts
*Honey Bees
*Free Jams/Preserves Samples
*Vermont Cabot Cheese Outlet
*Lake Champlain Chocolates Outlet
*Free Cheese & Chocolate Samples
*Working Maple Sugarhouse
*Maple Syrup & Candy Store
+ More
---
Welcome! Thank you for taking a look at our place. We have had the pleasure of being AirBnB hosts for over 2 years, and we have really enjoyed meeting and hosting all our new friends!

Please note, although we have a two night minimum, we sometimes have a single "gap" night available in between bookings. In that case, just message us, and we can approve a one night stay.

Absolutely NO SMOKING anywhere on the property, inside or outside.

We welcome children of all ages! We have a wonderful, safe, natural outdoor environment for them to explore. Plenty of books, toys, games, Legos, blocks, trains, and puzzles! Paper, markers, pens, crayons, and colored pencils for drawing! Bathtubs and bubble bath! A trampoline! Flashlights and fireflies! Sleds and deep snow! Flower gardens, frogs, crickets, and mountain streams!

No cats - we love them, but we're allergic.

We would like to make it possible for well behaved dogs and their responsible owners to stay with us. We currently accept dogs upon special request and approval. There is a one time charge of $50 per dog. While here, your dog must be obedient, clean, and under your control at all times. Keep your dog by your side issuing voice commands, or please keep them leashed.

We do not allow unattended dogs at the house unless they are crate trained and in their own crate they are used to that you bring for them. Clean up after your dog outside and bring your own bags for poop. Do not feed or water your dog on the carpeted floors! Feed/water in bathrooms or kitchen only. If your dog sheds, or makes any messes, there will be an extra charge after you've left for cleanup.

Visiting us in winter? You will love the beauty and peace of winter here! We usually have a lot of snow, and our roads are expertly maintained and plowed. However, you may have more ease and peace of mind with a car with snow tires and all wheel or four wheel drive. Two wheel drive cars with all season tires often have trouble here in Vermont. Snowstorms are frequent and unpredictable. It's no fun getting stuck. This is a rural and mountainous area. Please be prepared for winter driving and steep, snow covered roads.

Please be very careful with the pianos. Nothing should go on them - no food, drinks, or anything else! Play with clean washed hands only. These are historically accurate pianos and serious instruments.

Please use utmost care when using candles, operating the stove, cooking in the oven, or using the grill. Always monitor the operation of these dangerous fire sources. Never leave candles, the stove, the oven, or the grill unattended even for a minute.

Be careful in the bathtubs and showers. Monitor water to avoid splashing and overflowing, move carefully to avoid slipping and falling, and don't leave tubs unattended.

Please monitor children at all times to see that they are able to be safe on stairways, deck, grounds, trampoline, and generally in the house and outside the house. Please be aware that some toys and objects are not safe for young children. Also, some objects are breakable or fragile. Please take care that children are able to use objects carefully and safely.

If you have any kind of medical, accidental, or fire emergency, please call 911 immediately. There is a first aid kit above the refrigerator in the cabinet. There is a fire extinguisher in the cabinet to the left of the stove.

Check out is 11:00am.

No unregistered guests or visitors. It is assumed that you and your party will be the only people at our home. No one other than you and your expressed party is admitted to our house, grounds, and property at any time. This rule is for the privacy, comfort, and safety of you, our family, and any other guests. It is also for insurance purposes to assure the coverage of anyone using the property.

Thanks again for taking a look at our place! Should you have any questions or need more information, don't hesitate to contact us.

We hope you can come visit us here in the beautiful mountains of Stowe, Vermont, but whether you stay with us or not, we wish you the very best in your travels... and happy AirBnB exploration!
+ More
---
---
About the Host, Steve And Heidi
---
Explore other options in and around Stowe