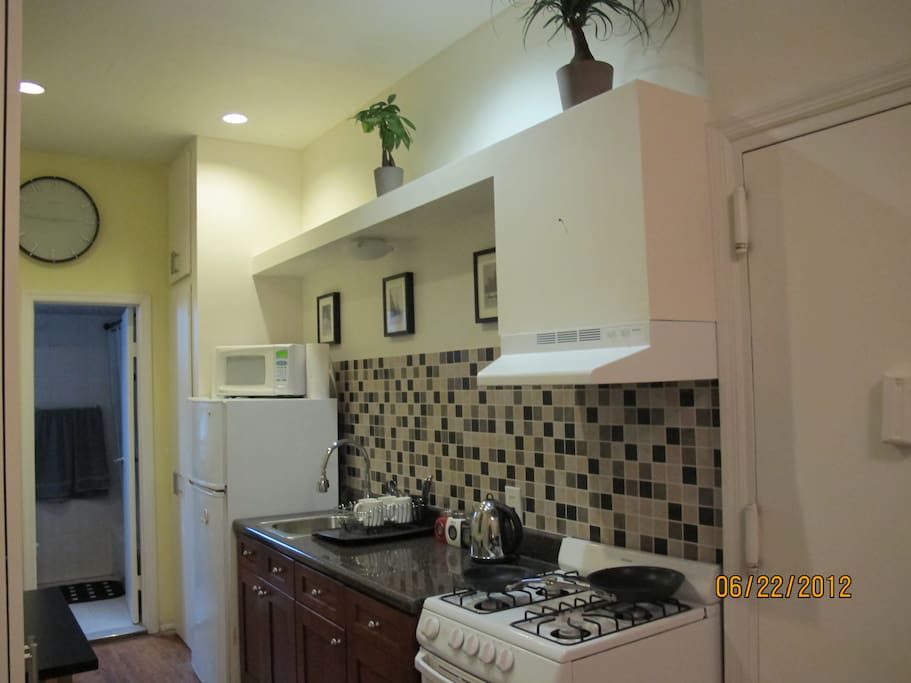 GREAT BRAND NEW 1 BED APT*TIMES SQ
PLEASE DON'T TRY TO BOOK THE APARTMENT BEFORE CONTACTING ME FIRST, THANKS!
THE BEST MIDTOWN/TIMES SQUARE LOCATION JUST A SHORT WALK TO SHOPPING, DINING AND TRANSPORTATION**
OUTRAGEOUSLY BEAUTIFUL!
COMPLETELY NEW RENOVATIONS!
A FOYER!
2 HUGE CLOSETS!
BRAND NEW!
BRAND NEW KITCHEN!
MARBLE BATH!
NEW HARDWOOD FLOORS!
---
---
Extra people $35 / night after 2 guests
Weekend Price $80 / night
Always communicate through Airbnb
To protect your payment, never transfer money or communicate outside of the Airbnb website or app.
Learn more
---
---
Flexible
Cancel up to 24 hours before your trip and get a full refund. Cancel within 24 hours of your trip and the first night is non-refundable.
---
---
I stayed 2.5 months. I would not recommend. Essentially, this is a tiny, noisy place. WHAT YOU NEED TO KNOW: 1. The place is on the first floor. Prepare to have a lot of noise of people coming in and out of the building and traffic outside 2. Apartment is right next to a BUS parking lot. LOTS of noise from buses an engines the entire time. 3. There ALWAYS seems to be some kind of maintenance going on in the building. Workers screaming in the hallway, sound of drilling, etc. 4. Given building maintenance, I had to have workers in the apartment many times as they were doing maintenance routines. 5. There's a flea market happening during the weekends right next to apartment. Very noisy. 6. Apartment IS TINY. It is basically a hallway. Photos don't do justice to how tiny the apartment is. 7. I found the information in the description to be inaccurate. "HUGE CLOSETS" really just means a tiny space to put some things, and the other closet is occupied by cleaning items. There is virtually no closet space. 8. There are several apartments in this building, so the one you see in the photos might not be the one you actually stay in. That happened with me, I got a different unit from the one I had seen online. 9. The area itself looks quite depressing, and there's ton's of trash bags outside in the street every week. 10. Bed is very soft. It gave me back pains and problems. 10. Location IS ideal. Right next to port authority bus terminal, meaning you have access to pretty much all subways just one block away. 11. Lior and Nissim are very nice people, didn't have an issue at all dealing with them and response was very quick. Unfortunately the apartment is just extremely overpriced for what you are getting. I felt ripped off and was counting the days to get out.
---
The host made me feel really welcome even though my booking was very short notice. When I got to the apartment everything was absolutely as it appeared in the photo's. It was my first time using airbnb and it was a great experience. This apartment is centrally located, really close to public transport, the bed is really comfortable and if you're in town on an extended stay has all the amenities you need to just sit back and relax. It's close to stores, times square and loads of bars and restaurants. The neighbourhood is quiet but there are enough people around to make you feel safe when you come home late at night. I stayed in the apartment on my own but there was easily enough room for a few people. I was sad to leave and would 100% book this apartment next time I come to Manhattan.
---
Good Location, could not be more central, with Times Sq a 5 min walk away and Port Auth practically next door. Pros: Apartment was well equiped and had everthying that i needed for my stay. TV, Internet where all available. The place was clean and the care-taker (Nissim) was very helpful to my requests. Hells Kitchen (bars, restaurants, shops etc) is on the doorstep and all the major subway lines are minutes away. Cons: NOISY, the apartment is ground floor with the bedroom on the street so it is very noisy most of the time (day & night) as there is a night club accross the street. The TV cable was intermittent and I had to call Nissim a few times to get it fixed when I was out. The apartment does not have heating as such but electrical heaters were provided. Some electrical sockets were looses/faulty so had to be avoided. No door between bedroom and living room so if more than 1 couple are staying then there is no privacy. No hanging space apart from utility cupboard with cleaning supplies in it. Summary: If the price is right then this place is fine for a single or 1 couple. If you are wanting the proper NYC hussle and bussle experience of Manhattan then you can get it here. It is 24/7 but the apartment is private enough to relax. Main drawback is the night noise from people and traffic passing by the bedroom window. Would recommend it for a short stay but nothing extended, I stayed for 4 weeks and was ready to leave for somewhere quieter. The location is the main attraction
---
I recommend that you strongly consider staying somewhere else. This was the noisiest place that I have ever stayed through ARBnB. If you '(SENSITIVE CONTENTS HIDDEN)' 406 W 39 Street and to the street view you will see buses from the Port Authority parked in the front and on the side of the building that houses the unit which is a first floor unit with the bedroom facing the sidewalk and sharing the outside wall next to the parking lot. The Port Authority uses 39th Street and the parking lot next to the building as the staging area for its buses meaning that from 6 a.m. to 11 a.m. and then again from 4 p.m. to 10 p.m. you have the constant beeping noise made when buses back up and the constant running and gunning of engines. I was so angry that I recorded the sound in the unit to post it on You-tube but decided that was excessive. On the other side of the building a new high rise is being built for which the construction debris is picked up every morning between 3:30 and 4:30 a.m. and add to that the drunks coming out of the club across the street at 2 a.m. yelling and screaming at each other and you are not getting any sleep. We contacted Lior and complained and were told all of the other units were rented but he would "see what he could do". Not that I expected him to be able to do anything but he said he would see what he could do and we never heard back from him. I wish someone had been more candid about this location or that we had done a (SENSITIVE CONTENTS HIDDEN) search and put 2 and 2 together. Were it not for the fact that we love New York, this place would have ruined out trip. And this is not mention the electric outlets with no cover plates and multiple plugs overloading outlets; the homeless food kitchen that is two blocks away and feeds the many mostly men who beg on the streets all day and us the bus parking lot next door for a toilet at night; the only one light working in the bedroom and that half of the ceiling lights in the living room/kitchen were out and we used the stove light for lighting; the cockroaches that arrived any time we were out of the room. This does not appear to be the rental of someone's home as the kitchen is not supplied for use and doesn't even have a can or bottle opener. There is a reason that this unit is inexpensive, and my recommendation is seriously to try someplace else……any place else…..really. Just (SENSITIVE CONTENTS HIDDEN) it.....
---
I have been living in the city for the last 6 years, so I know a lot of cool secret hot spots to share with you...
Response rate:
100%
Response time:
within an hour
Explore other options in and around New York
More places to stay in New York: