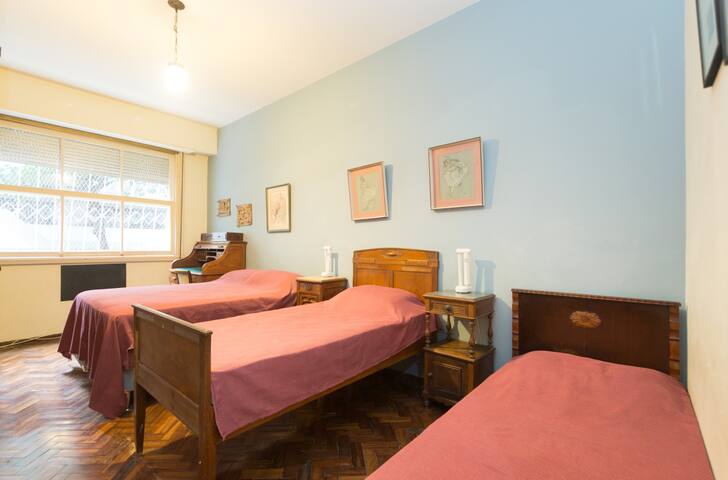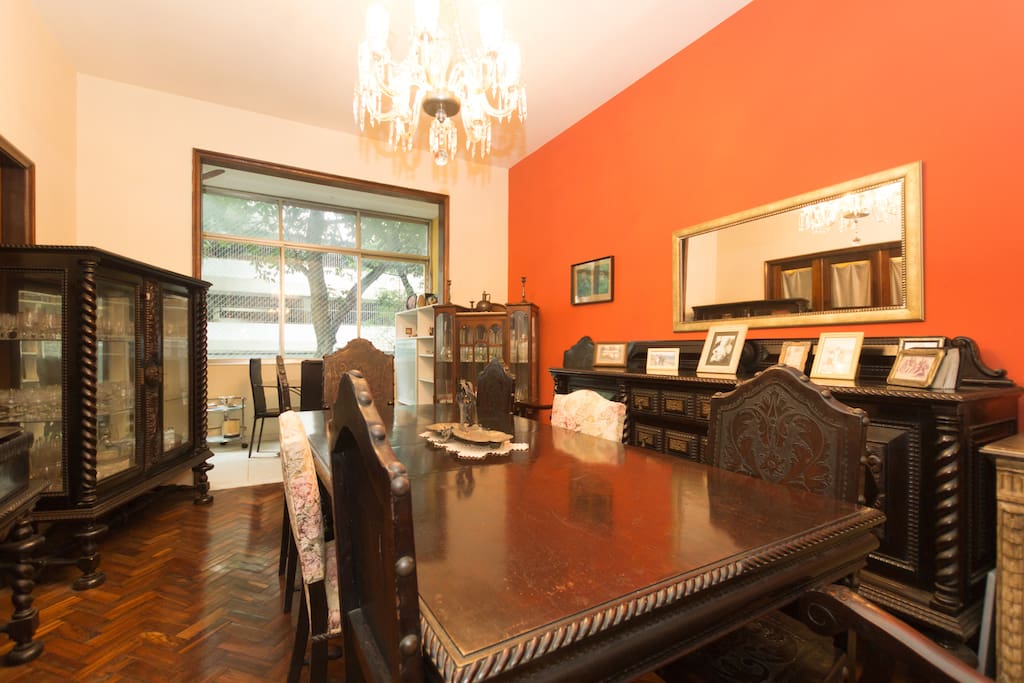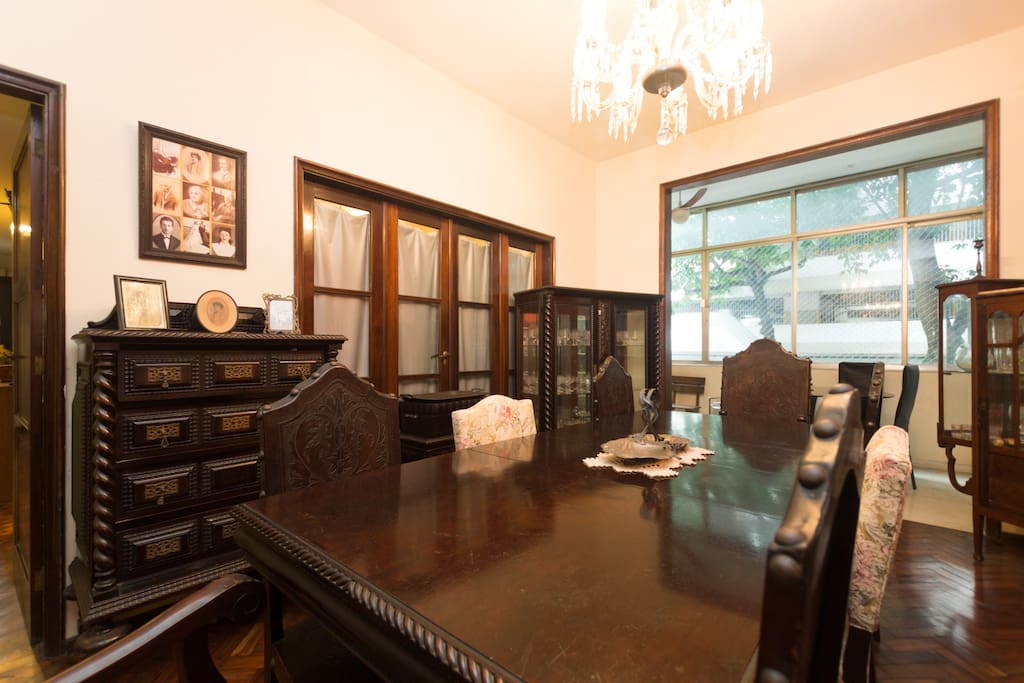 Private room
4 Guests
1 Bedroom
3 Beds
About this listing
It's a big and classic apartment at Flamengo, a traditional/familiar neighborhood of Rio, 10 minutes from Downtown or Copacabana by Metro, with buses for all directions of the city and services all around.The room is very comfortable and fits 3 or 4.
---
Accommodates: 4
Bathrooms: 3
Bedrooms: 1
Beds: 3
Pet Owner: Cat(s)
Room type: Private room
The space
*** cats & smokers***
I have 1 cat in the space, so, you need to LOVE cats! That's rule number 1!
There are smokers in the house (sorry - or not ;) - about that!
Neighborhood:
My apartment is at Barão de Icaraí street, at Flamengo, a residential neighborhood, 10 min from even Downtown or Copacabana, or Ipanema (by Metro, or bus) and Sugar Loaf, at Flamengo's Beach (by foot).
Close to everything and everywhere, Flamengo has a lot of services to offer, such as bakeries, supermarkets, Shopping Centers, traditional or fashion restaurants, theaters, night life and sight seeings. It's a true Carioca residential neighborhood, indeed and – even considering we Rio de Janeiro a big city – Flamengo is considered a quite safe neighborhood.
Apartment:
I live in this apartment since I was born. This is the home of my grandparents. The apartment is at the 2nd floor, facing this traditional street. It's a big and pleasant old fashion apartment (160m2). It has 05 rooms, 4 of them, I'm offering for renting.
The apt has 2 comfortable bathrooms, plus one which serves the service area (all 3 bathrooms are complete - shower, toilet, etc. - and all of them are available for guests). 01 living room; 01 large dining room (with a big table for 8 people); service area (with laundry machine and clothesline clothing); kitchen (with stove and oven, microwave and a freezer/refrigerator). There is, also, a pleasant balcony with another table, which sets 4 persons, and a set of sofa and chairs. It is a quite pleasant place.
Bedroom:
This bedroom faces street. It has a comfortable double bed; 2 single beds; 1 dressing table; 1 table; 1 wardrobe. The room fits 4 persons but can fit 5, also (for a short period, I sugest). It's just a matter of putting another single bed in it.
Let's talk now about what REALLY MATTERS (if you know what I mean... "better having wifi than a roof over our heads!" lol kidding!):
I have WiFi in the house, guests would be able to use Internet broadband in the entire apartment.
Although I have one telephone in the house, it would be difficult for me to afford international calls (very sorry about that) I thought I had to say this since now.
I have a helper who comes for house cleaning, or, if I travel (which I do every 15 days, if I'm able to), she comes to take care of the 2 cats.
I don't provide meals, but this should not be an issue, as we have plenty of breakfast services all around, and guests can use the kitchen (stove, microwave, refrigerator, freezer, coffee maker, etc) for cooking, if they want so. I'll also be very glad to guide them to the supermarkets and other places around.
We have doormen night and day, all the time (sometimes, by the night, he sleeps!!!).
All guests have their own room with their own apartment keys.
Guest access
Everybody shares the bathrooms; the kitchen and the common areas and I leave to them to decide how to do this. Anyway, there are lots of wardrobes at the kitchen and bathrooms, so this won't be a problem.
Maybe, maybe, just another thing to keep in mind:
*** common areas***
You will have access to the whole apartment, except other room's guests, of course.
Even I'm constantly paying attention in order to have the house confortable (in terms of numbers of guests in here, as we're talking about an old apartment), there will be always the common areas to share, so it would be nice taking care of them every time you use them... just keep this in mind... I really will ask you to use them as you wish, since you leave it as if you have not used it!
Keep in mind that someone else will need to use it the minute after you did, so, it must be clean! This rule is very important to me and it worths specially for the kitchen and the bathrooms!
Interaction with guests
I don't consider myself a hostel, as a matter of fact, I don't want to be a hostel, at all! I like to interact with guests feeling that this is still a home and absolutely not a formal or impersonal place! The idea is to share my home with people who want to stay in here for a while (or even, a bit more than "a while"). This is an important aspect to me!
Sometimes, I may travel for 3 or 4 days, but I will try to be there for you as much, as I can.
The neighborhood
I think that my neighborhood is special because it has the perfect balance between commerce and residences. Its habitants are older (including myself and my cats) which makes it it a calm place. It is also well placed, between Downtown and Copacabana with metro and buses for all over Rio.
I think guests will like it.
Getting around
Flamengo is about 10 min from even Downtown or Copacabana, or Ipanema (by Metro, or bus) and Sugar Loaf, at Flamengo's Beach (by foot).
Buses and Metro about 5 min from the apartment.
I don't have garage, but there are parkings 5 minutes from here.
There are buses coming from both Airports of Rio, passing at the corner of my street. So, it's easy to arrive/leave here.
Other things to note
I have those rules printed, and lots of small notes that, I guess, may help. I know that rules are boring, but we will need them, since we will share the same space. So, I am sorry and I will be here to help every way I can!
Espero que os hóspedes:
1) Tomem cuidado com os meus gatos, por exemplo: não deixar alimentos expostos; fechem a tampa do fogão, após o uso; fechem as janelas da varanda quando forem sair; prestem atenção para não prender um gato dentro de seu quarto ou ao abrir a porta da frente do apt ...).
2) Pense nos outros convidados ao usar as áreas (website hidden) tenho uma dica para isso, mas devo antecipar que é um pouco rude, então me desculpe por escrevê-la:
"Tente não deixar vestígios, depois de usar uma área comum", e isso inclui cozinha e os banheiros! Lembre que você pode ser o próximo a usá-los!
;-)
Por agora isso será o suficiente, eu acho!
Se você decidir vir, você vai ver uma descrição completa de algumas regras (com relação a chaves, portas, equipamentos, áreas comuns; etc).
Também vou enviá-las para você (como um arquivo .pdf) por e-mail, assim que a reserva for confirmada.
Não há necessidade de perder o seu tempo com essas coisas, por agora! Até logo! (Espero!).
Cristina Areias
^ .. ^
Rio de Janeiro, Brazil
·
Joined in August 2011
Hi!

I'm Cristina Areias, I am 60 years old (so they say…), divorced, no kids, only cats...two, actually (which makes IMPERATIVE TO LOVE cats - sorry about CAPs - because who knows them, knows that they are the real hosts!).
I am a smoker (sorry about that, too), so smokers are welcome in the house and allowed to smoke wherever they want.
I'm psychologist, web designer, artisan, now working for the Rio de Janeiro Government (since 2009).

!!! Not anymore!!! Since last month I'm no longer working, so I stay home taking care of you!!! ;) !!!

When I'm home, I like to watch TV or, mostly, browse Internet, for playing or studying, or working. I like music (very ecletic taste, I guess).
I can't live without Internet, I can't live without my cats... I'm a smoker (sorry about that!). I love languages, so I speak English and French; enough for basic conversation, I suppose.
I like to have my friends around with good drinking and talking...
I love architecture, arts, movies, animation movies (I do some animation stuff, myself) and, again: cats! The thing about cats is that I love their softness, quietness, self- self-sufficiency, self-assurance, and mostly, the way they constantly remind me that they are not my property... This always shows me my real place, giving me, day-by-day, a fair quota of humbleness.
I love technology and I love (SENSITIVE CONTENTS HIDDEN)! Almost the same way I love cats! No... not really... but I'm a huge (SENSITIVE CONTENTS HIDDEN) fan. I love Beatles, Criminal Minds, Drop Dead Diva, The Big Bang Theory and Cirque du Soleil, and Opera... I love to share my knowledge with others... this really gives me pleasure. My favorite movie is Quest for Fire... because of the scene where she teaches him the way to MAKE fire... awesome!
I've always, since I was a child, been attached to foreigners. My ancestors came from France, Germany and Portugal (of course!). Father and grand-mother loved France and this was an important part of their legacy to me.
This is one reason for me to enjoy having tourists, to have people from different countries around me, with me, at my home... Also, it could be a good and pleasant way to improve my writing, right? :o)
I live in this same house, since I was born. It's a quite big apartment (04 rooms, 01 living room, 01 dining room, service area, kitchen and a comfortable veranda), 10 min from Downtown or Copacabana (by Metro).

Well, that's all for now, Folks! See you, soon, I hope...

Cristina Areias
^..^


Explore other options in and around Rio de Janeiro
More places to stay in Rio de Janeiro: