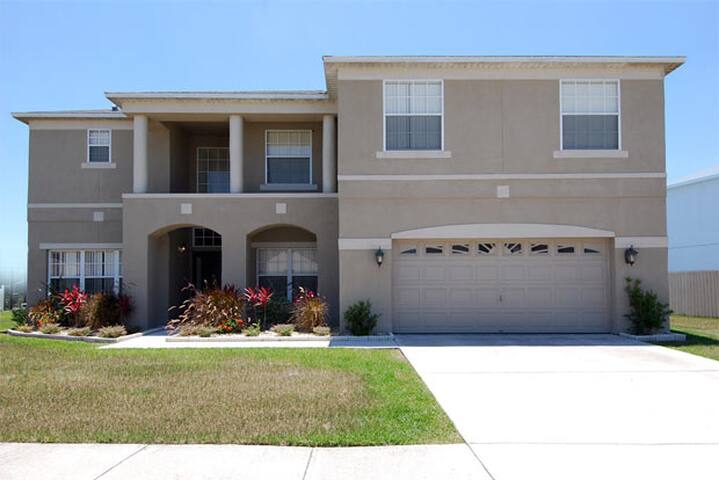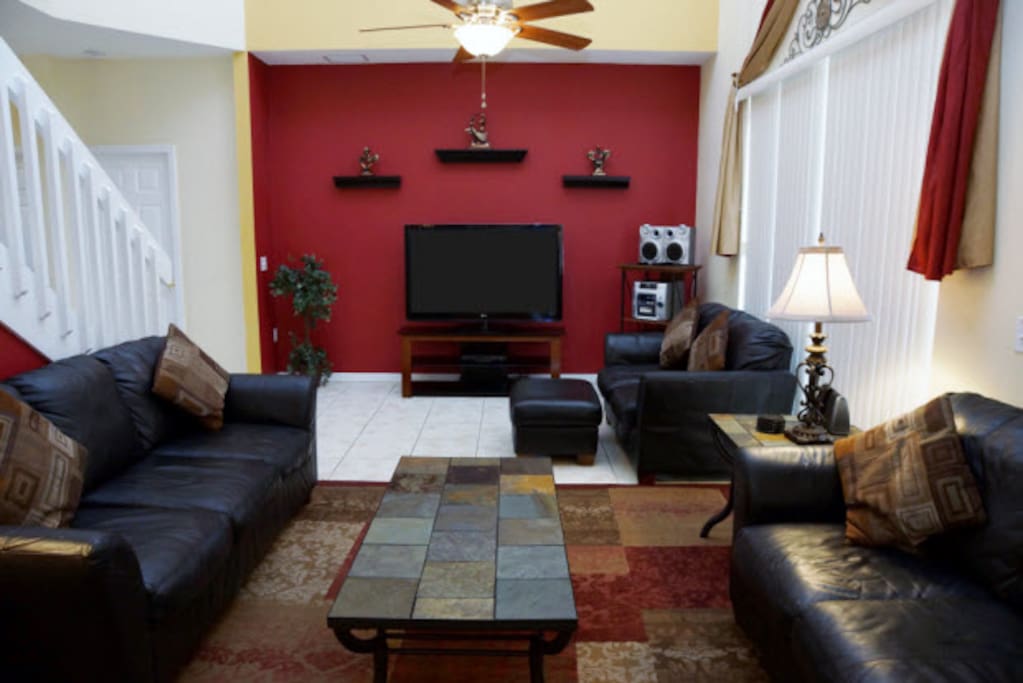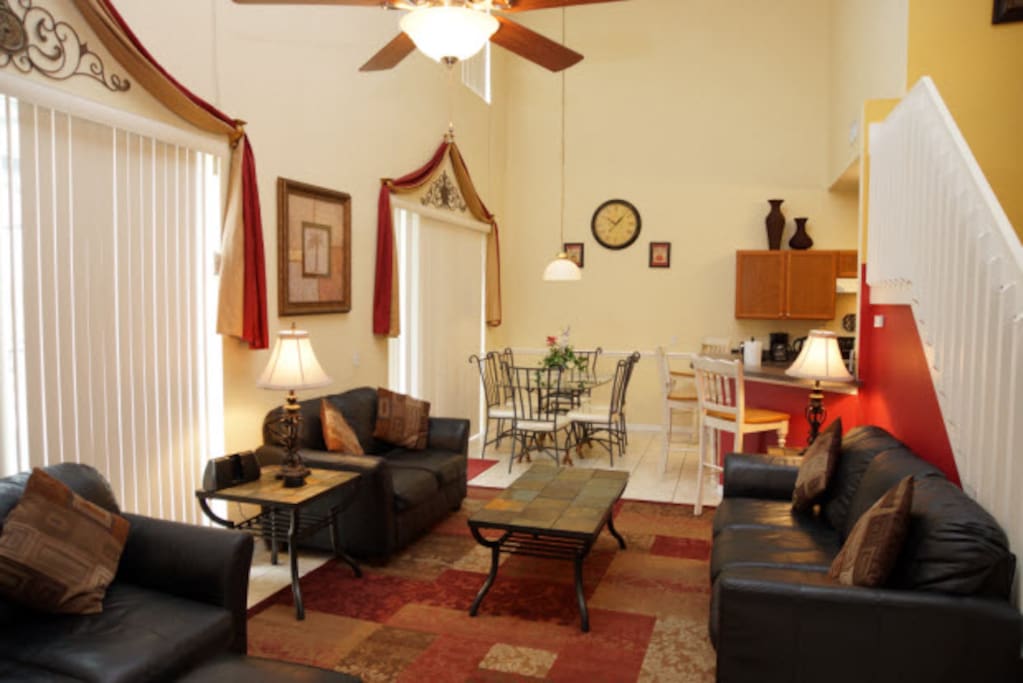 Relax in the comfort of our spacious lounge area with 3 relaxing sofas, one of which can be used as a queen size sleeper sofa, which means that our villas can easily accommodate up to 16 people in comfort
The space
As you enter, the bright open space invites you to explore the rest of the home, from the high-rise open aspect living room, through to the fully equipped kitchen and dining areas. Then of course, there is the fantastic view out to your very own private pool deck and out over the beautiful lake view - a true picture of what a vacation home in Florida should be.
Our large decks with deep cushioned chairs and sun loungers invite you to relax and laze around the large pool and soak up some of the fantastic Florida sunshine. You could also enjoy some freshly cooked food from the BBQ while out in the sunshine, or take a swim in our large private 30 x 15-foot swimming pools or feel invigorated by the Jacuzzi/spa, drying off with our large selection of pool towels. Not forgetting the door alarms leading from the homes and the pool fence give you peace of mind for the little ones in your group. An additional bonus in one of our Florida vacation homes is the kiddie pool in our fourth stylish villa. At 1-foot deep it's perfect for the children to safely splash about in.
Back inside in our cool, fully air-conditioned homes, you can call your friends and family back home totally free of charge telling them what a wonderful time you are having on your vacation in Florida. Alternatively, you can (website hidden) or Face Time them using our secure FREE WiFi and high-speed internet connection. All this while the younger ones, or older ones, are making use of the various board games or playing on the Sony PlayStation, Nintendo Wii or arcade game in the upstairs snug. They may of course be in the designated games room downstairs playing pool, air hockey or Foosball football.
For those that would like just a little me time, they can relax and watch TV in the comfort of their own bedroom, staying cool in the air-conditioning, with the help of the ceiling fan.
With four bathrooms, there's plenty of room for everyone to get all prepared for trips out to the Orlando attractions, the numerous shows or the large variety of restaurants on, and around, the local 192 highway in Kissimmee. We invite you to look around each villa to find out more.
Huge master bedroom situated on the first floor features a grand USA King size bed (which is the same as a UK Super King Size), two nightstands with lamps, a large dressing table with a variety of drawer space and a large vanity mirror on the wall. Other extras include cable TV, radio alarm clock, hairdryer, top quality bed linen, there is an electronic safe for your peace of mind and ample storage and hanging space.
The rear window offers a superb view over the swimming pool and deck area, and the view down the tranquil lake is unsurpassed in the late evening as the sun goes down. The ensuite consists of 'his' and 'hers' vanity sinks, extra lighting, huge oval bath tub, walk in shower and a separate toilet area. All towels and face clothes are provided. Lovely modern, bright and vibrant room, overlooking the pool area.
This room is situated Downstairs and has a US Queen size bed, large dresser with matching mirror, nightstand and lamps, cable TV, clock radio and wardrobe. The en-suite bathroom offers toilet, basin, walk in shower, hairdryer and storage space.
Other things to note
We have a minimum 4 day booking, however, during peak times, this may increase to 7 days minimum. Please ask for further details.
We expect our guests to wash their own dirty dishes and to just generally keep the house clean as they would in their own home; to clean up any spillages and wash the towels as they go along. Our fabulous cleaners will take care of the linens and give the home a thorough clean after your departure.
Please no smoking inside the home and no pets.
Check-in is anytime after 4PM
By booking this home you agree to the following terms and conditions in accordance with Airbnb guidelines.
Terms and Conditions
Authorized Guests
(i)The lead guest must be a member of the party occupying the property and must be over 21 years of age.
(ii)The lead guest, by signing the booking form, certifies that he or she is authorized to agree the booking terms and conditions on behalf of all persons included on the booking form.
(iii)Only those persons listed on the booking form are authorized to use the property. Any changes to the persons booked to occupy the house must be notified to and confirmed by the agent before occupancy commences (This is to comply with State Law)

(iv)Maximum number of guests is set by owners and state law. Please note that contravention of the maximum number of guests as stated by agent/owner will render your booking void, all monies paid will be forfeited and you will be asked to leave the villa immediately without further compensation.

Insurance
We strongly advise that all guests have appropriate travel/holiday insurance in force from the time of booking, for the total duration of the trip. Please ensure the policy includes cancellation charge cover. UK and all other non US guests are also advised to have a policy that gives adequate medical cover for the US.

Payments

(i)A security deposit of at least US$300 is taken by Airbnb and will be managed by Airbnb in accordance with their terms and conditions.
(ii)Payment of the rental is handled and managed by Airbnb in accordance with their terms and conditions.
Cancellation
i.For a 50% refund, cancellation must be made seven full days prior to listing's local check in time on the day of check in, otherwise no refund. For example, if check in is on Friday, cancel by Friday of the previous week before check in time. If the guest cancels less than 7 days in advance, the nights not spent are not refunded. If the guest arrives and decides to leave early, the nights not spent are not refunded.
ii.Cleaning fees are always refunded if the guest did not check in.
iii.The Airbnb service fee is non-refundable.
iv.If there is a complaint from either party, notice must be given to Airbnb within 24hours of check in.
v.Airbnb will mediate when necessary, and has the final say in all disputes.
vi.A reservation is officially cancelled when the guest clicks the cancellation button on the cancellation confirmation page, which they can find in Dashboard>Your Trips>Change or Cancel.
vii.Cancellation policies may be superseded by the Guest Refund Policy, safety cancellations, or extenuating circumstances. Please review these exceptions.
viii.Applicable taxes will be retained and remitted.
Force Majeure
The owners of the property, their Management Company or agents will not be liable for loss or delay occasioned by any of the following: Strikes, Riots, Political unrest, Hostilities, War or threat of war, Terrorist activity, adverse weather conditions, Closure of airports or any other event beyond the owner's control. Please also note that in some areas there may be building work, you should specifically ask about a property before you book if you have any concerns about this.
Check-in and Check-out times
Arrival at the property must be after 4.00 p.m. local time. The property must be vacated by 10.00 a.m. on the day of departure. (Unless otherwise advised to you in writing). When departing, please exit through the front door, leaving the keys in the lock box using the codes provided. If the keys are not returned to lock box Guest will be charged $75.00 to rekey the property. Guests checking in early or not departing by check out time will be charged an additional $25.00 per hour. If the keys are lost the guest will incur a $75.00 rekey charge. Guests should take all belongings on checkout as owner is not responsible for any loss. Owner/agent will endeavor to return any items left behind; however, this will be subject to an additional $25 fee plus postage.
Your Responsibilities
The Guest agrees to pay the full cost of any breakages, losses or damage to the property (the Owner's Management Company and Airbnb will be arbitrators on cause of damage or loss) The guest also agrees
•To take good care of the property and leave it in a clean and tidy condition at the end of the holiday
•To report any damage or loss immediately it is discovered to the Owner's Management Company in Florida
•To permit the Owner or their Agents reasonable access to the property to carry out any maintenance if necessary
• Not to sublet or share the property except with persons nominated on the Booking Form
United States immigration requires that all UK citizens including children, travelling under the Visa Waiver scheme, hold a full 10 year passport with at least 90 days remaining after your trip. Non UK citizens and those UK citizens not eligible to travel under the Visa Waiver Scheme are advised to contact the United States embassy to check visa requirements prior to booking.
Swimming Pool and Spa (if applicable)
(i) Guests are specifically requested not to allow children to use the pool or spa, or pool/spa area unsupervised, not to swim or use the spa unaccompanied and not to swim or use the spa under the influence of alcohol, medication or other mind altering substances. The owners, management company or their agents do not accept liability for any accident, injury or death, howsoever caused, as a result of the use of the pool, spa and pool/ spa area. Any Pool toys/inflatables - the safety of any such item(s) cannot be guaranteed and uses of these items are at the sole risk/responsibility of the Guest. Use of heavy balls is forbidden within and around the pool screen enclosure as the screening can easily be damaged replacement of which the guest would then be liable.
For your safety and comfort the pool and spa is inspected, cleaned and if necessary, chemically balanced every week. The pool staff do not need to gain access to the interior of the villa to carry out this maintenance. On rare occasions it may be necessary to apply extra chemicals to the pool/spa to maintain safe and correct chemical levels. Should this occur during your stay it may be necessary for all guests to refrain from using the pool/spa for a period specified by the pool cleaning company's agent - this is a normal part of pool maintenance
Cleaning & Trash
(i)The property will be cleaned and checked prior to your arrival and after you have departed. Although the property will be cleaned after your departure it must still be left in an orderly state and you are required to wash your own dishes and tidy up after yourself. Please wash and dry any towels as you use them and put a load in the washer before you leave. If additional cleaning is required this charge will be passed on to the guest.
(ii)Trash collection days or procedures are listed in the property. The trash must be placed in trash bags and securely tied before being placed in the bins. The bins must be placed at the end of the property's drive, right by the road on the evening before collection - the bins must be returned to the garage by the evening of collection day. The county can and do impose HEAVY fines in some areas for loose trash and bins not returned to the garage. You will be liable for these costs at a minimum charge of $50.00.
Climate and insects
Florida is a tropical climate and as such is the home of many insects etc. The home is treated on a regular basis to repel such unwanted visitors, but inevitably they will occasionally find their way inside the property. They are best eradicated by spraying with an appropriate product. The problem with these unwanted guests is greatly reduced if food and crumbs are not left on worktops, tables, floors, or in the pool area - it is advisable to clean up spills immediately.
Pool Heat
(i) Pool heat is charged as an optional extra. Pool Heat is an additional charge and must be paid locally to the management company. If you would like to add pool heat during you stay, please call the management company Monday – Friday 9am-5pm. Acceptable forms of payment are (SENSITIVE CONTENTS HIDDEN) Visa or MasterCard. The charge for pool heat is $25.00 per day plus tax with a 5 day minimum. The pool heater thermostat is set to heat the water in the pool to approximately 86 degrees, however where a pool blanket is supplied it must be used at all times when the pool is not in use. Some pools do not have a cover and these use a solar liquid which will retain the heat slightly. Like you we have no control over the weather! We are unable to guarantee the water temperature with pool heating as this will depend on the prevailing weather conditions. The pool heater runs only when the pool pump is running 10-12 hours per day. It does not run 24 hours per day. The Management Company, Agent, or Owner are in no way liable for pool temperature when related to weather conditions. The only thing we can do is turn it off and refund for any unused days.
(ii) The pool heater is a mechanical device, and can be subject to failure. If such a failure were to happen, every effort will be made to repair the heater as quickly as possible. You will only be refunded the cost for the days that the heater is not functioning.
Mechanical/Electrical breakdown and loss of Mains services
(i) There are numerous mechanical/electrical appliances at the property - we endeavor to ensure that all items are working and available for guests use; however, we cannot guarantee or be held liable for any loss, consequential or otherwise, from failure of any mechanical/electrical appliances. Furthermore the owners cannot guarantee that all the facilities described on any advertisements will be available as we may be reliant on outside service providers for such facilities.
(ii) No Liability is accepted by the owners, their Management Company or agents for loss of mains services due to circumstances beyond their control.
Computer
Where a computer/laptop and/or internet connection is provided, the owners will use their best endeavors to ensure that the service is available for use, but cannot be held responsible for any failures or non-availability of communication lines, hardware or software. The Management company does not have IT technicians and can therefore, only contact the service provider in case of failure. Guests are responsible for any configuration and/or connection issues. You agree, by signing the booking form, not to download or save any pornographic, offensive, obscene or illegal material.
Telephone Calls
Where the owner offers FREE local, long distance and international phone calls to the guests, this is offered in good faith for contacting relatives and loved ones back home, please do not abuse this by calling international cell/mobile numbers. NB: If you call DIRECTORY ASSISTANCE specifically request NOT TO BE CONNECTED before asking for the number as these calls are VERY EXPENSIVE and CHARGEABLE TO THE GUEST. All additional costs through Directory Assistance or to mobile/cell phones will be deducted from the security deposit. If this service is not offered, you may purchase phone cards from any local gas station or supermarket.
Barbecue
Barbeque Grills can be rented for an additional charge of $55.00 per week plus tax. This must be paid locally to the management company in the form of Visa or Mastercard. Where a barbecue has been provided please be careful when using the equipment and follow the instructions for use. Please clean up any spills straight away. The barbecue and surrounding area must be left in a clean and satisfactory condition. If the management company deems the grill and area left dirty an extra cleaning charge will be made and deducted from your security deposit, minimum $45.00 charge.
Smoking and Pets
(i) Strict NO SMOKING policy inside & outside the house. Guests are welcome to smoke in the garden or pool area with doors to home closed and stubs/butts carefully disposed of. If the management company find any evidence of smoking inside the house or around the pool deck during your stay, this will be regarded as a breach of contract and you will be evicted immediately. All monies paid will be forfeited and a minimum $250.00 will be charged against your security deposit. This will cover the cost of a deep clean fee - this will include but is not limited to, professional cleaning of all soft furnishings, linens, carpets etc as well as a "clean air" fee, to replace all air conditioning filters and de-odorizing costs.
(ii)Strict NO PETS policy. If the management company find any evidence of pets during your stay this will be regarded as a us breach of contract and you will be evicted immediately. All monies paid will be forfeited and your security deposit will be charged $250.00 minimum. This fee will cover the cost for a deep clean fee and pest control charges - this will include but is not limited to, professional cleaning of all soft furnishings, linens, carpets and de-odorizing costs
Access
Whilst guests' privacy is always respected, the owner, Management Company or their agents reserve the right to gain access to the (EMAIL HIDDEN)plaints
We sincerely hope you do not have any... But in the unlikely event that you experience a problem relating to the property, this must be reported to the Management Company immediately to allow them to try and rectify the problem. If a satisfactory solution is not achieved within 24 hours, we ask that you put the complaint in writing to the Management Company and also contact the booking agent, preferably by email, with a copy of the complaint within 48 hours of the complaint arising so that we have the opportunity to respond as soon as possible. Unless there are exceptional circumstances, we will not consider the owner, Management Company or their agents liable for any complaint that was not initially registered with our management company during your stay. The booking agent will be responsible for providing the owner and the guest with contact details should the need arise.
Liability
The owners, management company or their agents do not accept any liability for accident, loss, injury or death, or for any such claim by a third party caused as a consequence of actions by any authorized guest or other unauthorized person(s) present at the property. Guests are specifically requested to supervise children at all times, especially around the pool area.

Breach of Contract
Failure to comply with any of the terms and conditions by any member of the party may result in your booking being cancelled/ terminated. In such circumstance all monies paid will be forfeited and the owners, their management company or agents accept no liability for any consequential loss incurred by any guest.

I love meeting new people so I'm very lucky to be in a job that allows me to meet people from all over the world! Although we don't own the properties we host, we look after them as though we do and like to make sure that guests have a wonderful vacation with us here at Orland…
Response rate:
90%
Response time:
within a day
Explore other options in and around Kissimmee
More places to stay in Kissimmee: