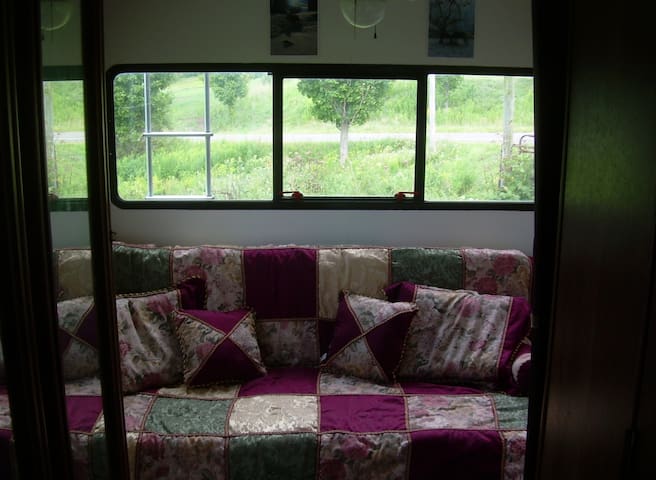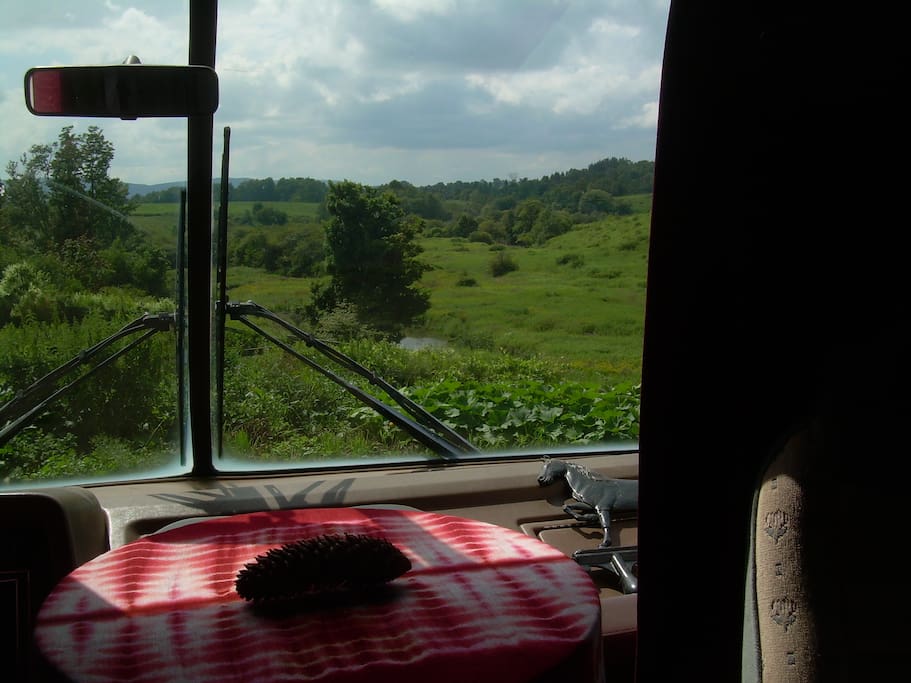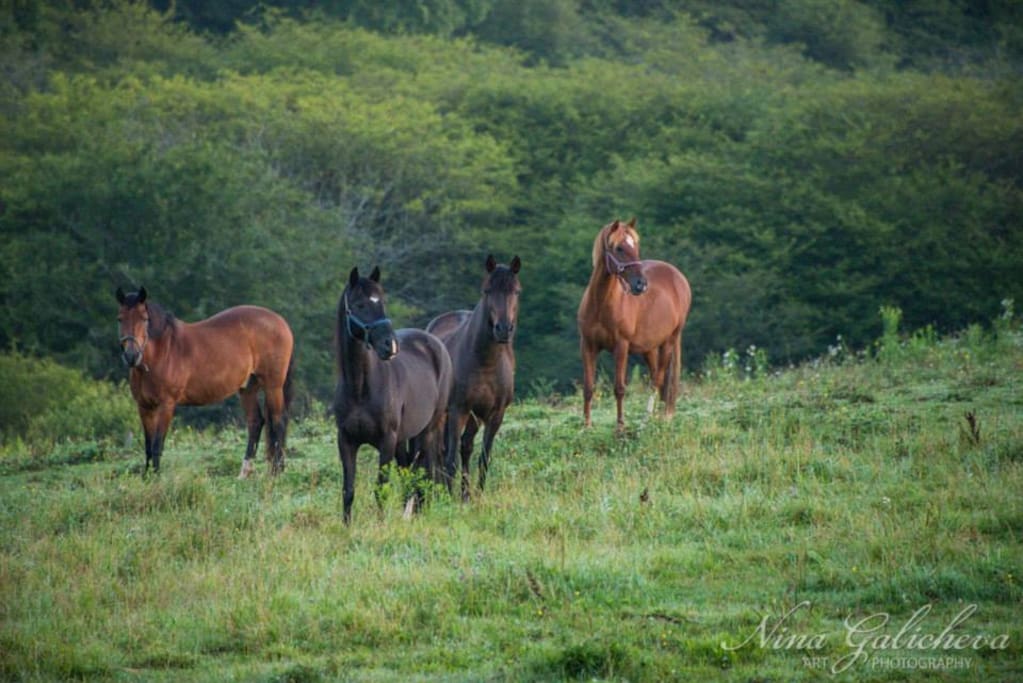 Available from Memorial Day till the first weekend of October, the camper is an old 80's relic with the interior restored and decorated. Though it sleeps 4, it is most comfortable for 2 or 3.
The space
The camper is situated at the top of the hill behind our barn, with the best views on the farm. Sunrise visible from the bedroom window, sunset from the big cab window in the front. Sweeping views of the mountains, creek, and horse pastures. There are electrical outlets, mini fridge, microwave, and hotplate inside, and a charcoal grill for your use outside. Hot water, shower, bathroom located a short distance, about 200 feet, in our house, which you can access 24 hours a day.
Guest access
You can have as much privacy as you like. I can stock your mini fridge with breakfast supplies, or I can cook and serve it to you in the house. I'm happy to give a tour of the farm and the animals, once you know the do's and dont's, what fencing is electrified and what animals are safe to interact with, you are pretty much free to roam about as you wish. For internet access you'll need to be close to or in the house, which is always open.
Interaction with guests
You can tailor your stay to interact as little or as much as you want with your host. You will be able to hike and explore the farm and visit with all the critters, but a farm tour is required first so you know the rules about safety. We have very friendly livestock and horses, but some of these animals are BIG, and some of the fences are electrified.
Other things to note
Check our other listing on this site, Ole Miss Franny's Farm in Cortland, for more details, photos, and reviews.

Always communicate through Airbnb
To protect your payment, never transfer money or communicate outside of the Airbnb website or app.
We don't allow pets because we are afraid our dog might eat them. She's great with people, loves kids, but not other new animals. There is no smoking allowed in the house or in the camper, but outside and on the front or back porch is OK. Please use ashtrays provided. No doors are locked, you may come and go as you please. We are pretty easygoing, as long as you communicate your needs with us, take a guided tour of the farm before you go wandering, (especially important if you are bringing children! ) and just observe the basic rules of consideration of others. One note I have to add after 4 years of hosting: I love children, and welcome families. I think farms are great places for kids. But please note, I am a fulltime farmer first, a BnB host second, and NOT ever a babysitter. I am happy to arrange a riding lesson, a milking demonstration, or a nature walk with your kids with prior notice to accommodate our schedules, but please don't just send your kids down the stairs, or from camper to my kitchen, unsupervised assuming I will care for them. Please.
You must also acknowledge
Dog(s), cat(s), and other pet(s) live in the house
Fran gave my boyfriend and I easily the best bnb stay we've ever had! Fran was kind, helpful, and funny, and the space was thoughtfully cleaned and prepared. The breakfast Fran made us was unbelievably delicious, and we really enjoyed relaxing in the private trailer and tagging along with Fran while she went though her day on the farm. Highly recommended!!
---
Fran is very flexible about the timings and that really helped us to plan our trip and spend a lovely time in her farm! She's very accomodating and actually wants all of us to have a good time at her place, which makes it really nice to stay there. The best part about the stay was the farm and the animals there which we were able to befriend with her help and guidance and it absolutely thrilled my kid as he enjoyed feeding them all !! very friendly ppl and lovely farm !
---
Fran was very nice and welcoming. She was easy to communicate with whenever we had questions and she also was very generous with her time in showing us around the farm. She offered us a fabulous morning breakfast before our departure. Our stay was quiet and we felt free to interact as much or as little as we wanted with Fran and the others on the farm. Expect to have a camp-like experience with this stay and you will not be disappointed. A full bathroom is accessible in the main house which is a short walk away from the RV camper. Also, if you tend to feel cold most times (like me), bring layers to ensure your comfort. The bed provided was comfortable. The property is beautiful and all of the animals on the farm were precious. We enjoyed our short getaway from city life!
---
I read all of the reviews before I decided to book. Most (almost all) were positive, so I took a leap. The Camper is what it is, comfortable and spacious, then again, I was alone. If you are expecting the Ritz Carlton, then book the Ritz Carlton. The BEST part of this place is Fran and Hollis. They are amazing people that will spend as much or little time with you as you want. I spent a lot of time chatting with them, learning their background and what brought them to the area. They have both lived interesting lives and have a lot to share. I spent time with Fran talking about the goats, horses, chickens and the pig (and many social issues). I spent time with Hollis talking about cycling, his previous work as a tree guy, and he even hooked me up with some home heating advice. I spent some time in the goat pen petting them as they are almost like dogs....smart and love attention. Fran and I went for a hike with the goats and talked about the area and life in general. I went for a dip in the creek. I learned where horses like to be scratched and how to approach them. I learned how to smoke and bake?? bacon and then had it the next morning. She makes you breakfast (I had scrambled eggs and toast because that's what I like). She make AMAZING smoothies. She provided me with home made soap that was so good I bout more to bring home. The parrot, the cats and Sam Sam (the dog) just highlighted the trip. My original intention was to stay Friday and Saturday night. I stayed till Wednesday and as I was driving home I wish I had stayed another night. I will be back.
---
I was going to give Franny a 5 star review until I got home to the unfortunate surprise of seeing that she publicly shamed my friend, her boyfriend and I twice on (SENSITIVE CONTENTS HIDDEN) calling us "hipsters from Brooklyn". We are fashion bloggers and often book Air bnb's to adorable spots for little adventures out of the city. We love to take photos in fresh locations and experience new things. Other hosts I have experienced are beyond thrilled with my posts. I always let my followers know where the place is by tagging it or linking in some way, which I did 4 separate times for Franny's farm. Franny was a great host otherwise cooking us breakfast and even went out of her way to help us take photographs with the animals on her farm, putting me on a horse and being very nice. She never mentioned having an issue with us taking these photos which is why I am in utter shock of her negative posts about us on (SENSITIVE CONTENTS HIDDEN). However my (SENSITIVE CONTENTS HIDDEN) is private so she was not seeing the tags to her farm sending my 230,000+ followers back to her page. She got tons of advertising from myself and my friend. She then essentially stalked/harassed me on my (SENSITIVE CONTENTS HIDDEN) page, commented a very nasty message on my profile photo (which is one of the few public photos on my page) because I didn't tag her (SENSITIVE CONTENTS HIDDEN) page (just on that one photo, she clearly didn't see the other few that I had plastered with her farm information all over the internet and social media). She also wrote a horrific post on her (SENSITIVE CONTENTS HIDDEN) stating we were "fashion style bloggers from Brooklyn hipster ville". In the same post she wrote "Apparently there is no escape from those that pursue the meaningless and superficial, they will hunt you down and find you." Comparing her family to us in the same post saying "yanno, like real humans, with real lives, who care and worry and work hard for real things." Literally my heart sank while reading that and I even began to shake because never in my life has someone bashed me like that who has actually met me. Knowing little about someone and their life and saying these things is just plain hurtful. She also accused me of making a profit off of her farm and all of the photographs I took that day were personal and none of them were for any profit whatsoever. She knew I was taking pictures obviously because she assisted in some, had us feeding the animals for photos and compliments us yet turns around and says awful things. Tons of accusations and no resolving on her side. We were extremely thankful for her accommodations and had she sent me a private message asking me to compensate her for shooting time I would have gladly done so. I let her keep the extra night that I paid for on accident. All in all very unprofessional,...
---
I am a mom, a gramma, and a working farmer, outdoor enthusiast, avid gardener, cook, and horseperson. You can find more info on my page, Ole Miss Franny's Farm. I also have a website,
Languages:
English
Response rate:
100%
Response time:
within a day
Explore other options in and around Cortland
More places to stay in Cortland: