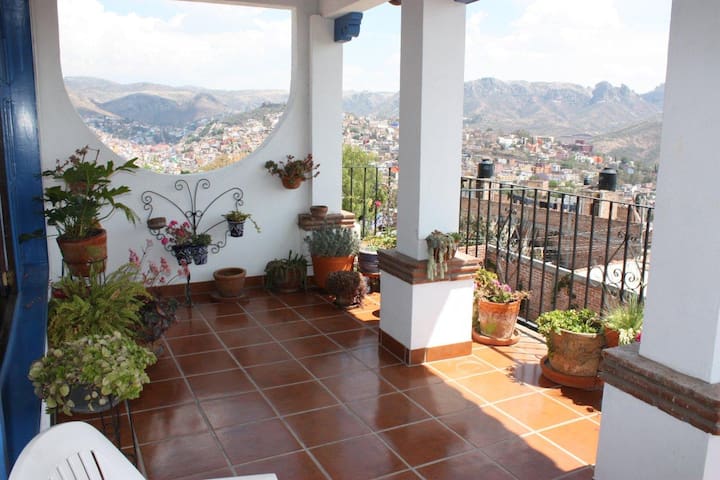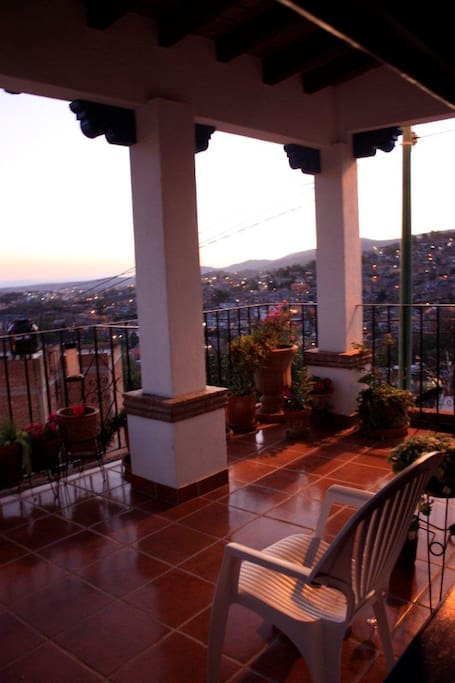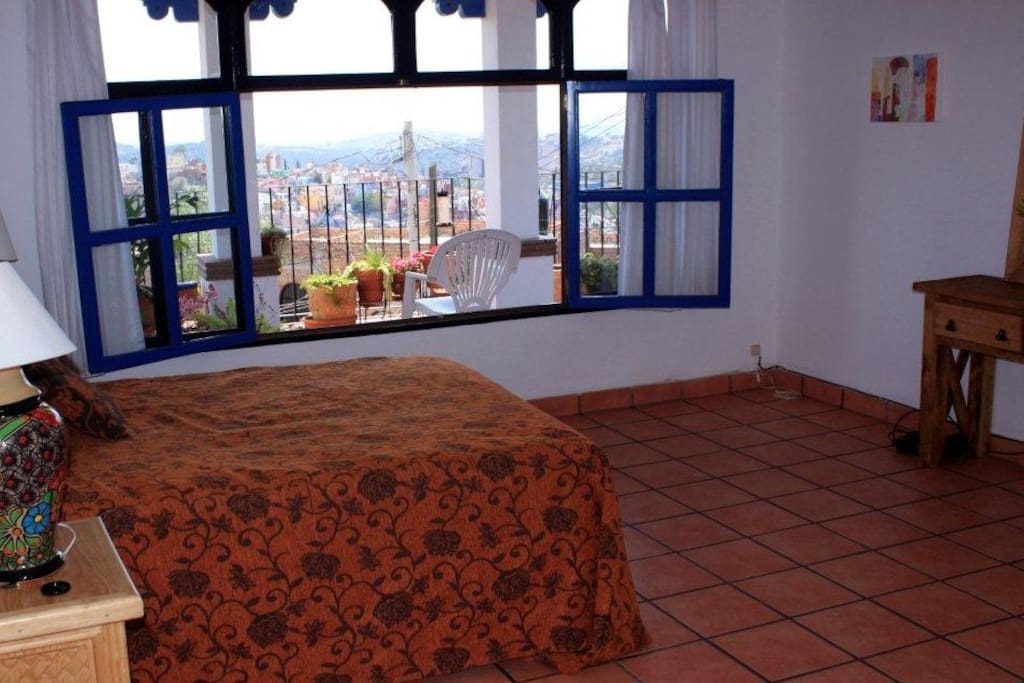 Entire home/apt
9 Guests
4 Bedrooms
5 Beds
About this listing
This is my big, colourful Mexican/American style home, with amenities like comfortable beds, large upper terrasse, balcony and Master Bedroom with a fantastic view of the city and mountains, fiber optic & 40" TV in MB, in a safe area.
---
Check In:
Anytime after 2PM
Room type:
Entire home/apt
---
Kitchen
Space where guests can cook their own meals
Essentials
Towels, bed sheets, soap, and toilet paper
---
Extra people:
$8 / night after 6 guests
---
The Space
Casa Bella Vista: Great, beautiful contemporary Mexican-style 3-storey house with gorgeous views, in a very safe neighborhood. All private rooms have real comfortable mattresses (matrimonial in 3 bedrooms + queen in Master BR). One Bedroom also has an individual bed in addition to the matrimonial (double) bed. Big balcony off 2nd floor. The 3rd floor has a huge 40' x 20' deck with views of the city, perfect for entertaining. Great, large kitchen, and spacious Dining Room, Living Room. Beautiful full tiled bathrooms on the main floor, and on the second floor as well. Parking for 2 cars (3 if you are creative), very nice garden with native plants. Quiet cul-de-sac, and safe, friendly neighborhood. It's a 15-20 minute leisurely walk to Centro. Buses are readily available for 5 pesos (40 cents Cdn) and you can easily flag a taxi to go back and forth for 30 pesos ($2.40 Cdn) to Centro. 40" Smart TV with and fiber optic cable in Master BR. Internet fiber optic WIFI. House phone with free calls. Because it is perched on a hill, the house is always comfortable (not too hot, not too cold) and gets good light. The guests rooms all have windows that open to the interior shaft for air ventilation. With its panoramic views from both the balcony and the deck, you see the sunrise, and the sunset.
15 minute-walk down to the Alhondiga in Zona Centro, 10 more minutes to Plaza Fernando, and another 10 to Jardin de la Union or Teatro Juarez. On your walk towards the Jardin de la Union, you can see the Alhondiga Museum, Hidalgo market, Commercial, Jardin Reforma, and Plaza San Fernando ( very quiet park with restaurants), and the Diego Riviera and Frida Khalo house/museum (tucked on a side street). There are small local grocery shops 2 minutes from the house, and 5 minutes down is the Tepetapa street with its many diverse small shops. The walk is very easy to the Centro, but it's easier to take a taxi back home (for 30 pesos or $2.40), cause it's fairly steep, or take the readily available bus (5 pesos or $0.40) up the Tepetapa (Take the Mommias or Nuevo Panteon, and then hike the last 5 minutes. If you take the Mommias, you can stay on the bus to go around the hill all the way up to the sign that says "Bano" just above the museum Mommias. It will save you the hike along the Panteon Wall.
A typical day is to have a smoothie and breakfast in the house in the morning, then stroll down to the Centro and visit, stopping along for a snack at the Hidalgo Mercado; then visit some more, and have an afternoon 3-course meal (drink included) for $5-$7 in one of the nice small restaurants close to University, then slowly make your way back, shopping for your night meal at the Mercado, and take the bus or taxi back on time to catch some more sun and watch the sunset by 6pm. (Downtown gets very cool in the shade after 2pm, but the house has the sun all day).
* Please note that during the winter, rooms will be available as a B&B, from $45/night. Please enquire.
The whole house with 4 Bedrooms - only the upper studio (or 5th bedroom) is kept locked for the owners' personal belongings.
There are regular frequent buses 5mn away (until 9:30-10pm), and taxis are readily available any time, except at the end of the afternoon, when there is a change of shift, and they are sparse.
Driving up here is a challenge, as there is a steep turn on a very narrow street. Not adequate for sports car or low cars. Guanajuato taxis are used to it, although occasionally during the day, usually around 2-4pm, when there is a change of shift, you may catch a taxi who refuses to go all the way up. So you can either wait for another taxi to accept, or walk the last 5 minutes climb. If you are landing at the Leon airport, please ask for our chauffeur who can pick you up for about 500 pesos (comparable to taxis at the airport).
Guest Access
The studio/Den upstairs is locked for the owner's belongings. Everything else is yours.
Interaction with Guests
I'm available by email any time. I check it regularly.
The Neighborhood
This is a well-established mixed Mexican neighborhood - working and middle-class families. Peopole know everybody, and it's a cul-de-sac, which makes the area very safe (kids sometimes play on the street at night until 11pm). No drugs or crazy party please.
Guanajuato is well-known for its dogs on the roofs howling at night, firecrackers at times, and fireworks during festivals. If you are a very light sleeper, you may want to bring earplugs or sound cancellation device or ambient sound apps.
Getting Around
See above in description.
---
No Smoking in the house - even with windows open.
Directions and house rules that may not appear above: GTO INSTRUCTIONS FOR ALL GUESTS
Casa Bella Vista Gto
Prolongacion Pinguica No. 7, Las Momias, Guanajuato
Welcome to Casa Bella Vista! We wish you a great stay! Please read the information below and contact us if you have any questions. We want to make sure your vacations is as comfortable and trouble-free as possible.

INTERNET: INFINITUM989D, WEP KEY: (PHONE NUMBER HIDDEN). Modem is in Master BR.
CARETAKER: Greg Wood
Home: (PHONE NUMBER HIDDEN)
MOBILE: (PHONE NUMBER HIDDEN) (from house ph(PHONE NUMBER HIDDEN) from cell phone
(EMAIL HIDDEN)
Martine's cell phone in Canada: (PHONE NUMBER HIDDEN)
Martine's cell phone in Mexico: (PHONE NUMBER HIDDEN) from other Mex cell ph(PHONE NUMBER HIDDEN) from house phone.
House phone number: (PHONE NUMBER HIDDEN) (from Mexico)
(PHONE NUMBER HIDDEN) (from Canada or US)
Phone:
Internet is dependent on the phone working. If there is something wrong with the phone, and you notice your internet is not working, please advise the caretaker. There is an internet cafe down the street, just before the Tepetapa, where you can email or possible (SENSITIVE CONTENTS HIDDEN).
Guests are responsible for the cost of their phone calls, local, national, or international, beyond the phone plan, so keep it to a minimum and you'll be fine.
Calls from Mexico: Cell phone to local or long distance: dial 473, then 6-digit number.
from US or Canada to a Mex Cell: (PHONE NUMBER HIDDEN) digits. From Mex to a US or Cdn phone: 011+area code + phone. From Mex to other countries: 00+ country code + area code +phone.
Car directions: Please note that driving up here is not for the faint of heart. It's narrow, uphill, and the street is very difficult to negotiate.
Follow directions towards Las Momias. You will eventually go up the main street called Tepetapa on the West Side of Guanajuato. Pay attention as there will be a left turn towards Museo Momias, as you start going down. You'll do a long loop around the neighborhood, past the Museo Momias, all the way up. Just in front of the sign that says "Bano" (bathrooms of the museum Momias), there is a steep 30 degree turn. You will have to back up two or three times to take it frontward, which is the easiest way to go all the way to the house. You could also negotiate it by backing up all the way up if you're stuck - it's a long way though. Go all the way up, past a curve where there are lots of car parked and a small kids park (on the left) until you come to a fork, then turn left. The house is the first one - white and blue- on the right. Address is Prolongacion Pinguica 7.
If you've gone the legal way around the neighborhood, in front of the Momias, and now you are going down in front of the Panteon tall wall, you've just past it. Go back on Tepetapa on your left, then left towards the Museo Mommias and do the loop again.
Illegal way (not recommended during a holiday as there is much traffic going to either the Panteon or the Momias): follow the Walking directions below. You'll be going against a one way for one block, but the street will be much easier to negotiate. Most people and pretty much all taxis go that way.
Walking:
Take Tepetapa towards the Momias. Don't take the first left that indicates the Momias: it's a steep step of stairs and really not a shortcut. Instead, take a left where the road turns from cobblestones into regular pavement. Turn right before the Panteon (that's the tall stone wall). Go along the tall wall of the Panteon up the hill. On the top of the hill, you'll see a sign on the left that says Banos, and a very steep car street on the right. Go up on that street, all the way up, passed a curve where many cars are parked, sometimes blocking the street. When you come to a fork, take a left. I'm the first house on the right with parking in the front: a blue and white house, no. 7.

TAXI DIRECTIONS: (you can fly taxis from the street - readily available - cost is 35-40 pesos day time - 45-50 night time; an extra 5 or 10 if called directly from the house). SUBIDA DEL MOLINO, LAS MOMIAS (Very important to say Las Momias as there are two Subida del Molino. Address is Prolongacion Pinguica 7, Las Momias, but it doesn't mean anything to taxis - you have to say "La Subida del Molino, Las Momias).

TAXI PHONE NO: Jorge: (cell) (PHONE NUMBER HIDDEN) taxi 160; 044 instead of 473 from the house phone.
Linea Dorado main line: (PHONE NUMBER HIDDEN) (from home phone);
Other private numbers from the past JUAN: (PHONE NUMBER HIDDEN) (may be outdated);
Arturo: (PHONE NUMBER HIDDEN);
Chauffeurs to and from Leon (Leon taxis do not know how to get to the house, but those guys do:
Gabriel: (PHONE NUMBER HIDDEN) (private)
Road Circulation up the street: It is quite difficult to go up at those delivery time above (Monday and Thursday noon) as trucks are blocking the road with their delivery. Taxis prefer to take the street after 6pm, when the Momias closes. Then they can go against the one-way and it's much easier to negotiate the street up then. If it's a holiday, it's even more difficult during the day with the Momias traffic.

BUS: MOMIAS, PANTEON OR NUEVO PANTEON, P. DE LA ROCHA. GET OFF WHERE COBBLESTONES END AND TURN INTO PAVEMENT. THEN GO UP ON THE STREET ACROSS (ON THE LEFT). Always ask if they are going "Cerca del Panteon", because if you are catching it on the wrong side of the street, you will end up in the opposite direction. The main stops are either across the Mercado, or in front of the Teatro Principal. A few buses that predominanly say "Momias-Presa" but not P. de la Rocha, will take you all the way to the top of the hill, above the Panteon and the Momias, where there is a sign that says "Banos". However, even I get confused with the Momias-Presa buses, cause sometimes I don't notice they mention more areas - bus drivers and helpers always say yes if I ask if they go all the way in the Momias neighborhood, and then I have to walk back - so safer to just get off where the cobblestones end and walk up.
Drinking water delivery: Monday and Thursday between 12:30-1:30 (usually). "the "Ciel or Coca Cola" truck. A 5-gallon water bottle, with the empty in exchange, costs 28 pesos.

GARBAGE: down by the banos. There is no collection at the house.

Water shortage in Gto during December-Feb: Please try to have your showers at night; laundry at night
The recent pump system has been very efficient in getting the water up the cisterns automatically. If you are experiencing water issues, please contact us immediately.
Washing Machine: (Please use in the evening or very early in the morning during Dec-Feb. in case there is water cut-off.
A. Put your clothes in.
B. Press "Encender"
C. Press "Programa" until the light above goes to cycle "Rapido". Otherwise, it will take hours.
D. Then press "Inicio".
For big loads, the washing machine tends to get off-balance and set herself up to renew the rinse cycle over and over. That takes a lot of water and takes forever. If that happens, turn off the washing machine by pressing " Encender". Let sit for a couple of minutes. Then press "Centrifugar" and make sure only that one light is on. Then press "Inicio". This is the Spin Cycle.
TV/Cable: Just press both red buttons on the Magnavox and Dish remote controls until the lights on TV and Dish are green. Then use the Dish remote to change channels and volume.
Stove/Oven: Be careful not to leave anything on as it will leak gas. The pilot is on the left. To turn on the oven, you need the lighter. Light the pilot at the bottom center inside the oven while turning the centre dial on (where all the other dials for the range). Instruction in the kitche lower drawer by the microwave.
Coffee Pot:
Italian Coffee Pot: Put water in the lower part; coffee in the middle part. Turn heat on. Please turn off heat as soon as it percolates. Otherwise, you will burn the coffee pot.
French Coffee Press: Boil water. Put coffee in the pot. Pour hot water over and leave the press up to percolate a few minutes. Then press down. Do not put on stove.
H/W tanks: One in the utility room and one on the third floor on the terrasse. I leave them on all the time. If there is no hot water, it's because it's on pilot only - you will see a flame. Just turn the dial counter-clockwise. The h/w tank downstairs has a light red push button, so you don't need a lighter if you don't see a flame. Please note - there may be a new solar h/w system on the roof when you read this. That will take care of the h/w for the whole house.
Gas: on the terrasse. If it's below 2, contact us right away. Sometimes it may take a few days for the gas company to come up, despite all their promises. Please note - there may be a new solar h/w system and 2 more deliverable gas tanks as you read this. Then, being low on gas is not such an issue as there is gas delivery once or twice a day in the neighborhood, and the solar system takes care of the hot water unless there is no sun.
Please coordinate your time of departure with Greg
Evening arrival and morning departures: My neighbours, Leobardo and Antonia, may not be there during the day time after 10am and before 3pm. But someone is usually there the rest of the time. If you need them to open the door for you or if you're leaving, you can drop the key to them. If you are leaving and no-one is there, just throw the key through the front gate in a corner pot.
Rental Rules
Smoking is NOT allowed in the house. Please smoke on the terrasse so that the smoke doesn't get into the house through the door or windows.
People other than those in the Guest party may not stay overnight in the property. There will be a surchage of US$10/person additional than what previously agreed between owner and Guest. Guest is responsible for the extra charges and damage incurred.
Beds are not to be taken apart to make room for more people. That would damage the boxsprings as they are meant to be a support for the mattress only.
Keep the property, furnishings in good order
Only use appliances for their intended uses.
PETS are permitted only with prior approval of owner, and must be kept in their carrier when not home, unless they are mellow, well-behaved and well-adjusted adult pets.
PARKING: There is parking for 2 at the house, 3 if you are creative.
Housekeeping: There is no daily housekeeping services. Towels and linen are not to be taken from the house. We have housemaids, and a cook available upon request.
Although Guanajuato is known for being spared from any natural disaster, we do not refund for storms or road conditions.
Lost keys will be charged US$10.
Owners are not responsible for any accidents, injuries or illness that occurs while on the premises or its facilities. The Homeowners are not responsible for the loss of personal belongings or valuables of the guest. By accepting this reservation, it is agreed that all guests are expressly assuming the risk of any harm arising from their use of the premises or others whom they invite to the premises.
Please dispose of your garbage and empty bottles. Stores down the street may take your empties. Garbage is down the street in the big bins provided.
Safety: Although Guanajuato has a reputation for being one of the safest towns in Mexico, exercise the same caution as you would anywhere in Latin America. Taxis are recommended at night. I haven't had any incident in 3 years, but there are occasional muggings all over town, as in all Mexico. Avoid empty and dark callejons, especially if you are alone. If you get mugged, do not resist. Muggers are usually very young and in gangs; they may use knives if you resist.
Please keep patio door upstairs locked and do not leave windows open when you leave. Lock both front doors.
Cancellation policy: Up to 30 days prior to 1st day of reservation: 100% refund - $75 administration fee. Up to 7 days prior to 1st day of reservation: 50% refund.
Cell Phones:
you can buy a local SIM if your phone is unlocked. Usacell has reasonable pre-paid plans.
Drinking Water will be available to guests. For long-term guests, you may buy some from the truck that comes on Monday and Thursday.
The fireplace is non-functional, but the house is typically at a very comfortable temperature, which does not require heat or air conditioning.

Safety:
Guests are responsible for ensuring safety of children and their guests while on top deck, the railing being about 30" high.
This is a very safe neighborhood in a very safe town. However, as the local Mexicans do, I recommend you take a taxi back home after 8pm (for 40 pesos) as there has been the occasional mugging from gangs coming down small alleys in the dark anywhere in the city, including the university, although I haven't heard of many incidents. Foreigners are not targeted.
---
Your Host
---
Vancouver, Canada
·
Member since April 2012
Originally from rural Quebec (1 1/2 hour from Quebec City), I share my time between Vancouver, Savary Island and Guanajuato with my dogs Basil and Frijolito. I'm an Artist Painter/Scenic Painter, with a love for music, decorating, and good food. During my travels, I found that a home away from home was important, and that's what I want to provide for people. I speak French, and I can make my way in Spanish.
Response rate:
100%
(
last 10 contacts
)
Response time:
within an hour
Explore other options in and around Guanajuato