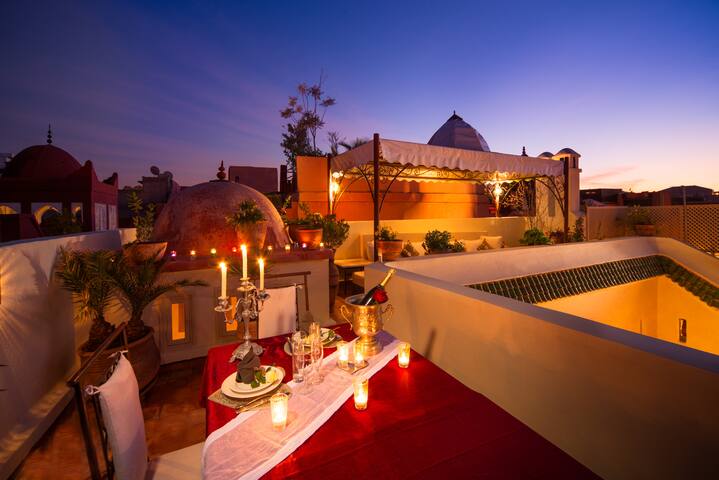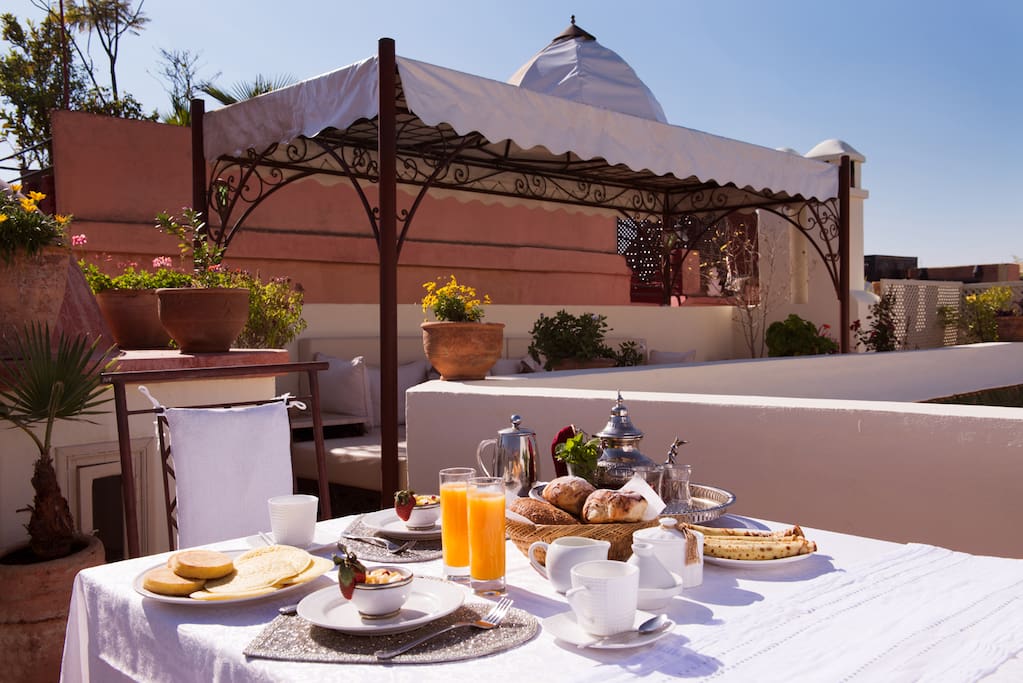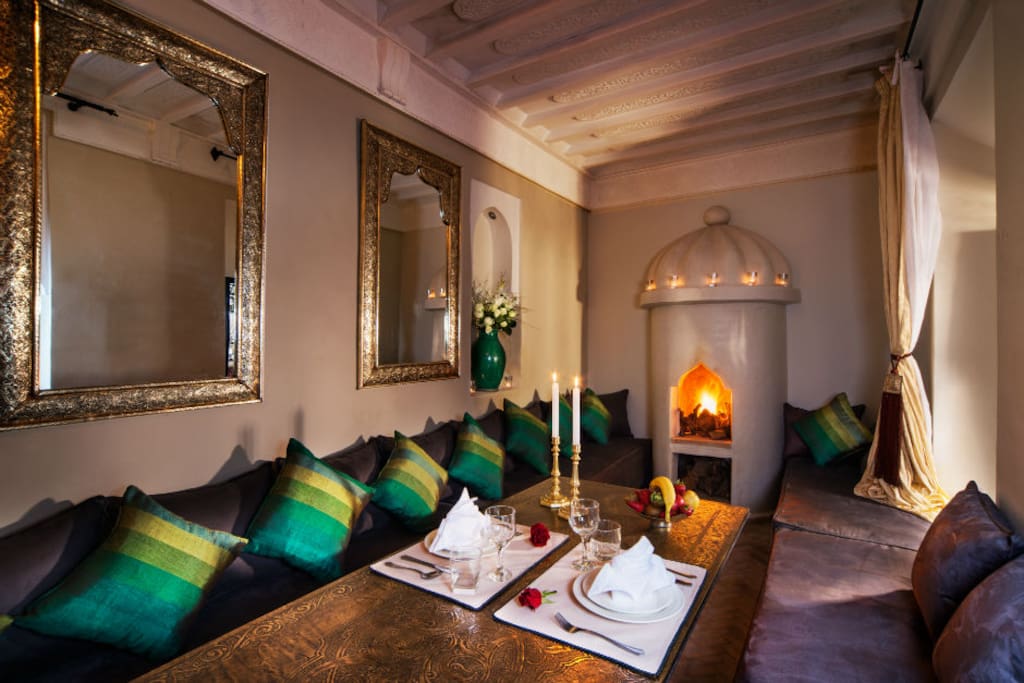 About this listing
Welcome to the house of friends. Your home in Marrakech is a traditional Riad in one of the most convenient spots in the city centre. One bedroom suite and five rooms (all ensuite) sharing a romantic courtyard minutes from the famous Jemma el Fnaa square. Sleeps up to 13 people in total.
---
Check In: 3PM - 12AM (midnight)
Room type: Entire home/apt
---
---
---
The space
You will love the location just a short 5 minute straightforward walk from the tumultuous Jemma el Fnaa square and souks. You will appreciate the comfortable en-suite rooms, spacious patio with dipping pool and stunning roof terraces. But most of all you will not forget the warmth of the welcome from our dedicated staff.
In Moroccan Arabic the name of the Riad means close friend, sister or lover. At our Riad we truly hope you will arrive as a guest and leave as a friend. We specialise in helping English speaking guests and first time visitors to Marrakech make the most of their experience in the Red City.
What Makes us different?
What really makes us special, and fantastic value for money, is the small team of dedicated staff in each of our Riads who will be on hand to help and advise throughout your stay. We do provide a truly personal service.
It is the small things that count: complimentary toiletries; breakfast served at the time of your choice; delicious evening meals individually and freshly prepared to your taste and dietary requirements; Wifi; a complimentary map of the old town; help booking restaurants and excursions; nothing seems to be too much trouble. We are pleased to offer the loan of a local pay-as-you-go mobile to stay in touch with your English speaking hosts while you are out exploring.
Whole Riad rental is perfect for groups: Whether it's a special occasion, a relaxed family holiday or a last minute get-away with friends, exclusive use of a whole Riad like ours is a fantastic way to enjoy Marrakech. Our accommodation is so flexible we can offer any combination of romantic doubles, fun and practical family rooms or luxurious twins and triples.
The highlight of any group booking will be a banquet in the Riad, delicious food in a friendly relaxed atmosphere whether you dine by the pool or in a Berber tent on the roof terrace. We can even arrange a musician or dancer for your entertainment!
Guest access
When renting the whole riad you obviously have access to the whole riad.
We keep our staff here to make breakfast and teas and meals unless you request to have no staff there:- its up to you!
We have an office which is just for staff use as it is where our night time guardian sleeps-again it is your choice if you prefer not to have the guardian but it is sometimes helpful to have someone there to assist members of a group who may want information, wake up calls or accompanying to the taxi rank etc.
Interaction with guests
Our Moroccan staff are available 24/7. You will be given a mobile phone with all phone numbers already programmed in and enough credit for one or two local calls.
Our staff are our best asset: they genuinely love to meet guests from all around the world and like to share information about their culture, food, traditions, history etc with those guests who may be interested. However, they have appropriate discretion and know that often people like to explore and find things out for themselves and be left alone to enjoy romantic moments.
The neighborhood
The house is located in a very special place: it is in one of the best neighborhoods in Marrakech. It is so close (5 mins or less) to the taxis, fruit and veg markets, souks and the 'big square' It is also close to the Bahia Palace and the Mellah markets.
Getting around
Using Taxis in Marrakech
Fortunately, most travel within Marrakech can be done quite happily on foot. However, there are some journeys that you may prefer to make by other modes of transport- caleche, bicycle, tuktuk or most frequently, taxi.
WORDS of TAXI WISDOM:
Making journeys by taxi used to be my least favorite experience in Marrakech before I discovered how to deal with them. Some drivers are fair and pleasant and I often have great Arabic language lessons in longer taxi journeys. Other taxi drivers view tourists as easy pickings and will try to charge as much as they think they can get away with. How to make getting around Marrakech as stress free and as enjoyable as possible.
Option 1: Walk-far better for your health and less stressful. Marrakech's ancient medina is mostly pedestrianized (apart from the irritating mopeds and authentic working donkey carts) and so walking is definitely the best way (and sometimes almost the only way) to get around the medina. The rule of thumb is generally to keep to your right as a pedestrian. Sometimes this is a little difficult because of obstructions or because of seeking the shade. Keep your wits about you as motorbikes can come up behind you very quickly and their young drivers are not always very skilled. In many other countries pedestrians are viewed as having the right of way or at least injury to pedestrians is to be avoided at all costs. In Marrakech cars and bikes seem to have right of way and so it is prudent to keep a very respectful distance between you and any vehicles. Dont expect them to move out of the way-they expect YOU to do that! Walking without a handbag, especially at night time, is the best if possible keeping money in money belts or inside pockets as in any large city. Before you leave the riad, on hot days especially, remember a hat, water, sunglasses, suncream and comfortable shoes or boots for walking.
Option 2: Arrange your taxi journeys through your riad staff. This can appear to be more expensive but the charges are still less than they would be in the UK and it is certainly a better approach if you want to avoid the potential stresses involved in using a petit taxis: problems with finding a taxi, having misunderstandings with the driver about where you want to go, fighting over his overpriced fare, having strangers in the taxi with you. The advantages of booking taxis through the riads are that your driver will be able to speak basic English, the taxi will have air conditioning, the driver will know where you are meant to go to and will not charge you extra if they have extra traffic or diversions etc, he will be in contact with the riad if you have any problems, he doesn't require a tip, he will not change the amount you agreed to pay upfront, you can pay by cash or credit card to the riad directly. Taxi can be picked up at the nearest location to your riad at any time of day or night by prior arrangement with your riad staff.
This is the easiest and most comfortable way to get taxis in my view. Also it is especially convenient if you are a family or group of 4 or more as you can travel together-petit taxis only allow 3 people to travel together so then you have to get two taxis and have twice the change and hope both taxi drivers arrive at similar times and that both know how to get to your destination!
Option 3: Accept that the taxis sometimes rip off tourists and pay what is demanded (which is relatively little compared with the UK). Ensure the driver is crystal clear about the destination-remember there are many places with extremely similar sounding names and they can be many miles apart! This does perpetuate the ripping off of tourists and encourages taxi drivers to break the law so I don't like this approach.
Option 4: Pick up a tuktuk from the big square or better still order an independent tuk tuk to pick you up near to the riad. Ensure that you understand the fare and waiting time charges before you embark on your journey. Use a piece of paper to write down the fare to ensure everything is clear. Several charitable organizations such as the Henna Cafe (which we founded with 2 fellow brits) have donated tuktuks to handicapped Moroccans to enable them to have independent employment. The city of Marrakech only grants tuktuk licenses to handicapped drivers-which explains why there are relatively few of them around. The journey can be rather bumpy and is more exposed than an exclosed taxi but it can negotiate the narrow derbs that are impossible for the petit taxis to use. Feel confident to tell (shout) your diver clearly to go slowly ('doucement') if you feel he is driving too fast for your comfort-but most are pretty sensitive to their passengers. Prices are reasonable 20-100 dhms for most journeys. You can also hire a tuk tuk for a half day or whole day by telephone. Ask the tuk tuk driver for the prices.
Option 5: Book a Caleche (horse drawn carriage): Allow your inner cinderella or prince charming to be indulged and order a Calech to explore the city walls. This slow paced but very romantic transportation option can be arranged through your riad. You can even arrange a half day trip around the city walls with a stop off point at the Majorelle Gardens while your Caleche waits for you to return in 1 hour or so continuing on with several optional drops. This is extremly popular and only costs around (XXXXXdhms)
Option 6: Pick up a taxi cab on the street.
Taxis are usually available 24 /7 in Marrakech. Most journeys within Marrakech should cost less than 20 dhms but all prices are doubled at night time. Prices for grande (big) taxis are also around double unless you negotiate otherwise.
There are strict rules about how many passengers (in addition to the driver) are allowed in a taxi. Three (3) is the max number allowed in a petit/little taxi. Five (5) are allowed in a grand /big taxi. Be aware that taxis are allowed to stop and pick up other guests on your journey-and they often will. This is usually pleasant but occasionally it means an extra 10 minutes to your journey.
Taxis in Marrakech (as in many cities) are prone to trying to rip off tourists. Over the years I have developed what I call my 'Taxi Management System' -which is fairly (but not 100%) foolproof. So here is how it works:
A. Firstly, buy something small (like a drink) from one of the many kiosks with a 100 dhm note in order to get change to use in taxis (10dhms, 20dhms).
B. Say Salam Aleikum (hello). Its always nice to be friendly and will tell your driver that you are not a newbie (even if you are!).
C. Tell the driver your destination crystal clearly-ideally have it written on paper in arabic or french. Most drivers have poor or non existant map reading skills. Some drivers are illiterate. If necessary use your mobile phone to get the hotel taff to communicate between the three of you.
D. Ask the driver to switch on the conteur (this is a legal requirement). Say 'le conteur sil vous plait' whilst pointing. If they do put it on then that's great. If they don't then say nothing and wait till you get to your destination. When I ask the driver to put on the conteur I occasionally get asked to leave the taxi-in which case I argue in french for a while and may pursuade him but otherwise I take a deep calming breath and practice my forgiveness exercisies then get out calmly and try again with the next taxi!!!
E. Get out of the taxi BEFORE paying. Then hand over a 20 dhm note and walk away. All journeys within the medina and between the medina and Guilez (the new town) are usually less than this. At night prices double.
F. Do not respond if called back as it is inevitably because the taxi driver is trying to get more money from you! But occasionally it may be because you have left a bag in the taxi and they want to return it safely to you!
G. Waiting time is usually around 60 dhms per hour (double at night). You must negotiate this or any other deviations very, very clearly-preferably in writing.
H. If the driver puts on the counter and has treated me well then I reward this with a tip to encourage more drivers to follow the law.
Occasionally taxi drivers are very persistent and in that situation I would suggest that we call the tourist police to settle our disagreement. This will inevitably result in the driver backing down-as they know that they are in the wrong.
Sometimes when I am with other people who I know get stressed out with any hint of conflict I supress the part of me that fights for the principle of fairness for tourists and I do pay over the odds because I want to avoid any possibility of a confrontation-after all (as my husband often reminds me) 50 dhms is about £3.50 and even 100 dhms is only £7.00). It can be argued that the taxis drivers are just redistributing wealth a bit like Robin Hood- but without the tights and the arrows!
There are a bicycle rental company setting up in Marrakech called Picala bikes. I dont have all the details currently.
Travel Within!
Some of our most contented guests don't ever set foot in a taxi or transport of any kind in Marrakech. Many spend many hours relaxing by the pool and have several small journeys into different parts of the media by foot throughout the day always using the riad as their base returning to top up sun cream, have a mint tea, relax in the sun to read a book or have a chat.
My advice is not to set yourselves too busy of an itinerary but rather enjoy rediscovering yourself and your relationships. Explore by foot and go slow not fast. Take in every sight and sound. Be mindful as you walk around the medina and soak up the beauty and excitement in the atmosphere.
However you decide to travel as you spend time exploring this amazing city-Have fun!
Other things to note
Guests can have a traditional hammam experience and/ or relaxing massage at Riad Star if they wish (at additional charge -approx £25 each). We usually need 3 hours notice to prepare the hammam.
Food is prepared very freshly (the market is on our doorstep) so we just need a few hours notice for dinner and an hour for lunch.
---
Check-in time is 3PM - 12AM (midnight).
NOISE: The medina is a very special place where people are living in close proximity with one another. Because of this we hope that guests will be considerate when sitting on the roof terrace late at night.
SMOKING: Smoking is only allowed on the roof terrace. Strictly no smoking in the rooms as the smell requires professional cleaning to remove.
We ask guests to be sensitive to other guests and smoke away from others who are not smoking on the roof terrace.
PETS: No pets in consideration of others. If the riad is rented for a long term rental then pets may then be possible-we would need to discuss this with you.
'SEX TOURISM': It is illegal for tourists to bring locals back to any hotel and we do not allow this. We view 'sex tourism' as exploitation of economically disadvantaged groups. We have set up a charitable project in order to educate local women and help them to find employment. Please do not embarrass our staff by asking for this-the answer will always be NO!
MEAL TIMES: Any time of your choosing. Breakfast can be served anytime up to about 3.30 pm! SO feel free to have a luxuriously lazy lie in.
VISITING OTHER RIAD HOTELS: We have a total of 4 riads in our family of hotels and (provided they are not being used for a private function or exclusive use) you are welcome to request a meal or drink at any other hotels in our family. Use the APP Marrakech-riad to find your way using free GPS signal.
CLOTHES in WARDROBE: Feel free to wear one of the recycled jellabahs inside your wardrobe. All jellabahs are drycleaned in between guests visits. If you wish to take it home then we will charge £25 per jellabah which will be donated to the Henna Cafe. If you find neither jellabah fits you then ask a member of staff to see if they can find another that is your size.
Thanks and Enjoy your stay!
---
---
Marrakesh, Morocco

·

Joined in April 2011
Nearly a decade ago we fell in love with this amazing ancient city of Marrakech: its culture, its people and it's architecture. The garden courtyard homes or riads.

Over the years our love affair with Marrakech has blossomed and have restored four magnificent medina houses: Riad Star, Riad Cinnamon, Riad Papillon and Dar Habiba - slowly brought back to life using skilled artisans and our passion for creating beautiful and enchanting spaces: it has been a labour of love.
We warmly invite you to stay in one of our unique boutique hotels and experience the magic of Riad living in the heart of this world Heritage city. It is the small things that count: Wi-Fi, the loan of the local cell phone, our smartphone app with its indispensable off-line map and guide as well as our orange blossom scented toiletries, open fires, comfy bathrobes and Egyptian cotton linens.

What really makes us special is our welcoming and talented team. Each Riad has just a handful of rooms which means that we can provide a truly personal and attentive 24-hour concierge service. Our English-speaking staff are on hand to serve, advise and help you to enjoy your stay.

Marrakech is our passion we look forward to sharing it with you.

Mike and Lucie Wood
Response rate:
100%
Response time:
within an hour
Exact location information is provided after a booking is confirmed.
Explore other options in and around Beni-Mellal Province
More places to stay in Beni-Mellal Province: