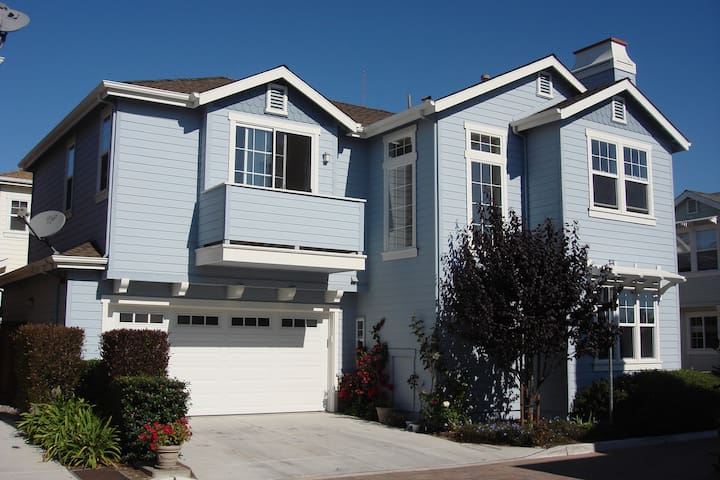 Private room
2 Guests
1 Bed
About this listing
-4+ years 5-star Airbnb service
-At mid-point of HWY1 btw SF and LA
-24/7 FREE commercial-grade WIFI
-Optional breakfast w/ a fee
-Free tea, coffee, filtered water
-Spacious Master Room w/ attached bathroom
-Free parking spaces
-Less 1 mile to beach
---
---
---
---
The Space
Located at the mid-point of Monterey Bay, my house is a couple minutes to HWY 1.
Welcome to my home in Marina, California! Please NOTE WELL that my house is in Marina, CA, the central point of Monterey Bay. In our south, to Monterey, 9.1 miles (about 15 minutes drive); To Carmel, 12.8 miles (about 20 minutes drive); To Big Sur, 31.6 miles (about 63 minutes drive), L.A. (about 5-7 hours drive). In our north, to Santa Cruz, 34.4 miles (about 51 minutes drive); To Gilroy, 45 minutes drive; To San Francisco, 2.5 hours drive.
Please keep the above-mentioned distances in mind BEFORE you make your booking. If you are looking for a MUCH closer location to Monterey or Carmel or Big Sur, please do NOT book us. With the correct understanding about the distances, you chose us because you have been well-informed about the distances, accepted the distance-compromised price rate, and took into consideration of our 4-year consistent 5-star hospitality service, superb guest reviews, privacy and safety in our house and neighborhood.
For bicyclers, my house is 20 steps next to "Monterey Peninsula Recreational Trail", a popular bike and hiking path that leads directly to the Monterey and Pacific Grove. For public transportation, MST bus stops of Route 16, 19, 20, and 25 are next to my house in 20-30 steps.
For the peaceful rest of other house guests, we do not accept couples with small babies or very young children. Thank you for your understanding.
How to find my house:
The GPS coordinates: 36°41'16.0" N and 121°48'01.6" W
After you booked with us, you will receive a driving direction with an Airbnb confirmation. You are strongly encouraged to print this driving direction and bring it with you when you coming to my house. The GPS coordinates: N 36°41.238'' and W 121°48.047''. You also can find our driving directions come with the Airbnb booking confirmation.
The Spacious Master's Room
My house, built in 2007, is a two-storied building (1,900 sq. ft). I have a spacious Master's Room with its own PRIVATE bathroom available to rent to two adults. The Master's Room is furnished with a firm queen-size bed, two night-stands (each with an individual lamp), and other furniture. A private TV set (56" LCD HDTV) with over 60+ Comcast programs is also provided.
In the Master's bathroom, toilette room has a door and lock, and the shower, bathtub and the double wash sinks with marble counter are in a separate room. Soap, shampoo, conditioner, clean wash towel, shower towel and hair dryer are provided.
When our guests have extra member(s) to travel with them, the Master's Room has its floor large enough to place one sleeping beg for $35.00 per person. We also can make the 2nd bedroom available for their extra member(s) (two guests max). This is a smaller bedroom with a full-size bed and some furniture. The small bedroom's rate is $60.00 per night and must be rent together with the Master's Room.
24/7 Free High Performance Wi-Fi
Free Maximum Performance Wi-Fi.
Free Parking Spaces
We have free parking spaces for you. For parking your car, we have three places to park (1) on the LEFT side in front of the garage (heading toward the garage); (2) The Guest Parking at the corner of Elena Drive and Elizabeth Lane; (3) the off-street parking spots on either Paddon Place Drive or Marina Drive.
Standard Check-in and Check-out Times
Check-in time is at or after 5:00 p.m. and check-out time is at or prior to 11:00 a.m. Please be sure to inform and discuss with us in advance if you need to check in prior to 5:00 p.m., so we can make arrangement accordingly.
Customized Services and Home-like Hospitality
We provide optional home-made breakfast with a small fee from 8:00 a.m. to 10:00 a.m. Free coffee, tea, and filtered drinking water are available anytime. Just help yourself. There is a limited use of the kitchen stove and oven. We also have pantry and refrigerator spaces available for your food.
Busy Season and Slow Season
The busy season is from May to September. The Slow season is from October to April. Just for your information, it is sunny and warm every day during September, October, November and December in Monterey Bay area, temperature is around 65-80 F° (18-25 C°), truly the most pleasant time of a year. Be sure to take advantage of it and come to visit us during the slow season, too.
PLEASE BOOK EARLY!
Enjoy your stay with us, you will experience our immaculate cleanness, star-hotel service, family warmth, and cultural heritage.
Additional charge applies:
$10 cleaning fee applies to each booking.
If you must use our non-provided services, such as kitchen, washer, dryer, etc., an additional charge will apply. The charge list is available upon your request.
Guest Access
Enjoy the great conveniences and hospitality with us:
-4 years of 5-star Airbnb service
-Next to HWY1 at mid-point of SF and LA
-24/7 FREE commercial-grade WIFI
- Free use of Microwave and toaster
-Complimentary Keurig coffee, tea, filtered water.
-Optional home-cooked healthy breakfast with a small fee.
-Spacious Master Room with private bathroom
-Free parking spaces
-Brazilian cherry hardwood floor in the entire house.
-Free parking spaces (both in front of our garage or off-street parking spaces). Park bicycles or motorcycles inside our garage without additional cost.
-Less than 1 mile to Marina Beach
Interaction with Guests
We are always interest in getting to know the people from all over the world. We also have lots of suggestions and ideas about sightseeing the Monterey Bay area for you to consider.
Please NOTE WELL: We are simple and sincere people. We do not enjoy hosting complainers. If you are uptight and have written more than two negative reviews about your Airbnb hosts, please do NOT book us.
The Neighborhood
Our neighborhood is very safe and well-maintained up-scale community located in the heart of Marina, CA. The streets are well-paved and lit. It is next to a natural inhabitant wetland with all kind of wild gees, ducks and birds. You can walk to stores, restaurants, Startbuck coffee shop in a couple minutes. The bicycle lane passes by my house and leads you into Monterey, CA. It is only a few blocks away to the Marina ocean. It is always a joy to run, jog, or ride bikes around my neighborhood.
Getting Around
You can get around by buses next to my house. The Bus routes twenty, sixteen, nineteen are available for your all day long. You also can walk to the Marina Beach in 5 minutes for a relaxing walk or jog.
Other Things to Note
Exciting Events of 2015 for Your Reference. Check online for accurate dates:
JANUARY
Whalefest Monterey
FEBRUARY
AT&T Pebble Beach National Pro-AM Washington's Birthday weekend
MARCH
DixieLand Monterey
APRIL
Big Sur Half Marathon on Monterey Bay
Annual Pebble Beach Food and Wine
Sea Otter Classic
Pacific Grove's Good Old Days Festival
Big Sur International Marathon
MAY
Steinbeck Festival
The Quail Motorcycle Gathering
The American Le Mans at Laguna Seca
Carmel Art Festival & Sculpture in the Park
Artichoke Festival
Memorial Day weekend
JUNE
Annual Cannery Row Block Party
Monterey Wine Festival
Monterey Beer Festival
Monterey Bay Blues Festival
Carmel House & Garden Tour
JULY
Independence Day Weekend
Pebble Beach Dressage Show
Monterey Scottish Games & Celtic Festival
Carmel Bach Festival
The Red Bull U.S. Grand Prix/MotoGP World Championship
California Rodeo Salinas
Pebble Beach Equestrian Classic
Pacific Grove Feast of Lanterns
Monterey Bay Reggaefest
Spirit West Coast Concert
AUGUST
Spirit West Coast Concert
Pebble Beach Motoring Classic
Pebble Beach Auctions
Carmel-by-the-Sea Concours on the Avenue
Pebble Beach Tour D'Elegance
Rolex Monterey Motorsports Reunion
Concorso Italiano
Concours d'Elegance Vintage Car Parade
Pacific Grove Concours Auto Rally
Pebble Beach RetroAuto
Pebble Beach Concours d'Elegance
Automotive Fine Arts Society Exhibition
Labor Day weekend
SEPTEMBER
Labor Day weekend
Continental Tire Sports Car Series
Annual Sandcastle Contest:/Carmel Beach
The Triathlon at Pacific Grove
GRAND-AM Road Racing
Cherry's Jubilee Show n' Shine
Monterey Jazz Festival
Nature Valley First Tee Open at Pebble Beach: PGA Golf Event
FIM Superbike World Championship
Carmel Authors & Ideas Festival
OCTOBER
Veteran's Day weekend
Carmel Art & Film Festival
Carmel's-By-The-Sea's Birthday Party & Parade
Annual Big Sur River Run
NOVEMBER
Big Sur Food & Wine Festival
Big Sur Half Marathon
Thanksgiving holiday
Pacific Grove Christmas Tree Lighting Ceremony
tbd Pacific Grove's Christmas at the Inns
DECEMBER
Carmel's Christmas Tree Lighting Ceremony
Monterey - Christmas In The Adobes
First Night Monterey (New Year's Eve)
+ More
---
This is a home for all kind-hearted travelers and happy campers. We are doing our best to make sure that your stay with us is pleasant and comfortable. Please NOTE WELL: We are simple and sincere people and graciously sharing our beautiful home with our appreciative guests. We enjoy very much hosting the kind people from all over the world, but we do NOT enjoy hosting complainers with pathological negative mentality. If you are uptight, suffering from social phobia, and have written more than two negative reviews about your Airbnb hosts, please do NOT book us.
1. We do not take couples with small children.
2. No shoes inside the house. No bare feet walking around on the carpet and hardwood floor. You are encouraged to bring your own slippers or just wear your socks.
3. No pets in the house.
4. Please do not smoke in the bedroom or house. If you want to smoke in the balcony, please shut the balcony door tight, so the smoke cannot get into the house.
5. Do not sleep on the couch in the living room.
6. Turn off the lights behind you after you used bathroom or left your room.
7. All the towels are our property and provided to you only for your use during your stay with us. Missing towels will be reported to Airbnb for compensation from your credit card.
8. Social drinking is OK, but NO party inside the house.
9. Do not bring strangers into the house.
10. For parking your car, we have three places to park (1) on the LEFT side in front of the garage (heading toward the garage); (2) The Guest Parking at the corner of Elena Drive and Elizabeth Lane; (3) the off-street parking spots on either Paddon Place Drive or Marina Drive.
11. When you check out, be sure to return the garage door controller or door key.
12. Breakfast is optional with a small charge, and served only between 8:00 a.m. and 9:30 a.m.
13. The use of the kitchen stove and oven will be additional charge. We have toaster and microwave for you to use for free.
14. Please do NOT bring food including breakfast, lunch or dinner into your bedroom to eat. You are welcome to use our kitchen counter top or the dining table, if you need to eat your meal.
15. Do not drip water on the tile floor in the kitchen and bathroom, because water can cause yourself or other people to fall.
16. Keep noise to the minimal level and do not use hair dryer after 10:00 p.m.
17. When having garbage that is spoiled or has smell, please dump it into the garbage dumpster in the yard. Do NOT put it into the pin inside your room.
18. Please do NOT spill water or any form of liquids on the hardwood floor! Liquids can damage the wood floor permanently.
+ More
---
---
Explore other options in and around Marina