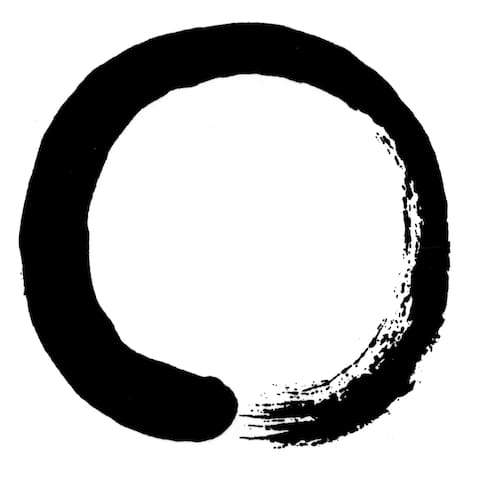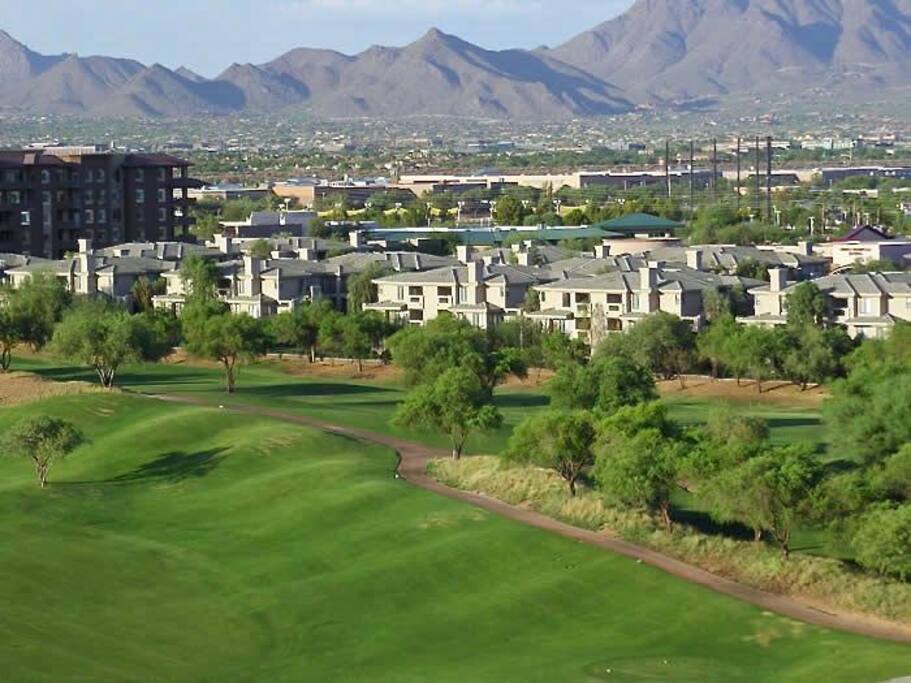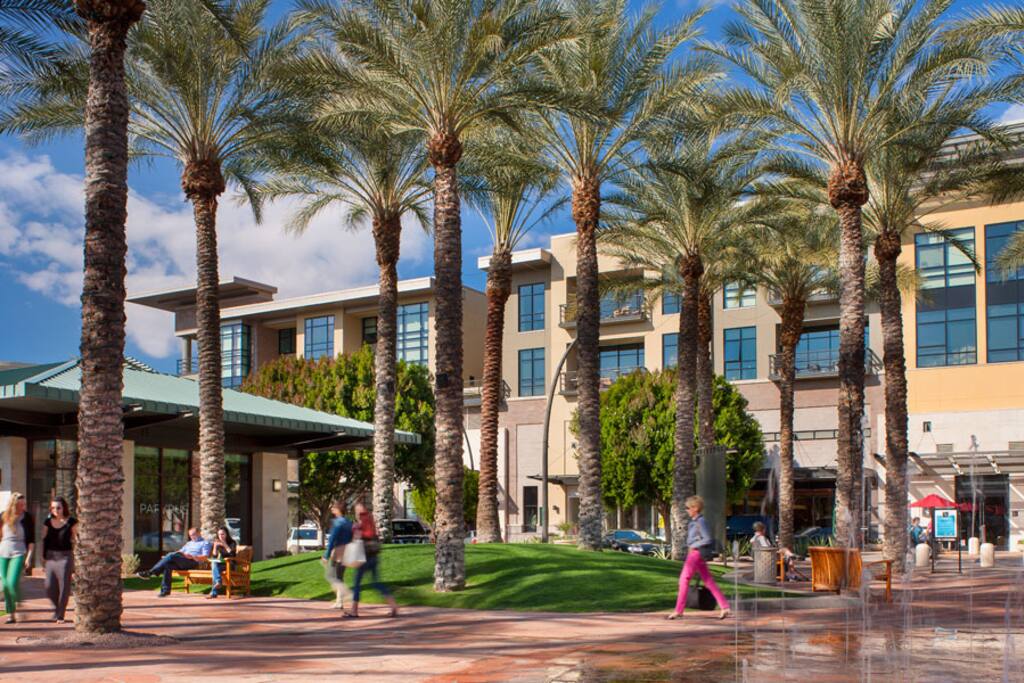 About this listing
Excellent accommodation for friends and family to stay together and enjoy exquisite, resort style amenities for a fraction of the price of hotels.
11 luxury apartments all within walking distance of Westin Resort.Let me know your group needs [ how many guests, how many singles/couples , exact dates ] and i will recommend the best possible price and accommodation by sending you a special offer
---
Check In:
Anytime after 4PM
Room type:
Entire home/apt
---
---
---
The space
Nestled in an upscale , lively and vibrant kierland neighborhood [ Home to westin and Princess resorts] - we offer anything from one single to 15 separate one , two and three bedroom luxury apartments [ all within walking distance of each other] .
Set in a resort condo environment with outstanding amenities such as huge heated pools, sauna's, hot tub, 24 hour fitness club,
BBQ facilities, hiking trails, outdoor BBQ facilities , sand volley and tennis courts .Some condo's have premium golf views whilst others are steps away from the pool and sandball courts. Altogether we can cater for up to 50 guests in luxurious style .
The ONE bedroom condo's sleep 2 to 4 guests
The TWO bedroom condo's sleep 4 guests
The THREE bedroom condo's sleep 6 guests
So, whether you are searching for just a single condo or many condo's , we can help.
This is an ideal arrangement for groups of golfers , friends re unions, family weddings where many relatives all want their own separate condo's but close to family.
We also cater for yoga retreats , buissness seminars and golf buddy get aways.
You wont beat us on price , location or value
Guest access
COMMUNITY AMENITIES:
*Courtyard with water falls
*Sauna
*Spa/Hot Tub
*Sundeck
*24 Hour Healthclub With Sauna and Free-Weights
*Green Community
*High Speed Internet Access
*Lighted Sand Volleyball
*Lighted Tennis Court
*Safe , secure gated community
* Lush Green Grass Courtyards
* Master Planned, Garden-Style Community
* Meticulously Maintained Mature Landscaping
* Natural Gas Barbecues With Gazebos
* Panoramic Golf Course and Mountain Views
* Prestigious North Scottsdale Location
* Reserved Covered Parking
* Resort Pool With Beach Entry and Waterfalls/Restrooms/Shower
*Sparkling Waterfalls and Soothing Water Fountains
*Wireless Access In Pool/Common Areas

CONDO AMENITIES:
Electronic Thermostat
Gas Range
Large Closets
Window Coverings
Additional Patio Storage
Alarm Systems
Arched Doorways and Rounded Corners
Built-In Microwave
Wireless internet/TV
Ceiling Fans In All Rooms
Ceramic Tile Bathrooms/Entry and Kitchen
Disability Access
Dishwasher
Extra Storage
Frost Free Refrigerator
Full Size In-Unit Washer/Dryer
Gargabe Disposal
Gas Cooktop and Appliances
Gas Fireplaces*
Ice maker
Medicine Cabinets
Oversized Closets
Oversized Picture Windows
Ice cool Air Conditioning
Private Patio/Balconies
Self Cleaning Oven
Comlimentary soaps, shampoo's
Complimentary spices and condiments
Fresh towels and linens
Spare charges of linens
Most furnishings are brand new- modern, appealing including new mattresses
Interaction with guests
Some guests like a lot of interaction and others like total privacy. I respect both and am there when you need me and gone when you don't.
I am on call 24/7.I live locally. I can arrange anything you may need for any occasion or event
from flowers to wines, shopping deliveries, welcome buffets .I like to know in advance if my guests need Toys, water toys, car seats, cots for children and i can provide special items for adults such as extra airbeds, pillows, bicycles, helmets, tennis racquets , sand valley balls etc.
The neighborhood
This is a favorite ,popular , upscale, vibrant and colorful neighborhood in North Scottsdale. It is central for easy access to downtown, airport, fashion square, paradise valley, and very close to
major events such as the Barratt jackson auctions, westworld,
Getting around
We can arrange commercial transportation upon request......there is a local trolley bus around the town center.
Other things to note
COMMON QUESTIONS ABOUT GROUP BOOKINGS IN KIERLAND:
1.WHAT EXACTLY IS THIS LISTING?
I manage 15 seperate private condo's all in kierland neighborhood of North scottsdale.
I can offer 1 , 2 or 3 bedroom apartments within walking distance of each other.
2. HOW MANY GUESTS CAN YOU ACCOMODATE?
In total i can accomodate up to a total of 50 guests providing that your dates are available.
Each bedroom accomodates 2 guests . So if you have a group of 18 guests i would endeavor to
offer 3 three bedroom apartments [ 6 guests per apartment - 2 guests per bedroom]
3.WHAT IF ALL MY GUESTS WANTED THEIR OWN SEPERATE BEDROOM?
If you had a group of 18 guests that all wanted their own bedroom that is easy to arrange but would
naturally cost more because you would need 18 bedrooms which can be offered as well.
4. CAN YOU WALK FROM ONE APARTMENT TO THE OTHER?
Yes you can.
5.ARE THERE COMMUNAL AREA'S WHERE THE ENTIRE GROUP CAN MEET?
Yes there is a big heated pool area with cabanas . There are also several BBQ /picnic area's
[ gas is supplied free of charge].You are not permitted to hold a function or party in communal area's
BUT there is a function room where you can book and have a party.This would be an additional cost and would need to be booked in advance
of your stay .
6. IS THERE ANYWHERE THAT THE GROUP CAN EAT TOGETHER?
If your group is up to 10 guests you could all eat togther in a 3 bed apartment. If your group is larger than 10
you would have to resort to to meeting in outside restaurants. There is a very well known 5 star resort called teh Westin Resort
across the street which has 13 different restaurants, bars, cafes and a great sunday champayne bruch.
You can also walk from teh apartments to the town center in 10 to 15 minutes where there are ecellent restaurants and bars.
You can also walk to the local starbucks, Einsteins bakery, yogurt/ icecream parlor.
7. WHAT ACTIVITIES CAN A LARGE GROUP SHARE IN THIS AREA?
The apartments are surrounded by the kierland golf course. Hence this is a wonderful location if you love golf.
The neighborhood is vibrant and lively and offers excellent shopping [ lots of designer stores].
Families love the area because there is a local water park and the fountains in kierland center.
8. WILL WE BE ABLE TO USE THE WESTIN RESORTS POOL AND FACILITIES?
Only guests that book rooms in the westin are allowed to use the westin pool. However , you wont need to use their pool or want to
because we have a resort style pool which is fabulous. You can use all the other paying facilites at the westin resort such as the spa, beauty
treatments, golf course, bars, restaurants and you will be able to attend evenings of music and other events open to the public.
9 . WHAT IS THE DIFFERENCE BETWEEN STAYING WITH YOU OR A HOTEL?
There are many differences. Firstly, you will save a fortune on eating out because all my apartments come with fully equipped kitchens.
Each apartment is spacious and has its own private patio to relax in the evenings. You will enjoy much more space including living room and
2 bathrooms [ My 2 and 3 bedroom apartments all have 2 bathrooms].You will feel like you are in a resort without the price tag.
10. WHAT WILL A HOTEL OFFER ME THAT YOU CANT?
You will not get room service , bed linen changes [ unless you want to hire maid service for a longer stay which i can arrange].
11. WHAT CAN I ENJOY FREE AT YOUR PLACE:
You can enjoy all the amenites that a resort will offer you. Here is the list of amenities and there are NO extra charges:
* FREE high speed internet by pool and throughout the grounds
* FREE parking
* FREE BBQ FACILITIES - including the gas
* FREE heated pool and hot spa
* FREE acess to the cabana's and shaded are's for picnic's
* FREE 24 /7 access to the fitness center
* FREE use of Tennis courts
* FREE use of sand volley ball courts
10 REASONS TO CHOOSE THIS LOCATION AND LUXURY PRIVATE APARTMENT COMPLEX:
1. SHOPPING AND RESTAURANTS:
You can walk to more than 30 fabulous restaurants and bars and 100 sophisticated specialty shops.
Everything you can imagine is within walking distance -One of Scottsdale's finest resorts . 'The Westin resort and Spa'- part of a luxury 730 acre master planned vacation community- is literally a stroll across the street.
2. AMENITIES:
This apartment has its own professional fitness center open 24/ 7. There's also 2 heated lap pools and hot spa's.THE AMENITIES ARE FIRST CLASS
3. TRANSPORT:
You can take a free shuttle service over to the Westin Kierland Resort's luxurious Agave Spa or the Kierland Golf Club, home to 27 holes of Troon-managed golf.
4. EVENTS: You can consider Kierland Commons your playground – a place where you can meet with friends and celebrate life and the seasons with fashion and celebrity chef events, the Summer Concert Series and more.
5. SPORTS : This is also an ideal location for sports enthusiasts- as the area offers first class golf opportunities and a range of other sports.You can walk to several parks for recreational activities including Golf.GOLF IS NOT FREE, YOU HAVE TO PAY SEPERATELY.
6.ACTIVITIES FOR ALL AGES:
There is something for every age- including children who will love the Cracker Jax WATER AND Fun park.
If you have a passion for movie's the 'Ipic' theatre at Scottsdale quarter will provide you with the ultimate movie / dining experience.
7.LOCATION:
This apartment is very close and has easy access
to Sky harbor airport, The 101 freeway providing links to anywhere you want to go, 15 minutes to fashion square, downtown scottsdale and canal , 15 minutes to Frank lloyd wright museum.
8. PRICE:
You will pay a fraction of the price of the Westin resort rates and save a lot of money on food/ restaurant costs.You will be able to prepare your own meals at home in a fully equipped kitchen.
9. CONCIERGE:
if you would like your own personal concierge we can introduce you . You will save a lot of money on adventure and hospitality services.
10.COMFORT AND SPACE:
Each apartment is spacious well furnished, and has a fully equipped kitchen -Its is a true home away from home with everything you could possibly need including high speed internet [ wireless] , Flat screen TV and beautiful artwork .

If i have not answered your specific questions here please email and i will answer straight away.
---
After booking guests will recieve the complete package of home details, lockbox and security gate codes.
---
---
Scottsdale, Arizona, United States
·
Joined in June 2011
Hello fellow travelers!

I am happy to share the accommodations I have on offer.

Due to popular demand I am now in the process of moving all my condos to a brand new complex, with fantastic amenties and an even more brilliant location than the previous ones. If you enjoy shopping, fine dining, being in the heart of things then check my listings out...... I am now going as far as the mayo clinic!

My newest accommodations are really amazing please check them out on my listings page, they are tagged in the headline with pure luxury, one of a kind luxury ....

I have been doing vacation rentals for a number of years. I am enthusiastic about Airbnb - its my favorite platform and I love the people I get to meet and help out.

I have travelled to many places in the world and love when I find a comfortable place and a friendly host. I therefore aspire to offer you a comfortable environment and a friendly host.

Besides that I am interested in many things...... from reading psychology to mindful living and world travel. I love the sun. Especially sunny Arizona. I have been living here on and off for many years.

I enjoy listening to Jack Johnson, Bob Marley, spiritually inspired music such as Karunesh....

Fundementally I love the idea of happiness, health and healing......

I have explored many work avenues in life...i am happy with hosting because i get too meet people from all over the past times i worked as a gem,crystal and minerals merchant...... also work that i loved.

Would love to visit Costa Rica again. Enjoy the rain forrests and natural abundant beauty and slender.Definately a country i would aspire to retire in.

Other area's of life that i gravitate toward include,healing arts, mental health, healing in general, happiness, resonance with nature, eastern religion, buddhist style philosophy and psychology as well as phenomenology and ontology; the study of the nature of existence. I love the idea of global autonomy and self generated interdependence. Enjoy the idea of being a life long montessori learner. Love creativity and expressive arts......

I have travelled to 22 countries so far and enjoy the prospect / idea of visiting many more!

I would love to travel to Thailand, Brazil and India as well as Tibet sometime in the future.....

I would love to meet the Dali lama and many other spiritual leaders on my father [who is a professor/world authority on eastern religion and the ancient language sanskrit] has organized events bringing people in touch with spiritual leaders and places. Therefore, I love yoga and anything to do with eastern design, lifestyle and living.

My ultimate dream would be to create a resort exclusively rented via airbnb which offers accommodations to all people at affordable prices and especially hosting students and young people on a shoe string . Some people may think this is giving my dream away but I would encourage this. Happy hosting!

My favorite travel destinations are London where I am from and sunny Arizona my sunshine home. I enjoy buddhist literature...... love watching movies .... Avatar, the lord of the rings and the hobbits journeys. I love live music. Love reggae and ambient music as well. I love all kinds of food. From raw vegan to exotic french and thai foods.

My mode of traveling so far has encompassed the entire range ...From exclusive style to local cave .

My hosting style is very much -"greet you with a welcome smile" and be available when you need me .The rest of the time i would be seen as a private
, quiet host that stays in the background .

Thank you for contacting me and hopefully you will have an amazing stay..... I look forward to hosting you soon!


"Om mani pade hum"

(praise the jewel in the lotus) in sanskrit translation,

Alexander

Favorite Quotes:

"A quiet mind is all you need. All else will happen rightly, once your
mind is quiet. As the sun on rising makes the world active, so does
self-awareness affect changes in the mind. In the light of calm and
steady self-awareness, inner energies wake up and work miracles
without any effort on your part".

"You may say I'm a dreamer, but I'm not the only one. I hope someday you'll join us. And the world will live as one" - John Lennon

"When you are different the whole world is different. It is not a question of creating a different world. It is only a question of creating a different you". Osho

"€œAll you want is to be happy. All your desires, whatever they may be, are longing for happiness. To imagine that some little thing-food, ..love... power, fame - will make you happy is to deceive yourself. Only something as vast and deep as your real self can make you truly and lastingly happy. - Nisargadatta Maharaj
Response rate:
84%
Response time:
within a day