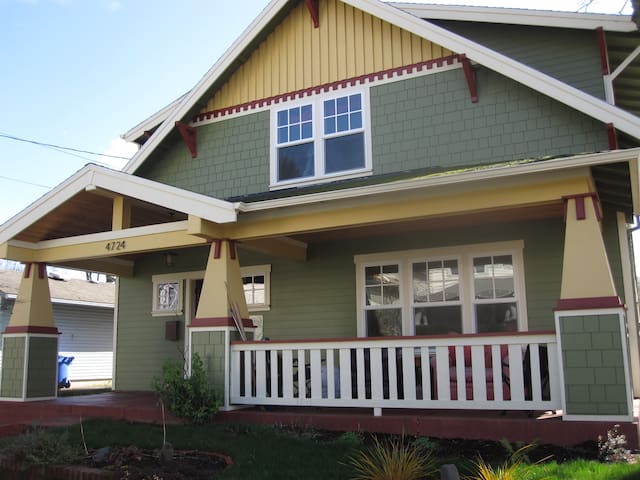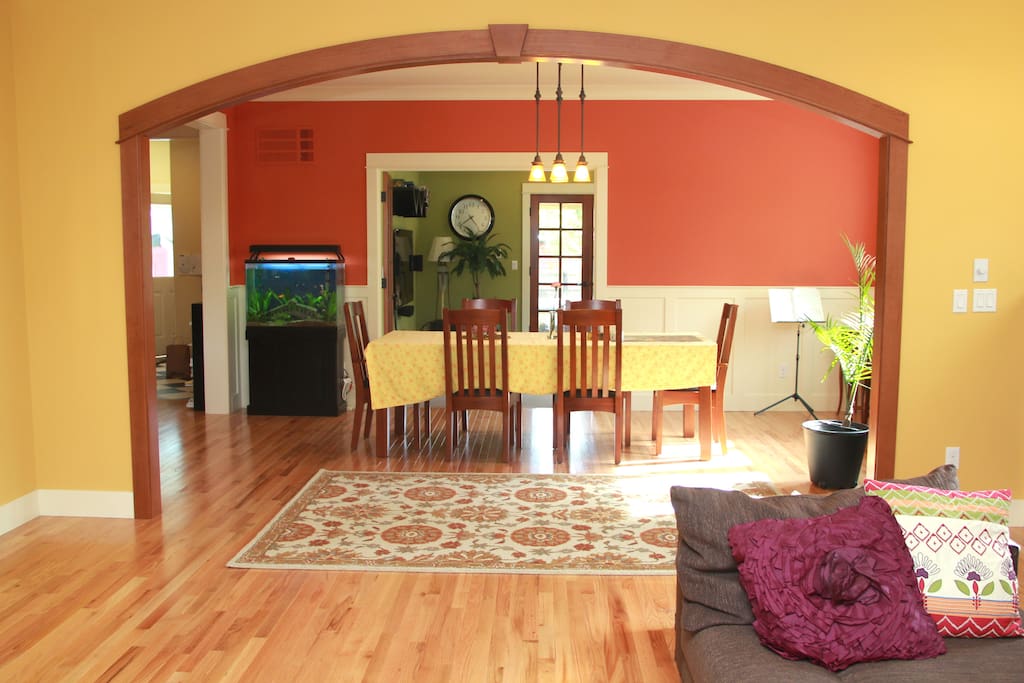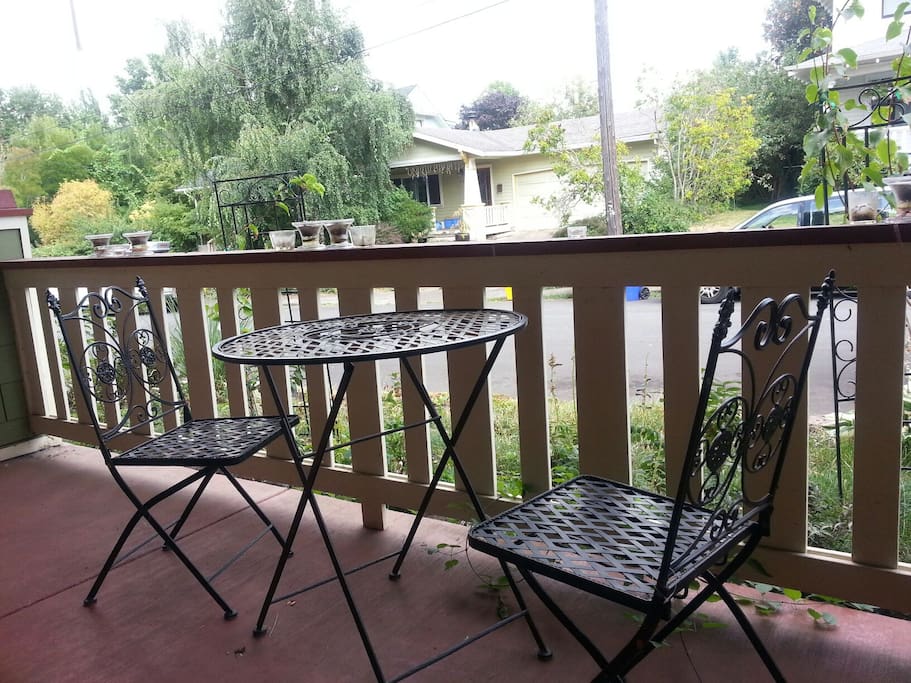 Entire home/apt
10 Guests
5 Bedrooms
6 Beds
About this listing
Portland Oasis Inn is located in Hawthorne/Belmont/Division- surrounded by Portland's best places. Spacious, Lovely, Quiet, Private, Gourmet kitchen, AC, Fireplace, Allergy/Chemical free. Please DO NOT try to Book until you read full description! We follow the rules of Portland primary residence of 9 months. Our priority is to disabled folks who have EI, allergies, asthma, or chemical sensitivities.
---
This listing has essential business travel amenities.
Bathrooms: 2.5
Bedrooms: 5
Beds: 6
Check In: Anytime after 4PM
Check Out: 11AM
Room type: Entire home/apt
Extra people: $25 / night after 2 guests
Cleaning Fee: $125
Security Deposit: $300
Weekly Discount: 10%
Weekend Price: $180 / night
The space
~About The Portland Oasis Eco-Luxury Inn:
A true luxury get-away in lovely and spacious surroundings. Eco-Luxury Home is in the popular and famous Hawthorne neighborhood of Portland. This location is quiet and safe, nestled between Hawthorne Boulevard, Belmont Street, Mount Tabor Park, and all the action Portland has to offer.
IMPORTANT- There are lots of changes in Portland laws. One of the biggest changes is the limitations on whole house rental (No more vacation homes, condos, or apartments. Only primary dwellings are allowed without host 3 months/year) We are focused towards helping those folks with disabilities of EI, allergies, and chemical sensitivities- Green/Clean/Luxury housing which balances a thriving Portland community with visitors and newcomers to PDX. We are working with the City for our type-B permit for 1-5 room short term stay. For you as a guest it is important to understand that hosts in Portland can only rent out the entire place 90 days out of the entire year. Price for rooms assumes double occupancy.
Please inquire about whether you can have you family gather together in beautiful accommodations for the holidays.
If you have a group of 8 people we can easily accommodate you all with plenty of space, privacy, and Portlandia vibe. We can do larger groups as well with some extra planning.
Please read entire description. Price varies on factors of number of guests, number of rooms, hosted or not hosted, which rooms requested, length of stay, and time of year. For example a short reservation of a holiday weekend in the summer will be more. See details on pricing down below. Prices listed do not include taxes, cleaning fee, or any fees that the Airbnb company add.
~Green and Healthy and Beautiful~
This new all-Green construction (Earth Advantage) has an open floor plan with lots of sun throughout the day. Natural materials though-out such as glass, stone, hardwoods and wool. It also has many clean air quality features for those with allergies or who just wish to be in a clean and healthy place- meaning none of the mold of older houses and none of the chemicals of new construction.
We supply the house with high-quality green products and only use non-toxic sustainable cleaning products. The emphasis is on organic, local, and healthful- in building, maintaining and supplying the EcoLuxury house. We are very serious about the health of our guests and the planet. As part of this goal, we believe our cleaning standards surpass any hotel or lodging that you have stayed in previously.
Also there is a great connection to the outdoors and two large porches. We are often told that the photos do not do it justice. We slowly filling the house with the work of local artists.
~Spacious~
A unique trait of the house is at 3000 sq feet and without clutter.
There is good sound buffer between the rooms and the neighborhood is quiet. Our guests love the quiet but for those even more sensitive we supply white noise cancelers.
~Clean~
Another feature is the cleanliness. This is an allergy free and chemical free household without clutter. You will not be living amongst other belongings. There is room to relax and everything is easier. Plenty of room to put things away, hang your clothes, breath easy, and feel at home.
~Layout~
Large Living room with Instant fireplace, Italian couch, lounge chair, and lots of space for dancing or lounging.
Dining room with seating for 8 and artistic touches and detail here and through-out the house.
True gourmet Kitchen with gas & induction ranges, 2 ovens (including a speed cooker), big granite island etc. All dishes, wine glasses, pots, pans, waffle maker, rice cooker, crockpot, toaster, Coffee French press, etc. (Kitchen privileges with the agreement to clean up after and good karma with replacing things that you use. This does not include events)

Cozy Kitchen Nook is in the heart of the house with a diner booth.
Theater room with surround sound, giant flat screen led television, Blu-ray player, and streaming Netflix, YouTube, and Pandora. This can also be used as an additional bedroom with a full bed and single bed (125+).
Enjoy all of this from the red Italian reclining couch in front of the French doors leading out to the back yard.
Lulu Room bedroom is a spacious, sunny and private get-away. Your bed is from DWR with a handmade all natural latex mattress with three layers of topper and luxurious organic bedding. Includes mirrored vanity table a la Hollywood, DWR nightstands and full mirror, antique bureau, reading scones, and hanging clothes rack.
In the Lulu Room you have your own Bath en suite with double sink, jacuzzi tub and walk-in shower with dual shower heads. All natural materials of marble, glass, wood and tile under a skylight. Towel warmer and all natural bath products and sumptuous towels.
Note that usually this is the room of the Inn Keepers but this can be requested as an additional room at certain times.
Rising Sun Room has very comfortable Queen size bed, Full spectrum lights, bureau, night-tables, desk, chair, luggage table and closet. All -natural wool carpeting and a bit of a view of Mt Tabor.
Sky Room has a all natural hand made double bed with a latex mattress, bureau, closet, full mirror, shelves, and lots of art. Bright and Festive with nightlight lanterns on the walls.
Sunny and Private Artist Loft is available for your use. This can also be used as an additional bedroom This Large loft space is in the Carriage House separate from the rest of the house. (Bathroom access is in the main house.) There is a Queen bed with a real unfolded mattress and spring slats which is quite comfortable. Other furnishings include a dresser, standing desk, hammock chair, easel and chairs. This space is particularly nice for anyone that needs a bit more privacy and room to spread out.

Main Bath contains wood, ceramic and glass with a big vanity and separate powder room.

Half Bath downstairs with fountain style sink.
~Features~
* 1 Gig High speed wi-fi and hardwired ethernet lines in every room.
*Free domestic long distance phone calls.
*Stereo in Den as well as living room with iPhone and Smartphone connections.
*Outdoor room to backyard- All organic lawn, trees, and landscaping. We have lawn games! Table, chairs, hammock, couch so that you will be outside just as much as in.
*Big front porch on bike route- The only traffic we have are bikes and dog walkers. Friendly neighborhood and neighbors, with gardens galore and lovely for strolling.
*Central Vac for easy and healthy clean up. Instant gas Fireplace for chilly romantic nights.

*Air Conditioning. Almost no one has it but we do, and it sure is nice at times.
~Neighborhood~
Stuff to do in the hood? This is easy to sum up. Anything that you want to go to is in walking distance. Parks, cafes, restaurants, theaters, shops, yoga, dancing, music, banks, kung fu, floating tanks, book stores, festivals, fresh juice, street parties, micro museums, extinct volcanoes, playgrounds, cocktails, gyms, record stores, antiques, jewelry, speak-easy, henna, barbershop, spa, groceries, food carts, cult videos, skateboarding, tennis, etc etc..
Feeling over-whelmed by all the choices of things to do in Portland? Have a cup of tea and meditate with the tropical fish and frogs. However you will first need to choose between 50 types of tea!
Chickens in the chicken run. (This is Portland after all!) Feel free to say hi to Gals.
This is transportation paradise. Portland is all about biking, walking, and taking public transport. After experiencing the ease of access and the delightful places that surround us- many guests want to move here. And some do!
We might be able to rent bikes to you and there are many other options as well. Quick walk to many buses, #14. #15. #75. There are many short-term rental cars close by.
Parking is limited- so lets discuss this.
Since it is not possible to list this under the Airbnb system here is an approximation of rates for many guests under one roof with their private space along with the host( in their rooms and office) with all sharing common spaces. All guests will have sufficient privacy due to the size of the house and amount of common areas to share.
These ballpark rates do not include airbnb fees or taxes, or cleaning fee (depends on # of guests). Amount varies due to which rooms requested, number of guests, hosted or not-hosted, time of year, and duration of stay. Please give us as much information as you can with your request.
To rent the entire Portland Oasis Inn (non-hosted) the daily rate is between $1200 and $1600 depending on holidays and duration of stay.
~How to Be a Delightful Guest~
This home is very unique in that it is the only house of its type for rent in this neighborhood. We want to make sure this is a good fit for your people, so the more detail we have about your family or fellow travelers the better the chances that we can offer this house to you.
This is especially true if you do not have any references or referrals on Airbnb and/or have just joined our community recently. We are very transparent about who we are and this works out great when the same is true about our guests. Please read our reviews(other tabs too) and you will get the picture. We have so many dear friends whom we met first as guests. A key point to remember- this is not a hotel, motel, guest house or even vacation home - it is much much nicer and yet less expensive! How often does that happen?
The way this is possible is through community and trust. Consider if you had folks staying in your home, what would you want to know about them? Imagine that you are staying at your friend's house, how would you care for it? Consider the real costs of a 14 room luxury home and you will realize that this is more than a financial transaction. This is a community of sharing people, which brings amazing benefits to all. Welcome! :)
More details later, or just ask!
Cheers,
Nola
Guest access
This is a previous listing about the whole house. Master Suite (Lulu Room) is available Nov 10-18 only.
This house, secondary building, and property, all for your use during certain dates and is hosted at other times. Due to new Portland regulations, primary dwellings are only available as vacation homes for 3 months out of the year. We will be very clear about whether the house will be hosted or not.
Off street parking. The entire property will be available for your use except for host areas of two rooms, and two storage closets. What is open to guests is front porch, entry, living room, dining room, kitchen booth nook, kitchen, mud room with standing desk area, 1-2.5 bathrooms, outside room, 1-5 bedrooms, (depends on bedroom rental- yoga/art studio and/or theater room), driveway, front/back yards and bike storage in garage.
Interaction with guests
I have been renting spaces for the last ten years and with Airbnb for 4 years. Myself and my staff are available to answer questions as well as do a walk-through to explain where everything is and how to use it. We take pride in a concierge service that goes well beyond and beyond what you have experienced previously.
If you want privacy you got it. If you want interaction, join in. The key is that you are completely welcome to make yourself at home.
When we prepare this house we clear out any clutter, clear out drawers, closets, and create a space that will feel like your home... but cleaner and easier so that you can relax.
Feel free to ask us any questions. :)
The neighborhood
The neighborhood is one of the most interesting and fun and accessible in the entire city of Portland. Anyone considering moving to Portland would be delighted to move to this haven of beauty and things to do. This neighborhood is safe and close to anything that you wish to do or see. If you are coming to Portland, have the real experience by being in this famous neighborhood- Hawthorne/Tabor/Belmont/Division.
Take out the tandem bike for a romantic ride up to Mt Tabor. Or travel to Movie Madness or Slappy Cakes or the Bagdad Theater or Powells Books etc etc.. Easy walking access to some of the best stores and restaurants in the city.
Do some research before you come, however the best way to make the best use of your time is to ask Nola or Raven.
Getting around
You don't need a car. In fact many of our guests rent a car only to abandoned it while they transform into native Portlanders and bike, walk, or bus where they need to go.
Near frequent buses (14, 15, 75 etc) , bike routes, flex car and car-to-go.
We are truly in one of the most walkable and bikable neighborhoods in the country. Easy walk to the hippest spots in town- theaters, cafes, carts, pubs, parks, music venues, restaurants, stores, clubs, yoga/dance studios, groceries, too many to list. Parking on and off of street.
Downtown is very easily bikable and busable or a 10 minute drive but remember the Eastside is where is it usually happens!
Easy drive to Mt Hood, Hood River, and the Coast. (The answer is always "About an hour!")
Cabs are a phone call away. Try the Max, Streetcar, and Tram when you are here.
Other things to note
Most of it is listed above but here are some of the details of this environmental house, some guest responsibilities and some answers to questions we get asked.
First- the Fish and Frogs. (When an UNhosted reservation Guest feeds fish. During Hosted reservation the Inn Keeper does)
Turn on light in the morning. Watch all the swimming and splashing.
Give 2 tiny pinches of fish food and 2 pellets of frog food. Happy fish. Happy frogs.
Every 2 days, give the algae monster an algae wafer so he might come out from under the bridge. (Don't worry- this is clear in context)
At night turn off the light.
Easy!
Chickens (Let's discuss if you will be the Urban Farmer for your stay. :) )
The girls are sweet and funny. Just be sure that they have water and food. Usually once per day (sometimes twice) fill up their food container. Fill up their water. This is especially important in the summer. If you let them out into the run be sure to close them in after so they don't get eaten by raccoons!
The Gals looooove leftovers. You can hand feed them. Yes, they eat meat. They adore pasta and bread. If they don't like your leftovers they will give you a withering look that only chickens are capable of.
You can let them out in the yard as well. Just make sure they are not destroying the landscaping and always put them away when you are done. They are fun to watch them having dust baths as well just being their funny selves. You can start to figure out their personalities. Be kind to them and be sure to supervise children.
During the summer, they lay between 2-6 eggs/day. You will be rewarded for feeding them well and making sure they are hydrated. If you are feeling even more grateful, you can muck out the coop with the shovel and put that fertilizer gold in the big green composter in the neighbors driveway. Now you are a real Urban Farmer!
If you don't wish to partake please tell me but no eggs for you! :p
Ok non-Portland folks. Let's talk recycling. The amount of garbage pick up every other week is that one tiny barrel. If you stay for a week and you use more than a half a barrel you will be charged $10/bag. But fear not! The trick is not to bring garbage into your life and save the planet!
The good news is that the massive green barrel is for compost. That means anything is organic material. Yes, that includes meat, bones, yard waste, left over yogurt, etc. (Not baby poop) Don't disposal food down the drain where it annoys the water treatment folks, instead compost it so that it will be used to grown the roses.
The other good news is that the massive blue barrel is for recycling- paper, cardboard, plastic, metal... (Not plastic bags, facial tissues, garbage!)
If you sort incorrectly you will be banned for Portland forever and ever and ever. Well, actually, no but the Master Recylers will weep. If you look on the top of the barrels there are pictures to tell you what can and can't be put inside.
Lastly, the yellow bucket is for glass.
Have you ever thought so much about garbage in your life? Welcome to the future! :D
Oh, a couple of more things. If you want the paper delivered (The Oregonian) just give me heads up. Available Wed, Friday, Sat, and the huge Sunday paper.
We have stacks of tourist books and maps. These can leave the house but please bring them back.
Other stuff stays in the house. We had only one set of guests that must have had a picnic or something and a bunch of our kitchen stuff went missing. It really bummed us out. So don't be that guest. Instead, use the games, read the books, watch the videos, listen to the music, and cook up a gourmet meal, But leave our stuff at home.
We use an honor code that has usually worked quite well. If you use up stuff, please replace it. Don't be one of those silly people that leaves 1 tablespoon of oil or vodka or coriander. Get some more for the next people and your Karma will soar!
Lastly yet important, if anything is lost, damaged, or soiled, please tell us right away. Guests are responsible for lost, damaged, or soiled things. This means the cost of materials, labor, and staff costs and time. For example damaged sheets would be the cost of replacing the set as well as the time to replace them. It is very rare that we take a deposit. We have found that being proactive is the best solution.
The house is actually quite easy in its simplicity.
But of course any other questions just ask.
NO smoking or pets anywhere on the premises. (besides the chickens and fish)
This is an allergy free house so no fragrances, or clothes with hair or dander on them. Please protect the health of residents and other guests by being conscientious about this rule.
Shoes off inside the house. Keeps chemicals and stuff out of the house.
Things in the house do not leave the house. Much simpler this way. This is our home and keeping things where they below is the best policy.
Turn on the timer fan before you take your shower and again when you are done. Keep toilet cover down when you flush- if you don't believe (website hidden) the study about what happens to your toothbrush when you don't. Keeps Hawthorne Eco-Luxury House a healthy home for all.
Come in from the backyard through the mudroom not through the den. Muddy feet and light wood carpet are an unfortunate combination.
Do not bounce, walk, be hard etc on the furniture. Unprocessed-Italian leather couches do not bounce back after such behavior.
Replace food, alcohol, wine, supplies used with what you used and a little bit more. This is the good karma policy which we have trusted in the past because we believe that people are good.
Lock up when you leave.
After much consideration we have decided that Kids are People too! This means that in the people limit, children are counted as people too.
The reasoning is that a limit or an over limit charge is due to the amount of utilities and the possibility of damages. It is difficult to believe that a 3 year old is less likely to cause damages as an adult or that they do not take baths, or use towels, sheets etc. So for equality sakes all people young and old are counted the same.
Please been honest about who will be staying at the house. There is a fee of $250/day/guest if we have not been told about or agreed to additional guests. We are very upfront and understanding and willing to make a situation work of possible- not just well but wonderfully! :)
Damages and missing items are the responsibility of guests. This includes materials, times, and labor.
Regarding damages- This is a work in progress but one issue is that if a sheet is unable to be cleaned we need to replace the whole set and we need to charge you for this. Please be courteous. Please do not take things or go through our stored belongings. This is a rare problem but when it happens we realized that there are some folks who do not understand how this works. Once again imagine that you are sharing your home and how would you want people to behave.
Most stuff is just common sense as long as you remember that this is our home and not an impersonal hotel. Make yourself at home because it makes us happy for people to enjoy our home as much as we do. We do a level of cleaning, health and safety that far surpasses any hotel because that is what we like for ourselves. So just imagine that you are coming home after someone has stayed in your home and how you would like them to treat it. That's it!
Best,
Nola and Raven
Portland, Oregon, United States
·
Joined in March 2012
Dear Travelers,

It is so much fun watching Portlandia make fun of our beautiful city Portland, as well as its residents. I could say the same about how the show Father Ted made folks really know Ireland- the good, the bad, and the ridiculous.

Well, it is our turn now, and what a great time to live here. There is a Food Renaissance here that is complemented by Art, Tech, Learning, Nature, Sustainability, and some of the friendliest people anywhere.

I am a bit of a stereotype of Portland since I have a business in green rentals as well as being an extremely social, nerdy, outdoors loving, book reading person. And I adore living in Portland and knowing at least a little bit about everything that is going on. What do you want to do?

I have a bunch of Irish influence which makes me a social story-teller who loves guests. I enjoy hosting folks as well as traveling. I have spent time living in Argentina, Mexico, France, and Hawaii. I live in Ireland as well as in the States.

Sharing my home and other properties is my calling. I designed the Taylor house be lovely, healthy, green, and efficient- it's the Sustainable Economist in me. The other properties that I list I have remodeled to be fun and healthy as well. The house in Ireland is on my ancestor's land and I grew up going to this house. I have spent the last two years doing a major remodel and it looks great. La Casita was where I taught Argentine Tango for many years and is quite charming. I also have a house that I rent full time that was featured on the GreenRenter site and is an offical G-Rated environmental home.

A key thing about what I offer as a host is what I am looking for as a guest. I can't stand chain hotels. They can be quite luxurious but they always come across as impersonal. Give me a fun walkable neighborhood that real people live, work and play- and That is where I wish to stay. My properties are unique luxurious spaces that I created for myself, my family and my community that I can also share with you.

One last thing, these are my personal properties so there are no surprises about folks who are subletting through Airbnb. I have a great team (Talia and Anastasia ) who take care of things when I am away, but you can always contact me directly through email with any concerns or questions.

I am a social person so hosting comes naturally to me and I have often had folks staying with me even before AirBnB. Friends stay with me or just toss relations and friends my way to take in. Now thanks to the Share-economy so many things are possible that are community building, sustainable, and amazing.

There are many changes happening with short term rentals and the City of Portland. I am pleased that Portland is seeking a balance between the share-economy and our amazing communities.

Cheers,
Nuala
Owner of the business- Portland Oasis

Response rate:

100%(past 90 days)
Response time:
within an hour
Explore other options in and around Portland
More places to stay in Portland: