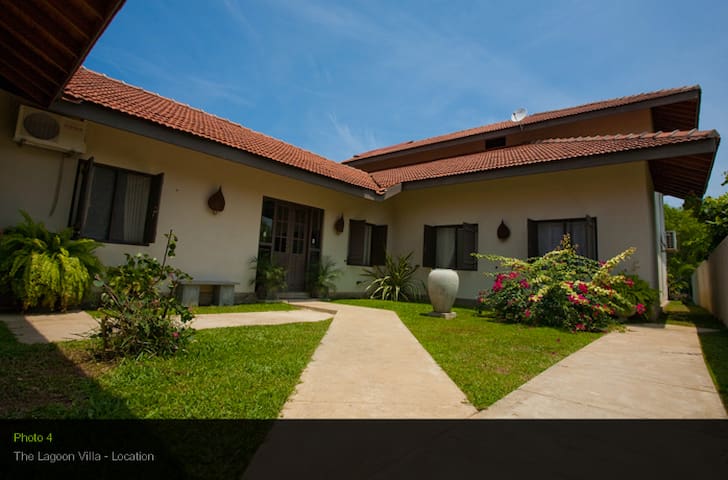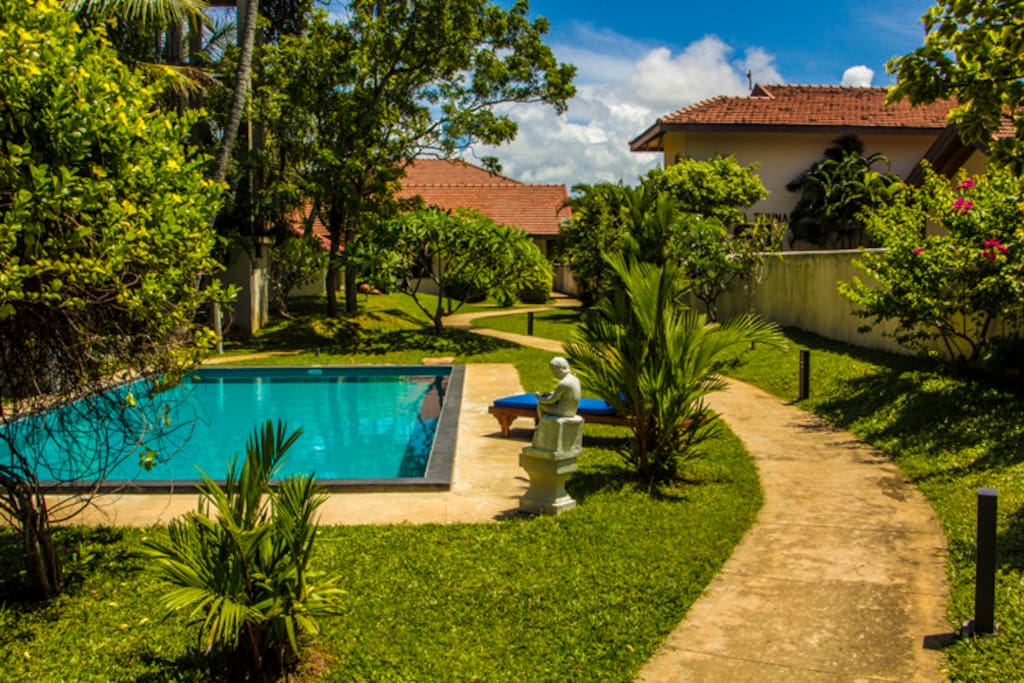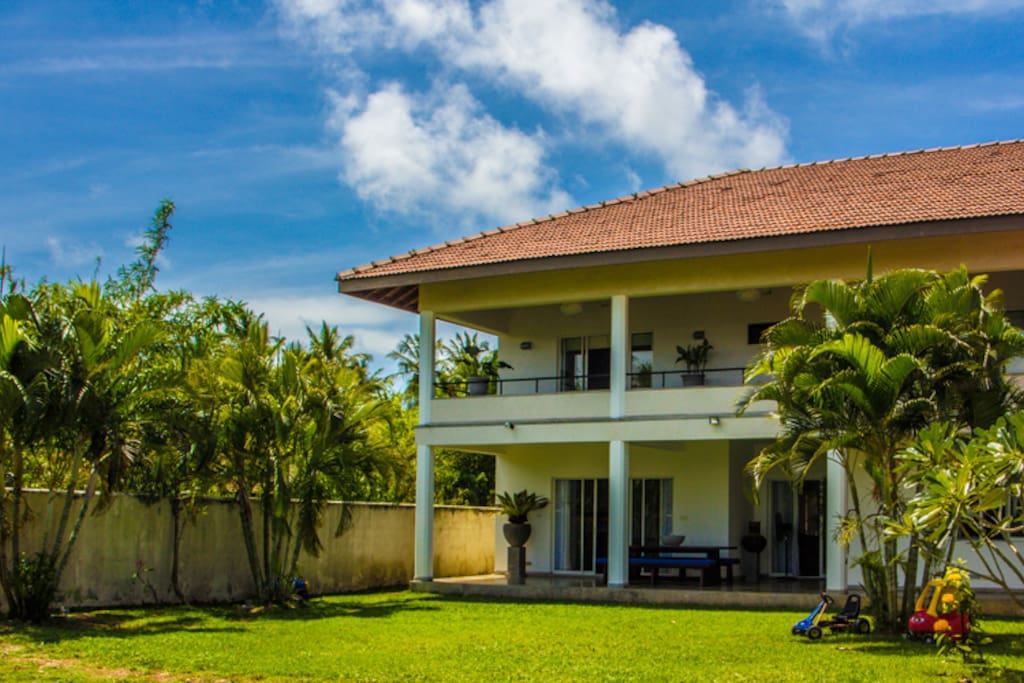 The Lagoon Villa is situated in the famous Negombo lagoon. This extra large, super luxury villa with all the amenities you will ever want. Only 20 minutes from the airport and 45 minutes from Colombo City an ideal place for short or long stay.
The space
This brand new property is approximately 5,000 square feet (450+ square meters) and is built on half an acre land on the lagoon (over 1,500 square meters). The Villa has ample space to entertain and sleep up to eight guests.
•Views:
Wake up early to witness the gorgeous sunrise over of the lagoon filled with different coloured catamarans (fishing boats) returning from local catch. There are plenty of bird life too, competing with the fishermen. The views from the bedrooms, balcony and kitchen are all breathtaking – most of the areas of the property overlooks the lagoon.
•Reception Room:
The villa is spacious with different lounge settings. All with different seating arrangements and aimed at entertaining – ample space to chill out depending on your mood. If that is not enough there are plenty of outside relaxing areas overlooking the lagoon, the pool and the beautiful garden with tropical plants and foliage.
•Bedrooms:
There are three large double bedrooms plus one four poster bed with a total sleeping capacity for 8 persons in comfort. All rooms are fully air conditioned. Each room has built in large wardrobes and dressing area (main ones) and has attached bathroom/toilet. All bathrooms have power shower with hot and cold water.
Swimming Pool with Summer House:
The Villa has a full size well maintained swimming pool – 5 feet deep across the full length. The pool is fully lit up with fiber optic lights at night. If you wish to relax between dips there is a full size summer house. Sun bathing is quiet natural with sun beds around the pool.
FACILITIES
We will be delighted to accommodate any additional requirements you may have. Here's a summary of what is included.
•Entertainment System:
Latest LCD flat panel TV with satellite receiver offering 100+ international channels. The villa is equipped with a DVD player/music systems to keep you entertained throughout the day.
•Internet Facility:
The Villa comes with wireless high speed internet access all around the house and outside.
•Cooking Facility:
The Villa has a fully equipped island style kitchen overlooking the lagoon. This large 600 square feet (55 square meters) kitchen is big enough to entertain large groups who want to engage in the cooking.
Even if you opt for full board option this magnificent kitchen overlooking the lagoon is still yours. As we have separate kitchen and boarding for the chef and butler.

THINGS TO DO
The Villa is an ideal location for all. It is 10 minutes from the entertainment town of Negombo, 20 minutes from the airport and 45 minutes from the Colombo City and yet in a completely quiet and peaceful area. Ideal place to relax and catch that tan! Once you had enough of relaxing there is plenty to do in and around the house.

Being predominantly a Catholic Area, there are many very old charming Churches in Negombo Town and its suburbs. They are worth exploring.
•Bird Watching:
The villa is provided with a field scope mounted on the balcony. From here you can watch all types of birds and get a close up on their fishing techniques.
•Night Life:
There is something special to be said about the night life in Negombo, as there is a lot of fun and partying during nights, mainly along the beach front in the coastal belt where most famous hotels and guest houses are situated. Both tourists and locals get involved in various fun making and social activities to enjoy themselves, taking part in various events such as dancing, singing which make the evenings and nights full of fun, merry and enjoyment.
There are plenty of bars and cafés along the "beach road" with so much variety. We can provide transport to and from the night life area so that you are sure to get home safely after a night of partying!
•Shopping:
The Negombo Town is quite large, consisting of many supermarkets, banks etc. where people can do bargain shopping.
•Sea Food:
Being enclosed by the sea and the lagoon seafood is very popular in this area. Local's daily diet is variety of delicious and fresh seafood – from fresh water fish to prawns to lobsters. You have the option to buy fresh prawns and crabs directly from the fishermen. Depending on the meal arrangement you have chosen you can either cook it yourself in the kitchen or on the BBQ or have it professionally prepared in the way you want. Our resident chef is an expert in seafood and can fuse some of the local and western flavours to give you that ultimate seafood experience.
MEALS
You may hire the Villa on self-catering or full board basis. There is plenty of flexibility and you can mix and match what you want. Even with our self catering options you are always provided with support to ensure you never go hungry!
•Self Catering:
We provide a welcome pack with basic needs that will get you through the arrival. This ensures that you have the basics such as milk, tea, coffee, etc. for the first day.
Our in-house butler is there to get the shopping for you on a daily basis. You write down your shopping list from breads, vegetables, fish to beers and he will obtain them from the local fresh market and delivery it straight to the fridge or the baskets.
The large entertainment style kitchen is fully equipped with everything, such as a 4-burner gas cooker, full sized oven, microwave, toaster, cutlery, crockery, etc. There is also a professional Beef Master gas/coal fired BBQ unit large enough to cook for 10 guests.
•Full Board:
With this option your food will be cooked and served with fresh food with whatever your taste buds may want. Being on the lagoon and sea there is plenty of fresh seafood often straight from the catch and prepared within hours. Everything is included and you can specify the menu you want – our internationally experienced chef can prepare Western, Eastern and of course our own local Asian menus. In order to give you the maximum privacy breakfast will not be prepared by the chef. But we will stock the fridge with all the breakfast items for you to serve yourself.
•Local Cuisine:
There are many eating houses and bars in and around the Villa for you to try out as well. The Jetwing Beach, Jetwing Sea, Jetwing Blue, Jetwing Lagoon and our sister hotel The Beach all suite Hotel, are among the many hotels situated around the Villa if you like to savour more variety!
LOCATION
The Lagoon Villa is situated 20 minutes from Sri Lanka's International Airport. It is located in a village called Thalahena which is 6 km from the famous Negombo Town. We offer airport pick up at USD 30, an airport drop USD 30. This is probably the most convenient and cost effective way to find us.

Guest access
The villa is rented on EXCLUSIVE basis, ie whether there's 2 of you or 10 of you, you get the whole villa for yourself. This is our special offering giving our guests total privacy.
Interaction with guests
The villa comes with its own Butler, pool boy, daily maintenance, etc. Basically you get the same service as a 5* hotel. Linen, towels, etc. are all provided.
Other things to note
Not really except you are guaranteed a 5* experience with total peace and tranquility.
---
---
No smoking inside the villa but outside and balconies are allowed.
No pets please.
---
Overall I would NOT recommend this place. I wish I saw the rating from other sources before I decided to stay here. The villa is located in a residential/village area in Negombo, which is quite far from the center of the city, where the beach, restaurants and most hotels are. So there is nowhere nearby you can dine or drink. The options you would have are 1. you have a driver to take you somewhere, or 2. have the house keeper cook for you. What I like about this place 1. There is a pool which is clean. 2. The house and yards are quite big, good for kids to run around. 3. The caretakers are diligent and stayed up late for our arrival. 4. Good view from the deck over the lake. 5. The owner respond to request timely. Now what I personally dislike: 1. Mosquitos and ants are commonly seen in the house, which might be due to the local hygienic standard and the open floor plan with windows and doors open at most time. However the mosquito net is hung using small wooden rings and consequently the space in the net is very small, like a pyramid. We got tangled with the net all night. My younger daughter woke and cried several times because of this. Besides it is very dusty and smelly, which kept me up at night. And not so strangely, I still got bites. 2. One AC is not working well 3. Low water pressure for one shower head and one tap only has hot water, almost burnt my friend's daughter' hand 4. No one makes up the room 5. I was told there is a chef but it is the caretaker who does the cooking. Therefore he would charge extra Rs. 2000 and 1000 for cooking dinner and breakfast, respectively. While the caretaker is polite, I would not recommend his cooking skill. 6. I was told there is food pack but saw nothing in the fridge. Had to buy everything for breakfast and dinner, including spices and cooking oil. And pay for not-so-good cooking. When I raised my concern, the owner offered one free breakfast, which is nothing compared to what we suffered and I declined. Future users of AirBnB needs to see objective reviews. So two days without good sleep or good food, that is the summary of my stay here. It is not a well-run boutique hotel type of residence. My expectation was higher with the amount of money I paid. My personal view: it is overpriced for the service and condition. 我不推荐这个地方。 优点 1. 大,适合小孩跑来跑去 2. 有干净的游泳池 3. 管家勤劳 4. 二楼景致不错 缺点 1. 离市区远,周围没有任何餐厅 2. 有很多蚊子和(SENSITIVE CONTENTS HIDDEN)。蚊帐很小,很脏,有味道,经常搅在一起,非常影响睡眠。还会被蚊子叮 3. 一个房间空调有问题 4. 一个浴室龙头只有热水,差一点烫伤小孩;淋浴水压小,有一个淋浴头没有热水,完全不能用。 5. 没有人收拾房间和床铺 6. 没有厨师,所谓厨师就是管家,要额外付钱,不推荐其烹饪水平 7. wifi信号有些房间弱 8. 没有准备食物,需要管家临时去买 花了我认为较高的价格,获得了不能满意的服务,两天没有吃好睡好。
---
I am Ravi. Surely you would like to stay at our Villa or the Suite Hotel when visiting Sri Lanka.
Languages:
English
Response rate:
100%
Response time:
within an hour
Explore other options in and around Negombo
More places to stay in Negombo: