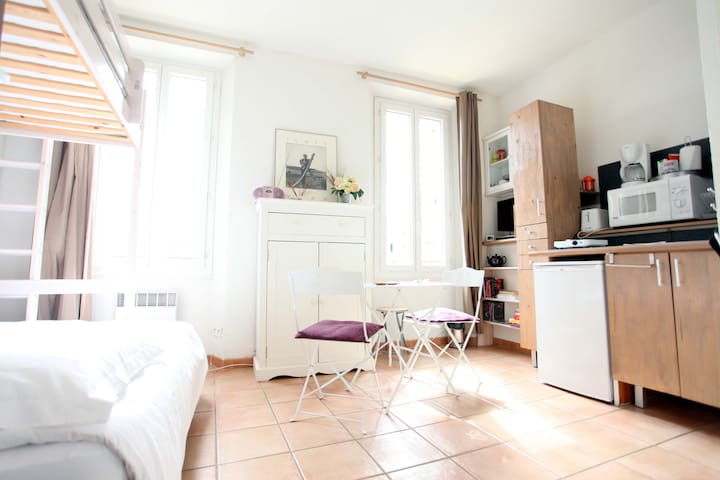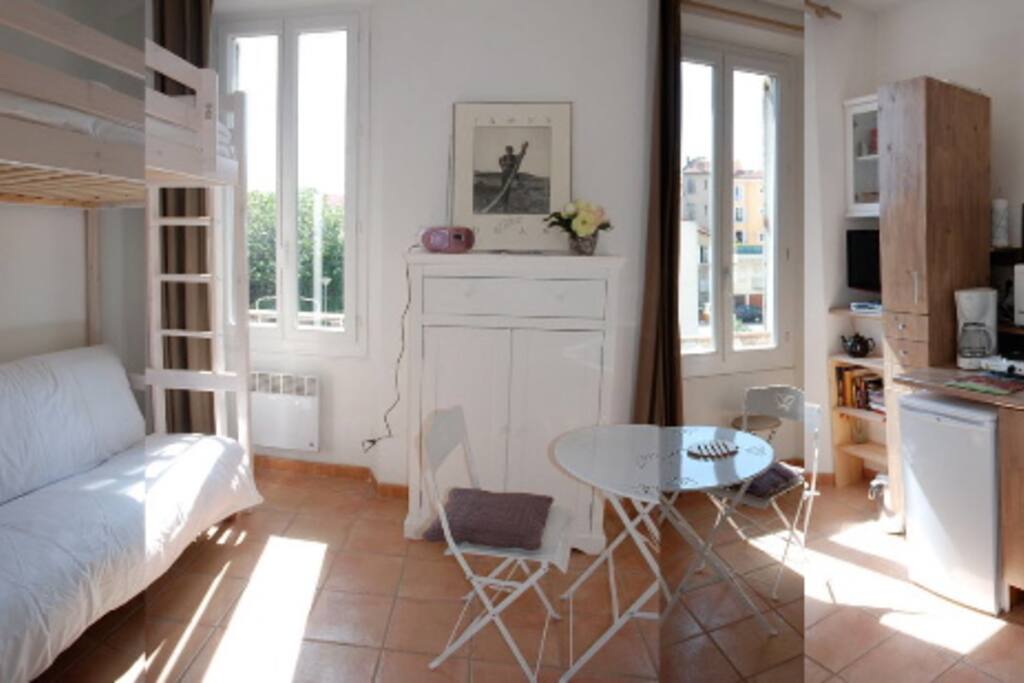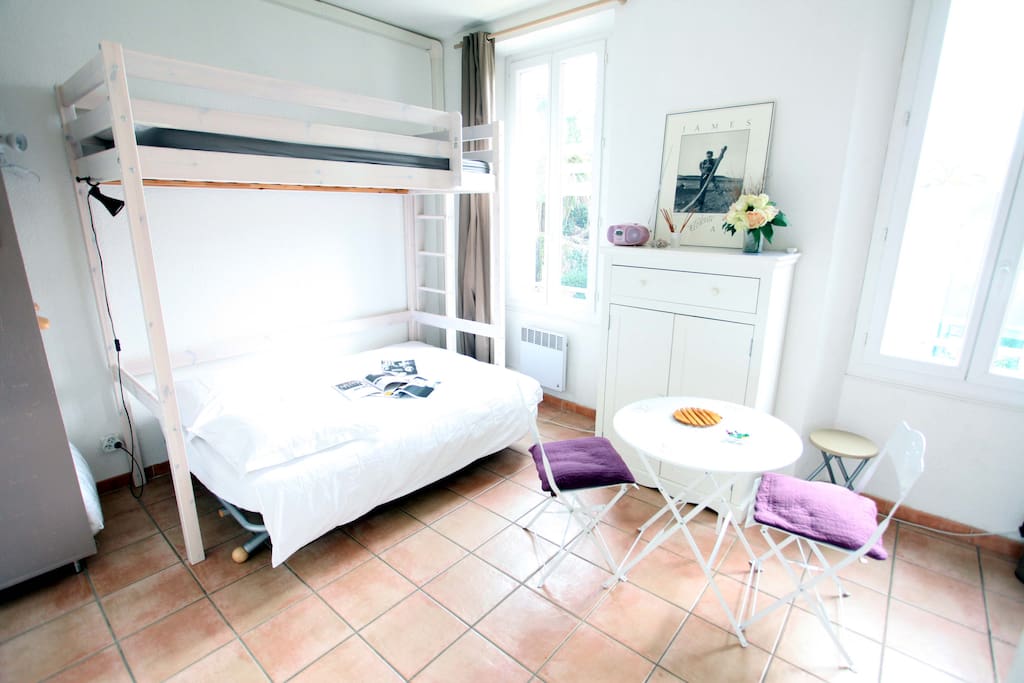 About this listing
The space
CANNES CENTRE STUDIO REPUBLIQUE JAMES DEAN
700 m from the Croisette beaches
AVAILABLE FOR TAX FREE 2012
Rates could be negociated specially for Tax Free. (20>24 oct)

This studio remains available since septembre, off season.
Rates could be negociated specially for Tax Free. (20>24 oct)
Near the Rue d'Antibes, Palais des Festivals and the train station,
700 m from beaches of La Croisette,

This charming studio (20m2), very comfortable air-conditioned,
with WiFi access,
has a kitchenette
(little stove, refrigerator,
microwave, toaster, Nespresso coffee machine ),
a bathroom with shower cabin, toilet and hairdryer,
TV with DVD player, radio CD player
a washing machine,
an ironing board with his iron.
A sofa bed and a single bed on a mezzanine top.
Shops nearby pharmacy,
bakeries, restaurants and snacks,
supermarkets, post office, newspapers.
From the Studio, you can walk in any location in
Cannes: to the trainstation, the Palais des Festivals, restaurants and casinos, the Croisette. (10 ')
Attention, during the congresses, festivals, etc, rates and rules are different.
just ask.
Technical Description:
1st floor (no lift) 20 m2,
conditioning and WiFi access,
double glazing
1 double bed + 1 single bed on a mezzanine top
bathroom shower and toilet
kitchenette with Nespresso machine
washing machine
TV + DVD + CD + radio

During the congresses, rates are variable
see calendar
contact: Chris:
+



DESCRIPTION CANNES CITY

In ancient times, small Mediterranean village of Ligurian fishermen and monks, Cannes has a history inseparable from the legends of Saint-Honorat or of the Man in the Iron Mask, on the Lerins Islands. Cannes is now universally known for its film festival and promenade de la Croisette bordered by palaces. Facing the sea and the heart of the city, it offers the advantages of a single site, with compact human dimensions.
Second convention city after Paris, Cannes is a major global destinations for business tourism.
Cannes is the jewel of the Cote d'Azur (French Riviera)
Sunny city, you'll find all beach recreation: swimming, sailing, windsurfing, boating etc...
City luxury famous names are exposed in the Rue d'Antibes and the Croisette.
Town of fun, you can dining out in delicious local restaurants, playing in casinos, or dancing in nightclubs.
Films for people who enjoy going out to movies theaters, concerts and plays for those who love the live show. Museums for those who love the culture ...
If Cannes is not enough, you can radiate throughout the French Riviera, a few kilometers from Marineland, Nice, Antibes, Grasse.
Why not a cruise that would bring you spending the day in St. Tropez?
And right in front of Cannes, the Lerins islands welcome you for a great day of picnics, beach, just 15 minutes by boat from the islands.
---
Check In: Anytime after 3PM
Room type: Entire home/apt
---
---
Always communicate through Airbnb
To protect your payment, never transfer money or communicate outside of the Airbnb website or app.
Learn more
---
Check in is anytime after 3PM
Bonjour et Bienvenue
Juste quelques mots pour rappeler les bonnes règles de convivialité
de la location de vacances.
Il y a une grande différence entre descendre à l'hôtel pour des vacances, ou louer un appartement à un particulier.
Dans le cas de l'hôtel, vous êtes un voyageur anonyme et vous ne connaissez pas personnellement le propriétaire et parfois pas même le directeur de l'hôtel.
Vous croisez quelques employés, mais parfois vous ne les revoyez pas le lendemain.
Bref, votre séjour est complètement anonyme.
Dans le cas de la location de vacances, et particulièrement dans le cas de la location de mon studio, vous êtes entré en contact direct avec moi, qui suis la propriétaire du bien, vous avez parlé avec moi au téléphone et nous avons échangé des emails.
Vous connaissez mon nom, mon adresse, mon numéro de téléphone personnel, et je connais votre nom, votre adresse et votre téléphone personnel.
Votre séjour se fera donc sur des bases relationnelles complètement différentes.
J'ai préparé le studio pour vous avec beaucoup de soin.
J'ai veillé à ce qu'il soit propre et accueillant, et que tout soit en bon état de marche.
J'ai préparé des petites délicatesses à votre attention, comme prévoir une du café et du thé pour votre arrivée, du sucre, du sel, de l'huile d'olive, du papier pour les toilettes, des petits bonbons pour vos enfants, afin que vous puissiez vous sentir à l'aise dès le premier jour.
J'ai fait toutes ces petites choses car j'ai envie que vous soyez bien lors de votre séjour chez moi. A l'aise et heureux de votre expérience à Cannes. Mon désir est que vous vous sentiez comme chez vous dans mon studio.
Bien sûr en retour, cela demandera de votre part une délicatesse d'attention que vous n'avez pas besoin de fournir si vous êtes à l'hôtel.
Personnellement, je pars souvent en vacances en louant des appartements avec toute ma famille,
et bien que le ménage de départ est compris dans le prix que j'ai payé, je veille toujours à laisser les lieux dans un état de propreté correcte. Sans faire le ménage à fond, bien sûr, je sors mes poubelles, je défais les lits, je nettoie lavabo, évier, et toilettes.
Par exemple, avant votre départ, vous pouvez veiller à faire certains gestes, comme:
- sortir les poubelles
- laver votre vaisselle sale,
- sortir ce qui est dans le micro-onde
- laisser dans un état de propreté acceptable: lavabo, évier et toilettes.
Bien sûr il y a une femme de ménage qui va venir nettoyer et préparer le studio afin qu'il soit pour le locataire suivant aussi propre et agréable que vous l'avez trouvé à votre arrivée.
Mais la femme de ménage est aussi un être humain.
L'état dans lequel vous laisserez les lieux lui montrera justement votre respect. (pour vous et pour elle)
De plus, je vous demanderai de veiller à ne pas emporter par distraction:
- les 3 télécommandes (TV, DVD, et CLIM)
- les 2 petites couvertures.
Vous pouvez m'appeler pour tout renseignement supplémentaire concernant le studio ou les activités cannoises. (+(PHONE NUMBER HIDDEN). Je suis à votre disposition.
Je vous souhaite un excellent séjour dans mon studio
et de merveilleuses vacances à Cannes.
(EMAIL HIDDEN)
RULES Manners
Hello and Welcome
Just a quick reminder of the rules of good usability of the holiday rental.
There is a big difference between staying at the hotel for a vacation, or renting an individual apartment.
In the case of the hotel, you are an anonymous traveler and you do not personally know the owner and sometimes not even the hotel manager.
You cross a few employees, but sometimes you do not re-see them the next day.
Your staying is completely anonymous.
In the case of rental, and particularly in the case of renting my studio, you had a direct contact with me, who am the owner of the property, you spoke with me on the phone and we exchanged emails.
You know my name, my address, telephone number, and I know your name, your address and personal phone.
So, your staying will in a completely different relational databases.
I prepared the studio to you very carefully.
I made sure it is clean and welcoming, and everything is in good working order.
I prepared some little delicacies to your attention, as providing a water bottle, some coffee and tea for your arrival, sugar, salt, olive oil, paper for the toilets, small candies for your children, so you can feel comfortable from your first day.
I have done all these things because I want you to be feeling good like when you stay at home. I would you comfortable and happy with your experience at Cannes. My desire is that you feel at home in my studio.
Of course in return, it will require from you a delicacy of attention, that, if you are at the hôtel, you do not need to provide
Personally, I often go on vacation by renting apartments with my family, and even if the cleaning is included in the price I paid, I always watch to leave the premises in a proper state of cleanliness. Without cleaning thoroughly, of course, but I get out my garbage, I undo the beds, and I do a fast cleaning of toilets, kitchen sink and bathroom sink.
For example, before you leave, you can make sure about certain things, like:
- Take out the garbage.
- Wash your dirty dishes,
- Take out things are in the microwave
- Left in a clean condition acceptable: sinks and toilets.
Of course there is a housekeeper maid who will come cleaning and preparing the studio for the next tenant ( to it can be as clean and nice as you found it on your arrival).
But the maid is also a human being.
The state in which you will leave the place just show her your respect (for you as for her).
In addition, I ask you taking care not to take with you inadvertently:
- The three remote controls (TV, DVD, and CLIM)
- The two blankets.
You can call me for additional information about the studio or activities in Cannes when you need, I am at your disposal. (+(PHONE NUMBER HIDDEN)
I wish you a pleasant stay in my studio and wonderful holidays in Cannes.
(EMAIL HIDDEN)
ПРАВИЛА Манеры
Здравствуйте и добро пожаловать
Только быстрое напоминание о правилах хорошего юзабилити
в отпуск.
Существует большая разница между проводы в отель для отдыха или снять квартиру на человека.
В случае с отелем, Вы анонимный путешественник и вы лично не знаю владельца, а иногда даже не с менеджером гостиницы.
Вы пересекаете несколько сотрудников, но иногда вы не вернуться на следующий день.
Ваше пребывание является полностью анонимным.
В случае аренды, и в частности, в случае аренды студии, вы пришли в прямой контакт со мной, кто есть собственник, вы говорили со мной по телефону, и мы обменялись электронной почте .
Ты знаешь мое имя, мой адрес, номер телефона, и я знаю ваше имя, адрес и домашний телефон.
Ваше пребывание будет поэтому совершенно разных реляционных баз данных.
Я готовился в студию, чтобы вы очень внимательно.
Я уверен, что это чистый и уютный, и все, что находится в хорошем рабочем состоянии.
Я подготовил несколько маленьких деликатесов вашему вниманию, как обеспечение водой бутылку, немного чая и кофе к Вашему приезду, сахар, соль, оливковое масло, бумага для туалета, небольшие конфеты для детей, так что вы можете чувствовать себя свободно с первого дня.
Я сделал все эти вещи, потому что я хочу, чтобы вы были хороши, когда вы остаетесь дома. Удобные и довольны своим опытом в Каннах. Мое желание в том, что вы чувствовали себя как дома в моей студии.
Конечно, в свою очередь, это потребует от вас тонкости внимания не нужно предоставить, если вы в отеле.
Лично я часто езжу в отпуск по аренде квартир с моей семьей,
и в то время как уборка включена в цену, которую я заплатил, я всегда смотрю, чтобы покинуть помещение в надлежащем состоянии чистоты. Без очистки тщательно, я, конечно, оставить свой мусор, я отменить кровати, я чистый туалет, раковина и туалет.
Например, прежде чем уехать, вы можете убедиться, что некоторые вещи, как:
- Возьмите мусор
- Мойте грязную посуду,
- Что в микроволновой
- Оставшись в чистом состоянии приемлемым: раковина, туалет и раковина.
Конечно, есть домработница, которые придут чистые и подготовить студию, чтобы быть на следующий арендатор, как чисто и красиво, как вы нашли его по прибытии.
Но служанка также человека.
Состояние, в котором вы оставляете место только показать ему свое уважение. (Для вас и для нее)
Кроме того, я прошу вас позаботиться, чтобы случайно не:
- Три пульта дистанционного управления (TV, DVD, и Клим)
- Два одеяла.
Вы можете позвонить мне дополнительную информацию о деятельности студии или в Каннах. (+(PHONE NUMBER HIDDEN). Я в вашем распоряжении.
Желаю вам приятного пребывания в моей студии
и прекрасный отдых в Каннах.
(EMAIL HIDDEN)

REGOLE maniere
Ciao e Benvenuto
Solo un rapido promemoria delle regole di una buona usabilità
dell'appartamento per le vacanze.
C'è una grande differenza tra fuori all'hotel per una vacanza, o di affittare un appartamento ad un individuo.
Nel caso dell'hotel, sei un viaggiatore anonimo e non conosco personalmente il proprietario e talvolta nemmeno il gestore dell'hotel.
Si attraversano alcuni impiegati, ma a volte non rivisitare il giorno successivo.
Il vostro soggiorno è completamente anonimo.
In caso di noleggio, e in particolare nel caso di noleggio il mio studio, siete venuti in contatto diretto con me, che sono il proprietario della proprietà, ha parlato con me al telefono e ci siamo scambiati e-mail .
Sai il mio nome, il mio indirizzo, numero di telefono, e so che il telefono nome, indirizzo e casa.
Il vostro soggiorno sarà database relazionali quindi completamente differenti.
Ho preparato lo studio a voi con molta attenzione.
Ho fatto in modo che sia pulito e accogliente, e tutto è in buono stato.
Ho preparato alcune piccole delizie alla vostra attenzione, a fornire una bottiglia d'acqua, un po 'di caffè e tè per il vostro arrivo, zucchero, sale, olio, carta per la toilette, caramelle per i vostri bambini piccoli, in modo da poter sentire a proprio agio fin dal primo giorno.
Ho fatto tutte queste cose perché voglio che tu sia buono quando si stare a casa. Un confortevole e felice con la tua esperienza a Cannes. Il mio desiderio è che vi sentirete a casa nel mio studio.
Naturalmente in cambio, sarà necessario da voi una delicatezza di attenzione non è necessario fornire se si è in hotel.
Personalmente, vado spesso in vacanza affittando appartamenti con la mia famiglia,
e mentre la pulizia è incluso nel prezzo che ho pagato, ho sempre guardare a lasciare i locali in buone condizioni di pulizia. Senza la pulizia a fondo, naturalmente, lascio la mia immondizia, io sciolgo i letti, I servizi igienici puliti, lavandino e wc.
Ad esempio, prima di partire, è possibile assicurarsi che certe cose, come:
- Togliere la spazzatura
- Lavare i piatti sporchi,
- Qual è nel forno a microonde
- Lasciato in buono stato di pulizia accettabile: lavabo, wc e lavandino.
Naturalmente c'è una governante che verrà pulita e preparare lo studio di essere per il prossimo inquilino più pulito e bello come lo avete trovato al vostro arrivo.
Ma la cameriera è anche un essere umano.
Lo stato in cui si lascia il posto solo per lui mostrare il vostro rispetto. (Per te e per lei)
Inoltre, vi chiedo di prestare attenzione a non inavvertitamente:
- I tre telecomandi (TV, DVD e CLIM)
- Le due coperte.
È possibile chiamare me per ulteriori informazioni per lo studio o attività a Cannes.
o(+(PHONE NUMBER HIDDEN). Sono a vostra disposizione.
Vi auguro un piacevole soggiorno nel mio studio
e una meravigliosa vacanza a Cannes.
(EMAIL HIDDEN)

REGLAS Modales
Hola y bienvenida
Sólo un rápido recordatorio de las reglas de la buena usabilidad
del apartamento de vacaciones.
Hay una gran diferencia entre el descuento en el hotel para unas vacaciones, o alquilar un apartamento a un individuo.
En el caso del hotel, usted es un viajero anónimo y usted no conoce personalmente al propietario y, a veces ni siquiera el gerente del hotel.
Se cruza unos pocos empleados, pero a veces no volver al día siguiente.
Su estancia es completamente anónima.
En el caso de alquiler, y en particular en el caso de alquiler de mi estudio, que han entrado en contacto directo conmigo, que soy el dueño de la propiedad, con la que habló conmigo por teléfono e intercambiamos mensajes de correo electrónico .
Usted sabe mi nombre, mi dirección, número de teléfono, y sé que el teléfono nombre, dirección y hogar.
Su estancia será por lo tanto, bases de datos relacionales completamente diferentes.
Que preparó el estudio para que con mucho cuidado.
Me aseguré de que esté limpio y acogedor, y todo está en buen estado de funcionamiento.
Me preparé algunos platos pequeños para su atención, ya que proporciona una botella de agua, un poco de café y té para su llegada, azúcar, sal, aceite de oliva, papel para el baño, pequeños dulces para sus hijos, para que pueda sentirse a gusto desde el primer día.
He hecho todas estas cosas porque yo quiero que seas bueno cuando te quedas en casa. Una. Cómoda y feliz con su experiencia en Cannes Mi deseo es que usted se sienta como en casa en mi estudio.
Por supuesto, en cambio, se requerirá de usted un manjar de la atención que usted no tiene que proporcionar si usted está en el hotel.
Personalmente, a menudo van de vacaciones por el alquiler de apartamentos con mi familia,
y mientras que la limpieza está incluido en el precio que pagamos, siempre veo al salir de las instalaciones en un estado adecuado de limpieza. Sin la limpieza a fondo, por supuesto, les dejo mi basura, puedo deshacer la cama, me baño limpio, lavabo e inodoro.
Por ejemplo, antes de salir, usted puede asegurarse de que ciertas cosas, como:
- Sacar la basura
- Lave los platos,
- ¿Qué es en el microondas
- A la izquierda en un estado de limpieza aceptable: lavabo, inodoro y lavabo.
Por supuesto que es un ama de casa que va a venir limpio y preparar el estudio que para el próximo inquilino tan limpio y bonito como que lo haya encontrado a su llegada.
Sin embargo, la limpieza es también un ser humano.
El estado en el que dejar el lugar justo mostrarle su respeto. (Para ti y para ella)
Además, le pido que tenga cuidado de no darse cuenta:
- Los tres mandos a distancia (TV, DVD, y CLIM)
- Las dos mantas.
Usted me puede llamar para obtener información adicional sobre el estudio o las actividades en Cannes. (+(PHONE NUMBER HIDDEN). Estoy a su disposición.
Les deseo una estancia agradable en mi estudio
y de unas maravillosas vacaciones en Cannes.
(EMAIL HIDDEN)
---
Strict
Cancel up to 7 days before your trip and get a 50% refund plus service fees back.
---
---
Exact location information is provided after a booking is confirmed.
Chris was amazing!!! She was quick to reply to my many questions. She met us at the door (even carried my daughter's very heavy suitcase up the stairs). We had a few questions about things we had to do in Cannes...Chris helped us figure out where we needed to go and how to get there. The apartment itself was exactly as described and suited our purposes to a T. If I had a complaint, it would be that the next door neighbors were very noisy. (That has nothing to do with Chris). The neighborhood was great! Very close walking to the town center. I would highly recommend this apartment!!
---
Chris is a wonderful host who made us feel very welcome when we arrived. The studio is great and is exactly like the photos. In the studio we found everything we needed for a comfortable stay and even more:) A supermarket, a nice bakery, a pub and lots of small cafes are at hand. You can easily get to the beach on foot. The walk to the port and the old town won't take long too. We would definitely choose the studio again for our next holiday. Highly recommend ed!
---
It's a really nice studio with a little touch of provence style. Centrally located - 5 min to the shopping street, 10 min to the beach. We haven't met Chris but her housekeeper was welcoming us at the arrival. The apartment is clean and has all you need for cooking. Thank you very much, Chris for sharing your place!
---
Chris was very welcoming and flexible as to meeting me, which was a big help as my arrival time was a little unpredictable. The apartment is small but was fine for what we needed, and the description was accurate so we know what to expect. The apartment is in a good location only 10 minutes from the Croisette.
---
Cannes, France

·

Joined in March 2011
Nous sommes 4 dans la famille, les parents, et nos 2 enfants, 13 ans et 15 ans.
J'aime recevoir et faire plaisir aux personnes qui louent mes studios.
Je connais bien Cannes et je peux répondre à vos demandes particulières pour une adresse ou un lieu précis.
Mes studios sont propres et bien entretenus.
J'aime lire, le cinéma, les restaurants japonais, italiens, et bios.
Vous trouverez dans mes studios quelques DVD, quelques livres,
des adresses de restaus et de lieux à visiter dans la région,
et quelques ingrédients de base nécessaires pour vous dépanner en cuisine le premier jour:
thé, café, sucre, eau minérale, huile d'olive et vinaigre balsamique, sel et poivre...

Response rate:
100%
Response time:
within an hour
Explore other options in and around Cannes
More places to stay in Cannes: