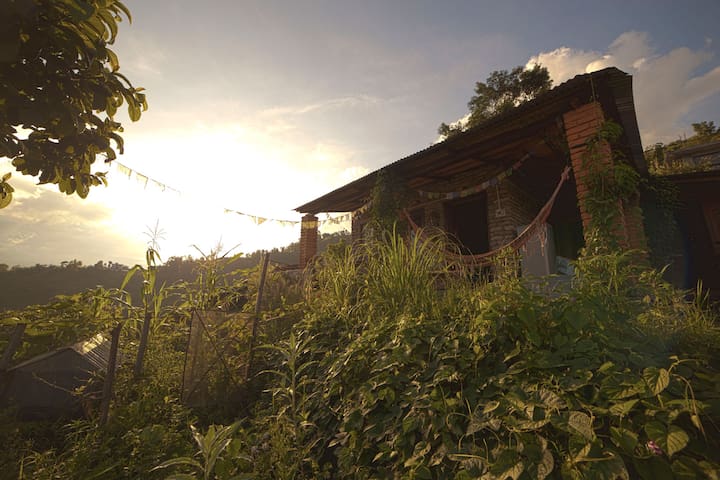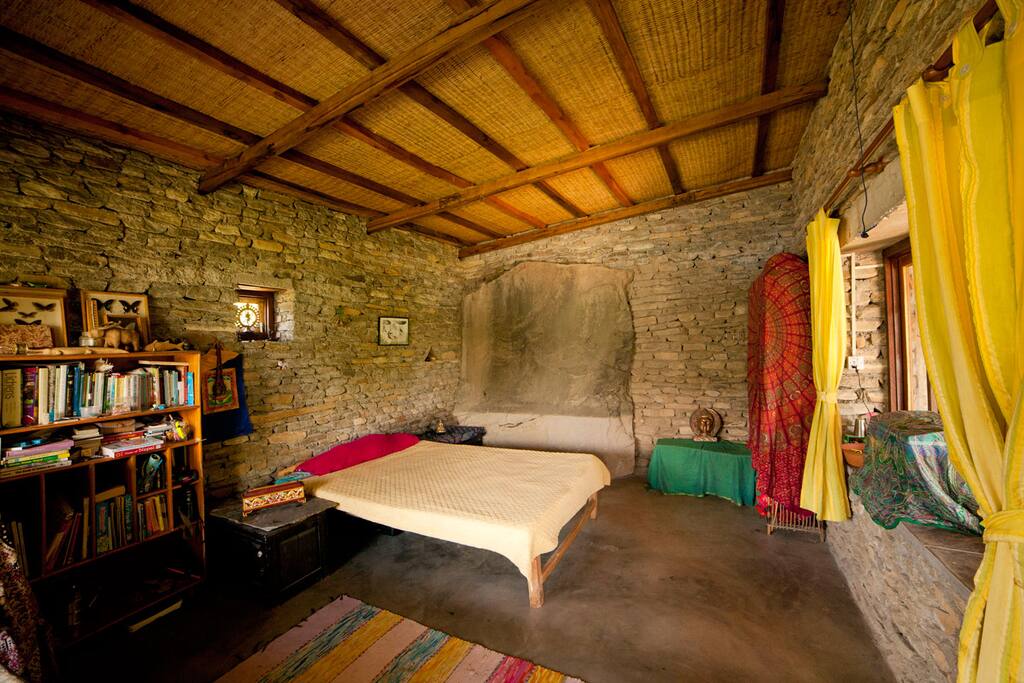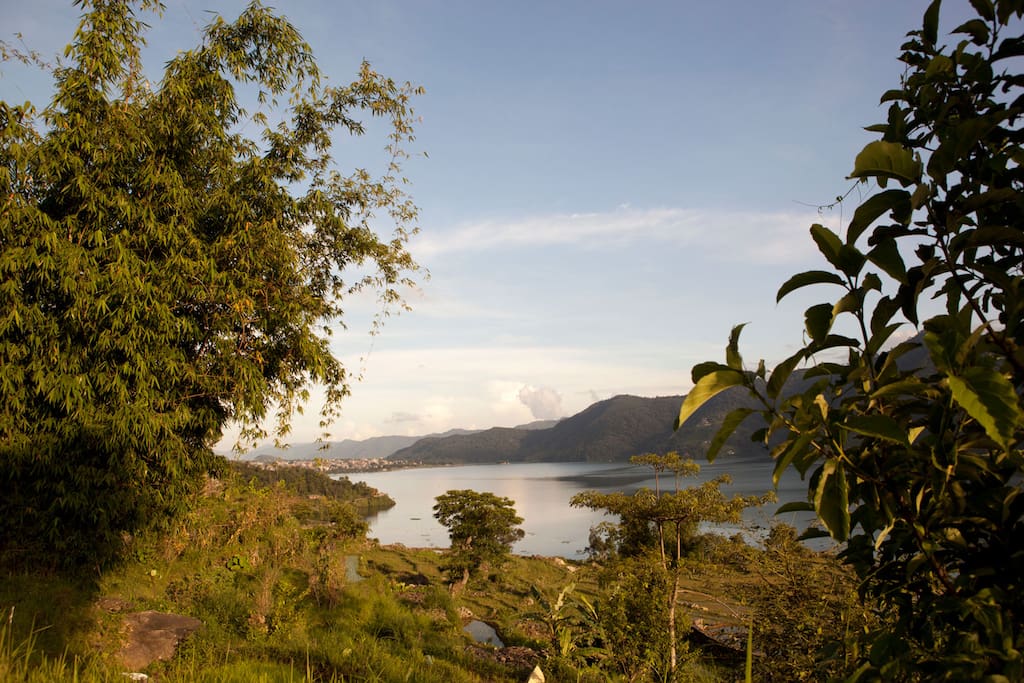 Welcome to this unique get-away in a natural paradise. Here you can rest immersed in peace & calm, with epic views of the lake. The large secluded bedroom is built around a huge ancient rock. We're 3km from Pokhara (aka Gateway to the Himalaya).
The space
A getaway from hectic lifestyles, fast technology, city-life and work. Come enjoy the back-to-basics feel of this space, commune with nature and rediscover the paradise of a simple lifestyle. It's a perfect retreat for couples, writers, artists or musicians who would like an inspiring, creative space to work on a project (also great for meditation, yoga & healing practices).
The enormous bedroom has a rustic feel, in part because it was constructed around a gigantic rock carried down from the Himalaya thousands of years ago. The home was hand-built using local craftsman in a traditional style, with the addition of huge windows overlooking the lake and surrounding hills. (Note: another single bed can be added for a child at no extra cost.)
Our favorite part of the home, where we spend most time is on the veranda - the highlight is the hammock! It's cliched to say the views are breath-taking, so let's say they are breath-giving: let the Himalayan air rejuvenate your body, mind and spirit.
The private kitchen is equipped with a double gas hob, mini-fridge, pots, pans & other basic utensils. There's often the option of buying fresh buffalo milk and curd from the neighbors. Other neighbors can deliver organic, seasonable vegetables for the kitchen. Running water comes fresh from a nearby spring, carrying the goodness of Himalayan minerals (however if you would prefer to drink bottled water, this can also be arranged. There is also a water filter!). Many organic vegetables and herbs grow in the garden & you are welcome to respectfully help yourself to what is available (you can see some examples from monsoon season in the photos).
The private bathroom has a western toilet and hot shower (from gas).
This home is the perfect distance from Pokhara lakeside. The 3km trip can be enjoyed as a walk along the lake passing through villages, or scooters, motorbikes and bicycles can also be arranged in the village.

Fantastic local restaurant serving fresh, delicious Nepali & Western food 400m (around 10 minutes walk) from home.
This is an exotic experience to remember forever!
Attention please: in our place there are many frogs and insects, as fire flies, butterflies, big spiders too! Please note the name Nature Home Retreat is a nature home, as the name says!
Guest access
Private home, including: bedroom, bathroom, kitchen, veranda & garden.
Interaction with guests
Depending on the season, sometimes our family will be in a nearby house, other times we will be overseas. When we are away, there is our dedicated, friendly neighbor, Hamilton, an american married to a true nepali himalayan yogini, Devika, who's is teaching yoga in Pokhara since 18 years, and who's happy to welcome everyone arriving at our home. (Hamilton and Devika started the project to build one yoga hall and yoga camp, only one minute walk from our home! We have bought this land together and divided in two parts) There is also an employed to help out with anything you need in the house, just need one call and she comes.
Other things to note
***Important information about our home***
- The home is accessed by an uphill jeep track through local fields. The trail is a 50m climb - a substantial 5-10 minute hike. Please let us know at time of booking, if you travel with a lot of luggage so we can organize a porter to carry your things up to the house. When returning/leaving the house at night, a flashlight is essential.
- The local villagers love meeting foreigners and may talk to you in Nepali. You can reply with the universal language of smiling!
- This is back to basics, adventurous & exotic accommodation.
- There is a pond on the property. If you are visiting with a young child, let us know in advance so the pond can be covered.
***Important information to know if you've never visited Nepal before***
- Water is a scarce commodity & should be conserved (unless you visit during monsoon season, where it's in abundance!)
- In Nepal each day & night, there is often no electricity for several hours. There is a load-shedding schedule which will give you a rough outline of when to expect power. We provide you with a light which can be charged and used when the power is out. Candles also bring a romantic and cosy feel to the home! It's great to use this time to slow down, listen to the nature and leave behind the modern world!
- The roads around Pokhara are more like jeep trails.
*** information about internet at the home***
Yes, it is possible to have internet at the home. If you have a Samsung smartphone, you can use wi-fi hotspot, and recharge it as you need.
There is also option to iPhone, but then will you need one expert to program it for you.
We normally use the Samsung, as it is already coming with the wi-fi hotspot program, just to click and you can connect everywhere.
It is also available in the city some key with pre-paid internet that you can connect to your laptop.
In general, in Nepal, you can not find fast internet connection. It's ok, if you don't need to work with very heavy files.
***Information about the groceries at home***
For the groceries at home, most is organic and from local production. Almost all the vegetables we consume the neighbors bring it to our home - as they know we like to buy organic food, so they just drop by. In addition, every morning (around 9 to 10am), in the road down by the lake (about 300m), there is a cycle ricksha
passing selling fresh vegetables, as well in the afternoon around 4 to 5pm.
Also we have fresh buffalo milk every morning and evenings, as well butter and yogurt, delivery at home. Even the bread we have many
options of bakeries not so far, and there is a french bakery making delivery depending of the period of the year!
There is plenty of stores at Lake Side (3km), the main tourist area, where you can find all what you need. And if you need something very special, you can also go to the city (+/-7km), where there are quite big supermarkets.
We use to bring it home by jeep, if necessary, or motorbike (or by taxi and then 10min carring on backpack, if not too heavy). Otherwise, there will be always a option of dropping it at the restaurant Duna Tapari and ask the staff or someone to bring it to you. Anyone in Nepal, would be happy to bring it to you for only few rupees (...the minimum salary in Nepal is 70US$/ per month)
What is amazing here is that we have so little production of garbage, the notion of consummation is very different (such a contrast when we are in Europe or America).
****Information about security***:
For security, you really don't need to worry about this area. Happy village is a very safe place, all neighbors are farmers, they all have buffalos and live like they lived 100 years ago (some still cooking with wood), very innocent and beautiful people. There is no attack of any kind in this area, except fox eating chickens or leopards eating goats!
It is a privilege that still it can be so pure and so near to the tourist area, just the perfect distance.
The road/ trail to come home (about 300m) is really a delight, all the way long does not feel far when we are surrounded with such amazing views -specially for nature
lovers!
***Information about flights to Nepal***
For best rates, check AirAsia flights, by Bangkok or Kuala Lumpur. Also by Istambul (Turkey) you can find direct flights, best rates with Turkish Airlines and AirArabia.
Also if you like pick-up service in the Airport, in Pokhara, please, let us know.
Always communicate through Airbnb
To protect your payment, never transfer money or communicate outside of the Airbnb website or app.
Check-in time is 12PM (noon) - 4PM
* Please smoke outside on the veranda area & clean up the cigarette ends.
* Respect & enjoy the nature & local customs.
* Clean up after cooking & store food inside fridge, cupboard or storage containers (or it will attract pests).
Our stay at Mikti's place was nothing short of incredible. The location is secluded and was the expected 1/4 mile hike up but the views were stunning. The porch was an amazing spot to relax unwind, admire the beauty of Nepal and watch locals tend their rice fields. We rented a scooter from Rishi which was a easy and great way to bop around, go to town, visit stupas and reach other hiking areas. Be aware that you will likely not have power for a good part of your stay. This is really no problem as long as you bring some candles with you. In fact, the candles only highlighted the experience. Make sure to get some fresh veggies from Laxman. They are so fresh and tasty. If you have time go and visit his farm. He and his family are simply lovely.
---
Wonderful home and a beautiful, peaceful space to get some writing done or just to get away from the bustle of Nepal's cities and towns. The house is even nicer than the pictures/description and was far less "rustic" than I expected. Comfy bed, nice little kitchen, great hammock, and lots of places to read and write. And only a short walk from a number of local restaurants. David (Mukti's husband) and Rishi (the property manager) were hospitable and helpful, and I can't say enough good things about my two weeks here!
---
I had a great time at Muktis place. It's nestled in the mountains with an INCREDIBLE view of Phewa lake. Since it's the monsoon season the village is very active, especially the farmers and water buffalos working on the rice paddies. However The location is very peaceful. The room is spacious. The shower works great, always had warm water. The kitchen had whatever you need for cooking. The house manager Rishi and his family were extremely helpful !!! They went above and beyond whenever there was an issue at Muktis. They were excellent at helping with small and big request that I would have.
---
I had a wonderful time staying here. It was beautifully rustic, and a great village experience. The neighbors are incredible. Probably the best Thai food in Nepal is a short walk away. The view of the lake, the stars, and the paragliders are all quite beautiful. And oh, the lovely, lovely hammock.... I'd definitely go back! Thanks for the great stay!
---
This place was an amazing and unique experience! The view from the deck is out of this world! The sunsets are truly inspiring, as you can watch the birds migrate across phewa lake and the fisherman heading back home in there canoes from above! Not to mention your at eye level with the hundreds of para gliders cruising down from the top of a near by mountain. I was there for 4 weeks and I was very happy. Mutki and her family are the nicest people you will ever meet, and there neighbor Hamilton is a great guy as well. The house is in an area called happy village, which is about 10 minute drive from the main part of pokhara, and much much cooler than the main part. It is very laid back with great restaurants lined alone the lake. There is also a great restaurant called bar piple, down the road from the house, that serves incredible curry and Dahl bhat, which they will deliver it to your door hot! I basically had curry delivery almost every night for 4 weeks. The local farmers will just stop by and bring you very tasty eggs, vegetables and buffaloes milk, for a very cheap price. I was there to do some work, and I just turned the deck into my office which worked perfectly. The kitchen is well equipped for anything you may need to cook and the bathroom has very hot water for the shower which is not always the case in nepal. You can get wifi although I never did. It was very nice to disconnect from everything there. I highly recommend this place to anyone who wants a real experience in nepal, away from the tourist trap but still close enough if you want to get your fix at any of the lakeside places. I sure I will be back when I need to disconnect from the world again!
---
We are a Global Family! I, Mukti (but the locals call me Sundari) am from Brazil, my husband, David, is Swiss-French. Our daughter has grown up in Pokhara, Nepal with holidays in South America, around Asia & Europe) and our son was recently born in Thailand.

Because our daughter is now old enough to go to school, we will be going overseas & renting out the beautiful home we designed & built in Pokhara.

David & I have lived in Pokhara for 10 years. David began paragliding here 12 years ago & soon set up Blue Sky Paragliding, together with his Nepali partner, to share the joy of flying with others! It was the second company in Nepal to offer tandem flights!

Next to our home, we help the project of the Himalayan Yogini Yoga Camp, where you can also combine yoga classes with nature - in less than one minute walk! Devika, yoga teacher, and Hamilton, her husband from Colorado, are some of our special friends and welcome everyone arriving home when we are overseas.

Languages:
English, Español, Français, Português
Response rate:
90%
Response time:
within a day
Explore other options in and around Pokhara
More places to stay in Pokhara: