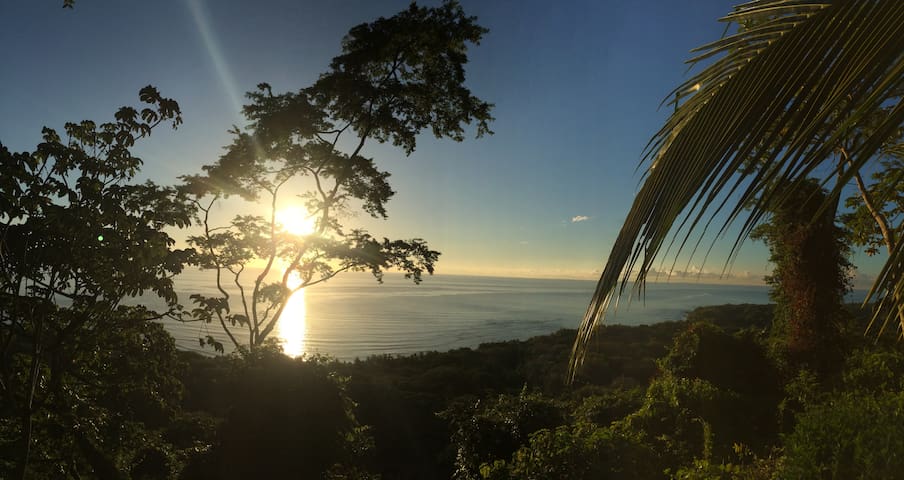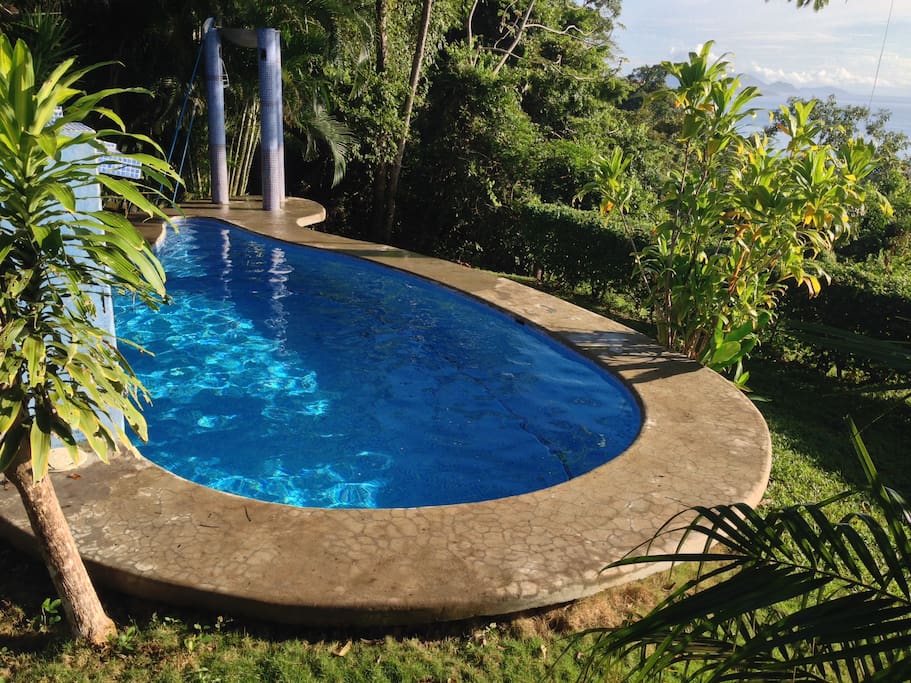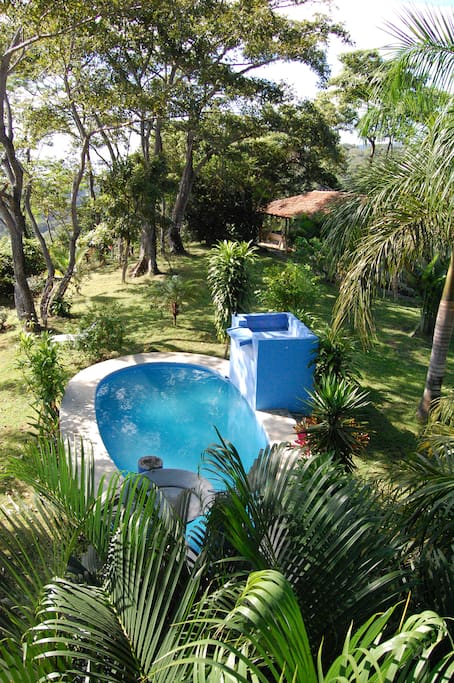 Montezuma ocean view, Wildlife, Eco
Since dec 2014 we work with a solar grid system for electricity. Hot water comes from a solar heater. Stay and enjoy !
The space
main house 1 BR 1 BA -second house 1 BR 1 BA - sleeps 4
This lovely property is located on the cliffs above Playa Cedros. The large 22000 m2 lot ensures our guests complete privacy while not being isolated from other homes in the area. There are two homes on the property, ideal for friends and families with older children. The main house is a large studio with 1 queen bed, bathroom and kitchen. Living and dining areas are outside. It offers a fully equipped kitchen and outdoor grill.
The second house is about 30 feet from the main house. It has a bedroom upstairs with a queen bed. The sink, toilet and rustic outdoor shower are on the first floor. Both houses back a wildlife corridor. Monkeys, iguanas, and agouti abound… There are many native fruit trees for our guests to enjoy. Ocean breezes keep the homes comfortable. 4X4 recommended.
Cabo Blanco National Park and the little town of Cabuya are just 4 km to the South - Cabuya is a great base for hiking, swimming, snorkeling, kayaking, beach combing, wildlife watching and everything nature lovers are looking for. Montezuma is 3 km North and offers many restaurants and shops. You are minutes from one of the best beaches in our area. Playa Cedros is known for its' long surf break. Rio Cedros is a short distance away with a fresh water lagoon and waterfalls up river.
---
---
Check in is anytime after 2PM
---
Joachim was unfortunately back in Germany for our stay. But he was VERY helpful even through messages. The communication was great. His property manager Mimi is AMAZING. She's very helpful and even gave us a ride a couple of times. She checked in every once in a while to make sure we were having a good time and make sure we didn't need anything. The house is about a 15 min drive. 4x4 is a must. We didn't have a car with us. It's about an hour walk to town if you take the stairs. There are beaches and tide pools along the way to make the walk more pleasant and we saw the most monkeys on our walks. Going back home we would take a taxi that was 4x4. Israel the cab driver is always in town and drives a red Toyota. He knows where the house is and is very very nice and cheap. So if you don't want to rent a car it is possible to stay here without one. Just have some walking shoes and take Israels cab at night. The view is unbelievable, the house is exactly as advertised. You really could have a staycation if you wanted. The porch alone is enough to stay. I would recommend this to anyone. We had a wonderful time and were very sad to leave.
---
Joachim's place is a slice of heaven on earth, if you want a gorgeous home with a scenic view, and a secluded location right outside the lively but quaint town of Montezuma. Joachim was an absolutely fantastic communicator, helped us before and during our visit with recommendations, suggestions, and ideas. His house was clean, even better than described, and none of the photos do it justice. It is a wonderful place to spend a few days and enjoy the natural splendor all around you. If we could give it more than 5 stars, we would. Absolutely incredible and the best choice we could have made when staying in the Nicoya Peninsula. Thank you Joachim!!!!
---
Joachim's house is beautiful! We were completely at peace enjoying the house, monkeys, surroundings and pool. If you stock up on booze and food, there is no reason to leave! However, if you do want to go the beach quite a bit, it's a bit of a walk but no problem with any fitness. Getting into town is easy. People are happy to offer up a ride on the road and taxis are available in town coming back. Highly recommend it!!!
---
First of all, the view and main house with the pool are amazing. We loved the place. You are in the jungle. It was great to see the monkeys daily while we swam in the pool or read in the hammock. Waking up to the beautiful view of the ocean was the best part. The second "house" was not as nice as the main house. It was a room. You needed to go down a flight of stairs (outside) to get to the bathroom. There were shelves and a stove and small refrigerator outside. It was fine as an extra bedroom but I'm glad it wasn't my house. I would still love to stay at Joachim's home (the main house) when we get back to Montezuma.
---
Joachim's place was perfect for us as two couples since there are two separate houses. And he was super helpful, stopping by to fix a fan and maintain the pool, even let us in when we locked ourselves out! A very cheerful and gracious host. Yes the view is stunning, we could have hung out there all day entranced! The road was tricky, FYI, not for the faint of heart, but I rather enjoyed it!
---
I spent two weeks road tripping around Costa Rica with my girlfriend before arriving at Joachim's magical place for our final 4 best days of the trip. This place is truly amazing, we felt totally relaxed the minute we arrived. The property manager Thomas and his wife were very helpful and cool and got us nicely setup for our stay. They offered great local knowledge, and were very on the ball. We were greeted by large group of whiteface monkeys passing by the house as we pulled up to check in, they passed by the house a couple of times a day including howler monkeys which were very amusing and a joy to watch while having a morning coffee. This property is very private while being close enough to the great coastline and Montezuma. The place is well kept everything is great order including good wifi. It was hard packing up and leaving we would of loved to have stayed longer in this paradise. I highly recommend this place, it exceeded our expectations proving better than the pictures. Book it!
---
This location was gorgeous! My friend and I holed up for five days of pool-time, lounging, hiking and cooking. The caretaker kindly met us in downtown Montezuma and drove us up to the house - he even took us to the grocery store first in order to stock up. There was plenty of space, gorgeous ocean views, and beautiful birds and sweet-faced monkeys to spy on. I highly recommend this location for anyone in need of detaching from the world at large. You will leave utterly at peace.
---
Response rate:
100%
Response time:
within a few hours
Explore other options in and around Montezuma
More places to stay in Montezuma: