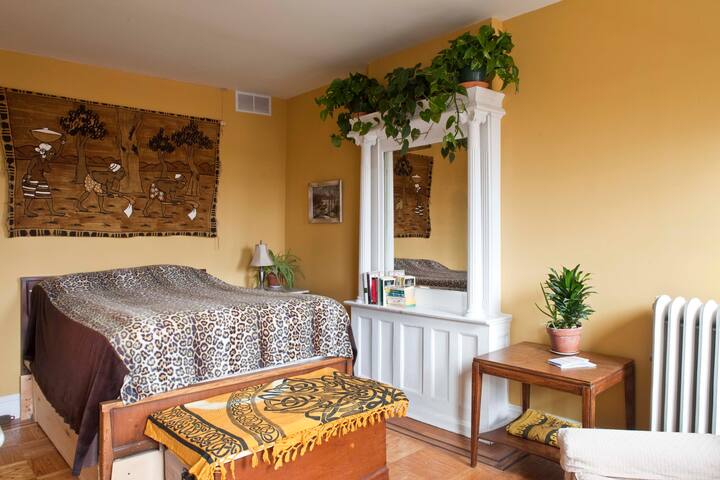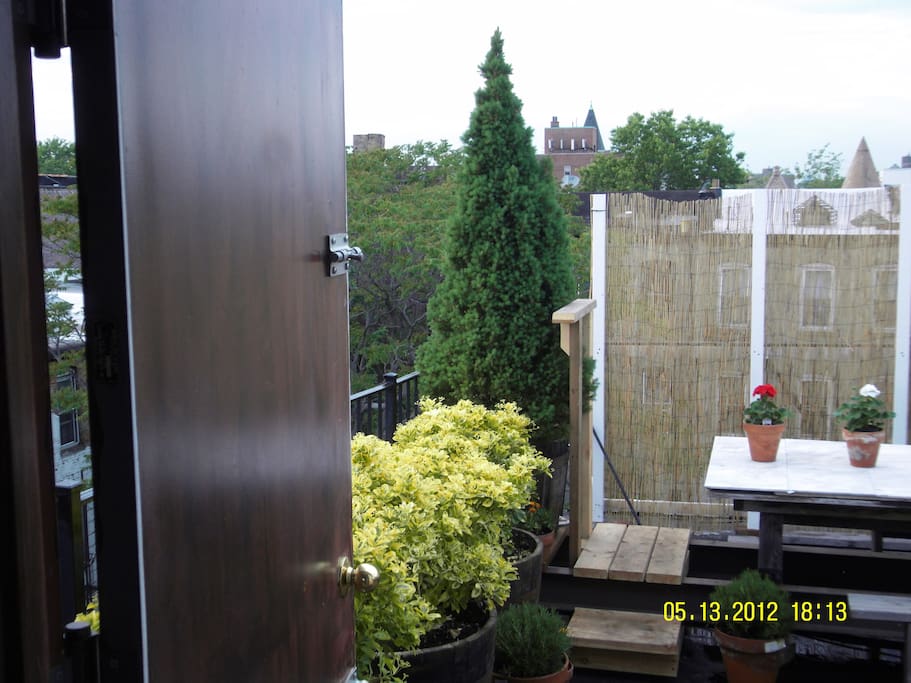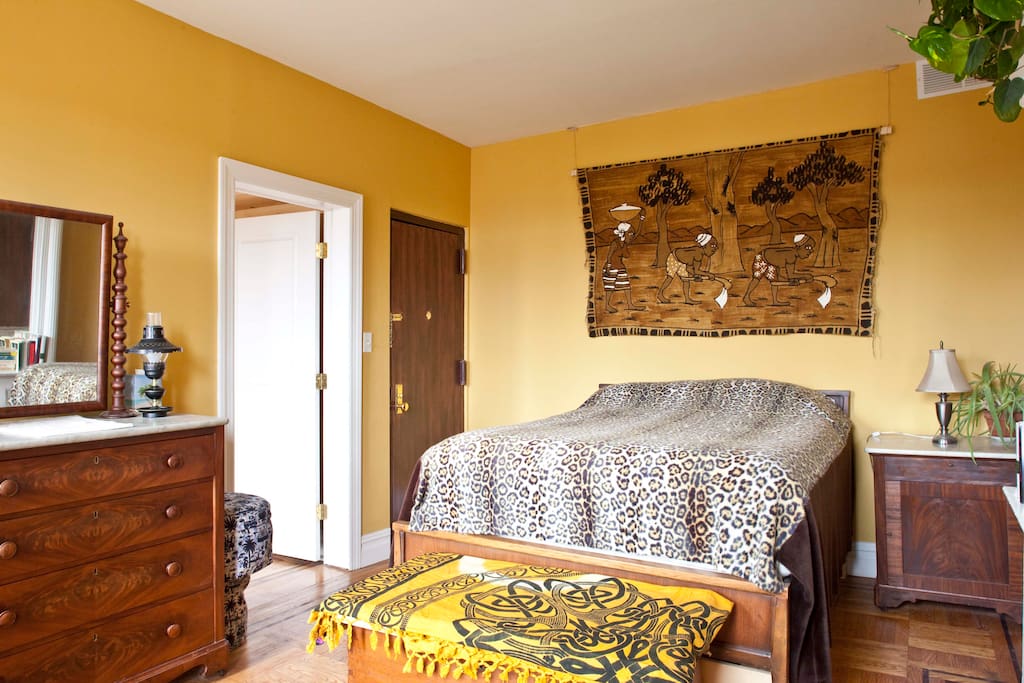 About this listing
The space
Sunny Retreat with Roof Garden
revised: 3 October 2013
* English-language description is followed by write-up in French & Spanish
* Un texte français suit celui en anglais
* Una descripción en español sigue las otras
THE LODGING
Tranquil sunny suite on the top floor of a renovated 1800's brownstone on a quiet block. A comfortably proportioned room with a full-sized bed and a sitting area forms the centerpiece. Conjoined to this is a rustic kitchenette with stone counters and a stone-topped window-side desk perfect for meals or study. The bathroom is equipped with a tub and shower and generous cabinet space. (And yes, it's private, for your use only.) Ample double-barred closet, a chest of drawers, and extra suitcase storage space are included. Fully furnished with tables and good lighting. Kitchen stocked with coffee maker, toaster oven, and basic cooking and serving essentials – good for light cooking, if not turkey roasts. Free wireless internet connection available. Small multi-lingual library provided. Windows face south and come with original wooden shutters, allowing easy control of sunlight. Floors are wood parquet. Decor warmly mixes New England tradition with West African motifs. Excellent for someone seeking a cozy, peaceful retreat from the energetic pace of the city.
THE ROOF GARDEN
An excellent place to have breakfast or dinner that offers both privacy and a feeling of the vastness of the sky. In the evening, colors change by the minute until finally the stars come out in full force. (Or, depending on the night, perhaps clouds colored by the city lights.) We are growing pots of rosemary, sage, spearmint, thyme, marjoram, and other things which you may wish to add to your tea or dinner, or just pass your hands against in order to add a beautiful perfume to the Brooklyn night. In order to respect our neighbors, we ask that you not bring music onto the deck, and that you retire from the space by 10.30 pm – or, in the case of breakfast, that you start not before 8 am.
OCCUPANCY
Two-person maximum. No pets.
PROVISIONS
clean bed linens, blankets, and towels
quiet central air conditioning for the hotter weather
microwave
toaster oven
two-burner cooking surface
coffee maker
coffee, tea, sugar, salt, spices, etc
fresh baguette bread, when available
free wireless internet
iron and ironing board
hair dryer, on request
guide to local restaurants and shops
subway map
CLEAN AIR POLICY
No smoking in the apartment or anywhere in the building or yard. No incense or scented candles.
THE HOST
On hand or easily reachable and ready to assist in case anything is needed.
THE NEIGHBORHOOD
Stuyvesant Heights is the elegant historic district of Bedford-Stuyvesant, a neighborhood that has produced a host of well-known jazz musicians, rappers, poets, and other artists – but where you might also hear a clarinetist practicing late Brahms chamber music. The population today mixes multi-generation families deeply rooted in the old community network with an influx of younger folk newly discovering the charms of the lovely tree-lined streets, the beautiful architecture, and the dignified manners of neighbors who gracefully welcome new arrivals. A neighborhood tour is staged each fall to show off the lavish elegance and artistry preserved in many of the grand old houses.
SERVICES
Restaurants abound, including the popular Saraghina (one minute walk from the house), which is a classy, atmospheric, yet well priced venue for pizza and other Italian cuisine that draws people from all over the city; Celestino, specializing in Mediterranean seafood dishes; Peaches, a lively spot much frequented by a loyal local crowd and serving up regional American classics; Peaches Hothouse, reputed for its hot pepper chicken; and Besos, featuring Latino-inspired dishes. Within a two-minute walk, you can also find a wine bar, a health-food store, a twenty-four hour deli with fresh produce and organic eggs and sandwich essentials, a drop-off/pick-up laundromat, and the local branch of the New York Public Library. For those looking for gospel music, there is no reason to run all the way to Harlem: a three-minute walk from our doorstep will bring you to a beautiful old church that will welcome you warmly and offer plenty of good singing.
THE TRAINS
Eight-minute walk (depending on your stride) down elegant Stuyvesant Avenue to a station where both the A-express and C-local trains are available. Trains provide easy access to Manhattan (10-15 minutes); and, more locally, to Brooklyn Heights, Prospect Park, the Brooklyn Botanic Garden, and the Brooklyn Museum. In the other direction, you can get to the Air Train to JFK Airport in about 30 minutes from our station. Add another 15 minutes to arrive at the beaches at Far Rockaway. On the C-train, it will be just 10 minutes to Fort Greene, home of the Brooklyn Academy of Music (excellent venue for film, dance, theater, and concerts), Mark Morris Dance Studios, and myriad diverse restaurants, bars, and late-night spots.
LANGUAGES FOR CORRESPONDENCE
E-mails are accepted in English, French, and Spanish.
ADDITIONAL ADVANTAGES
In addition to what is described above, we offer:
a firm non-sagging mattress – no back-ache in the morning
a room that can be made very dark at night
no footsteps overhead
no sounds of television or radio leaking from contiguous apartments
double-pane sound-resistant windows
excellent privacy: top front door serves two apartments only – that of the guest and my own, on the floor below, occupied solely by myself and a friend
quick assistance – either myself or my friend is easily accessible in case any questions or issues arise
cleanliness: no rodents have signed leases here, and they seem to respect the law
==============================
EN FRANÇAIS
UN APPARTEMENT À DEUX PERSONNES TRANQUILLE ET ENSOLEILLÉ, AVEC UN JARDIN AU TOIT, DANS LE QUARTIER HISTORIQUE DE BEDFORD-STUYVESANT
L'appartement se situe dans le deuxième étage d'une maison traditionelle de Brooklyn, un "brownstone" comme on dit, construite dans le 19ème siècle. Vu son âge, j'ai fait une rénovation de toute la maison en 2005, en préservant ce qui restait des détails historiques, et, peut–être plus important, en améliorant les systèmes d'électricité et de plombier. L'appartement qu'on offre aux voyageurs consiste de trois chambres privées: une salle de séjour de taille commode où se trouvent un lit pour deux personnes et une espace pour s'asseoir à l'aise, avec deux fauteuils et une table par les fenêtres; une petite cuisine où on peut préparer des plats simples – des sandwiches, des soupes, des oeufs, etc; et une salle de bain avec une douche et une baignoire. Notez que dans un coin de la cuisine se dresse un bureau d'un mètre de grandeur et d'une surface en pierre jolie, à côté d'une fenêtre qui (comme les autres fenêtres) donne au sud – parfait pour celui qui voudrait lire ou écrire.
Le jardin au toit est facilement accessible par l'escalier intérieur, et c'est un espace très joli où vous pouvez avoir des diners intimes à une table en marbre sous les étoiles sans que personne vous regarde ou interrompe. Pour respecter nos voisins, nous vous demandons seulement que vous ne jouiez pas la radio ou de la musique sur le toit, et que vous rentriez à la maison à 22hr30 (et commenciez le petit déjeuner au toit après 8hr).
L'escalier qui mène à votre espace sert à deux appartements – celui réservé aux voyageurs et l'autre en bas où je vis avec un ami. Donc la maison est douée d'une tranquilité confortable et on peut facilement mener ici une vie privée. Dans le but de préserver cette tranquilité pour nous tous, qui travaillent selon des horaires individuels et diverses, je demande aux voyageurs de se comporter d'une manière calme pour que personne ne risque de perdre le sommeil qui est tellement précieux à New York. Si vous voudriez rencontrer des amis, je vous demande de les rencontrer dans un café ou un restaurant (il y en a assez dans ce quartier), comme l'appartement est un peu petit pour y inviter d'autres personnes en plus. Même plus important, pour le bonheur et la santé de toute la populace de la maison, et aussi pour le bonheur des voyageurs qui nous visiteront après vous, je vous exige absolument de ne pas fumer dans aucune chambre de l'appartement, même par les fenêtres ouvertes, même dans le jardin près de l'entrée. Dit ça, si vous imaginez que vous trouverez à la fois l'appartement et les conditions de vivre ici bien agréables, c'est sûr que vous vous trouverez très confortable et bienvenu chez nous. Dans cette perspective donc, il faut que tout le monde soit content – vous le voyageur qui cherchez une visite heureuse à notre ville, et nous ceux qui vivons ici toute l'année dans notre joli coin très paisible de Brooklyn.
Le quartier lui-même est tranquille et montre une jolie architecture. Beaucoup de musiciens de jazz et de rap, et d'autres artistes, ont commencé leur carrière ici. Aujourd'hui la populace est un mélange composé de familles qui habitent ici depuis de générations et les jeunes qui arrivent actuellement, attirés par la beauté des maisons et des rues avec ses arbres et fleurs bien soignées, et attirés aussi par les bonnes manières et le bienvenu offerts par la vieille communauté. On trouve très près de la maison une bonne variété de restaurants, de cafés, et de magasins pour acheter la nourriture. Si vous voudriez aller à Manhattan, les trains vous y ammeneront dans 15 minutes.
Si vous avez des questions sur l'appartement ou le quartier, tout le plaisir est à nous de vous donner des réponses les plus utiles possible.
Merci beaucoup pour l'interêt porté sur notre appartement; bonne route; et à bientôt!
==============================
EN ESPAÑOL
UN REFUGIO SOLEADO DONDE SE PUEDE RELAJAR O DORMIR TRANQUILAMENTE EN LA CIUDAD QUE NO DUERME NUNCA
IMPORTANTE
Algunos de los habitantes que viven en este edificio son muy sensibles al humo. Pues se prohibe de fumar en el piso y en toda parte de la casa. Gracias por ayudarnos en el objetivo de bien cuidar de todos que se encuentran debajo nuestro techo. (Para que sepa usted, nadie va a gritarle si quema el tostado...)
EL APARTAMENTO Y EL JARDIN
El apartamento que alquilamos se encuentra en el segundo piso de una casa del siglo 19 que renové completamente en 2005. Hay tres habitaciones: un cuarto con una cama cómoda para dos personas y con un lugar para sentarse junto a un par de ventanas que dan al sur y que llenan el cuarto de la luz brillante del sol; una cocina que sirve bien para la preparación de comidas ligeras y que contiene un escritorio amplio hecho en piedra, idéal para leer o estudiar; y, claro, su propio baño sencillo y limpio. En el verano, visitas tendrán acceso a un jardin en el techo por ciertas noches de la semana, con una mesa en piedra donde se puede cenar debajo de las estrellas. Exigimos solamente, por consideración de nuestros vecinos, que se termine la cena antes de las diez y media de la noche, y que se comience el desayuno depués de las ocho (y que no traiga la radio al techo). En cuanto a los vecinos y al barrio, la casa es muy tranquila y es situada en una manzana calma bordeada de arboles y flores.
NUMERO MAXIMO DE HABITANTES
Dos personas. Por favor, no animales – salvo que los que intentan cocinar.
APROVISIONAMIENTOS
Sábanas, mantas, y toallas limpias
Acondicionador central y silencioso
Micro-onda
Calentador con dos quemadores, tostadora, cafetera
Café, té, azucar, sal, especias...
Wifi internet gratuito
Guía de restaurantes y tiendas
Mapa de trenes
EL DUEÑO DE LA CASA
Vivo y de veces trabajo en el piso debajo del cual alquilamos. Pues no es difícil encontrarme si hay preguntas. Si falta alguna cosa, hay que decírmelo, y estaré contento a ayudar.
EL BARRIO
Stuyvesant Heights es un barrio histórico y residencial, mostrando la arquitectura característica y elegante de las casas de Brooklyn del decimonoveno siglo – los "brownstones", como se llaman. Nacieron y trabajaban aquí muchos músicos de jazz y rap, y otros artistas y escritores. Hoy día la población es una mezcla entre las familias establecidas aquí por generaciones y los jóvenes de otros barrios, ciudades, y países que han recientemente descubierto la belleza y tranquilidad del barrio. Se puede encontrar muy cerca de la casa una diversidad de restaurantes – ofriendo la comida italiana, mediterranea, americana latina, etc – y almacenes que pueden proveer frutas, carnes, quesos, sabones y otras necesidades. También hay lavanderías no muy lejos.
LOS TRENES
Estamos cerca del tren que viene del aeropuerto JFK y que continúa para Manhattan. Es posible salir de la casa y llegar por tren en Mahattan unos treinta minutos más tarde.
¿PREGUNTAS?
Si usted tiene cualquier pregunta, le pedimos que nos contacte. Gracias por su interés.
---
This listing has essential business travel amenities.
---
Room type: Entire home/apt
---
---
Always communicate through Airbnb
To protect your payment, never transfer money or communicate outside of the Airbnb website or app.
Learn more
---
May not be safe or suitable for children (0-12 years)
Check in time is 3PM - 11PM
This is a multiple-dwelling building, occupied by people on diverse schedules who sometimes work at home. Therefore we need guests to be reasonably quiet and aware of the people around them. There should be no loud music at any time of day or night. Staircases and public halls are for transit only, not for lingering in conversation.

Use of the suite is understood to be extended only to the person or persons contracted to stay there. Socializing with friends should be done elsewhere: please do not bring extra guests into the building.

Furnishings are antique. Please treat them gently and lovingly so that they may survive in good condition for the next generation.

NO SMOKING anywhere on the premises - whether in the apartment, the stairwell, or the front yard.


---
Strict
Cancel up to 7 days before your trip and get a 50% refund plus service fees back.
---
---
---
Exact location information is provided after a booking is confirmed.
Mark is friendly, laid-back and accessible. His brownstone has the original shutters (very cool) as well as a great rooftop garden where we ate breakfast. We also enjoyed his extensive house plant collection and all his books in various languages. The neighborhood is safe with some great food options (Peaches!) nearby.
---
We had a lovely stay at Mark's. He was very accommodating with us and try to find solutions to ease our late check in and check out. The apartment is fully equipped with decent size kitchen. However, note that the bathroom is separated from the apartment so you have to exit your apartment and cross a small hallway to go there. The apartment is 2 flights up. Also if you have knees/hip issues, be mindful that the bed is on a platform so it is quite high. Ask Mark the best way to reach his place since the neighborhood is very changing from one block to another. I lived in Brooklyn so I know my way around but if you do not know the area, I would suggest you ask Mark in order to avoid having to walk in unsafe parts of the area. All in all we had a nice stay. The commute to Manhattan is short. It is a nice place to stay a couple of days when visiting NYC.
---
Mark was a remarkable host, friendly and very helpful, his place was very easy to find with lots of original character and all the essentials you need, be aware the room is on the third floor but that wasn't a problem for us. Roof top is brilliant for breakfast if the weather is good, kitchen had everything we needed for a quick breakfast, marks own blend of coffee too was brilliant. would definitely recommend.
---
I had a wonderful week-long stay in Mark's apartment in Brooklyn. The apartment itself is very comfortable and cozy, which was tested to the limit as I was staying there partially in the middle of a blizzard! The place was clean, quiet and had a very homely atmosphere about it. The neighbourhood in general is quiet and residential, as well as being close to the subway and buses. There are plenty of small grocery stores, cafés and restaurants within a 10 minute walk of the building. Mark was a brilliant host and made me feel absolutely at home. When the snow was particularly bad, he made sure I was ok to go outside to buy food and offered me some dinner he had made himself if I felt the snow was too bad to leave the house. Absolute 10/10 for communication and generally being a very kind, pleasant and efficient host!
---
New York, New York, United States

·

Joined in March 2012
I'm a documentarist who has spent time in Spain, Italy, and West Africa, all of which I love for the people and the cultures. In New York, I mentor international students to help them navigate English, math and science, and questions about life. I have a passion for music and literature, and study foreign languages. And, of course, I like listening to stories of people I cross paths with.
Response rate:
100%
Response time:
within an hour
Explore other options in and around Brooklyn
More places to stay in Brooklyn: