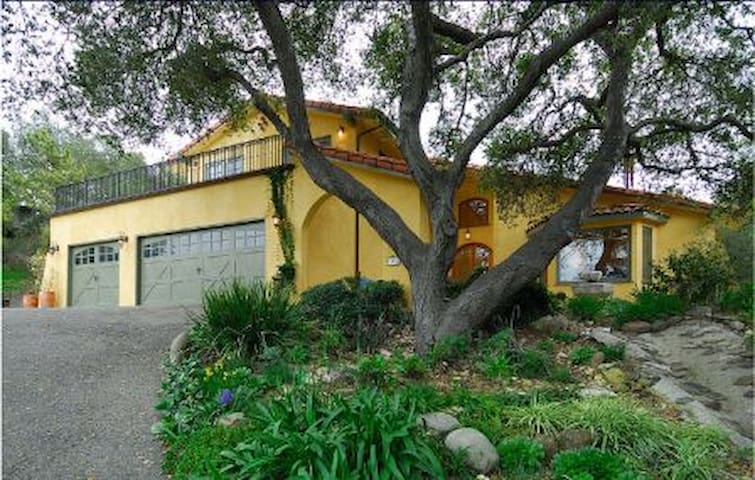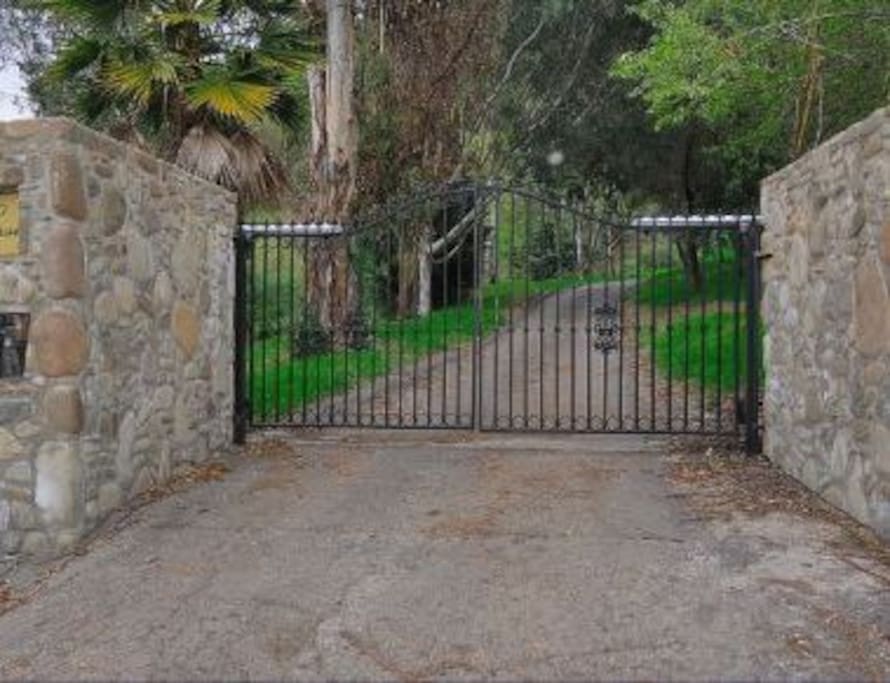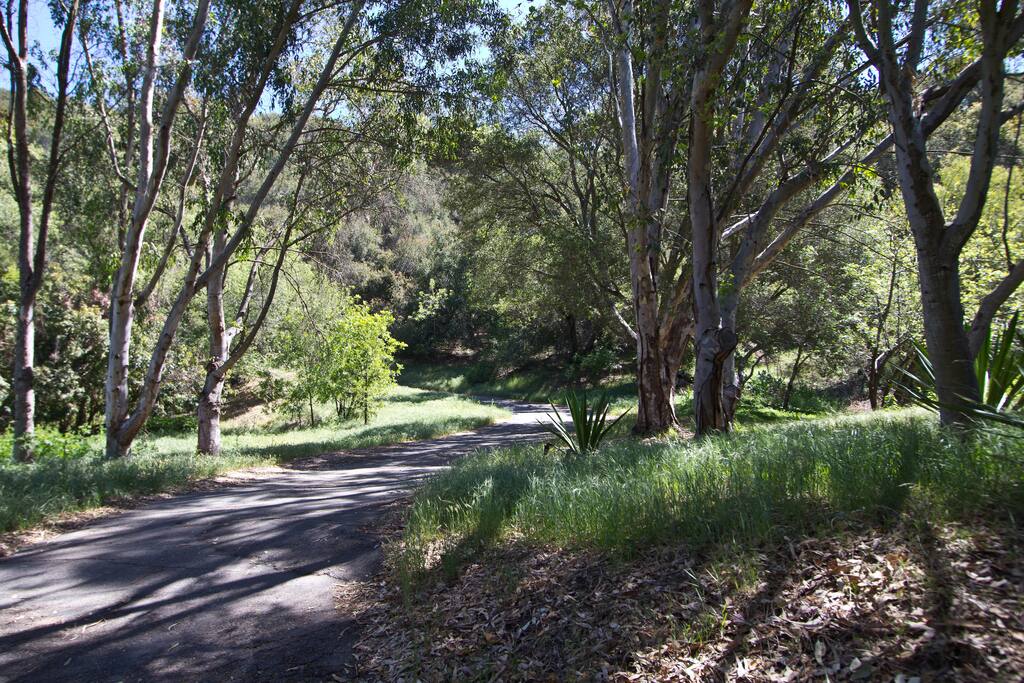 Casa de Canto Villa Country Escape
Featured Feb. 2O16 issue of Ventana Magazine under "Nesting" and "Editor's Note." Most beautiful location in the Ojai Valley, offering seclusion, privacy, peace, quiet, nature, breathtaking views, quick driving access to Ojai, Ventura, Santa Barbara areas.
The space
Once you cross over the bridge of San Antonio Creek and go through the gates, you enter a different world. A quiet, secluded country mountain getaway, Casa de Canto Villa is a working ranchette set atop Sulphur Mountain, surrounded by over 7,000 acres of mountainside, wildlife, nature, moonlight, sunshine, and breathtaking views, at the mouth of the majestic Ojai Valley. We are conveniently located to reach within short driving distance, the beautiful beaches and city of Ventura, the Shangri-la that is Ojai, the American Riviera, Santa Barbara, and Los Angeles, home to movie stars.
Enjoy the fresh country air in a home-like country atmosphere with your hosts, Laura and Rick. We welcome you, family, and friends to our villa. While waiting for departure on your travel adventure or sightseeing, for the day, in this special area of Southern California, relax by the pool, unwind by visiting with the horses or chickens, sit on the balcony and enjoy the views, read a book under an old oak tree, or just meander through the garden paths as you soak in the beauty of this wildlife migratory path. Since this is not a party house, as some guests have previously thought, we have an ideal location for athletes and other guests wanting to relax before a big event as well as for recuperating afterward.
For a good "ol' American" breakfast or lunch, visit our restaurant, The Worker Bee Cafe, in nearby Carpinteria. Breakfast is served all day! If you're in the mood for wine tasting, take a stroll down the street to the winery. Other nearby activities include restaurants, sidewalk cafes, shopping, local art, museums, theaters, lake, water park, surfing, wind surfing, kayaking, scuba diving, whale, dolphin, seal watching, horse back riding, meditation, retreats, yoga, massage, tennis, golfing, fishing, boating, cooking classes, rock climbing, hiking, star gazing...
Please read the "Amenities" and "House Rules" tabs for more details.
IF THERE IS UNAVAILABILITY FOR THIS LISTING DURING YOUR PREFERRED BOOKING DATES OR, YOU WOULD LIKE TO VIEW ALL OUR LISTINGS, PLEASE CLICK ON OUR (circular) Profile Photo - "Laura & Rick" TO THE LEFT OF THIS LISTING, PAGE DOWN AND CLICK AGAIN ON OUR (circular) PROFILE PHOTO TO THE LEFT, TO VIEW ALL 4 LISTINGS:
- Lighthouse Escape - www.airbnb.com/rooms/476614
- Poolside Escape - www.airbnb.com/rooms/476779
- Country Night Escape - www.airbnb.com/rooms/476745
- Casa de Canto Villa Country Escape - www.airbnb.com/rooms/3
Thank-you for your interest, see you soon!
Guest access
Incredible sunset views from top pasture, 3 guest rooms, balcony, patios, porch pool, small refrigerator to store some perishables, parking.
Interaction with guests
Some of our guests are very private and we fully respect that. If you want to get away, this is the place to do it! No one will bother you here! Some of our guests love to chat and, we do too. We enjoy friendly conversational exchange about travel, work, family, and life experience...
ONLY booked guests are allowed onto property. No exceptions!
NO parties, weddings, events, bridal showers/gatherings, gatherings in general (office, bridal, bachelor, bachelorrette, groomsmen, graduation, reunions, etc.) are permitted through Airbnb booking. If interested, please ask for details. If you do book with the above ( but not limited) listed intent, without first messaging us of your intent, you and your guests will be asked to leave and, will not be refunded for your booking. Too many times, now, we have had a group book and it turns out they thought they could party and carry on, in our home and property! This will not be tolerated.
As, some of the following, has been mentioned previously in the description, our home is perfect for traveling groups, and guests who are visiting this area and would like a comfortable and safe beautiful spot, as home base, from which to leave on daily travel adventures, and for relaxing in between your travel adventures.
Other things to note
Please become fully verified and get Verified ID through Airbnb before inquiring. You will NOT be able to book any of our listings without full verification and Verified ID. NO EXCEPTIONS! Privacy, safety and security reasons.
If there is unavailability for this listing for your preferred booking dates or, you would like to view all our listings, please click on our (circular) Profile Photo - "Laura & Rick" to the left of this listing, page-down and click again on our (circular) Profile Photo to the left to view all 4 listings:
- Lighthouse Escape - www.airbnb.com/rooms/476614
- Poolside Escape - www.airbnb.com/rooms/476779
- Country Night Escape - www.airbnb.com/rooms/476745
- Casa de Canto Villa Country Escape - www.airbnb.com/rooms/370485
---
Bathrooms: 2 (Private bathroom)
Pet Owner: Dog(s), cat(s), and other pet(s)
---
---
Extra people $10 / night after 4 guests
Weekend Price $325 / night
Always communicate through Airbnb
To protect your payment, never transfer money or communicate outside of the Airbnb website or app.
Learn more
---
Check in time is 3PM - 10PM
• Before inquiring, please become fully verified and get Verified ID through Airbnb. You will NOT be able to book without fuIl verification and Verified ID through Airbnb. NO EXCEPTIONS!
Includes - 3 guest rooms, 4 beds total ( 2 queen size, 2 full/double size beds), 2 full baths, please click on our (circular) Profile Photo - "Laura & Rick" to the left of this listing, page-down and click again on our (circular) Profile Photo to the left to view all 4 listings:
- Lighthouse Escape - www.airbnb.com/rooms/476614
- Poolside Escape - www.airbnb.com/rooms/476779
- Country Night Escape - www.airbnb.com/rooms/476745
- Casa de Canto Villa Country Escape - www.airbnb.com/rooms/370485
• California is in a severe drought and we are under a 42% cut back restriction of water. Unfortunately, our water is not "deep as the ocean," in California. Please try, as hard as possible, the following suggestions to help make our water last until the next rainy season. Thank-you for your effort!
Please take short showers (try not to take over 5 min.), turn water off while shampooing, soaping, shaving, etc. Use only for wetting and rinsing.
Limit 1 shower/day/guest.
Please use water buckets inside showers to collect water while it is getting hot and then set aside for use in the garden.
Please do not keep water running while brushing teeth, etc. Turn off and use only for wetting and rinsing. Hand wash in sinks quickly and, again please, do not keep water running.
No showers after 10pm.
• No gatherings throughout house or property after 10pm.
Please be sure to turn lights off when leaving a space, room, or common area.
• Guest rooms do not have televisions. We promote enjoying nature during the day and the stars at night! Please, please do not place wet towels on furniture, doors, beds, etc. Please hang outside to dry, if needed. As well, we have many antiques, so PLEASE, do not place glasses, bottles, cans or anything else that is damp, or wet on furniture. Please use coasters and place mats provided in guest rooms. Please do not sit on furniture, beds, etc. with wet towels, bathing suits or wet clothing! Thank-you!
• NO SMOKING! NO HARD LIQUOR! Responsible glass of wine or beer, are ok.
• Please plan for eating meals out. Indoor house kitchen is not available to overnight guests. Kitchen may be booked for special events using, from our list of, preferred chefs. Bookings available through Casa de Canto Villa website.
• Reasonably priced breakfast and lunch served at our diner/restaurant, THE WORKER BEE CAFE, conveniently located in Carpinteria. BREAKFAST IS SERVED ALL DAY!!!

• Outdoor kitchens (wood barbecue areas) available for event bookings only. Not available to overnight guests. Bookings available through Casa de Canto Villa website.
• THIS IS NOT A PARTY HOUSE.

• Must like animals.
• Please be respectful to others around you and pickup after yourself in common areas in/outside. We have had several guests highly sensitive to perfume, cologne, etc. If you must, or enjoy using, please apply outside of house. Many scents are often very difficult to remove.
• We are ecologically and environmentally conscious so please switch off lights, use water wisely, recycle, etc.
• Event scheduling, parties, weddings not available through Airbnb . Pricing set accordingly per event scope. More details in Casa de Canto Villa website or please ask for details.
- Weddings, Showers, Bridal Parties, Rehearsal Dinners
- Family Reunions, Celebrations
- Corporate Retreats, Spiritual Retreats, etc,

• We love where we live. Please be respectful to nature, our animals, neighbors, and our home. Thank-you.
Upon booking you agree, for the duration of your stay, to stay with us at your own risk.
Looking forward to meeting you and wish you a wonderful stay!
---
---
---
---
We felt so welcome in Laura's home, a lovely CA ranch nestled in nature. We had everything we needed for our short but sweet stay, and we loved learning about Laura's family and their adventures.
---
2nd stay at Rick and Laura's and we loved it again.. This is such a piece of heaven. a great gate away from the busy life, amazing cute place, surrounded by peaceful and beautiful nature.
---
Our stay at Casa de Canto Villa Country Escape was definitely NOT what we expected nor PAID for. The reality is that the owner is leaving out crucial information about the space she rents. On the posting it's states they have animals and must like animals. This is understandable since it is a ranch-style villa, what she does not mention is that there are 5 in-home dogs and a cat which roam around the whole property and LIVE INSIDE the house. This was a big issue for us since one of the girls in our group has a life-threatening phobia of dogs. She, unfortunately for this reason, could not join us and had to leave. It is imperative to include such information to all potential renters since this situation could arise for people whom have a serious allergy to dogs. There is a huge difference from saying you own dogs/ pets and NOT SPECIFYING THEY LIVE INSIDE THE HOME AS WELL. Had we know this crucial information, we would have never rented the place. The owner's response to this was simply "there's nothing I can do about it they live here too!". Upon checking in the host, warned us of a certain area in her property that was infested with yellow jacket "carnivorous" bees. We made sure to stay away from that complete section of the property and were diligent about keeping doors and windows closed. However, yellow jacket bees were very present in throughout the house and property. We were also not aware the owners were going to be staying in the room next to ours. We understand some Airbnb rentals have the owners stay, while others do not (this one did not state they would be staying). "Quiet hours" we were told were from 11 pm and on. At about 10 pm (possibly 9:50 pm our first night, out on the balcony) Laura rudely and disrespectfully began to clap her hands, raising her voice yelling from outside of the house and telling us we were being too loud and to "stop cackling". Keep in mind we were out all day from her home and had just returned at 9pm. The next morning the vibe was just off. We all decided to enjoy the pool for the morning and leave for the evening to Downtown Santa Barbara, to not "disturb" anyone. We came back just with enough time to sleep and check out in the morning. The host never once thanked us for staying or even checked us out. She was no where to be found. Bottom line is I would not recommend this home! The view, area, and home itself are absolutely beautiful, but this person has no HOSPITALITY and is not honest about what she is actually offering. This changes the whole aura of the place. If you like a secluded area, someone telling you what you can and cannot do, then this is the place for you. Otherwise don't waste your time or money.
Response from Laura And Rick:
This was an extremely disappointing booking for us. Carmen was not up front about her intent of her booking, in the Airbnb message thread. It is clearly stated in capital letters that we do NOT allow parties and she booked with the intent of a bachelorette/ bridal party weekend. Her exact words in the thread were "we plan to maybe do some wine tasting tours, shopping, but most importantly relaxing." They did relax. We did not relax! We have a working ranchette with dogs, cats, chickens, horses and lots of wildlife! Our pets are part of our life. Funny, over 250 other reviews understand this but not yours. This is all clearly stated in our listing as well, that the guest joins us, is clearly stated. We live in the country, not city, surrounded by over 7000 acres of nature, not concrete! Yes, we will have yellow jackets ( that area was marked off and clearly explained to them), they won't eat you, by the way, Carmen! We have mountain lions, bears, bobcats, coyotes, eagles, hawks, owls, snakes, honey bees, egrets, the list goes (URL HIDDEN) ONE has ever been hurt or in danger of being hurt by anyone of these creatures, read the over 250 reviews! By the way, I did ask the girls upon returning near 10pm, to "please keep a bit more quiet." Actually, I was finally, able to ask them that after calling out to them 4-5 times, (without response from them), that's how loud they were not to be able to hear me. Finally, yes, to get their attention, I clapped my hands, like a school teacher to loud students, while calling out "girls..." Finally one responded and argued that quiet time was not until 11pm. That does not mean that, as an adult, you get to be obnoxiously loud until then. This is our home after all and, not a college dormitory! If you don't know anything about country living or don't want to experience that, please, do yourself a favor and stay in the city! The girls as well, were not the cleanest guests we've had either. Garbage was overflowing all the trash cans and we did have to do some repairs to some items. Fortunately, we were able to do that ourselves so we didn't need to charge their security deposit. The only reason we allowed Carmen and her friends to stay was for the sake of the bride but, it was a "grin and bare" experience and not at all enjoyable! Thank-you!
---
Laura was a wonderful host. She gave a tour of the grounds and the house, went over house rules right away, and answered questions directly and clearly. She provided coffee in the morning and although we weren't able to use the kitchen, had many suggestions for nearby eateries. If you are looking to book a relaxing weekend at a mountainside oasis, this is it. It is quiet and serene, and the views are unparallel. If you are looking to book a house with some friends and party, I would suggest elsewhere. We came down for a wedding, and although the 11pm quiet time probably saved quite a few of the groomsmen from having massive hangovers the day of the wedding, I think we wanted more of a party vibe all weekend. We weren't completely inhibited but tried to be respectful as we could in regards to the rules and the hosts that are living on property while we visit. We made it work though and I would definitely come back under different circumstances- a girls' weekend, romantic getaway, solo retreat, etc.
Response from Laura And Rick:
Thanks, Kesa! And, thank-you for your honesty. We really enjoyed you and the rest of the gang. Never noticed that you were needing to rein in the boys but if you did, you did a great job (never noticed anything wild)! You are correct in stating that anyone looking for a party house should look elsewhere. We do state in the description, under "House Rules" in capital letters, "NO PARTIES." As well, in the "Description," "join your hosts, Rick and Laura." Sorry you may have missed that. All in all, I thought you guys were great and I would welcome any of you back at anytime! :) Hope everyone made it home safely. Big hug...
---
While Casa de Canto is a beautiful home, my family and I were disappointed in our recent stay. Our own mistake was not realizing that the hosts would be staying in the home with us. This wasn't too much of a problem, but it did limit your sense of freedom and ease in the house and surrounding grounds, which are both absolutely beautiful. The size of our party was also not compatible with the experience. There were 8 of us ranging from 3 to 67 years old. We had all gathered to celebrate my graduation from UC Santa Barbara. We do not get the opportunity to gather often, so we were happy to spend as much time together as possible. Unfortunately, we were up late, about 11pm on a Saturday, and were told to keep it down and shut off the lights soon because the hosts had to be up early the next day. We tried to keep our voices down to be respectful of the hosts, but it was very disappointing to have to cut our family time short. I can see how this house would be good for couples, but definitely not recommended for larger families that would benefit from light kitchen use and no bedtime or location restrictions (note: the listing states no kitchen use).
Response from Laura And Rick:
Thank-you for your review. We were disappointed as well since Stephanie was very nice but some of her guests were loud after 11pm and a bit rude the following morning. It is unfortunate that our listing was not read in full, before booking. All the issues described by Stephanie are addressed in our listing for the 3 guest rooms, Casa de Canto Villa. It was after 11pm when the guests arrived back from dinner and some were quite loud ( 1 child yelling and 1 man speaking very loudly) and yes, they were asked to keep it down and to turn off lights when they retired. It was a large range of ages but we haven't had issues with that before and we, personally, did not have a problem with that this time. Per previous reviews, we have no problems with guests exploring as long as it remains safe and not after dark, certainly not after 11pm. There is much wildlife here and in the dark sometimes can be dangerous. All we ask is for guests to be respectful and considerate of others that are here...Thank-you.
---
We had an awesome time staying in Laura and Rick's beautiful villa. Laura greeted us and was incredibly kind in showing us around the property and getting us settled in. We met Rick later who was kind enough to even let us watch his jazz band rehearse! The home is amazing (the pictures don't even do it justice). The hosts are wonderful. The area is completely peaceful. Highly recommended for a weekend getaway!
---
Ventura, California, United States
Joined in March 2012
Love animals, the outdoors, country living (city life too!), riding,swimming, running, scuba diving, interior design, gardening, music, drumming, travel.
Languages:
English, Español
Response rate:
100%
Response time:
within an hour
Explore other options in and around Ventura
More places to stay in Ventura: