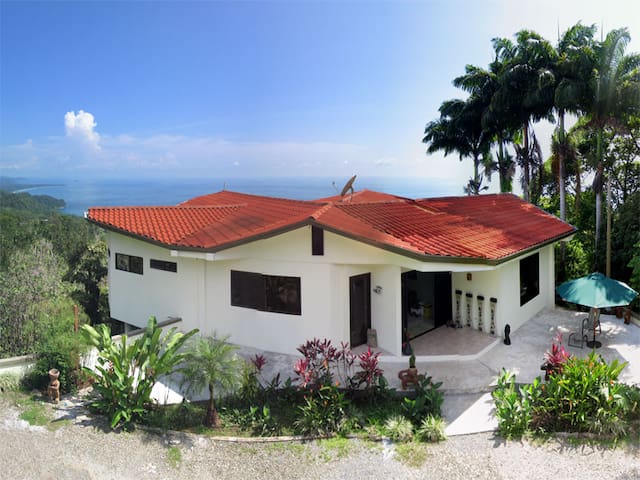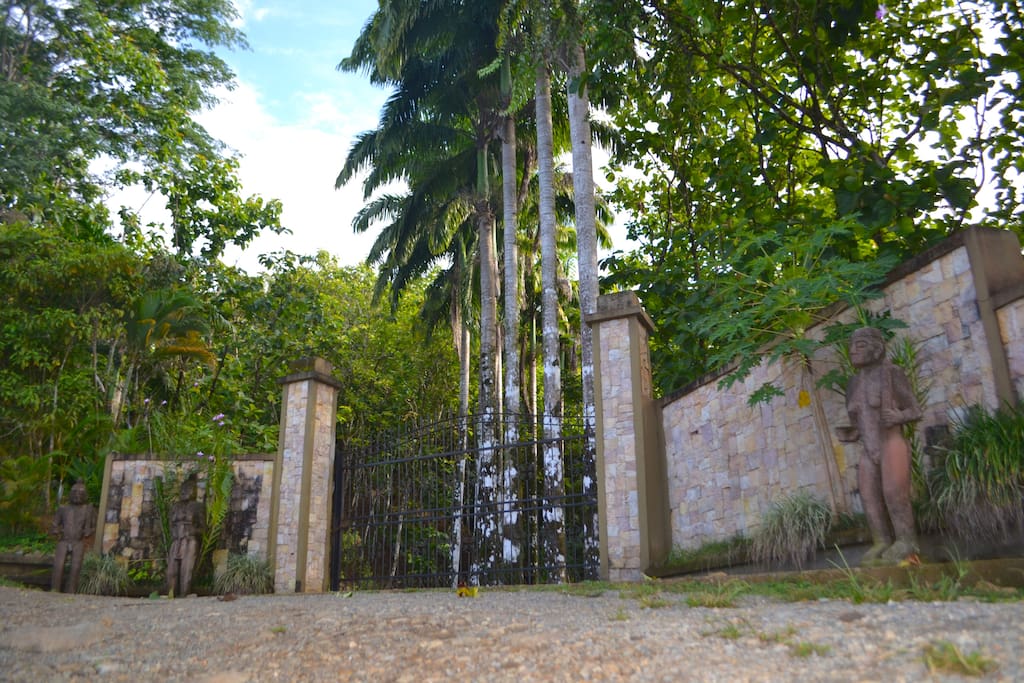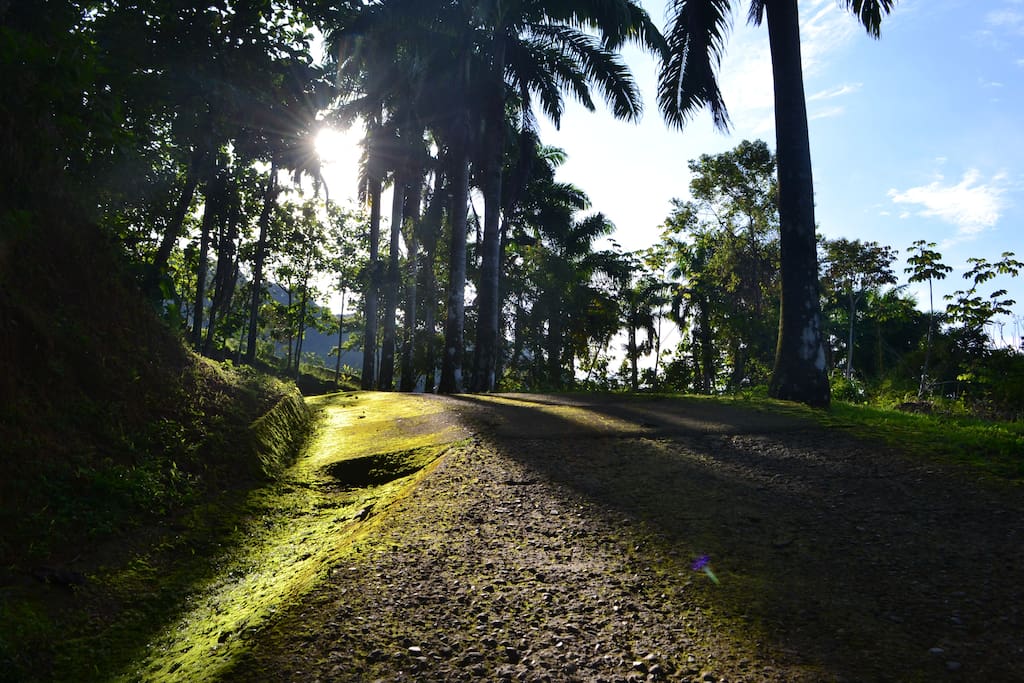 250-acre Rainforest w/ Ocean Views
The space
An exclusive unique property with breath taking ocean view, mountain view, plenty of privacy, wildlife, fruit trees and streams set on 250 acres.

The Main House has a large patio, 2-layer swimming pool, open kitchen, 4 bedrooms and 4 bathrooms.

There are two adjacent guest houses - both with 2 bedrooms and 2 bathrooms. One has a kitchen. The other has a conference room.

At 275 meters in elevation, the property has a regular breeze and inspiring views all year around, all day long.

Toucans live in the trees around the house. It is not uncommon to see toucans daily. A wide array of wildlife lives in the property including white face and howler monkeys.

This property has many types of fruit trees and depending on when you're visiting, various fruits from the property are provided for your sampling.

If you're ready for serious hiking and bring the appropriate gear, we can arrange a guide to take you through our pristine jungle to see what few people have the opportunity to see.
Guest access
Private trails, hiking tour, fruits on the property
Other things to note
High Season rate will be applied to Envision & Best Fest music festivals
---
---
Extra people $35 / night after 10 guests
Always communicate through Airbnb
To protect your payment, never transfer money or communicate outside of the Airbnb website or app.
Learn more
---
Bedroom 6
1 queen bed, 2 single beds
Bedroom 8
1 queen bed, 1 single bed
---
Check in is anytime after 3PM
[QUESTION] Is it best to rent cars?

[ANSWER] The usual thing is to rent cars. This will open up a lot of options for you. You can bring car seats on the plane. The airlines will check them in for free (like strollers).

How you rent cars depends on when everyone arrives & how much you're willing to spend. These days, we normally into San Jose & spend the night at a hotel. We do this because it's easy with kids. Then we wake up, eat breakfast, have rental cars delivered to hotel and drive down to our place. It's a beautiful 2.5-hour drive from San Jose. Then when leaving, we do the opposite.

You can simply arrive in San Jose, rent a car and immediately drive the 2.5 hours to our place.

We can also arrange for a shuttle van to pick up everyone at the airport & deliver you right to our place. And then have rental cars delivered to our house from Quepos. And do the same on the return. Shuttle vans are $175 each way.

Usually renting cars in San Jose is less expensive by $15 per day or so than renting in Quepos. I usually use Alamo.

You can also catch an internal flight from the San Jose domestic airports to either Quepos or Palmar Sur which are both 45 mins from our property. If any in your party do this, make sure to pack light as the internal flights charge for anything of one bag.

~~~

[QUESTION] Is there anything to do on your property?

[ANSWER] You can walk around our property for days on end. All 250 acres overlook the Pacific on one side. The other side is a dramatic mountain with old growth primary forest which is mesmerizing to look at, and better to hike through. Concrete roads run through the center of our property and there are trails that you can hike from there to lookouts, waterfalls, greenhouse, orchards all full of wild animals and no people. We love to take our guests on hikes on the property and return home for pool-time, lobster, cold beer and sunset. If you'd like a guide (and this is recommended until you're Tarzan), please let us know.

~~~

[QUESTION] How close is the beach?

[ANSWER] The property is about 10-20 minutes by car from several different beaches. Playa Hermosa is the closest spot - around 10 minutes. Domicalito is in a bay so the waves are less - 15 minutes. And Ballena is very picturesque and if you go at low tide there's no danger for the kids - 20 minutes away.

~~~

[QUESTION] Where is your house in relation to shopping, a selection of restaurants, etc.?

[ANSWER] Shopping. There is shopping in Dominical. It's more beach things like towels, beach blankets, jewelry, coconuts crafts, t-shirts. Uvita has much of this too along with a farmers market.

Then 45 mins north along the main highway next to Quepos is Manuel Antonio. This is a lot more developed than our area. It's more like South Beach or South Padre. There's a scene and there are great restaurants and some art galleries too. There's also Manuel Antonio park, although our guest tell us they prefer our property because there are no other people.

We normally buy coffee, t-shirts, and handicrafts at the airport. The prices are competitive and we pick up gifts on the way home so it's less hassle. :)

Restaurants. There is a restaurant within a minute from our front gate called Jolly Roger. They have chicken wings, pizza, salads.

There's also a chef from Florida Bert who runs an outstanding restaurant Bella Vista that's 10 minute drive from our place.

There's a hotel that has good food across the main highway from our place called Cuna Del Angel.

Then within 10-15 minutes along the main highway you can be in either Dominical or Uvita. The highway from Dominical and Uvita has dozens of restaurants with local food & fresh seafood.

If you're willing to drive 45 minutes south, there's a neat community of expats called Ojo Chal which has a outstanding restaurants ranging from french fusion to German to Indonesian.

~~~

[QUESTION] Is there a grocery store nearby?

[ANSWER] The grocery shopping is surprisingly good. Beyond a local farmers market, there are small grocery stores with plenty of fresh chicken & pork, vegetables, toiletries as well as nice bottles of wine & cold beer. There are grocery stores in Dominical and Uvita both of which are 15 minutes away. If you're interested we can have fresh lobster or fish delivered too.

[QUESTION] Would it be possible to hire a cook for a couple of nights, and if so, do you know about how much that would cost (to cook for 12 people)?

[ANSWER] Yes, it's possible. I know of two cooks/chefs. One is Bert who runs the Bella Vista. His place is just down the road. Another is Vanessa. Her place is similarly just down the road. Both of these people prefer to cook at their premises and bring the food and use our kitchen to serve. They're not cheap but they are good & professional.

Separately, I can usually convince some locals to prepare dishes like ceviche, and local cuisine and have it delivered. This is less expensive.

We usually stock up on basics like sandwich makings, bar-b-que fixings, local fruits, pastas and prepare meals at our house. Someone will clean the kitchens every other day. Then we have ceviche and local dishes deliver about every other day to complement this.

~~~

[QUESTION] What about little kids?

[ANSWER] The place has a couple of good features for parents. There's a pool & half if it is 1 ft deep. This is great for toddlers to start to learn the basics of swimming. Our kids (2 & 4 yr olds) want to spend most of their days here. If you're up for it, we can arrange for Kelly the local swim teacher to drop by to give lessons to your grandchildren too.

Apart from the pool which is down a set of stairs, the Main House & Guess House are on the same level so it's easy for kids to walk from one side to the other. We also just added a HDTV with DVD in the Guest House so that the adults can watch football or a movie in the Main House while the kids are watching Winnie the Pooh in the Guest House, or visa versa. We also have a full supply of toddler toys in storage that I'd be happy to arrange for your family to use. Our kids have climbed all over the place so it's got to be fairly child-proof at this point.

Another fun thing to do is to take the kids walking. The most unique part about our property is that there won't be any neighbors or other cars so you can walk along concrete roads through the rain forest and see monkeys, sloths, tapirs, frogs, birds, butterflies, fresh fruit on trees, flowering plants, lizards, water falls and more. Our kids love this. It's also a great way to get them to take naps. ;-)

We bring our Pack-N-Play from US. We wrap it in the clear heavy plastic that United Airlines and others offer for free. We check it in like a bag.

~~~

[QUESTION] What activities do you suggest?

[ANSWER] There is world class deep sea fishing out of Sierpe which is an hour drive south. You'd hire a captain and boat there, and have the time of your life.

There's horseback riding to amazing waterfalls. Lunch can be included. There are many waterfalls. You can also drive to plenty or walk to the ones on our property. You can also rent horses to ride on the beach!

You can also rent ATVs in Uvita and go on ATV trails and the beach.

Our property has excellent bird and animal watching.

There is world class surfing. Surf lessons & board rentals can be arranged.

About 45 minutes south, there's state-of-the-art zip lining! One of the best things ever!
---
---
---
2 nights minimum stay.
From Feb 19 - Mar 4, 2018 the minimum stay is 5 nights.
---
WOW! This house exceeded all expectations, and from the pictures the expectations were set high! The view from the house is glorious, and the animals and land so nourishing and abundant. We saw toucans, howler monkeys, bright blue butterflies, and so much other beauty. It was a joy to both spend time in the house -- the kitchen is very well stocked for a large group -- and to hike around the property. Vin was a fantastic guide to the trails and secret magic spots. Our group loved everything about the house and none of us wanted to leave! Highly recommended for any type of gathering or retreat.
---
This was a perfect place for our extended family vacation. We were close, but not too close. There was something for everyone in our diverse family! It was an incredible place to just sit. While sitting you can read, look at he wildlife, enjoy the pool or just stare at the incredible sunsets. It was an amazing place to be active. You can hike the property, drive a few minutes to surfing, ocean swimming, local market shopping, zip lining and horseback riding. The care taker is very friendly and patient. He speaks expressive slow Spanish that was great for this American who took Spanish 40 years ago. However it would be great to know Spanish while staying here. The house are not air conditioned, but we did not need it because of the good house fans, the pool and the pacific breeze. It was a vacation we will remember forever.
---
This is a beautiful house in a quiet, remote location with spectacular views and abundant wildlife in the surrounding forest and fields. The access road is several kilometers long and is steep and rough; four wheel drive is required. The three well appointed and well equipped structures are ample for a large group vacation. The large kitchen and family work well. Groceries, beaches, and numerous activities are twenty or more minutes away. There are activities for all ages and most tastes, but this is not your place if you seek a resort hotel environment. The engaging caretaker is at your service as a nature guide, fixer, arranger, and advisor; someone in your group should be fluent in Spanish or be facile with a translation app. It is a special place!
---
Villa Chill was the perfect location for our family gathering. It was out of the way yet close enough to the ocean, national park, zip lining and other family adventures. We were a big group and other members of the family had numerous questions that came up. Both Jason and Annick helped answer the questions in a timely fashion. I am afraid that sometimes are questions may have been repetitive. Their grounds manager was also very helpful. He greeted us and made sure that we were settled in. He also cleaned off the yoga platform and brought in some toys for the "toddler". We were also hoping for a guided hike, but with so many plane delays we couldn't seem to get everyone together at one time. We had lots of cooks in our group and the kitchen seemed to offer lots of opportunities to put some great meals together. We used the grill, slow cooker, rice maker, blender, stove, oven, etc... Also, there seemed to be plenty of dishes for our large crowd. We maxed out at 16. Plenty of indoor space and plenty of room to roam. It was my first airbnb experience and our hosts made it very welcoming and easy.
---
Our arrival at the Casa was very smooth. Jason was very easy to communicate with and all the necessary information and arrangements were in place. The house was clean and ready for us to enjoy. There were some refreshments and fresh fruits waiting for us. We had just made a long drive from La Fortuna and the cold beer in the fridge was a treat. We were greeted by Vin, the world's greatest caretaker who helped us with bags and even went to the nearby restaurant to pick up our dinner for us. WOW! A great first evening.
---
This rental exceeded all expectations for our Holidays. The pre information provided by Annick and Jason is very thourogh and (URL HIDDEN) was the correspondence between Annick regarding specific recommendations for activities off the property. But why do you want to leave? We were all stunned from the moment we entered the gates and drove up their beautifully landscaped driveway . When we arrived at the house site our party of 6 literally stood with mouths open in awe of the incredible views from every window...seriously. The kitchen is much larger than we thought and our hosts left coffee, fruit and flowers to welcome us. The bedrooms are lovely , the living areas are many (inside and out) and the pool is situated for views of the jungle and the Pacific ocean...our favorite soundtrack was the jungle sounds; howler monkeys, birds of every kind..wild pigs... Our favorite activity was the hike through the jungle with Jin , the incredibly competent estate manager. He led us on an incredible path and beyond the path, with patience , good humor and brute strength. We really appreciated all of his skill and enjoyed seeing his outdoor yoga platform.... The guest houses were huge and very nicely appropriated. We found Dominicalito to have the best collection of restaurants...the bar Jolly Roger on our street is a hoot...I highly recommend this property.
---
We live in Denver, where I run a technology company with other offices in Singapore & India. I also work in potable rainwater and run an exclusive gated spa garden in Costa Rica. Prior to having kids, my lovely French Canadian/Chinese wife Annick & I spent more than 7 years in exotic locales in Asia, North, Central & South America, Australia, New Zealand & Europe. We continue to travel through life's journey.

We enjoy sports including swimming, skiing, boarding, surfing, hiking and a zillion other activities. We take education seriously and in our house, you'll hear English, French, Spanish, Mandarin and Cantonese spoken on a regular basis.

Although I grew up hunting in Texas, the only similar activities we do in Costa Rica is fishing or wildlife viewing. We love untouched nature and have done our best to preserve our property Selva Escondida and its rental Villa Chill so that others may enjoy a luxury Tarzan overlooking the Pacific experience. Costa Rica provides our family with the experience of growing fruit trees, supporting wildlife, harvesting teak, building trails and lookout towers in a pristine jungle overlooking the Pacific Ocean and has been wonderful and provides balance in our busy lives.
Response rate:
100%
Response time:
within an hour
Explore other options in and around Dominical
More places to stay in Dominical: