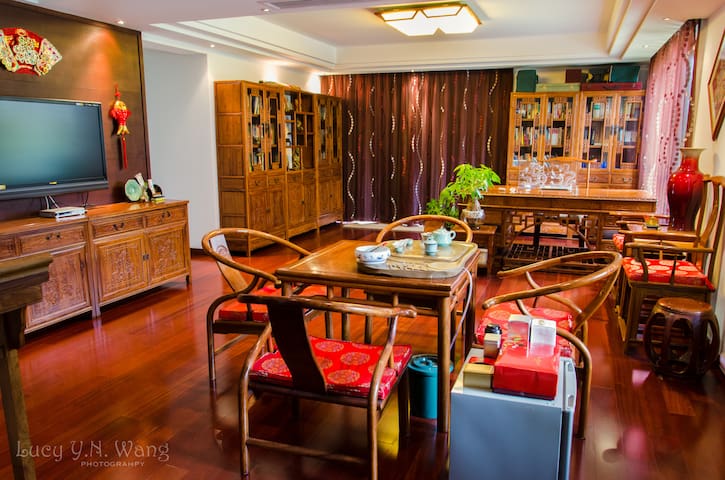 About this listing
Luxurious apartment in wonderful location. Super connivence transportation connects to the West Lake and the Xixi Wetland. All five stars reviewing apartment.
The individual bedroom (we have two bedrooms available, hosting up to total 4 ppl. Search my other room on Airbnb.)
---
---
Kitchen
Space where guests can cook their own meals
Essentials
Towels, bed sheets, soap, and toilet paper
+ More
---
---
The Space
The apartment is located in the center of Hangzhou, taking 10 minutes to the West Lake driving or 15 minutes by riding. The apartment is between two biggest roads, Wen'er and Wensan Rd, surrounding by restaurants and IT centers. Educational institutions are nearby. Zhejiang University Yuquan Campus is 5 min away and Zhejiang University Xixi Campus is even closer. You will have a private bedroom and an individual bathroom. You are always welcome to rent rooms and we'd like to introduce the city to you. We will prepare free breakfast for you EVERY SINGLE DAY like most hotels do. You may also want to join other daily meals, which is fine for us. We won't charge you for neither food nor bike. Thank you very much for your interesting! Hope you have a wonderful time in Hangzhou.
小区采用了园中筑宅的规划,在园区中以架空层景观、景观绿地、商铺顶部花园,构筑了一个如立体花园般的自然境界,生活环境极为优美,在市中心西湖区的位置,这样大规模的楼盘打造的景观,层次丰富,并以自然的水景为主题,确实物超所值。出行便利,空闲时间驾车10分钟便可达到西湖景区,若有闲情逸致亦可骑车环湖。距离西溪湿地车程也仅有20分钟。周围文化气氛优异,比邻浙江大学两大校区,玉泉校区和西溪校区。
房客拥有独立的卧室和卫生间。同时共享家中的客厅、厨房、餐厅、露台以及其他房内设施。提供精心准备的免费早点。体验杭州人的日常生活。在更多方面为来宾提供帮助和便利。希望有一个完美的假期。
小區采用了園中築宅的規劃,在園區中以架空層景觀、景觀綠地、商鋪頂部花園,構築了壹個如立體花園般的自然境界,生活環境極為優美,在市中心西湖區的位置,這樣大規模的樓盤打造的景觀,層次豐富,並以自然的水景為主題,確實物超所值。出行便利,空閑時間駕車10分鐘便可達到西湖景區,若有閑情逸致亦可騎車環湖。距離西溪濕地車程也僅有20分鐘。周圍文化氣氛優異,比鄰浙江大學兩大校區,玉泉校區和西溪校區。
房客擁有獨立的臥室和衛生間。同時共享家中的客廳、廚房、餐廳、露臺以及其他房內設施。提供精心準備的免費早點。體驗杭州人的日常生活。在更多方面為來賓提供幫助和便利。希望有壹個完美的假期。
Guest Access
You are absolutely welcome to stay at the apartment. We appreciate if you let us know more information about you while you book, such as your purpose come to Hangzhou and your occupation.
十分欢迎你们的入住。我们会很感谢如果在入住之前有更多的交流、了解你们更多的信息。希望你们有个愉快的旅程。
十分歡迎妳們的入住。我們會很感謝如果在入住之前有更多的交流、了解妳們更多的信息。希望妳們有個愉快的旅程。
Interaction with Guests
We'd like to offer you a brilliant trip in Hangzhou that we can help you make a great plan. Feel free to use the bike that would be helpful for seeing sights, too.
我们十分乐意为来宾安排最合适的出行路线。根据旅行天数和个人出行偏好制定计划。希望给客人带来更多的帮助和便利。
我們十分樂意為來賓安排最合適的出行路線。根據旅行天數和個人出行偏好制定計劃。希望給客人帶來更多的幫助和便利。
The Neighborhood
Nice location the apartment has. There are many restaurants around 100 feet. Also the community has pool and recreational facilities. A few entertainment centers around.
坐落于完美的社区环境。绿色植被覆盖小区80%,小区设施齐全。周边生活丰富,数步之内有众多餐馆、KTV、静酒吧以及其他娱乐场所。
坐落於完美的社區環境。綠色植被覆蓋小區80%,小區設施齊全。周邊生活豐富,數步之內有眾多餐館、KTV、靜酒吧以及其他娛樂場所。
Getting Around
#2 subway station (2017 lol) right front of the north gate.
地铁2号线(未开通)直达北门。
捷運2號線(未開通)直達北門。
A bike late night return places by the south gate. Unlike other place, you may return bikes till 11pm.
免费公共自行车租借位于南门口,不同于普通还车点,可以接受夜间还车。
免費公共腳踏車租賃位於南門口,不同於普通還車點,可以接受夜間還車。
Bus stops are located at every exit. Both ground and underground parking lots are available to be used.
公交车站位于每个小区出口。配备地上地下停车场。
公交車站位於每個小區出口。配備地上地下停車場。
Other Things to Note
Your daily activities can't disturb others, especially at night.
+ More
---
Daily activities can't disturb others, especially at night.
日常活动请不要打扰他人,请不要在夜间妨碍他人休息。请尊重房间内的私人物品。
日常活動請不要打擾他人,請不要在夜間妨礙他人休息。請尊重房間內的私人物品。
It is a NON-SMOKE and PET FREE apartment. You may smoke at terrace.
无烟无宠物的房间,请在露台和其他露天环境吸烟。
無煙無寵物的房間,請在露臺和其他露天環境吸煙。
Please do NOT slide suitcase or use its wheels on the wooden floor.
请不要使用旅行箱滑轮以及其他方式,防止损坏地板。
請不要使用旅行箱滑輪以及其他方式,防止損壞地板。
+ More
---
---
Explore other options in and around Hangzhou