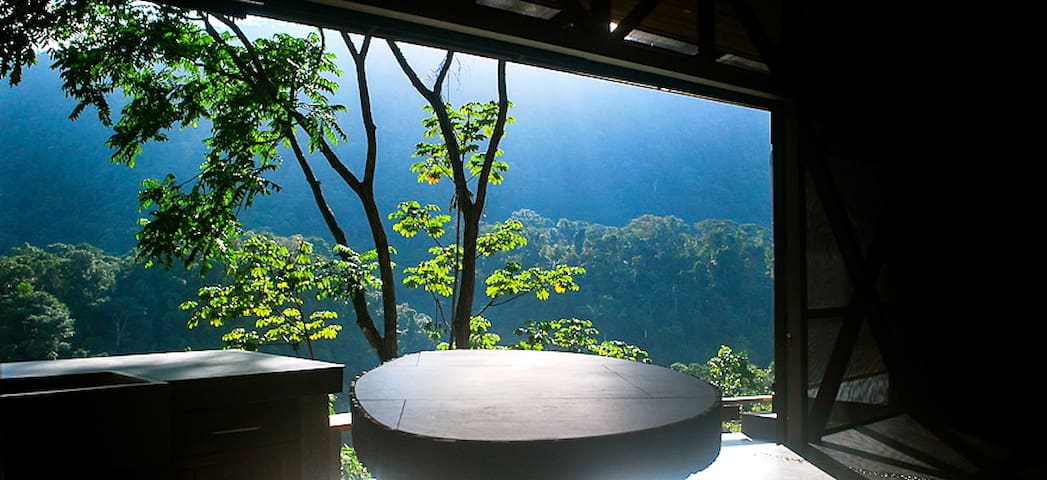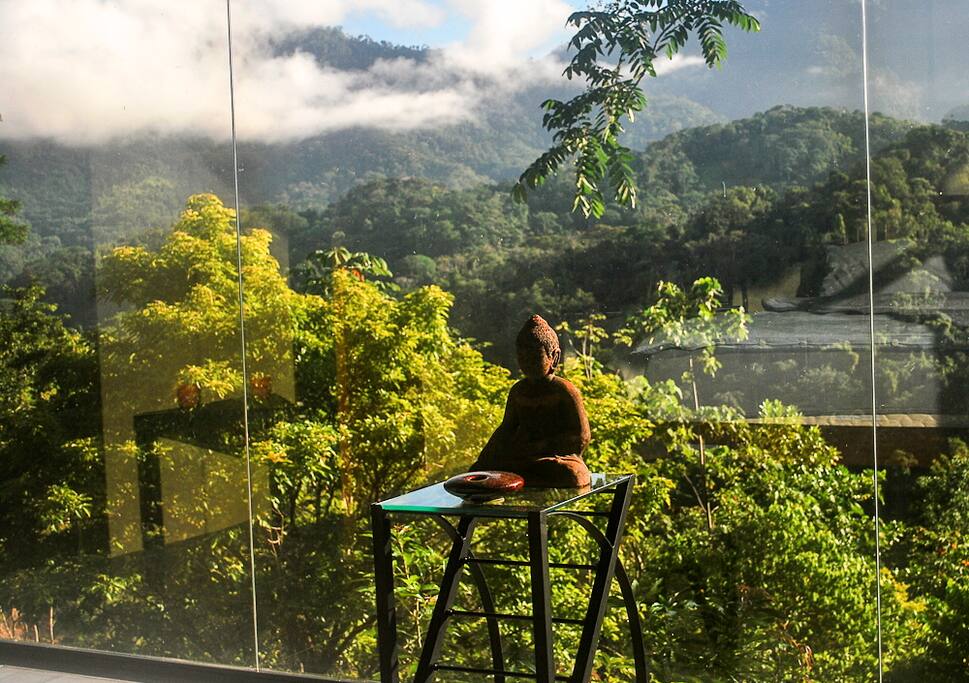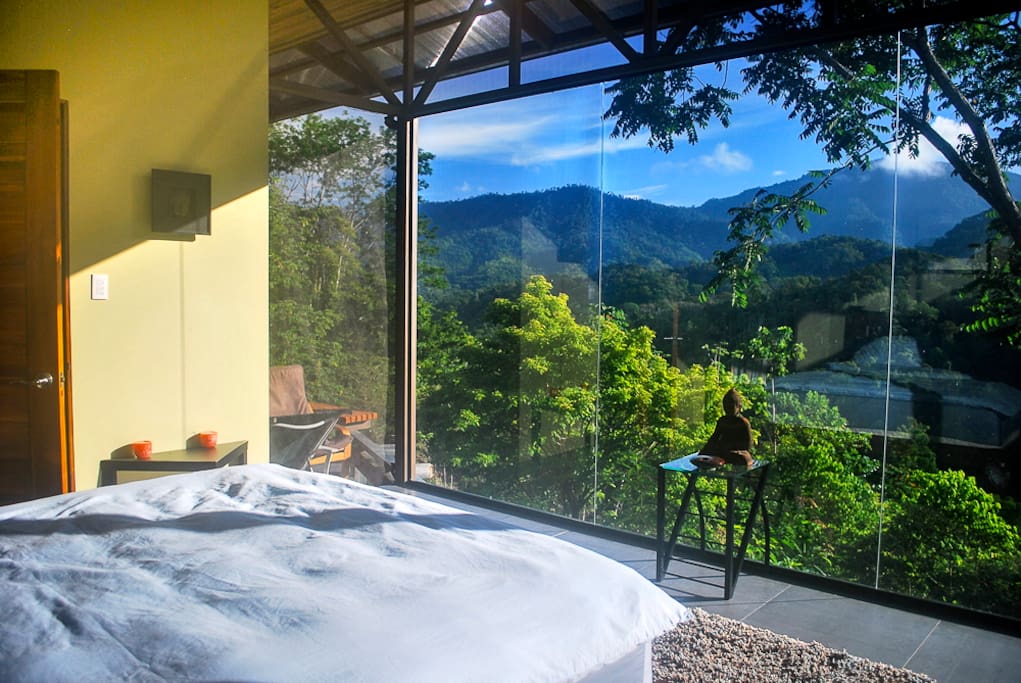 Designer home with stunning views
It's a designer home, just recently built. Bedroom has floor to ceiling windows overlooking mountains covered in primary rain/cloud forests.
---
---
Extra people $20 / night after 2 guests
Always communicate through Airbnb
To protect your payment, never transfer money or communicate outside of the Airbnb website or app.
Learn more
---
Fun things to do:
Uvita is a central location partly due to it's stunning geographical location and partly because we have the second largest marine National Park in the country called Ballena NP and this strategic location makes it a great base.
Based on my personal experiences and on a survey I've conducted with previous guests I very highly recommend:
The Animal Sanctuary in Dominical area. I spent one of the most memorable times at the sanctuary with 2 white face monkeys! You have to make reservations.
The kayaking tour with Carlos from Bahia Ballena Kayaks in Uvita. He has different tours but I'd recommend the kayak -surfing- jungle tours-snorkeling tour and the waterfall rappelling.
They are the last house on the right hand side before the park entrance. Ask for Carlos and tell him I sent you. He'll make every effort to either take you out personally (if he's not leading another tour) or he will sign you up with his best guides. He is amazing! Very knowledgeable with excellent equipment.
You'll very likely see a lot of wildlife with him. The famous stunning scarlet macaws were often seen in the park. You'll see alligators and other wildlife that he's very good at pointing out, as it's hard to spot them without a guide. You'll learn how to open up coconuts, you'll ride the waves and you'll have a blast!
The newest tours he is offering is a waterfall rappelling (5 waterfalls). He got his new equipment last year (haven't tried it but knowing him it must be amazing!). Also starting mid November he's offering night kayaking tours to see the turtles hatch on the beach.
Check out the spectacular Nauyaca Waterfalls. It's a 6 km one way hike from the highway but park down at the bridge to shorten it by 2 uneventful km. Bring lunch and swim suite. It's 35 minutes drive~ from the house, entrance is $5/person. It's an absolutely amazing spot for swimming and hanging out, make it a full day and bring lunch. Some people stayed later and they had it for themselves.
For a quiet spot, hike down to the river below us. It's very pretty. There are waterfalls & swimming holes ranging in sizes. Chances are, you will be alone.
Directions: make a left from our property, and walk for about 1 km, you'll see a wooden shack. The owner, Lobo can let you go through his property it's 1000 colones per person, if he's not there you can just leave the money for him. Make sure to wear hiking boots as the terrain can be slippery and rocky and tree roots might be sticking out. It's the tropics, a totally different environment.
I highly recommend going up to Mt Chirripo, even if you just do it as a whole day hike. Stay overnight at Rio Chirripo, in San Geraldo ask for Ori and Frank (amazing couple). An incredible place, stunning and full of positive energy! It's 1 1/4 hours from Uvita.

Wildlife spotting:
On your way down from SJ you'll pass a large river. Alligators are often spotted there.
You'll ride along the ocean, if you stop make sure you keep your eyes on the car, thieves like the beaches!
Based on the survey, guests have reported lots of wildlife spotting from our house. Lots of different types of birds, hummingbirds, toucans, parrots etc from our house. You'll see monkey colonies if you walk on our road. There used to be a jaguar in the neighborhood, but they are very hard to spot.
At La Cusinga there are different monkey colonies, chances are high that you'll see baby monkeys, LOTS of birds, if you are lucky you might spot some Red Scarlet Macaws.
My favorite beaches were at the main park but make sure you go in low tide, you can walk out to the tip of the Whale's Tale. Incredible! It feels like you are walking out into the ocean and as a backdrop you'll have the mountains covered under clouds. Epic. The other beach I recommend is the southern entrance to the NP. You can park right on the beach, or for a private beach go to La Cusinga (please read instructions).
I did a survey with our past guests and the most fun activities that stood out were: the kayaking/waterfall rappelling with Carlos, the animal sanctuary hiking down to the river pools/waterfalls below our house, Nauyaca waterfalls, hiking around on the property, beaches of course and ATV riding but I don't know the company. Everything I'm suggesting is a first hand experience that I can vouch for and recommend.
You can also access a semi private beach from their property, go for lunch and hike down to the beach, a 10 minute walk through the jungle, be aware of slippery, rocky and hard terrain. Worth it!
Water:
We have great tasting rain water, it is sand filtered and sterilized with a very high end UV filter from the US, making it cleaner than most municipal water in the US. Great tasting and no chlorine.
The water in Costa Rica is potable, so no need to buy the imported super expensive water from the US. Besides the chemicals leaching in from the plastic into the water to the high import prices, the plastic most likely will not be recycled in Costa Rica, and it ends up in the landfills and the ocean.
How to get there:
The main airport is San Jose (SJO) it's 3 ½ hours easy drive from Uvita. The only congested and confusing area is by the airport. Download waze application on your smart phone or use a GPS and it's a breeze to get down. Alamo rents GPSs for $10/day, you can just rent it for one day and drop it off next day in the Uvita office at National but with a smart phone you'll be all set.
Bring coins and change from the US or change colones for the highway tolls!
We don't recommend driving at night in Costa Rica, even though roads have improved tremendously, there are no sidewalks and people walk by the road and it's hard to see them.
SIM card purchase: You can purchase a sim card for around $4 (around 2000 colones) by the luggage claim in the airport, no charge for the sim card and it might suffice you for 2 weeks or so for checking emails and light searching. It's easy to spot the Kolbi sign or you can get it in the official Kolbi offices, you just need a passport. Sim card is technically free as you can use all of the funds with calls. Cellphone signals have greatly improved in the country, there are some spots between Dominical and Uvita that don't have reception but Uvita has good signal.
There is pretty good signal on the top of our property and some in the house.
Rental car:
You will need a 4 WD (4 wheel drive) car to get to our house. Our preferred rental car company is Alamo. Ask for David, he speaks English and is very helpful, he's at the airport office. Tell him I sent you, it should be less of a hassle. Normal waiting time is 1 hour.
It's important to call your credit card company in advance as well as your car insurance company and find out if both of them cover car insurance in Costa Rica. If you do get coverage make sure you tell the rental car company. Car insurance is very expensive in CR.
The other option is to rent a car in Uvita. The best rates are at the Uvita Info center. You can still reserve it from home just ask for Sonia or Estela. The drop off fee at the airport is $50, you might be able to negotiate it.
The other option is to take a bus, approximately 3 hours, it's fast, clean and $10 or so per person (you'll need to get a taxi from the airport to the bus terminal ~$25). Taxi to the house from the village is 5000 colones.
MAKE SURE TO GET ON THE EXPRESS BUS in San Jose, otherwise it's a 5 hour long ride over the mountains.
Or you can take a taxi to Uvita, it is around $150, ask Estela or Sonia to set it up for you at the Uvita Info Center. It's a safer option then getting in a direct cab at the airport for $200-300.
Exchange rate and ATMs:
The dollar to colones is between 500-550 colones to the dollar. ATMs are readily available, if you come in peak season be mindful that the ATM machines get depleted during the weekends and there will be long lines. There are 3 ATM machines in Uvita. The US dollar is accepted however the exchange rate will be less than if you pay with colones.
Most of the supermarkets, restaurants etc take credit card but check with your credit card company to ensure they don't charge foreign transaction fees!
Supermarkets and farmer's markets:
There are 2 "large" super markets in Uvita. They open at 7-9 pm. You can buy pretty much all the basic things you need. There are fruit/vegetable trucks on the side of the roads. Prices are better and tend to be fresher.
There is a Saturday farmers market in Uvita or a Tuesday market in Tinamaste or the large market in San Isidro on Thursdays.
You can also stock up in Quepos, there are large supermarkets by the highway. They are cheaper than the Uvita super markets.

Safety:
In general Costa Rica is very safe, however petty crimes do happen especially by the beaches or touristy areas. Do not bring any valuables to Costa Rica with you and especially do not bring them with you to the beach. Leave the glove department open to indicate it's empty.
If you do bring them there are lockers by the main park entrance. Carlos, the kayaking outfitter rents them out. You can also park your car there for a fee.
National Park entrance is $6/person/day. Technically the park opens at 7-4pm and you should be able to enter for free, off hours. If there is a woman at the main park entrance it might be a challenge to enter for free before 7am but I was definitely told that after 4 pm they cannot charge you. The sunsets are stunning there or you can also watch the sunsets from our property. The ocean view on the top of the property is just amazing!
We have lots of fruit trees on our property that are ripening (by the season) custard apples, guava, limes, ginger etc. You can go foraging just make sure you wash them well, it's all organic but you are in the tropics! If you venture down or in thick grass, take your boots and hiking poles.
Great places to eat:
Por Que No? in Dominical. An amazing spot for lunch or dinner. Reservations highly recommended.
La Cusinga, great for dinner. Go around 3-4pm for amazing sunset. Bring your own drink and enjoy the stunning. You can also access a semi private beach from their property, go for lunch and hike down to the beach, a 10 minute walk through the jungle, be aware of slippery, rocky and hard terrain. Worth it!
Goat House, very good for lunch.
La Fogata, in Uvita right before the bridge, make a left. A casual setting, great BBQ chicken. Ask for Patricia, tell her I sent you, she's wonderful!
Exotica and Citrus in Ojochal. It's a bit pricey but people like it.
---
---
---
Languages:
English, Español, Français, Italiano, Magyar
Response rate:
100%
Response time:
within an hour
Explore other options in and around Uvita
More places to stay in Uvita: