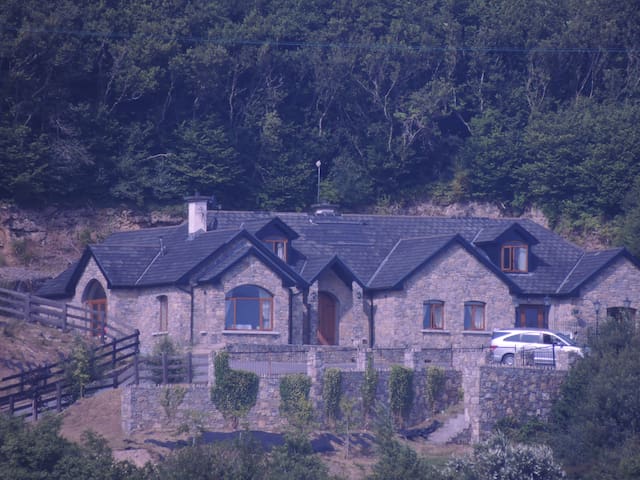 About this listing
Castle View B&B is overlooking Lough Gill, Parke's Castle, Innisfree Island, Arigna Mountains, O'Rourke's Table, Queen Maeve grave and St. Angela's College. All rooms are en-suite, and have TV and internet access.
---
---
Kitchen
Space where guests can cook their own meals
Essentials
Towels, bed sheets, soap, and toilet paper
+ More
---
Extra people:
$34 / night after the first guest
---
The Space
Castle View B&B is overlooking Lough Gill, Parke's Castle, Innisfree Island, Arigna Mountains, O'Rourke's Table, Queen Maeve grave and St. Angela's College. All rooms are en-suite, and have TV and internet access. Castle B&B is located outside Dromahair in Co. Leitrim within close proximity of Sligo City and the town of Manorhamilton. It is an inviting, three star registered bed and breakfast. At the end of the road you will find Parke's Castle and the Rose of Innisfree boat trip.
The facilities for fishing and sea fishing, tennis, horse riding, windsurfing, paddle boarding, mountain biking, paintballing,diving and adventure sports all within easy reach. Guided walking tours available on request.
A short drive will take you to the local village, which consists of four pubs, a shop and the Riverbank Restaurant and a little further on to reveals a wide range of restaurants, pubs and shops. Your host JJ, originally from Dromahair, provides a warm welcome and a home from home atmosphere in this spacious modern home. JJ can also do guided tours, including the history, of Dromahair and the surrounding area.
This beautiful family home has a selection of four en-suite rooms all comprehensively equipped with cable TV and hairdryer. There is also a separate kitchen for those wishing to cook their own food, this also contains washing and drying facilities for clothes. JJ has worked in the local area for a large number of years. He provides an extensive menu choice at breakfast time. This meal is served from 8am to 10.30am in the dining room which has splendid views of Lough Gill and Innisfree Island (featured in the poetry of W.B.Yeats). Another interesting feature of the house is they have open fires lit constantly. JJ will also help you plan your daily itinerary. He will book the dailyboat bus tours. This dramatic landscape was inspirational to and played no small part in the success of films such as Black Ice.
Guest Access
Everthing but the back living area at the back of the kichen, we are a very open, friendly house,
Interaction with Guests
a lot, we have lots chats and we can tell you all about the area
The Neighborhood
The Wild Atlantic Way Butterfly route is an amazing trip taking you to Ireland's most hidden and wonderful places in the North West. Enjoy breathtaking views of counties Leitrim, Sligo, Cavan and Fermanagh en route. This ancient landscape full of heritage with its mythical, mystical magical past is a feast for the senses and home to the rare Silver-wash and Marsh fritillary butterfly. The locals share their stories with you and describe their favourite place on the tour so it's told with real voices, passion and a love of the area. The route includes restaurants, activities, attractions, accommodation, arts and crafts so plan your journey in advance or, take a lane less travelled while viewing your app or taking advice over a cuppa in a local coffee shop.
The iconic attractions on the route include: Parke's Castle, Dromahair, Co. Leitrim, Hamilton's Castle, Manorhamilton, WB Yeats' grave, Drumcliffe, Co. Sligo, Glencar Waterfall, Co. Leitrim Fowley's Falls, Rossinver, Co. Leitrim, The Burren, Blacklion, Co. Cavan, Marble Arch Caves, Co. Fermanagh
101 things to do in our area, called The Wild Atlantic Butterfly
Parke's Castl(URL HIDDEN)
Parke's Castle Knitwear/Crafts/Arts/Coffee Shop
Lough Gill Waterfalls
Rose of Innisfree Boat Tour
Troll wood Walk
Eunsn Forest
Belcoo Cottage lawn
Moneygashel Cashel
Lough Gill Fishing
Lough Doon Fishing
Leean Mountain Walk
Shiff Bay
Sir Roberts Point
River Bonet Fishing
Sup For All/Paddle boarding
Adventures gently
Leitrim Crystal ( Parkes Castle centre)
Ard Nahoo Health farm
Tour De Humbert Cycling Trail
Dromahair Pubs and Restauants
Dromahair 160 year old pub
Creevglea friary
Carrigeencor Lake Fishing
Dromahair Irish Dancing Centre
Paddle monkey Dromahair
Leitrim Bike Hire
Drumkeeran Pubs
Arigna Mining Experience
Moorland equestrian centre ( Horse Riding)
Electric Bike Trails Ltd
Lough Allen adventure cemtre
O Donnells Rock
Manorhamiton Castl(URL HIDDEN)
Glen Centre ( Music)
Manorhamilton Pubs and Restauants
Manorhamilton Children recreation area
(URL HIDDEN)
St Clare's Hall
The Market House
CoLeitrim Sculpture Centre
Old Railway Station
Famine Graveyard Manorhamilton
Court House
Manorhamition
Glenfarne Music Centre (Ballroom Of Romance)
Glenfarne Pubs and Restauants
Lough Mac Nean Fishing
Sean Mac Diarmada House
Lisdarugh Ring Fort
Lough Mac Nean Sculpture Trail
Lough Mc Nean Children recreation area
Whitefathers Caves
Blacklion Golf club
Blacklion tourist office
Blacklion Pubs and Restauants
Neven Maguire Cooking School
Caven Burren
The Caven way
Shannon Pot
Haning Rock
Lower Lough Mac Nean
Belcoo Caravan Park
Benaughlin
Gortaloughany
Florencecourt House& Forest Park
Marble Arch Caves (world park Geopark in 2008 and 2010)
Eunsn Forest
Belcoo Cottage lawn
Moneygashel Cashel
Picture

Marlank
Belmore Forest
Gortmaconnell Rock
Cuilcagh Mountain Park
Crossmurrin and Killkeegan National Nature Reserve
Clagagh Glen
Belcoo Pubs and Restauants

St Patrick's Holywell
Corralea Activity Centre
Garrison Pubs
Belleek China
Lough Melvin Hoilday Centre
Lough Melvin Fishing
Garrison Caravan Park
Fowley Fal(URL HIDDEN)
Rossiner Organic centre
Ballagh Centre Rossiner
Rossiner Pub
The Drowes Fishery
Kinlough Pubs and Restauants
Kinlough Folk Museum
Kinlough Ecopark
Dartry Mountain walk
Lurganboy Walk
Lurganboy Church 1800's
Glencar Waterfal(URL HIDDEN)
Glencar Lake Fishing
Drumcliff River Fishing
Yeats Grave and Coffee/Gift Sho(URL HIDDEN)Main Attraction
Benbullen Mountain Walk( south side)
Keelogyboy NHA Park
Hazelwood Walk
The Sleeping Giant " Mountain Formation"
Bertie's Pitch& Putt
Calry Play Ground
Hazelwood paintballing
Deerpark Walk

Getting Around
No you need a car, bus on a Saturday
Other Things to Note
The area is called Wild Atlantic Butterfly
The Wild Atlantic Butterfly is a beautiful place, a mythical place. Shrouded in mist for most of the time, which preserves it like something out of the past, making it a unique and unchanged destination for the visitor.
On a beautiful day, if you fly from overseas into Knock airport, you will see why. The journey takes you across the tweedy sea until you see the white scar of the surf breaking on the sickle shaped Blaskets. From there the plane passes the ragged coast line up and into the mouth of the serpentine Shannon. Lakes glimmer in the sun until you come to a bog of peat, and more peaty lakes. Then the plane veers left and the mist closes in. We land and we drive to this veiled place, where there are buzzards stalking in the trees. Then they soar overhead above the eagle's rock with its great tusk and its outline, always dark like some prehistoric rhino sleeping through the ages.
From mid- March, the gorse will bloom yellow as a yolk, the blackthorn and the whitethorn will turn the countryside white as lace, primroses, blue bells and snowdrops will decorate every roadside and the shade seeking violet will feed the lusty appetites of the rare and flirtatiously named silver-washed fritillary caterpillar, before it transforms into a rare and beautiful butterfly. Parke's Castle is located on Lough Gill, so called after the daughter of one of the most influential chieftains of the land. The castle was once home to Brian O'Rourke, who entertained the Armada shipwrecked Francisco de Cuellar by his own fireside. Lough Gill contains 20 islands, cairns have been built on two of these, one, the so called 'Beezies' island, was at one time a leper colony, another again was the site of a monastery, the remains of which are visible still. This bright lake is remembered most beautifully in a poem about one of these islands, 'Inishfree' by W.B.Yeats. Kingfishers and woodpeckers can be seen flickering about the shoreline and along the banks of the Bonet river showing off their spectacular exotic plumage. The Bonet holds a yearly run of salmon and trout which fill the waters in early spring and summer, and the good fishing in these parts attract anglers from all over the world. Spot them standing like heron in long wader boots, stock still and waiting with a rod in the silver hoping to catch the first fish of the season.
Passing down the tree lined roads you might be lucky enough to see pine martins flowing around like living illustrations from the book of Kells. These elusive creatures are abundant in these parts but quite rare throughout the rest of Ireland.
Yeats, who wrote so eloquently about this region, chose to be buried near here at Drumcliffe, a monastic site founded in the 11th century by St. Columcille, a poet and scholar himself, so a fitting resting place for W.B. There is now a coffee shop here where you can rest awhile as you consider the great works of literature which were inspired by this locality.
Glencar waterfall is a must see with its tumbling mane of white water. There is easy access from the road and the shore walk which runs alongside the lake of the same name offers beautiful views of the waters and the wildlife that live on and beside it.
A stop in the culturally rich Manorhamilton is an absolute must for anyone with an interest in the arts. The Leitrim Sculpture Centre the only facility of its kinds in Ireland invites national and international artists to reside here to practice sculpture in all its forms, printmaking both traditional and modern, or molten glass work, and there is a working forge for black-smithing. The old castle broods at the top of the town and is an interesting ruin to explore, as is the famine graveyard, a heartbreaking and important place. Most of the pubs in the town offer traditional music in the evenings and at the Glens Centre you can enjoy a performance in the intimate surroundings. O'Donnell's rock is a unique limestone plateau at the summit of these glens and is worth a trek for the breathtaking views alone, aside from the interesting formations which the wild weather had carved out over the millennia. The chances are, you will be the only visitor and will be investigated at length by the curl horned sheep.
The Organic Centre at Rossinver is another unusual place to visit. Growing from strength to strength each year, you can buy 100% organic seeds for your garden, every kind imaginable is for sale, they also sell their own produce and for a small fee you can visit the vegetable gardens. Near here is the lesser known, Fowleys Falls. This is a series of stepped waterways which rush through native hedges and trees. It is a great place to hike and forage. All kinds of mushrooms can be found here with fantastic names like charcoal burner, amethyst deceiver, hedgehog and not forgetting the porcine penny bun. There are picnic tables positioned here and there if you fancy snacking al fresco. Visit the Ballagh Centre while you are in these parts for the wonderfully restored chapel with its colourful stained glass.
Getting to Kiltyclogher, you'll pass ginger pheasants atop ginger cows behind the ginger hedges in winter to get to the sheltered Sean Mc Diarmuids house, but there are buildings much older than that scattered about, Prince Connalls grave for example, is a prehistoric tomb which was built around the same time as the pyramids, but, like most ancient structures here, it has not been restored and very much looks its age of over four thousand years. Another ancient ruin, Black pigs dyke runs along here too, in a series of large earthen ditches which formed an ancient boundary between Connaught and Ulster. It makes an interesting route to follow and explore on foot.
There are many walks to enjoy in Glenfarne forest. Ladies walk being one of the most popular is situated right by the water's edge and a sculpture trail can be picked out as you amble along. The Ballroom of Romance – the original ballroom from the famous William Trevor short story, has now been fully restored and has become a vital hub of activity in the locality.
The majesty of the marble arch caves is not to be missed, not only for the beautiful and silent caves which course inside the belly of Cuilcagh mountain, but for the park on the mount itself, with its beautiful woodland and wood walks of native timbers such as beech and oak and the red squirrel which runs along their boughs .
In Fermanagh, near Belcoo lies St. Patrick's holy well. It is said to be the coldest water in Ireland, and is considered to have been a sacred site long before Christianity came to Ireland. Visitors can take part in the religious rituals associated with the well, they may wish to take the healing waters home with them, or just listen as the quiet waters trickle over the stones in musical prayer.
+ More
---
Book into house between 3.30 and 7.30, make it like your home.
Thank You
JJ O Hara
+ More
---
---
Explore other options in and around Sligo