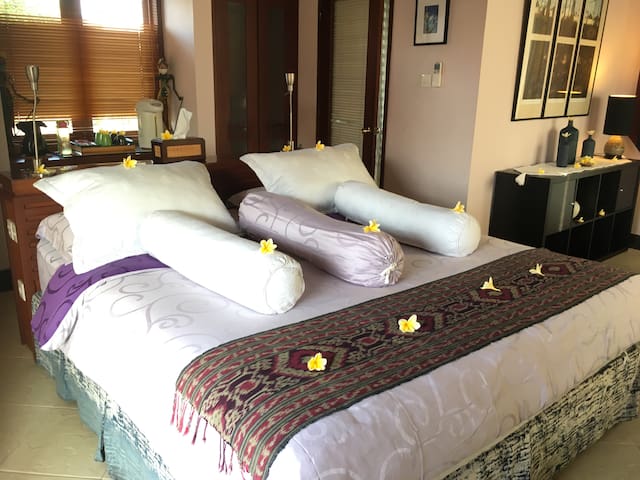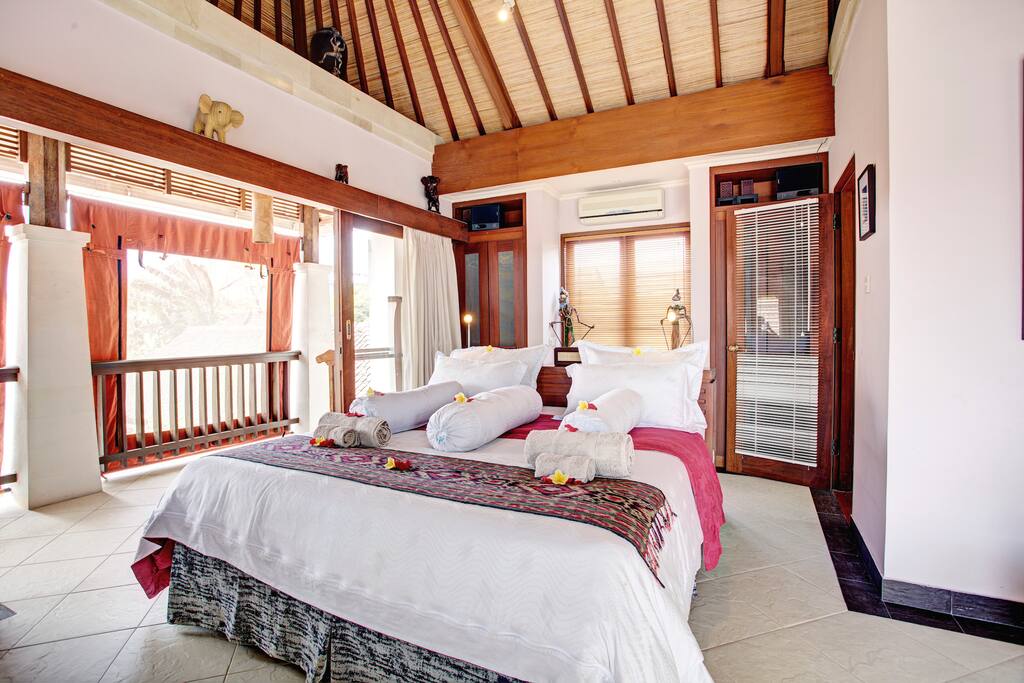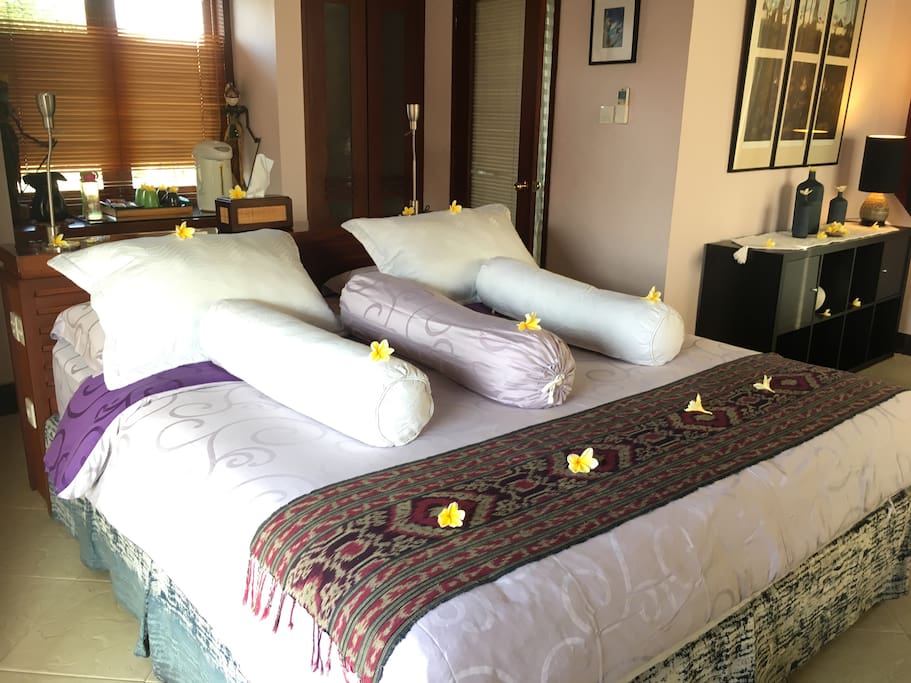 Please read detailed descriptions on our webpage for more information.
A great place to start your journey in Bali. A home to share and not a commercial villa.
The space
We share a room on the second floor, in a separate building within a compound. Completed with private bath room, AC, House staff to tidy up daily and change your sheets once a week, extra towels are provided within reasonable use, Hot water, Internet, Swimming Pool.
We have living in staff, however she will be available to serve breakfast and help you getting in/out of the house. We have another staff that will be accessible by phone, who will be able to assist to your questions and work for us during the day. One other cleaning lady will come everyday except sundays. Bed sheet is changed upon request with a minimum of the forth day of stay.
This room is located on the second floor of the guest house. An outdoor staircase will lead you to this room.
Our bed is very comfortable to rest after a long day tour. We bought the best mattress. A private balcony and a corner sofa in the balcony is perfect to laze, listening to the music with a good book to read, while sipping refreshing drinks. We also have plenty of DVD to enjoy, all you have to do is ask for the selections.
The seating area inside the bed room is a perfect place to plan your visit.
It is set an old fishing village that now becomes villas area, lots of neighborhood's activities but far away from the main road. Sanur is famous for its amazing sunrise.
You can walk to the beach and many restaurants and souvenirs shop near by. It is located 45 minutes by taxi to the famous Kuta Beach where the party area is.
Sanur is less crowded and has way nicer atmosphere for a mellow holiday.
We only provide simple breakfast, included with the room price ie. bread and jam, coffee and tea. Any additional is only complimentary if we do have the staff and in our own discretions.
We do have small dogs (1) but they are taken care by our staff.
You will be living and sharing our daily life, but the guest house is independent of the main house. So, you still have your privacy.
Denpasar has various attractions. The white sandy beaches are well-known all over the island. Some of the surfing beaches are Kuta Beach, Legian Beach and Canggu Beach. Sanur beach has calmer waters and is excellent for sunbathing.
Fifteen minutes from Ngurah Rai International Airport lies the town of Kuta/Seminyak. Kuta is where most of the hotels, restaurants, malls, cafes, marketplaces, clubs and some spas that cater to tourists, are located - extremely crowded and notorious with traffic jam. In the Denpasar area, all kinds of Balinese handicrafts are represented in local shops. These include artwork, pottery, textiles, and silver.
Public transport is not Bali's strength, where ever you go, you need to either walk, rent a motorbike or rent a car. Our location is near to mostly everything you need to see in Sanur by foot.
It is a good base to start your exploration of magical Bali.
Since this is our home and due to the nature of AirBnB, we would like to know you better before we accept your bookings.
Please complete your profile (photo and intro) and tell us more about yourself and your trip. This way we could assist you better during your stay.
Guest access
Guests access the house through the main gate, extra key can be obtained only if available. If not, someone can assist in opening the door for you. You are welcome to use the pool and garden around it, and common dining room. No kitchen use, except for storing some food in our fridge, please ask assistance. THE BIG TV ROOM AND ROUND TABLE are for our personal use while hosting guests.
The rest of the house are our living premises. Depending on guests preference, and our activities we are able to interact as required.
It is quiet an open house.
Interaction with guests
Depending on guests preference and my availability. Other guests may also be in the premises. Our staff would be there during the day, or a phone a way at nite to assist if you have any question or I am also available either in person or by phone/email. There are two other bed rooms in our home and guests share breakfast table in the main dining room.
Other things to note
The area is developing and new villas are being built. However, it is still local based community. Dogs, Roosters and Motor cycles are common noise where ever you are in Bali.
The Internet is not superfast as the island does not have reliable provider, unless you have dedicated satelite. So, if you are working while holidaying and rely highly on big bandwidth, you will need to stay in a commercial space.
INFORMAL WEDDING : I am a celebrant, if I am available and there is couple would like to arrange a very simple ceremony in our space (an post officiated or non officiated one). We can discuss about it.
Please read guest's section on AirBnB if you are new to the community.
"How can I be a guest?
Traveling with Airbnb provides an opportunity to stay in unique spaces and connect with other members of our community. Like millions of travelers before you, we hope you find that experiencing a destination like a local creates memories, stories, and a feeling of belonging no matter how far you journey from home.
To help you prepare, here are a few tips to help enhance your experience with your listing and your host.
Before you book
Share your story in the bio section of your profile, and get a Verified ID. Hosts prefer to know who's asking to stay with them, and as a result you may have a better chance of your requests being accepted.
Airbnb has a diversity of listings, from shared rooms to entire homes. Make sure the space, house rules, and hosting style match your needs.
Spend sufficient time reviewing your host's listing to make sure the place is a good match for you.
Get a sense of the strengths and weaknesses of the listing by reading reviews from other travelers.
Feel free to contact a host with any questions you have about a listing.
Before your trip
Communicate clearly with your host about any expectations or special needs you may have.
Always let your host know if you're likely to arrive late for check-in.
On your trip
Honor your commitments (including arrival time) and any house rules.
Enjoy your host's home as if you were staying with friends. Be respectful of your neighbors.
Explore the neighborhood and support local businesses. It's a great way to feel more like a local. Try asking your host about their favorite neighborhood spots!
Get your host's permission before having guests over.
When in doubt, reach out to your host with any questions or problems that arise.
After your trip
Always leave an honest review for your host to help guide future guests. Airbnb is built on community, and your host will also be invited to leave a review for you."
---
---
Extra people $8 / night after the first guest
Weekend Price $34 / night
Always communicate through Airbnb
To protect your payment, never transfer money or communicate outside of the Airbnb website or app.
Learn more
---
Check in is anytime after 2PM
Our great reviews of successful stays, are results of knowing what are offered and what to expect between host and guests.
- For safety, we do not allow other than registered guest/s to be in our property.
- No party, no drugs, no illegal activities, no excess drink of alcohol that may impair your judgement/risk yourself within our property. If this is not observed, we will ask you to leave immediately as consequences.
- Children :
We welcome children, but from past experiences we observe that we need to write a clear guidance on having children in the house. The property is not child proof, it is important that guest are fully responsible and care for their toddlers/children who cannot swim, or just their safety in general. Our staff is not available to baby sit your children since they do have chores and our other needs to attend to. Never leave your children unsupervised and to respect other guests not to have overly loud noises.For safety reason, the maid area and kitchen is off limit for children to play.
If they are not toilet trained, we expect you to put them on pampers. A rubber cover is available upon request too.
- Food : Very simple breakfast (bread, jam, coffee/tea) - if you prefer fruit let us know is served at 8-10 am, let us know if you need an earlier breakfast.
If you need special food (vegan/non diary/free wheat etc) you may buy your own and store them with us.
- Keep the room crumbled free and no eating on the bed, the ants and stain on the sheet could be a problem in the past.
- Water : complimentary distilled water (two bottle each room) is provided daily in your room. If you need more water, refill could be purchased at additional cost.
- Smoking : is only allowed out door.
- Room can accommodate 2 people.For three guests booked on the website, an Extra mattress can be pulled for additional guest with extra charge as quoted in the price details.
- Putting drinks on our furniture :
Most of the furniture in the room is wood, please put coasters under your bottle/glass to avoid staining the wood.
- Cleanliness
Our staff will help cleaning of the room everyday. You may ask new bed sheet replaced every once a week upon request.
We do not expect you to clean the room at the end of your stay, it is included in the fee structure. However, we would like guests to care for the condition of the room so it remain enjoyable and functioning for the next guests.
- Keep the floor in the house other than the stone floor around the pool, dry.
- Do not sit on the dining chair with your wet swimming suit (take off the cushion and put dry towel if you have to sit).
- Tipping : Tipping for our staff will be greatly appreciated at the end of your stay.
- Laundry : two pieces of clothes a day for free, if you need heavy laundry - there are outside service on your account, we can assist.
- The rest, enjoy your time :).
You must also acknowledge
Dog(s) live in the house
---
---
---
We absolutely loved staying at Ina's house in Sanur! The house is lovely- made lovelier with beautiful fresh plumerias placed in our room each day! It was the perfect place to begin our trip in Bali. The bed was so comfortable- the best bed we've had in the past 2 weeks! It's in a great location- close to shops and restaurants and a short walk to the beach. Unfortunately Ina was not in Bali at the time of our visit, but she was really easy and nice to communicate with. Made, Ketut and Santi were wonderful and took great care of us for our short stay! We especially loved Santi's delicious breakfasts! I recommend you have Made pick you up at the airport, as the house is not so easy to find. Also, Made is so so nice and helpful- he was always available for any questions and also arranged our transportation to Ubud . All in all, it is our favorite Airbnb we stayed at our whole trip! Thanks for everything!
---
Just perfect. Amazing. Brilliant. I stayed here in sleepy Sanur for the first few days of a month long journey. I was picked up from the airport by Made and immediately he made me feel welcome after an impossibly long journey. He spent time showing me spots along our ride, giving suggestions, and information about the property. The house was my first taste of Bali with an artful entryway, gorgeous pool/central area, beautiful teakwood furniture and a room filled with carefully placed blossoms that far exceeded my expectations. It is a little paradise tucked behind the main Sanur strip just minutes from your choice of ATMs and a large market as well as great dining options as well as a myriad of warungs and shops. I can't say enough about the property and staff, which made this a very luxurious home away from home. I spent time poolside enjoying all the artistic relaxation nooks, from my spacious balcony overlooking the pool to the poolside courtyard options, as well as in my fabulous "elephant" room choosing from a huge collection of DVDs overcoming jetlag. Finding your way to the beach with a very long walkway for biking or strolling is an experience itself, through a very clean and lovely neighborhood. I hope to make this a home base at the tail end of my journey. I feel so fortunate to have discovered this little piece of heaven and highly recommend a stay here at Ina's spot where good energy is the standard and Balinese coffee and amazing, lovely people are a part of your stay.
Dear Sharon, Thank you for taking time to write for such a thoughtful review. You are welcome to come back anytime! Made, Ketut and Santi are family to us, the couple have been with us for more than 20 years. They were very happy to have hosted you. Glad we could help set you on the right track to start your adventure!
---
I initially booked Ina's bnb based on convenience to and from the dive shop that I was diving with, but the staff's generosity and hospitality exceeded my expectations and made my stay so much more memorable. Santi was very accommodating with my diving schedule and dietary preferences as a vegetarian. She prepared a delicious breakfast every morning at 6:45am during my stay. Made was a great conversationalist and gave helpful suggestions on things to do around the area. Lastly, Ketut never failed to make me feel welcomed every time I stepped through the door. While I felt truly taken care of by Santi, Made, and Ketut, I also felt completely at ease to be myself at the property. Ina's bnb provided the service of a hotel and the comfort of a home - the best of both worlds!
---
My boyfriend and I had a very relaxing stay here. Ina's place was exactly as pictured! It was beautiful and quiet, a great contrast to where we were staying in Ubud. She is realy responsive, it never took her longer than a few hours to respond to any questions I had. Her staff are very friendly and accommodating. The location is perfect! It's about 5 minutes through an alleyway that's quiet and safe to the main road. It really did feel like home. She has an amazing movie collection as well! Thanks Ina!
---
I stayed here for 2 weeks while in Bali on business. This was the perfect Airbnb experience. Ina's place has all the benefits of staying in someone's home (getting to know locals, located in a quieter residential neighborhood, I was the only guest, etc.) plus all the benefits of being in a hotel (very clean and room was serviced every day, total privacy, someone accessible at all times for help if needed, etc.). I would absolutely stay here again! The neighborhood was a great: a very quiet and residential street only a 5 minute walk to the main tourist stretch with lots of cafes, bars, and taxis. The internet was perfectly fast for my needs (e.g. was able to make video calls and watch streaming video). The room was spacious and perfectly clean, the bed was incredibly comfortable, the pool was a treat, and it was so nice to have breakfast every morning! The house staff, Made and Santi, took great care of me. It was nice to have someone around when I came home after dark. They were always available with recommendations, logistical assistance, and even went out to get me treatment when I got sick one day. Thanks for a great stay!
---
This was the perfect place to start our 2 week holiday in Bali! From the very beginning Ina was extremely helpful and responsive. She arranged for taxi transport to pick us up at the airport, and Santi met us at the house with a smile even tho it was 2 am! Sudika, our taxi driver, was so kind that we even booked with him to travel from Sanur to Ubud. The house was just as described and even better than the photos! The best part of our stay was interacting with the staff. Santi is always so welcoming and sweet and she makes the best Nasi Goreng and Bali Kope for breakfast. Made was extremely helpful with setting up transport to the Gili's, and his wife Ketut was gracious enough to wash a large load of laundry that had been soiled in our suitcase during travel. The only thing we regret is that we did not stay at Ina's place for longer than we did. We would recommend Ina's to anyone looking for a home away from home in Bali! We will definitely be back! Thank you Ina, Santi, Made, and Ketut!!!
---
Ina is a gracious and super responsive host. Because of a change in my travel plans I needed to extend my stay. Ina made me feel so welcome and extending my stay was super convenient. Like I wrote in my previous feedback post her home is so lovely, comfortable and in a very convenient location. Thank you again Ina and Natisa for everything!
---
A family of three loves to travel and meet people.

My husband is an engineer at the moment living both in Thailand and in Bali. Our daughter is an and we are managing the premise for her. We are into healthy living, food, arts, animals, learning anything new and my husband like biking, skiing and any outdoor activities. We both love trying anykind of good food.
We do a lot of traveling for work and holiday. together or separately.
We love our home and treat others' home with thoughtful care.

Our home is not a commercial villa - but a sanctuary we care to share with others who can appreciate it the way we do.


Languages:
Bahasa Indonesia, English
Response rate:
100%
Response time:
within a few hours
Explore other options in and around Kota Denpasar
More places to stay in Kota Denpasar: