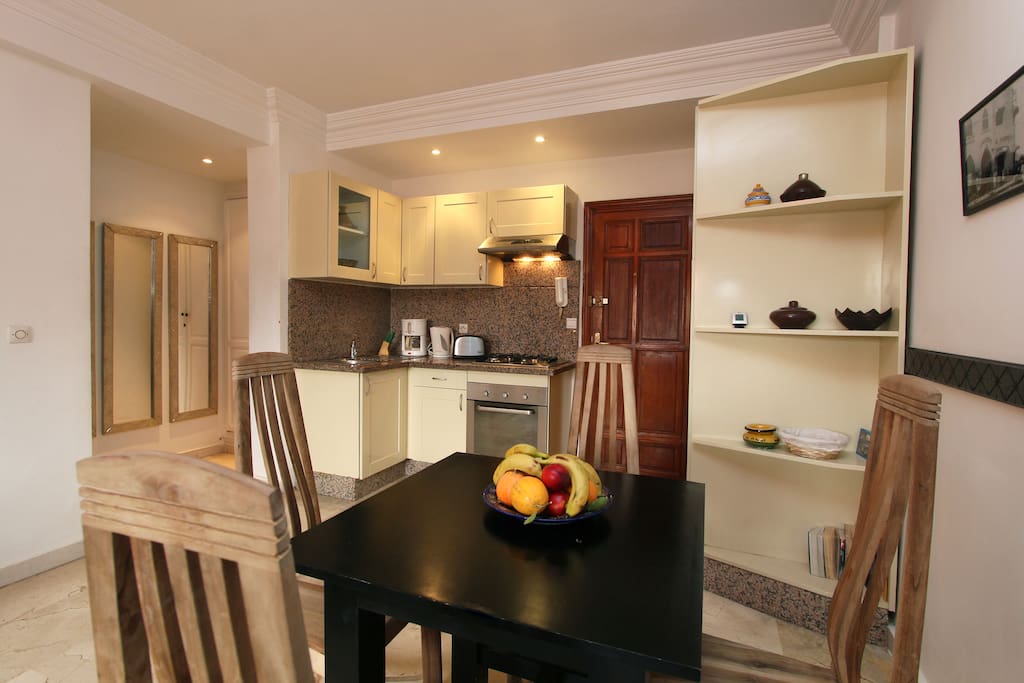 Entire home/apt
3 Guests
1 Bedroom
3 Beds
About this listing
SEARCHING FOR A REAL MOROCCAN HOLIDAY IN THE HEART OF MARRAKESH?
Then, by all means, come and see our Naiade apartment!
→ Rare: Free Access To Luxury Pool
→ Free WIFI
→ Airport Transfer
→ Personal Assistant
Learn More Below
"L'appartement et la piscine correspondent parfaitement à la description. Agnès et Philippe ont été très prévenants tout au long du séjour pour s'assurer que nous ne manquions de rien." - Reviewed by Myrtille, Guest from Paris, France
---
Check In:
Anytime after 3PM
Room type:
Entire home/apt
---
Kitchen
Space where guests can cook their own meals
Essentials
Towels, bed sheets, soap, and toilet paper
+ More
---
Extra people:
$19 / night after the first guest
---
The Space
NAIADE APARTMENT IN MARRAKECH:
We look forward to introducing you to our warm, talented staff—included in the price of your stay—who will show you the very best of Marrakesh.
ENJOY:
*Housekeeping and laundry service (except Sundays)
*A complimentary, 24/7 ride from the airport when you arrive
*A "baby kit" for those with little ones, including secure crib, high chair, buggy, changing table, baby bathtub, and more
*Fresh meals and babysitting services for a little extra (see "Terms and Conditions" for pricing)
*Free WiFi and digital cable
*Use of mobile phone with Moroccan chip so you can avoid exorbitant roaming charges
*Advice for excursions that have local flair—no tourist traps!
Our jewel-toned, air-conditioned apartment sleeps up to four guests in one bed and two daybeds, and is cloaked in the rich and romantic purples, reds and indigos that define Moroccan décor.
Many of our guests tell us this apartment occupies the perfect space in Gueliz Marrakech: the city center is just outside, but we're located on a quiet street behind Mohammed V Avenue, where the city's noise doesn't reach.
Also included in the price of your booking is access to a secure, exclusive swimming pool close to the apartment, kept a secret by groves of palm trees, orange trees, and flowering bougainvillea. (A pool this sparkling, sunny, and well-kept is a rarity in the city center! Access during the opening season 15 Feb-15 Nov.) Take an afternoon dip and stretch out on a lounge chair for a nap in the sun—even the beach towels are included! Then, put on some sharp clothes for evening and head out with your significant other for an intimate dinner at a nearby restaurant, a coffee at a local café, and a stroll through the lush gardens of Harti and Majorelle.
When you return home for the night and sink into the sumptuous French-sized bed, draped in a royal red bedspread and lit by elegant luminaries, the bustle of the city will feel very, very far away.
If you'd rather stay in for dinner, Atika, our housekeeper and cook, will prepare an authentic Moroccan meal for you right in the apartment's sleek, eat-in kitchen (for an additional charge). Take a seat at the traditional, 4-person dining table and enjoy a glass of wine and good conversation. Or, shop for fresh produce at the central market and prepare your own meal in the fully-stocked, American-style kitchen.
When you're done cooking, enjoy your meal outside on the walk-out terrace with garden table and chairs.
And of course, the lively and ever-changing Jemaa el Fna square—which will enchant you with its food booths, snake charmers, monkey trainers, storytellers, and other artists—is just 10 minutes away.
Our first priority is making sure our guests enjoy vibrant Marrakech as much as we do, and experience it as locals would. That's why we offer reasonable rates and a wealth of extras to give you a trip to remember for a lifetime.
Please call us today to book your Moroccan holiday! You won't regret it!
Guest Access
We are letting the entire apartment, no shared with other guests
The Neighborhood
8 REASONS WHY GUELIZ MAY NOT BE FOR YOU
We do not aim to persuade travellers to stay in Gueliz unless they want to. Some people do have a strong preference for this area of Marrakech, but others do not. This list is intended to avoid disappointment for them and to explain a little more about the area, and in doing so, hopefully help holiday makers get the most out of their stay in Marrakech.
Here are eight topics to think about prior to your stay:
1. Liveliness:
Marrakech is a vibrant city. As in all hot countries, people are more active mainly in the evening. Moroccans like to go out for a walk in the fresh air and visit restaurants, trendy cafés and places of entertainment. If you are the type of person who wants to go to bed at 8pm hoping for peace and quiet, you might be disappointed because you will be going to bed just at the time when the pulse of the city begins to beat. This is the best time to experience the atmosphere of Marrakech. Marrakech is a lively city and Gueliz is its centre. If you are looking first and foremost for a quiet place and you could not bear to hear the slamming of a car door, the sound of the beautiful Moroccan women walking by in their high-heels, or the shouts of snail or kebab sellers to passers-by, then Marrakech is not for you.
Alternative Option: A small inn or farmhouse 20km from Marrakech or Lake Takerkoust, located 1 hour away.
2. Lack of open spaces and palm trees:
Our apartments are located in the city centre. As in all cities of the world, space is limited and you cannot find large expanses of palm trees in the middle of avenues, boulevards and intersections. Instead, you will find shops, boutiques, banks, restaurants, art galleries and trendy bars.
Alternative option: Rent a villa in the Palmeraie, 15 km from the city centre.
3. Lack of water pressure:
Marrakech is a growing city and some water pipes still need to be upgraded. This is because in the past one or two families might have lived in one house, but this property has now become a five storey building which contains thirty or forty apartments. Therefore, the requirement for water has changed and at certain times the water pressure may be low. If this would be of great concern to you, then you may be disappointed if you rent a private apartment in Gueliz.
Another option: Paris, London or Amsterdam, where a constant water network has been established for a long time.
4. Lack of insulation:
Apartments and other buildings are almost never insulated. When it is very cold or hot, despite the fact that all our apartments are air-conditioned, it may take some time for you to acclimatise if your body is accustomed to more temperate climates.
Another alternative: Canada.
5. Construction sites:
Marrakech is booming and many building projects are underway. There are many areas of construction where pavements are in a poor state of repair and are dirty and dusty.
6. Lack of large pools:
If you are looking for a place where you can relax all day round a huge swimming pool which has water slides and water games, the city of Marrakech and Gueliz are not for you and you could be disappointed. From the 15th of Feb. to the 15th of Nov. we offer access to a luxury swimming pool situated in a pretty garden, in a relaxing setting. However, it is still in the city centre and it will never be comparable to those holiday resorts or hotel facilities which are available outside the city. In addition, you will not be able to walk in your swimsuit from the apartment to this pool and you will have to get changed at the pool when you get there.
Alternative: Club Med.
7. Difficulty getting around
There are potholes in the side streets and sometimes cars will encroach onto the pavements. It can be difficult to walk on the pavements because they are so uneven. If this would bother you, Gueliz is probably not right for you.
Another option: Iceland.
8. Language
Moroccans speak Amazigh, Darija, Arabic, French, but they are not really great English speakers. You can find some Moroccans who speak an approximate English but the most frequently, if you don't speak Arabic or French, you can have some difficulty to communicate. Don't be worried, you can ask us any question you have via email or tchat at any time, we reply in a very short delay so you get a prompt reply.
If you want absolutely English speakers, booking a private apartment - or a place where there aren't loads of other tourists - is not for you.
Alternative option: Book an hotel or a touristic complex. Because they have crowds of tourists, you'll be sure to find Englsih, German, Spanish, Italian, and even Chinese speakers

Finally, travellers who have strict requirements, and wish to find the comfort and ambience exactly as they are accustomed to in Europe will undoubtedly be disappointed if they rent a private apartment in Marrakech for their holiday.
We often see through the requests that we receive, that some holiday makers are more used to staying in a hotel or club holiday village, with all the typical activities that are provided at these venues, such as a kid's club, painting workshops, aerobic classes and buffet meals etc.
For those holiday makers, the holiday club option is a better option, both for them and for us. We also often find the opposite is true: Customers who have previously visited a club hotel, prefer to book an apartment with us because it is a solution that offers more flexibility, more comfort and more independence.
This type of holiday does not have a regimented package holiday or holiday camp atmosphere. Rather it gives travellers the opportunity to experience the real Morocco, with an authentic immersion in the life and appearance of the local culture; to share the life of the inhabitants; discover unsuspected places and above all to make their purchases and take excursions away from the tourist traps.
To our delight, our visitors then book our apartments whenever they return to Marrakech, because they know they will feel 'at home!'
Other Things to Note
WHAT IS YOUR CANCELLATION POLICY?
As we are individual direct owners rather than a large business, a travel agency or a hotel club, our cancellation policy may appear strict.
Just like you, we enjoy travelling and we understand unexpected events and emergencies do happen.
We want you to book your holiday with confidence and so we recommend subscribe a travel insurance. This insurance is designed for the travel market. This insurance may reimburse costs related to your Marrakech holiday rental by protecting you against numerous risks such as illness, flight delays, car-breakdown, or any other problems which might result in the cancellation of your stay. If you don't know a cheap travel insurance, ask and we'll advise you.
IS GUELIZ FOR ME?
We cannot say for certain if it will suit you. We believe Gueliz is the best place for travellers who will enjoy staying in the centre of the city. We have put together several points below, which will help you assess if Gueliz is the right area of Marrakech for you.
WHERE ARE YOUR APARTMENTS?
All our apartments are in the right center. You can easily locate our apartment on the map, at the bottom of this page.
HOW FAR FROM THE CITY CENTRE ARE YOUR APARTMENTS?
All our apartments are located in the city centre itself. Everything you need is accessible by foot. If travelling by car, you can park your car safely and at no charge in one of our basement parking spaces.
HOW FAR FROM THE MEDINA ARE YOUR APARTMENTS LOCATED?
It is very easy to get to the medina because it is close by the apartments. It will take about 35 minutes to walk there and it is a short and pleasant walk which will give you the opportunity to cross the beautiful garden of Arsat Moulay Abdeslam. In fact we enjoy doing this ourselves. Alternatively, you can take a three minute 'petit-taxi ride for approximately 1.50 Euros. Be careful however, as a 'petit-taxi' can only take three passengers. Another option is to take Bus line No. 1 which will drop you off at the bottom of the Place Jemâa el Fna. The bus stop is close to our apartments and takes about 5 minutes at a cost of 30 centimes. The bus runs until midnight.
WHAT TIME CAN I CHECK INTO THE APARTMENT?
If we do not have any guests who are leaving that day, we can be flexible about your arrival time. If someone is leaving on the same day as you arrive, you can access the apartment from 15.00h. If you have an early flight, our driver will pick you up at the airport and then we will look after your luggage for you, to leave you free to explore. You can take a walk in Marrakech, get a snack or sip mint tea while we finish preparing your apartment.
If you arrive after 20:00h, you may be asked for a fee.
WHAT TIME MUST I VACATE THE APARTMENT?
On the day of departure, we ask you to leave by 11:00h, so that we can prepare the apartment for the next guest. If your flight is not until later in the day, we can store your luggage until your departure. Thus, you can enjoy exploring Marrakech right up until the last moment or instead just top up your tan by the pool.
It may also be possible for you to retain the apartment until later in the day. In this situation we would not take a booking for the night of your departure and instead we charge you for the extra night. We ask you to confirm this option at the time of booking or no later than 48 hours prior to arrival.
IS IT POSSIBLE TO ORDER BREAKFAST?
There really are a number of opportunities to take breakfast within walking distance of the apartment. In addition, the kitchen is fully equipped with coffee maker, electric toaster, cooking utensils etc., so you can shop and prepare your breakfast easily at the apartment. However, if you wish, our cook can prepare a traditional Moroccan breakfast and serve it at the apartment. This is served from 09.00h, or if you prefer, we can leave it in the apartment the night before and you can warm it up yourself when you are ready. You can order the traditional Moroccan breakfast the day before and it costs 4 Euros per person
IS IT POSSIBLE TO ORDER MEALS?
There are many different restaurants in various price ranges, just a few minutes walk from the apartment. You will be spoiled for choice between Moroccan restaurants, French, Italian, Chinese and Lebanese etc.
However, if you do not want to go out, or if you arrive late on the first day, you can order meals from us. They must be ordered at least a day ahead, or two days in advance if they are the type which take a long time to prepare. For example, Tanjia, a Marrakech specialty, is cooked for several hours in the wood oven steam room.
All meals made by our cook are prepared with fresh produce from the daily market. The price of meals is variable as it depends on what you order, but expect around 15-18 Euros per person, without drinks, for a traditional Moroccan meal.
WHERE ARE YOU IN RELATION TO THE AIRPORT OR THE TRAIN STATION?
We are 6 kilometers from the airport and 2 kilometers from the station. If you do want to travel independently from the station or from the airport, we will send you a detailed map, but we do usually send our driver in a private car. All you have to do is provide us with your flight information or train time. He will meet you at the airport or train station and will be holding a placard displaying your name.
CAN I ORDER A TRANSFER FROM THE AIRPORT?
As noted above, this service is included in all our guests, fom 4 nights booked. Our driver awaits your arrival at the airport or train station in Marrakech and takes you to your apartment by private car. Our private transfer service is available 24 hours a day, 7 days a week.
AT THE END OF THE RENTAL PERIOD, CAN I ORDER A TRANSFER FROM THE AIRPORT TO THE APARTMENT?
Our apartments are located in the centre of Marrakech and so it is easier to find a taxi to get to the airport, than to get a taxi from the airport to the apartment. However, if you prefer to order a private transfer with our driver because you have a great deal of luggage or you have an early flight, you can order a transfer 48 hours in advance. Our driver will then meet you at the apartment 2 ½ hours before airline departure time. This service is available at all times. Payment is to be made by cash no later than 48 hours before the transfer.
DO YOUR APARTMENTS HAVE ACCESS TO THE INTERNET AND WIFI?
Yes. All our apartments are connected to the Internet and have WiFi. In addition, you can easily find wireless connections available in most of the surrounding cafes. If you need to print documents, you will find several cafes with printers, within a short walk in Marrakech.
WOULD YOU ADVISE ME TO USE MY MOBILE PHONE HERE?
Due to the high costs of roaming charges, it is probably best to avoid using your mobile phone. The BEST solution is to use a phone which we can lend you. It is a mobile phone with a Moroccan chip. We suggest you request the number from us before you travel, so you can give it to your loved ones, family or friends so that they can call you whilst you are here. To make calls using this phone you can buy a prepaid card in one of the many outlets near the apartment.
WILL I HAVE ACCESS TO TELEVISION CHANNELS IN MY APARTMENT?
Yes. All our apartments are equipped with a television box which has numerous digital channels featuring international channels, sports and cinema.
YOUR OFFER CONCERNING THE POOL SEEMS REALLY AMAZING. I HAVE NEVER SEEN A SUCH OFFER BEFORE. IS IT REAL?
Absolutely! This is an exclusive and exceptionnal service that we are pleased to offer you. There is no equivalent offer for an accommodation in the center of Gueliz. From February 15 to November 15, you get a FREE access to a luxurious swimming pool, which we have selected for you. This luxury pool is located at a close distance from the apartment, nestled in a lovely garden, with palms and Mediterranean plants. Really zen and relaxing! With your VIP access, you get sunbeds, umbrellas and even beach towels!
This service usually costs 25 Euros per day per person, but because our travelers are for us, the most precious people we host, we are delighted to offer you! Your free access is available for all of the occupants, every day, from the next day of arrival until the day before your departure included.
Your pool-pass are delivered on arrival.
If for some reason, the selected pool is temporary unavailable, we will provide a pass to another pool.
+ More
---
A big thank you for your reservation!
Agnes and Philip are more than happy to welcome you and help you see the best of Marrakesh!
Please do not forget that you will be staying in our private apartment, which we share with you when we are not occupying it.
So we have personal items there which are dear to us.
It's a personal approach based on human relationships. This experience may seem new to you, as unlike being in a hotel, we are in a sharing relationship and not in a commercial relationship.
We do this because we love people and we love to share our passion for Marrakesh and Morocco.
We therefore expect the same standards of behaviour from you, just as if a friend, relative or acquaintance had entrusted you with their apartment. In other words, please just refrain from doing anything you would not actually do in your own home, or that you would not like someone else to do in your home.
For a perfect understanding between us here are some simple rules to follow:

Once the reservation is made, you will receive a complete documentation and other useful information. On arrival, you have to present the passport of all the guests staying in the house. Only persons registered in the contract are allowed access to the apartment and the main guest - who booked - have to be present.
We will need a copy of your liability insurance. This is generally already included in your home insurance. Remember to check that it covers you in Morocco. If you do not have insurance or if it does not cover Morocco, we can provide you with the address and telephone number of a specific insurance company which meets this type of need.
Where there is a delay in your planned arrival time, you agree to keep us informed so that we may organise the best solution for your welcome. As we do not have a hotel, neither do we have receptionists who can take turns in the apartment to wait for you for 24 hours.
The check in is from 15.00h
The late arrivals (after 20:00h )are charged 20 Euros.
We wish to welcome calm and careful people.
We love children, and are parents and grandparents ourselves; however an apartment is not a football field or a karate dojo.
The apartment is non-smoking.
You agree to observe a proper behavior at the pool, including with regard to pool staff and other users.
Noisy behavior, indecent, disrespectful and generally inappropriate or contrary to the rules of convenience and / or Moroccan customs.
We remind you that we have selected for your well-being, a luxurious swimming pool and you are one of the few external persons allowed to have the exceptional privilege to access it.
Drinks, sandwiches, picnic, etc ... from the outside, are not allowed in or around the pool.
Use of electricity needs special care in Morocco, where the billing amounts can reach heights that cannot even be imagined in Europe or elsewhere.
For this reason, we include a fixed price package based on our own power consumption at the times when we occupy the apartment ourselves with four people.
You agree to comply with Moroccan law and the laws of the country, which may be different from those of the country in which you live.
Keep in mind that you are in a Muslim country.
Anyone with conduct contrary to respect for the apartment and (or) morality, or in contravention of Moroccan legislation can be excluded without compensation or refund.
BY RESERVING THIS APARTMENT, YOU UNDERSTAND AND AGREE THESE RULES. IN CASE OF NON-COMPLIANCE, THE ACCESS TO THE APARTMENT WOULD BE REFUSED TO YOU AND YOUR DEPOSIT MAY BE RETAINED.
+ More
---
---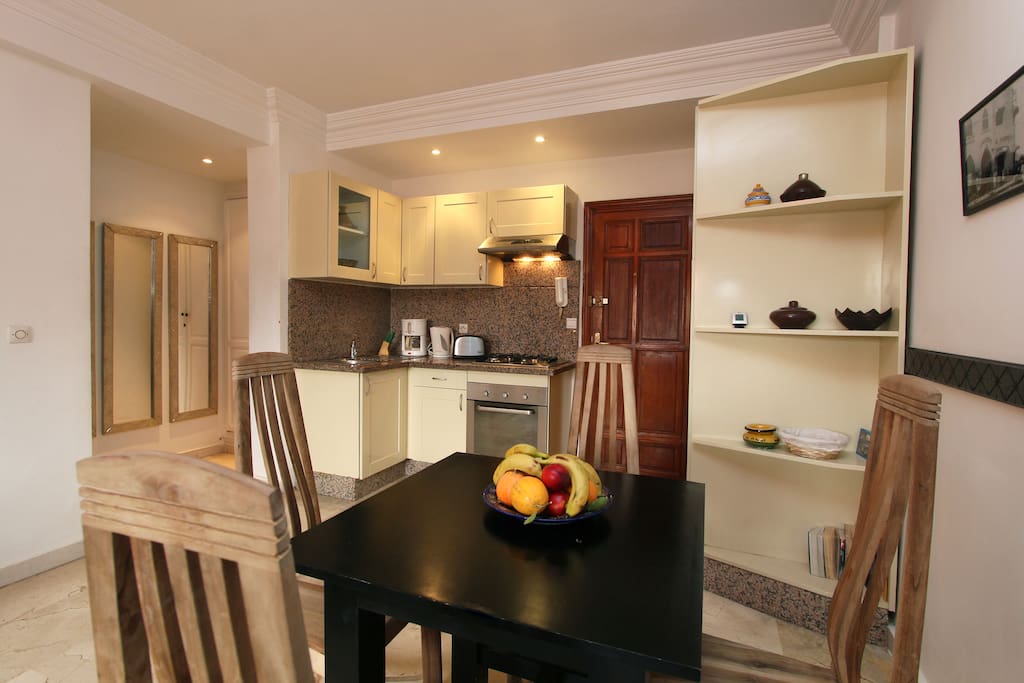 "We had a lovely four night stay at Agnes and Philippe-Alexis's Marrakech apartment. They were attentive hosts and were very contactable and very happy to answers all the questions we had. The apartment is beautifully decorated and a great size. We really appreciated all the little extras" - Rewieved by James, guest from London - UK
Your Host
---
France
·
Member since February 2012
ENGLISH (French below)
Maybe you've heard this advice from the writer Toni
Morrison:
"If there's a book that you want to read, but it hasn't
been written yet, then you must write it."

Our story of becoming holiday rental owners in Marrakech
is something like that.

In 2003, we were frequent visitors to Marrakech. As much
as we loved the beauty and liveliness of the Red City,
the accommodations were lacking. At that time, Marrakech
was becoming a global destination and there weren't enough
places for visitors to sleep. Hotels were always booked during
peak season.

We had a place in mind where we would love to stay. It would
be authentic, with local design and architecture. It would be in
the center of everything. And it would provide a warm
welcome with one-on-one travel advice and guidance from
someone who knows the city well.

But, for us, that place didn't exist yet in Marrakech.
So we created it.

Over a decade later, we have a collection of properties in our
beloved city of Marrakech.

Most rewarding for us is when our guests from around the
world write to tell us how much they enjoyed their stay.
We love opening letters and emails with photos and stories
from their trips.

In fact, we love hosting guests so much we founded the
"Community of Marrakech Hosts" for Airbnb hosts in our region.
As often as we can, we gather to chat about strategies for
improving guest experiences and marketing our properties
in Marrakech. At our last meeting, more than 60 people showed
up to network and share ideas!

There are no two places more different than where we
live
—a picturesque village in the South of France—
and energetic Marrakech, where we spend our holidays.
Perhaps that's why welove them each so much:
they compliment each other!

Our favorite activity when unwinding in Marrakech
(there are many!) is to book a whole spa with a hammam, just
for us (my wife Agnés and I). It's the most serene and luxurious
experience in the world.

If you have questions about how to enjoy Marrakech down
to the last drop of mint tea, we would love to help.

Our goal is your great travel experience. Many of our guests
have stayed with us before and returned
—a testament to our dedication!

We look forward to hosting you and introducing you to
the best of Marrakech.
Please contact us for booking and travel information!

*************************************************************
For Hosts... If you are currently an Airbnb Host in Marrakech,
feel free to join us at: https://www.airbnb.fr/groups/1282

*************************************************************

FRENCH

Peut-être avez vous déjà entendu ce conseil de l'écrivain
Toni Morrison : "S'il y a un livre que vous voulez lire, mais
qu'il n'a pas encore été écrit, alors vous devez l'écrire.."

Notre histoire en tant que propriétaires de locations de
vacances à Marrakech ressemble un peu à ça.

En 2003, nous étions déjà des voyageurs réguliers à Marrakech
depuis pas mal d'années. Autant nous aimions et apprécions
l'hypnotique beauté et l'animation de la ville rouge, autant les
logements faisaient défaut.

A cette époque, Marrakech était de devenir une destination
mondiale renommée et il n'y avait pas assez de place pour
accueillir les visiteurs, de plus en plus nombreux.

Les hôtels étaient toujours complets durant les pics
saisonniers et souvent, les touristes qui n'avaient pas réservé à
l'avance se voyaient contraints de dormir sur les terrasses.

Nous avions en tête un endroit où nous aimerions séjourner.
Il serait authentique et avec une décoration locale, mais
suffisamment moderne et au centre de tout. Il permettrait de
bénéficier d'un accueil chaleureux, d'avis, de recommandations
et de conseils personnalisés, de la part de quelqu'un qui connaît
bien la ville.

Mais, pour nous, cet endroit n'existait pas encore à Marrakech.
Et donc, nous l'avons créé.

Plus d'une décennie après, nous avons une jolie collection
de propriétés dans notre chère ville de Marrakech.

Le plus gratifiant pour nous, c'est quand nos voyageurs, qui
viennent de partout dans le monde, nous écrivent pour
nous dire à quel point ils ont apprécié leur séjour. Nous adorons
ouvrir des lettres et des e-mails contenant des photos et des
récits de leur voyage.

Nous aimons tellement accueillir des vacanciers que nous avons
fondé la « Communauté des Hôtes de Marrakech » pour les
hôtes Airbnb dans notre région. Aussi souvent que nous le pouvons,
nous nous réunissons pour discuter des moyens visant à améliorer
l'expérience des clients et la commercialisation
de nos locations à Marrakech.
Lors de notre dernière rencontre, plus de 60 personnes
étaient présentes et désireuses de partager des conseils et des idées!

Il n'y a pas deux endroits plus différents que ceux dans lesquels
nous vivons : un village pittoresque dans le sud de la France et
l'énergique et tumultueuse Marrakech, où nous passons nos vacances.

Peut-être que c'est pourquoi nous les aimons tant tous les deux :
ils se complètent mutuellement!

Notre activité favorite pour nous relaxer à Marrakech
(elles sont nombreuses!)
est de réserver un hammam entier, rien que pour
nous (ma femme Agnès et moi). Pour nous, c'est peut-être
l'expérience la plus sereine et luxueuse au monde.

Si vous vous posez des questions sur la façon de profiter de
Marrakech jusqu'à la dernière goutte de thé à la menthe, ou
jusqu'à la dernière miette de corne de gazelle, nous aimerions
vous aider.

Notre objectif est de faire votre expérience avec nous, LE voyage
de votre vie. Beaucoup de nos voyageurs ont d'abord
réservé une première fois chez nous puis sont revenus ou ont
prolongé leur séjour.

Un témoignage et un symbole de notre dévouement!

Nous sommes impatients de vous accueillir et vous faire découvrir
le meilleur de Marrakech. Contactez-nous dès maintenant pour
votre réservation ou pour obtenir des conseils pour votre voyage!

*************************************************************
Pour les hôtes... Si vous êtes un hôte Airbnb à Marrakech,
n'hésitez pas à nous rejoindre à :
https://www.airbnb.fr/groups/1282


+ More
Response rate:
100%
(
past 30 days
)
Response time:
within an hour
Explore other options in and around Marrakesh