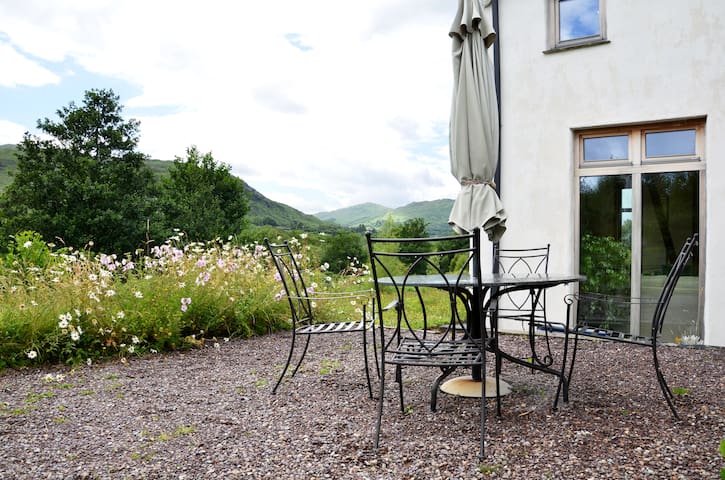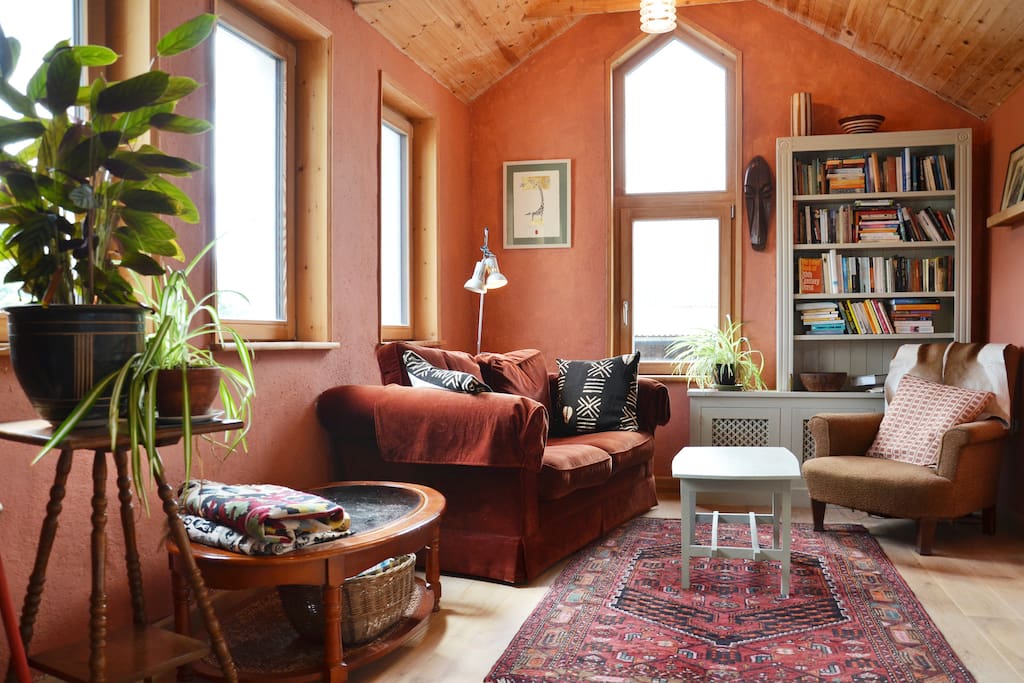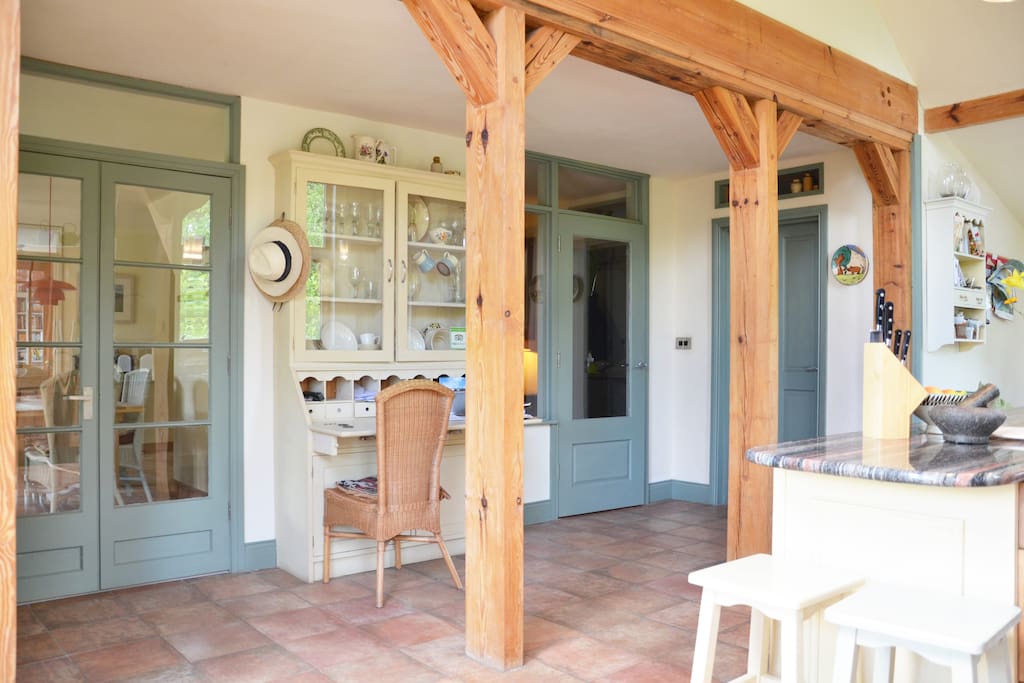 About this listing
King Size Bed in Eco B&B
The main room overlooking mountains + river. Ecologically built country home with character. "Peaceful and relaxing." Dark skies/totally private, On 3-acre wood and wetland grounds with river walk.

The Eco Lodge is 5klms from the pretty heritage town of Kenmare + beautiful wooded bay + Killarney Nat. Park + Wild Atlantic Way.
No mass tourism. No chain restaurants. All local and high quality.
---
---
---
Weekend Price: $100 / night
Always communicate through Airbnb
To protect your payment, never transfer money or communicate outside of the Airbnb website or app.
Learn more
---
The space
This is the main room. King sized bed.
Bright, Crisp, En Suite Rooms spaced well apart and exclusive to 6-7 guests maximum.
I like to welcome artistic, creative and talkative people who are interested in the natural, ecological matters and enjoying the beautiful, gentle nature of the area or engaging with the local culture, food and music etc., and those who like authentic wholesome fare.
Breakfast is of wholesome organic foods with artisan local produce.
Because of the limited rooms available (exclusive to 6-7 guests max) I like to give primary choice to those value what is on offer here such as surrounding nature/ecological/environmental/locally sourced foods /dark skies and those who won't be phazed by the final 2klm on a single lane traffic road and a short 500m dirt road.

1king, 1 dbl I dbl + single.
Peaceful place sounds of the river.
Traffic is miles away.
Breakfasts:-
Wholesome Continental Breakfast included with platter of local produce
(guests are emailed with with directions & GPS)
Light filled rooms
+ Guest Sitting Room

WIFI throughout but weaker in this main bedroom so use guest sitting room.

The other two rooms under "kerry eco lodge" and 'the hemp house'.
(This house is made of Hemp the only hemp built BnB in Ireland)
King Size Room (this one)
Bedroom 2: see listing titled "Kerry Eco Lodge" Double + Single beds.
For 2 or 3 guests
Bedroom 3: "The Hemp House" has walk in shower/wet room is downstairs beside LIBRARY/guest sittingroom Wifi is provided and
TV viewing limited to family sitting room and only available on special request. Kitchen is private.
More on the house
Hemp/industrial hemp is carbon neutral. The house is heated by geothermal and has further ecological features.
The house is situated by the river, nestled in
The Sheen River Valley.

B&B with healthy breakfast. Stays of 2 nights
Expect: a natural, stylish, eco experience convenient to the best town and the best scenery of Beara & Ring of Kerry.
What you get: Spacious Double Room en suite, floor length windows, southern view wooded river and hills.
use of main quiet library room. The property is peaceful and exclusive
Location: The Lodge is ten minutes/3.05 miles from town/ Kenmare bay/sea/pier/river,
You will need a bike or car for a stay here.
The Town: Kenmare is a clean, intimate, beautiful little heritage town
It has diversity,unconventionality, plenty for the visitor to see and do/style/good cuisine/music/ theatre/beautiful walks by pier and 3klm loop walk in a wildlife park jutting into the bay. (Easy to miss - so ask!)
Kenmare is unique. Its beauty has attracted many outsiders Irish and European to chose to move here.(28% European & other nationals)
Public transport: busses to Killarney Railway and main bus station. Kerry airport 45mins. Cork airport 1hr.30mins. By the house bus once weekly but 3.05ml walk or catch a ride with me or neighbours all possible also if you don't have/rent car or bike.
Click on "GUIDEBOOK" for local area hidden gems
or
view my other Airbnb entry for lots of more Kenmare Bay and local info and suggestions. Also some details pasted below of one of my favourite areas
-------------------------
Long & Short Stays
Writers, internet workers etc. rent by the month in off season. Please ask for terms.
Photos - lots more on my social media page. For Anne Barrett Kenmare and click on kenmare eco lodge.
See all the things to do in Beara, Iveragh/Ring of Kerry, including Glengarriff and Killarney etc below 'OVERVIEW" and by click on Guidebook.
Guest access
B&B guests have access to:-
1. Guest sitting room/library
2. Patio
3. Walk around the 3 acres + laneways all about
Spacious parking area
Ball play with dog (one very shy dog)
I have 1 dog - airbnb say dogs (plural) - I will get around to correcting them one day!
Interaction with guests
Guidance on what to do and where to go - lots of ideas.
See what I have written on this site for a start....this is a country home rather than commercial concern....funding creative projects + supporting the local economy of artisan bakers, cheesmakers, growers, farmers and suppliers...local organic produce is the mainstay of the wholesome breakfasts/wholesome luxury breakfasts
The neighborhood
List Top 5 Things To See & Do in Kenmare Area
All part of the Wild Atlantic Way
1.___Kenmare town itself – Kenmare is always bustling with activity and a great place for eating and shopping.
A destination with award winning standards in dining and accommodation and has everything that the visitor can want including
shelter of the beautiful wooded bay and scenic views all around it with tiny coves and harbours, a bistro and glamping on the bay, pubs looking onto the bay, cafes, pubs, camping, riding, golfing, sea cruising, kayaking, bay eco seal and sea eagle watching tours.
Watch the sun go down on Kenmare Bay - Spectacular sunsets over the bay and western skies from the iconic bridge south of the town and from nearby pier.
Watch this you tube video for the spirit of here
market day in Kenmare and the best of rumba from a west cork band combined
(website hidden)
dine in any number of great restaurants in beautiful Kenmare town...stroll the whole town in 5 minutes...dip in and out of the pubs and music venues all over until you have found the one for you....come home to the deep peaceful valley....get up and eat the breakfast of meusli, freshly made fruit salad, smoked salmon and artisan cheeses + the substantial and arguably the healthiest breakfast you are likely to have on your trip.
Now what would you like for Day 2. Walk from here to Killarney through the national park? Swim in the pool down river? Visit the beaches out further on either peninsula?..Shop for a beautifully crafted silver or gold ring? Hang out in street cafes, eat seafood and listen to lots of music?.........
Kenmare Eco Lodge is on the edge of the Beara Peninsula, a hidden gem of a tourist destination. Read on below and you will understand why. Kenmare is also on the edge of Killarney National Park and access from Kenmare is within 3klms walk /drive to waymarked sign and you are in bare mountainous national park uplands and can walk all day, to Black Valley or to Killarney lakes and avoid the mass tourism.
2.____Walk into the Killarney National Park via
Old Kenmare Road – scenic mountain gap/ hill walking trail from north east of Kenmare town to Killarney National Park looking down on national park lakes and spur walks to Black Valley & Torc mountain and very scenic waterfall__________________________________________________

Go to Josie's Restaurant overlooking a glacial lake/Glanmore Lake for coffee, good lunch or dinner (good quality seafood and Kerry lamb, local cheeses etc.) and watch the sun turn the lake, woods and rocks pink. Good area for plenty of scenic walks and views. Knockatee Mountain area very special - between the coastal road and the mountain road from Tousist to Lauragh on Beara. Dereen Gardens and Kilmacillogue Pier at the foothills all worth a visit. On the way Glenichaquin Waterfall Amenity Park is midway between Lauragh and Kenmare with Clonee lakes, Uragh stone circle and The Lake House bar and restaurant on the route, R571.
If you are touring the Ring of Beara, you will travel along The Healy Pass and can take advantage of the breathtaking scenery from the top. You will also travel through Castletownbere which is a large fishing port, not a big tourist town by good fresh seafood served in restaurants and a very nice historic pub, McCarthy's Bar.
If you are interested in walking, the Beara Way is a must while in the area. Glanmore Lake has walks and Knockatee area, plus the whole of Caha mountains. I will tell you how to reach these and also you may ask when you get there in local restaurants, gallery and pubs for further directions

Food and drink stops on R571
approx 5klms from KenmareThe Sailors Bar, Killaha and 11klm The Lake House in Clonee and 18km O'Sullivan's Bar, Kilmackillogue, Josie's Restaurant & Cafe Lauagh off R571 by the lake.
There are also a number of galleries displaying the fine art works of local artists all around the Beara peninsula. All are compiled together in a brochure which I can give you called 'Our Day Out' compliled by the must see gallery Mill Cove who have a shop on Main Street, Kenmare and also in a beautiful setting by Castletownbere.
Bhuddish Centre for meditation and good coffee and food cafe: This lies a few kilometers to the west of Castletownbere and in a spectacular setting. The cafe gives you a good chance to snoop around. Meditation are in the afternoons ....check them out under Dzogchen Beara.
Drive back via Adrigole and Glengarriff...many things there....The blue pool harbour in the centre of the village is my favourite spot...like a Daphne duMaurier pirate cove, there is a great childrens playground, walks from the cove to the big open harbour where there are great views of the islands and bay, bamboo park walks, good coffee and cakes...boats go to Garnish Island in ten minutes, see seals on the way, other islands, gorgeous coves and then this Italian style planted island, coming back home there is Glengarriff Wildlife Park, there is a glacial lake at top of the mountains - Barley Lake, good steep walk up there. Glengarriff is only twenty minutes to Kenmare Eco Lodge, other stops on the way recommended are Lorge Choclatier, at the old post office in Bonane village, also Bonane Heritage Park. The village is but a church and the old Post Office which is a great stop as it is now a Chocolate shop - Lorge Chocolatier where Benoit Lorge serves hot chocolate and plenty of take away treats.
Useful Links
(website hidden)
(website hidden)
(website hidden)
(website hidden)
hidden)
(website hidden)
(website hidden)
(website hidden)
(website hidden)
(website hidden)

KENMARE EVENTS
for every month of the year - Spring traditional music festival, boat race weekend May, Food Fair in mid summer, Lace Festival – which one the most innovative event of the national gathering fest last year…Irish mountaineering conference, Historic conference linking to Gangs of New York emigration experience..right through to the Choral Festival in novement and the month long series of events from mid dec to mid jan.
Local town walks….The heritage trail through the town which has the largest stone circle in the SW Irl. Reenagross, the town's wildlife park of mature trees and 3klm loop walks on a marshy headland with salt marshes and tidal flats suitable for bird and bat watching.__________________________________________________
The SURROUNDING COUNTRYSIDE- KENMARE BAY is surrounded on by hill ranges and the highest mountains in Ireland. Several deep, long valleys of outstanding natural beauty are on Kenmare town's doorstep.
Sample options for Day 1: Travel 11klms to all this: Pier & swim + Stone Circle + 3 lakes + Farm with waterfall + way marked hill hike routes. Climb over a Waterfall, picnic at the top + view the whole of Kenmare Bay + Iveragh/Ring of Kerry mountains. Lunch at nearby good food pub. Travel another 5klms to historic gardens by the (email hidden)sit quiet harbour pub for mussles and guinness...drive 5klm to glacial lake..coffee in restaurant overlooking this lake...drive up corkscrew road nearby for views ...come back for dinner when the mountains around the lake have turned pink in the sunset....or drive on through the Beara peninsula and come out at Glengarriff...enjoy a pint outside the south facing pubs and meet everyone...come home (20minutes away) stop by an award winning chocolateir's business in an old post office by the side of the road, buy presents or order a hot (email hidden)e home, change,
3.____Gleninchaquin Valley – A stone circle and ancient oak woods. 3 lakes and sea views with farm at the top with amazing parkland trees in front of scenic waterfall. Lake house restaurant and music pub and traditional dancing at the roadsite at the bottom of the valley v__________________________________________________
4.___Lauragh Valley – Kilmacillogue small fishing boat harbour with pub, music and seafood, Knockatee mountain and surrounding walks and drives with view of entire area of bay and fjords. Derreen Gardens planted in the mid 1800 with rare specimen trees, the glacial lake of Glanmore, popular dining at Josies rest and café looking onto the lake and scenic rugged mountain zigzag drive, the healy pass, castlekeelty stone circle and several valley and hill walks. Further along towards Ardgroom is a stone in the shape of a woman's face considered the Cailleach Beara elemental Goddess in poetry and in ancient mythology. ____________________________________________________
5._Bonane Valley. The Sheen river rapids and salmon spawing. The Rich antiquity - with over 300 sites alone in this valley. Stone Circles, Bullan Stones, Standing Stones, and a sensitively developed Heritage Park in the middle. Spectacular uplands for XXX miles long valley, and Priest Leap the rugged mountain ridge challenging driving and cycling route which crosses the county boundary_____________________________________________________
KENMARE BAY
Kenmare Bay/Inbhear Scéine (Ir.) is a 50mile long, narrow sea inlet sheltered between Iveragh peninsula with Ireland's highest mountain range and the wild, bare uplands of Beara to the south. The bay is very accessible along its length with many harbours, inlets and creeks. It is 18km at its mouth, narrowing gradually as it bisects and separates scenic mature woodlands. There are a number of islands on the bay the most extensive being Dinish and Dunkerron islands close to Kenmare town.
Kenmare is now home to the largest raptor in Europe, the white-tailed sea eagle which has nesting sites on the bay. The bay also has a large colony of seals. It is a popular destination for sea angling, sea cruises and sail training and sea sports. The bay is significant for its micro-climate, which encourages an ecological biodiversity of lush vegetation and natural habitats. The area is outstanding for the richness of historical and archaeological which remain intact. Several hundred archaeological sites lie close to the shoreline and stone circles, standing stones and other monuments abound. In the old mythological tales written in the 12th century by Irish monks, Kenmare Bay is cited as the supposed landing of the last invasion of Ireland by Milesians and the Irish name for the bay, Inbhear Scéine, is linked to these tales.
Kenmare's most iconic symbol is its double-arched Art Deco bridge, which spans Kenmare Bay at its narrowest point. The bridge is a focal point for the spectacular sunsets, which light up the western skies and the waters of the bay.
At the innermost corner of the bay is Kenmare, a pretty, heritage town with the intimacy and feel of a village. It offers seafood and fine dining, traditional music and quality accommodation all in a surprisingly compact triangle of historic buildings. Within a day's drive of the town, the furthest reaches of both peninsulas can be accessed, making Kenmare town an ideal and popular all season destination.
For further details about Kenmare Bay and Kenmare Town, see the following sections: XXXXXX
© Anne Barrett, Kenmare Bay Project, 2014
These are some things to do with children or teenagers, in this quote from one of my previous guests, Sheridan.
"Aine had suggested lots of things for us to do in Kerry prior to the trip via email- Ray's Sea Safari is superb! She was also very helpful suggesting good places to eat in Kenmare the local town. Kenmare is a good base for Kerry - lots of vibrant pubs and eating places. Boy's favourite thing on our trip was coasteering with Mor Active in Caherciveen."
There are diving options at Killmacillogue on Beara and on the south side of Beara also in Kenmare see Star Sailing school/club for many watersport and other sport options.
Riding stables try Dromquinna as it is on the very scenic bay and just 4klms or less from town.

Getting around
You will need a car, bike or motorbike for getting around here - and in almost all instances when travelling in rural Ireland
Loads of space to park outside my door + on the 3 acres. Ring me or email for further directions. see some great local photos on here and some of the house....
Kerry Airport 40 mins
Cork Airport 1hr
Killarney for busses or trains to Dublin and inter-city
Cork City is 60 miles away and travelling to Dublin by car use Dublin-Cork motorway.
for more photos of the area
my experia album on my/kenmare eco lodge social media page.....if the link does not appear

Other things to note
Once I know your likes and dislikes and what the daily weather promises I can put a daily package together for you.
1. Stay within 20klm packages or,
2. Driving either of the 2 peninsulas - where to stop and what to see packages.
3. Killarney national Park hikes
4. Hidden valley hikes
5. Best stone circle discovery hikes
6. Best hikes with the chocolate shop at the end of it
7. Wild rocky valley into the heart of the mountains drive - and walk into the mountains that will feel like the himalayas
8. Best old riverboat trip with a marine biologist
9. Put you in touch with gillies for fishing
10. Horse rides down the road
11. Where to hike up and over a waterfall for 1 or 4 hours
12. Where to hike up and over a waterfall and climb a mountain above it.
13. How to walk through the mountains from here to Killarney and beyond
14. Boat hire on the lakes which Percy Bisse Shelley compared to Lake Como.
15. Where to get the best trad session of an early evening or
16. where to eat the best of local seafood in the town or on the bay.
xxxxxx

This part of Ireland is an absolute paradise and very untouched and empty of modern infrastructure and you will have the feeling that you have the entire place to yourself - especially Beara peninsula - when the weather is dry - when the sun is shining is is even more glorious that that - but this is Ireland so ......sorry I cannot guarantee or control the weather.
---
Check in time is 5PM - 9PM
1.Lots of French doors in the house, so lock them as you close them.
2. Eco friendly energy saving CLOTHES DRYING in slatted shed and then airing rack in utility room - can take one to two days.
RECYCLE by washing and cleaning plastics and paper and organic waste also.
ASK ME HOW THE WINDOWS OPERATE - they TILT & TURN to open. Please DO NOT leave them wide open when out of the room.
They have two opening facilities,the minimum opening lets enough air. Full tilt turn lets draughts through the house.
There is plenty of space for privacy and respectful observance towards others in the house - music on headphones and walk not run on stairs etc.
Pets Welcome by request beforehand.
There is one dog, a (shy) house dog. 'Good at catching a ball and has provided hours of pleasure to visiting children and playful adults.
---
Strict
Cancel up to 7 days before your trip and get a 50% refund plus service fees back.
---
---
Exact location information is provided after a booking is confirmed.
Aine has a lovely home and it's a perfect base for exploring the Beara peninsula as well as Kerry peninsula. Our room was beautiful and so peaceful, as described. Breakfast was wonderful, fresh and local ingredients. She was extremely knowledgeable about the area, gave us great recommendations on places to go and things to do, had lots of maps for us to use as well. We had a bit of trouble finding the place at first; her home is a bit off the beaten path, and for someone who is used to a GPS like myself, well you'll have to use a good old map and her directions to get there! Once we found it the first night, it was a breeze getting to after, only about 10 minutes outside of Kenmare town. Overall, really lovely time! We spent three nights here and it was our favorite portion of the trip. Thanks a million!
---
This is a delightful place to stay. The house is beautifully designed, decorated and furnished, the facilities are excellent, comfortable and spotless - even the towels smell gorgeous. The view from our bedroom was of a lovely meadow edged with native trees and backed by wooded hills. The only sound is of the nearby river - it is a wonderfully peaceful place. Aine is very welcoming and a generous mine of interesting information about Kenmare, the surrounding area and beyond, we found a great deal to talk about during the delicious breakfasts she served us. Would definitely come back..
Response from Áine, In Kenmare Bay:
Thank you Felicity, great to hear that a guest got so much out of their stay. Thank you for the review with good detail and a good sense of overall room/location. As mentioned in separate email, I would be grateful if you can copy this onto trip advisor at some point in your busy lives........ 'Glad to have you back anytime or meet up again, anytime.
---
The stay at the eco lodge in kenmare was fantastic. We had the beautiful appartment upstairs with a stunning view out over the garden to the wild. Also the bath room in the same room was top. We loved the breakfast with "Müesli" and aselection of bread, salmon and different kinds of cheese from the neighborhood. The great insiders advices to explore the nature were perfect and not that touristic like the ring of kerry. We get what we booked!
---
As advertised, a stunning setting, a warm and welcoming hostess in a modern property designed to be in keeping with the surroundings. Would recommend to anyone looking for a relaxing, comfortable place to stay and with Aine's helpful tips, the inside scoop on the best places to visit
Response from Áine, In Kenmare Bay:
Thank you Victoria and thanks for mentioning how you found the touring advice. As mentioned I am now working with local providors and guides to fashion my own brand of green, slow tours of this magical area with its landscape and its resources and its eclectically skilled residents.
---
This was a lovely property in the beautiful countryside - it felt as though it was in the middle of nowhere, yet was only a quick drive into town. The room was perfect, the breakfast amazing, and the hostess charming and educated on the area. Don't miss it if you are looking for a place to stay in Kenmare!
---
I run this ecological B&B made out of hemp* Sleeps x 6. Rooms from E70 per night.. I have travelled a good deal myself and understand the value of meeting locals who can give detailed, personal advice. I think if you like the images of my house and the offering of natural/organic etc. you will love Kenmare and environs anyway and I try to provide information to give a personalized portal into the best of its many hidden offerings.
I am a regular hiker, explorer of the area close to hand and the two peninsulas and can give you daily guidance at breakfast time on what most suited to your desires and depending on the day's weather. I have produced a book on the urban heritage of the town and appreciate Kenmare's special character as a fine example of a 17th planned estate town. I can advise on best authentic food, music, eating and shopping experiences of which Kenmare is well supplied.

If you like nature and natural surroundings, outstandingly stunning landscape, great hill trails, eco-living, conversation, sitting in the library room, exploring mountain paths and ancient monuments then going into town for fine dining experiences and live music you will find plenty to do here for several days on end.



I have travelled around most parts of Ireland so I can offer advice on your onward journey from here.





Response rate:
100%
Response time:
within a day
Explore other options in and around Kenmare
More places to stay in Kenmare: