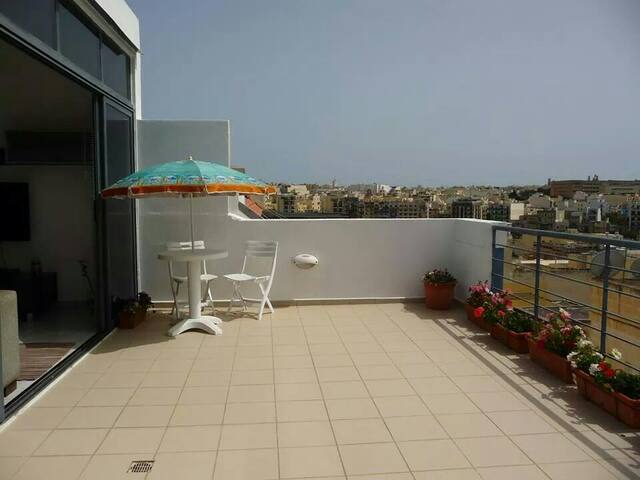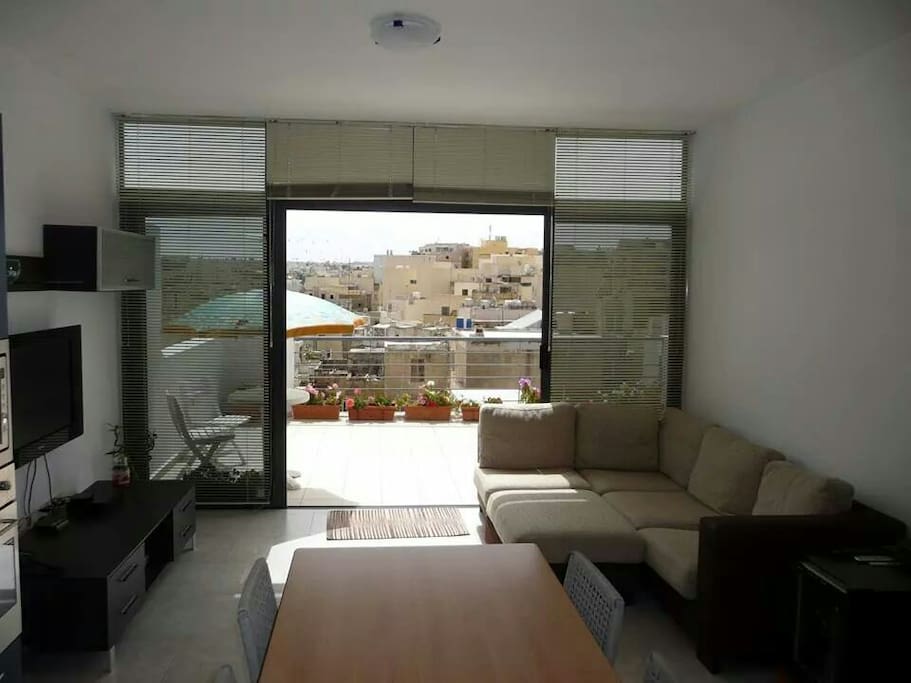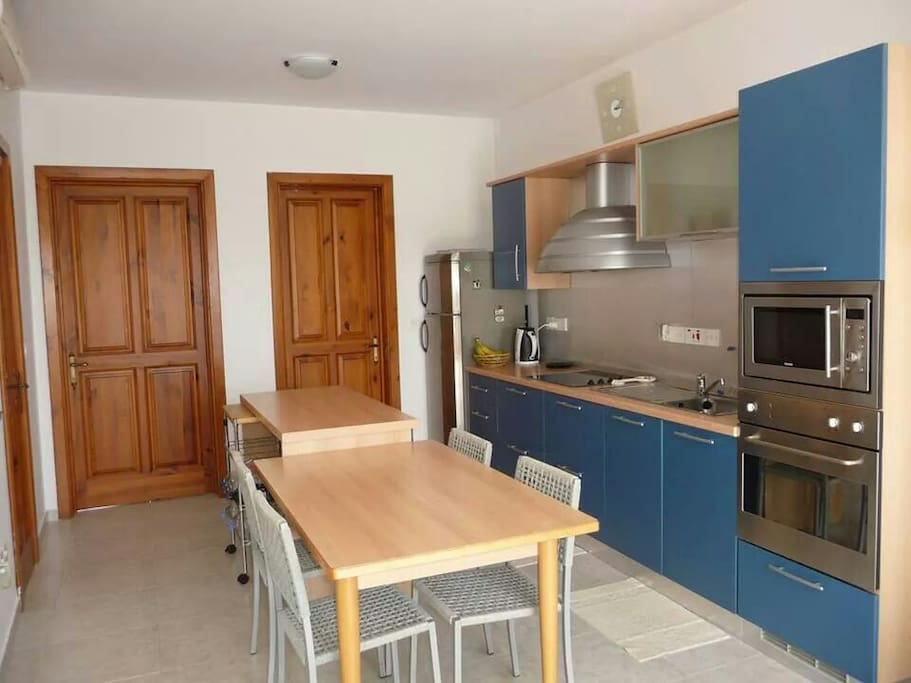 The space
Centrally located and stylishly furnished penthouse a couple of minutes walk away from yacht marina and a beautiful 20 minute walk to Sliema along promenade and another 20 minute walk in the opposite direction to Valletta. Close to all bus routes, restaurants, cafes and a public garden.
Very central and with walking distance to Valletta and Sliema. close to public transport to most routes.
---
---
Always communicate through Airbnb
To protect your payment, never transfer money or communicate outside of the Airbnb website or app.
---
---
Before arriving at Christine's apartment, we had no doubt that we will have a great stay! I even wrote her this, when shortly before our arrival she asked if she can do / get anything we would like to have in addition. We were so pleased with our communication, other feedback and perfect location that we didn't need more. From the moment I met Christine, it felt like I know her since a long time, she spreads love, warmth and generosity. The apartment has an amazing vibe; we loved the light, energy, terrace and balcony views (almost a 180° panorama), silence... it has everything you need to enjoy your short / long stay, it's smartly divided and furnished, almost all pieces are brand new (I love and enjoy to cook in new pots when I travel :) ). The area was perfect for us as I don't like to walk long to the bus station, I was supper happy to discover how close the stations are. We tried three food stores in the nearby and went to our fav one, The Tower in Sliema. I got to know Christine's son and husband, they are so lovely and kind! They are a truly beautiful family! I hope they will get good visitors / tenants in the future (as until now), someone to appreciate their work and love for this place. We look forward to return to Msida! Thank you for everything (the airport ride, patience, flexibility, positivity, honesty)!
---
I visited Malta for the second time and I must say I decided very well to choose to stay in this spacious and very well equipped apartment with lot of storage. We loved the spacious terrase very much. Everything important you can find in the apartment, from hairdryer, towels, iron to fully equipped kitchen. I can even imagine to live there longterm. We were there at the beginning of September and even did not have to use air-condition since we opened the terrase and bedroom doors to flow the air through the apartment. Location is perfect, very close to several bus routes to Sliema/St.Julians (5-15mins), Valleta (5 mins) and other destinations (e.g., look at the bus stop "Kullegg"). Close to the appartment there are several small convenience stores and sweet-shop with wonderfull ice cream :-). Christina and Paul took us from the airport since we arrived late night, much appreciated. They have explained us everything important regarding the apt. Thank you, Christine and Paul, for having wonderfull stay in Malta!!
---
What a lovely week in Malta! Christine and her husband Paul were wonderful hosts. They welcomed us and made us feel at home since the very beginning. We arrived late at night and they were at the airport waiting for us and found time also to have a coffee and a chat with us when we got to the flat despite the time. They explained us everything we needed and have been very helpful when we asked for something we needed. The flat is perfect and new, the big terrace is suitable for meals, especially dinner and breakfast as the sun doesn't shine there till lunch! All the items we needed were there. The flat can be very warm but air conditioner is available. The area is very well connected to Sliema and Valletta by buses. Christine gave us her contact and I could ask her for info at all times about transports, beaches and so on. I got unfortunately ill on my forth day in Malta and Christine and Paul took me to pharmacy and helped me with what I needed. We also gathered for dinner one night and we had great fun together. My boyfriend and I will recommend this flat, especially to someone that enjoys good company. Thanks to our new Maltese friends :) Diletta & Giancarlo
---
The experience with staying at Christine's apartment was fantastic. To start with Christine and her husband Paul, picked us up at the airport, even though our plane was delayed and it came in at 4am! They were there with a cute little sign welcoming us to Malta, and then drove us to the apartment. The apartment itself was lovely, very nicely furnished (everything is brand new), spacious and clean, comfortable bed, good shower, big kitchen and looks exactly like the pictures. With a great terrace, which we sat and had our breakfast on every morning, looking out over Msida. It is very close to bus stops, only a 2min walk in either direction, and also a supermarket is about a 5min walk away. Sliema and Valleta are about a 20/30min walk. We did both walks, which was nice, but in the August heat we caught the bus most days, which takes about 5min. Msida was a nice area, we found everyone to be friendly and helpful, and even walking back to the apartment at around 1am, we didnt have any problems. Although the apartment and the area were great, I would have to say that Christine and Paul were what made our trip to Malta really special. They were extremely helpful and very easy to get in touch with if we needed anything, from booking taxis, to recommending restaurants and even taking us out for a drink on our last night. They also would have taken us to the airport when we were leaving, but it was Pauls birthday and we didnt want him getting out of bed early to take us! They're such a lovely couple and are the perfect representation of the friendly and giving Maltese people. The apartment was like a home away from home, and they treated us as part of their family while we were there. If you want to come to Malta and get a taste of what the Maltese hospitality is like, then this is the place to book! On our next stay in Malta, we will defiantly book this place again! Thanks Christine and Paul for such a lovely stay xo
---
If you are considering booking this apartment STOP! We were the first to book this flat since they bought it. It was sold to us as a luxurious penthouse but it is not - it is merely a nice enough flat that happens to be on the top floor. We have issues with the flat and complained to the owners - they ignored the fact that we were over charged for the standard. We asked again more bluntly for a refund but they didn't even have the courtesy to answer us. Basically we had a problem in that we had previously booked in the most desirable area of Malta for less than they were charging, we had our flat cleaned with fresh sheets and towels and a much higher quality of fit out. The flat in Msida (by their own admittance) had a poor quality bathroom with a bath with a crack a cheap hand held shower head with no holder on the wall, the sink had a cheap plug that didn't fit so you could fill the sink, they had left a dirty rag hanging in the bathroom and there was only one set of small, cheap towels each to last for a week which in the height of summer where you may be showering twice a day is not acceptable, in the kitchen the oven didn't work, we couldn't use the coffee machine, the toaster. the microwave grill poured out smelly smoke. The bedroom had no change of top sheets which again in those temps is not acceptable.You couldn't use the balcony during the day as there was no shade and it was too hot - we were told not to use the umbrella shown as it would blow away. the table and chairs were cheap (and dirty) plastic. In the evening the balcony has no privacy and there were groups of people directly opposite and on one night they had a screaming row. The intercom was broken which actually was a pain for us as it was a business holiday and we had meetings at the flat. If this flat had cost us about £350 instead of £562 then we perhaps would not have had such an issue but to charge so much demands a much higher standard than the one we received. Final note - if you don't know Malta too well, Msida is quite seedy - you get a nicer area and more for your money in Sliema.
You only gave us the list of your complaints a day before your departure and had you told us before we would have rectified everything in less than an hour! However it was your choice not to let us put matters right. Previously you stayed in a guest house, in a not so desirable, albeit, central part of Sliema and cannot compare a room with an apartment. Yes, the bath did have a crack, but as our guest knew, we had only just acquired the apartment and did not have time to change the bath, however we have since changed the fitting and shower head! As soon as the apartment will be vacant long enough, the bath will be changed to. The rag was left by mistake. Sorry! There were 2 bath towels and 2 hand towels made of Egyptian cotton. I don't think you can get better than that! I also asked if they would need another set of towels, but my offer was declined. We also offered to get the adaptors for the Toaster and coffee machine but again this was refused. I do apologise about the microwave as we did not check the grill function. However, if we were told about this we would have replaced the microwave immediately. The main electric oven was fully functional. There was a FULL set of spare sheets in the bedroom and the table and chairs in question were extra and for the back terrace just in case it was too hot on the main terrace which it clearly was! There was an umbrella which could be used, however we pointed out that if it was too windy we did not suggest they use it as it could fall over and be dangerous. With regards to the "privacy" element, only yesterday we were invited by our guests for a bbq on this said terrace. It was a most pleasant and "private" evening! Being the highest building in the area no one could overlook us and we had a great time. With regard to the area being "seedy" I really have no idea what Michelle is referring to unless she is racist! I am really sorry we did not live up to Michelle's expectations, but we were not even given the chance to put things right. It would have been our pleasure and most it most certainly was our aim to make sure our guests were comfortable and satisfied. I know we managed with our second guests :)
---
Il nostro soggiorno nell'appartamento è stato più che positivo. Christine è stata davvero impeccabile in tutto: dall'accoglienza in aeroporto, alla piena disponibilità che ci ha offerto (sempre reperibile e pronta ad aiutarci per qualsiasi necessità), alle istruzioni fornite per l'appartamento. E' una persona solare e socievole, che ci ha fatto sentire subito a nostro agio. L'appartamento rispecchia a pieno la descrizione dell'annuncio. E' situato all'ultimo piano di una piccola palazzina della cittadina di Msida. Semplice, luminoso e recentemente ristrutturato, la cucina è dotata di tutti gli elettrodomestici e stoviglie necessari, e le altre camere sono comode e ben ammobiliate. Le grandi finestre permettono di rinfrescare bene l'ambiente, oltre all'aria condizionata, che abbiamo utilizzato pochissimo. Inoltre, il soggiorno si affaccia su una grande terrazza, perfetta per cenare all'aperto, o per godersi un po' di brezza la sera. La posizione è ottima per spostarsi in autobus su tutte le linee principali dell'isola, e dista solo 5 minuti di bus dal centro di Valletta. Inoltre, nelle vicinanze (10 min a piedi) ci sono sia un supermercato, sia alcune botteghe. Il quartiere è tranquillo, abitato prevalentemente da famiglie e persone locali. Personalmente, abbiamo apprezzato molto questo aspetto, che ci ha fatto vivere ancor di più lo stile di vita maltese! Ringraziamo Christine e la sua famiglia per il loro calore e la loro simpatia. Consigliamo vivamente questo appartamento a tutti coloro che desiderano trascorrere un soggiorno piacevole e tranquillo nella splendida isola di Malta, il tutto valorizzato dall'ospitalità genuina di Christine :)!
---
Languages:
English, Italiano
Response rate:
100%
Response time:
within a few hours
Explore other options in and around Msida
More places to stay in Msida: