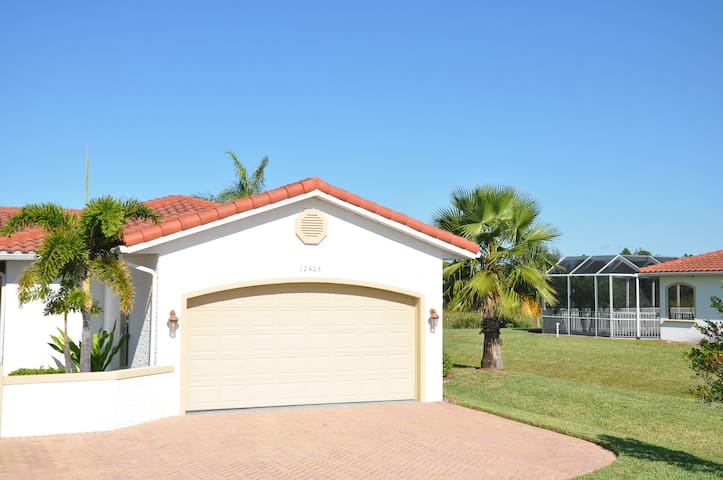 Entire home/apt
5 Guests
3 Bedrooms
5 Beds
About this listing
Quiet, convenient and relaxing Florida Vacation
---
Room type:
Entire home/apt
---
Kitchen
Space where guests can cook their own meals
Essentials
Towels, bed sheets, soap, and toilet paper
+ More
---
---
The Space
Attached Villa in Andalusian style with Courtyard entrance along Lake Marlin - large Lanai – view to the lake - Community Pool - Club House

3 bedroom / 2 ½ baths / for 2-5 persons

Duplex villa in the Alhambra Village, completed in 2006, with 1,509 SqFt living area under air condition. Located on the Cape Haze Penisula with the lovely town Englewood. Large lanai overlooks a small lake with exciting Wildlife. Just 50 feet to the clubhouse with heated swimming pool and lake view. Clubhouse equipped with flat screen TV, Internet, indoor and outdoor seating areas, kitchen and summer kitchen with BBQ.

Master bedroom with king bed opens to the lanai. Generous master bath with double vanity, roman shower and walk-in closet. Guest Room 1: King bed, Guest Room 2: Sofa bed with single bed. Guest bathroom with shower. Large, well-equipped kitchen with granite bar. Living room / dining area with sliding glass doors to your private lanai with views to the lake with all sorts of wildlife. Laundry room, double garage.

Amenities

High Speed Internet, 2 TVs, stereo, telephone, air-conditioning throughout the house, fully equipped granite kitchen with refrigerator with icemaker, microwave, dishwasher, separate laundry room with washer and dryer. Bed linen, towels for bath and pool. Dining table and chairs on the lanai.

+ More
---
Mietbedingungen

An- und Abreise:
Nach Absprache ist die An/Abreise an beliebigen Wochentagen möglich.
Am Anreisetag ist die Villa ab 16:00 Uhr bezugsfähig.
Der jeweilige Saisonpreis wird individuell für jede Buchungswoche errechnet. Entscheidend ist der Preis zu Wochenanfang.
Die Berechnung erfolgt nach Buchungswochen zuzüglich ggf. Einzeltagen, die sich aus dem Wochenpreis errechnen. Hierfür erstellen wir Ihnen gern ein individuelles Angebot.
Die Villa muss am Abreisetag bis 10:00 Uhr verlassen werden.

Flüge und Mietwagen:
Die Anreise/Flug nach Florida sind ebenso wie ein Mietwagen nicht Gegenstand des Mietvertrages und müssen vom Gast selbst gebucht werden.
Ein Mietwagen ist für die gesamte Dauer des Aufenthaltes notwendig.

Buchung:
Die Buchungsanfrage über diese Webseite führt zur Abgabe eines Angebotes durch den Vermieter, der Mietvertrag kommt erst mit der schriftlichen Buchungsbestätigung des Vermieters zustande.

Bezahlung:
Mit der schriftlichen Buchungsbestätigung wird eine Anzahlung in Höhe von 20% des Mietpreises fällig.
Die Restzahlung sowie die Zahlung der Kaution von 250,- EUR muss spätestens 4 Wochen vor Anreise erfolgt sein.
Nach Eingang dieser Zahlung erhält der Gast seine Reiseunterlagen mit der Anfahrtbeschreibung vom International Airport Ft. Myers, Tampa, sowie Adresse und Telefonnummer der Betreuer vor Ort in Florida (siehe auch Endreinigung & Betreuung).

Stornierung:
Die Stornierung eines gebuchten und bestätigten Aufenthaltes ist nur gegen eine Stornogebühr möglich, die wie folgt gestaffelt ist:
Der Zeitraum bezieht sich auf den Zeitraum vor der Anreise:
bis 120 Tage = 20 %
bis 60 Tage = 50 %
bis 30 Tage = 75 %
bis Anreise = 90 %.
Der Abschluss einer Reiserücktrittversicherung wird empfohlen. Findet der Vermieter oder der stornierende Mieter einen neuen, voll zahlenden Mieter für den gleichen Zeitraum, verringert sich die Stornogebühr auf 20 %

Kaution:
Unabhängig von der Dauer des Aufenthaltes hinterlegt der Mieter eine Kaution in Höhe von 250,- EUR. Die Kaution gilt als Sicherheitsleistung für etwaige Beschädigungen des Mietobjekts. Weiterhin erfolgt die Verrechnung mit den, durch den Gast verursachten Telefongebühren incl. Grundgebühren, Tax etc.
Die Abrechnung der Kaution erfolgt durch den Vermieter, nachdem die Telefonrechnungen vorliegen, etwa 4-6 Wochen nach Beendigung des Aufenthaltes. Der Gast bekommt eine detaillierte Aufstellung der Kosten.
Endreinigung und Betreuung:
Unmittelbar nach Beendigung des Aufenthaltes erfolgt eine Endreinigung des Objektes. Küchenutensilien, Geschirr, Bestecke, Gläser usw. gehören nicht zum Umfang der Endreinigung.
Bei nicht ordnungsgemäßer Reinigung der Küche durch den Mieter wird dieses gegen separate Berechnung durchgeführt (mindestens US$50).
Der Mieter zahlt einen Anteil der Kosten für die Endreinigung direkt vor Ort an die Betreuer bei seiner Anreise (US$100 ).
Mietgegenstand:
Mietgegenstand ist die Villa in einer für Ferienwohnungen üblichen Ausstattung. Die umfangreiche Sonderausstattung steht dem Mieter zusätzlich kostenlos zur Verfügung. Das Nichtvorhandensein oder eine Funktionsstörung der Sonderausstattungen stellt keine Beeinträchtigung des Mietvertrages dar. Die Einrichtung und Ausstattung, sowie der Grundriss der Villa ist individuell und entspricht dem Geschmack des Eigentümers. Die Villa liegt in einem ruhigen Wohngebiet.
Sonderausstattungen:
Es steht ein mobiles Festnetztelefon kostenlos zur Verfügung. Die genutzten Telefongebühren werden mit der Kaution verrechnet, der Mieter erhält eine Kopie der Aufstellung des Telefonanbieters zusammen mit der Abrechnung.
Ein Wireless LAN (WiFi) mit Flatrate steht ebenfalls kostenlos zur Verfügung. Der Mieter erhält die Zugangsdaten mit der Auftragsbestätigung, bzw. beim Einchecken.
Haftung des Vermieters:
Der Vermieter haftet, beschränkt bis zur Höhe des Mietpreises dafür, dass sich die Villa in einem bewohnbaren Zustand befindet. Der Vermieter haftet in keinem Fall für Unfälle irgendwelcher Art, die im mittelbaren oder unmittelbaren Zusammenhang mit der Nutzung der Villa, seiner Grund- und Zusatzausstattungen stehen. Weiterhin haftet der Vermieter nicht für Naturgewalten, höhere Gewalt, Krieg, innere Unruhe, Versorgungsengpässe oder andere, nicht vom Vermieter persönlich zu vertretende Umstände. Die Haftung des Vermieters ist in jedem Falle auf die Höhe der gezahlten Miete beschränkt.
Haftung des Mieters:
Die Nutzung der Villa und aller Ihrer Ausstattungen erfolgt ausschließlich auf die Gefahr des Mieters. Der Mieter und alle Personen seiner Reisebegleitung haften im Sinne des Mietvertrages gesamtschuldnerisch. Für Schäden und Verschmutzungen, die durch den Mieter oder seine Begleitperson(en), die er während seines Aufenthaltes empfängt, verursacht werden, steht dem Vermieter eine angemessene Entschädigung zu. Reicht die Kaution zur Deckung nicht aus, werden weitergehende Ansprüche an den Mieter gestellt. Die Benutzer haben das Haus und seine Einrichtung pfleglich zu behandeln. Die Reinigung während des Aufenthaltes obliegt dem Mieter. Etwaige Beschädigungen sind sofort der örtlichen Betreuung zu melden.
Zielflughafen:
Der nächstgelegenste Zielflughafen ist der International Airport Southwest Florida, Ft. Myers (60 Meilen). Alternativ stehen die Flughäfen Sarasota-Bradenton (48 Meilen) oder Tampa (95 Meilen) zur Verfügung. Bei später Ankunft an einem anderen Airport (z.B. Orlando, Miami oder Ft. Lauderdale) sollte der Gast dort eine Hotelübernachtung einplanen.


Information:
Mit der Mietbestätigung erhält der Gast eine Anfahrtbeschreibung und weitergehendes Infomaterial.

Haustiere:
Haustiere sind nicht erlaubt!

Rauchen:
Im Haus herrscht Rauchverbot. Auf der Terrasse ist das Rauchen gestattet!
+ More
---
---
Explore other options in and around Port Charlotte