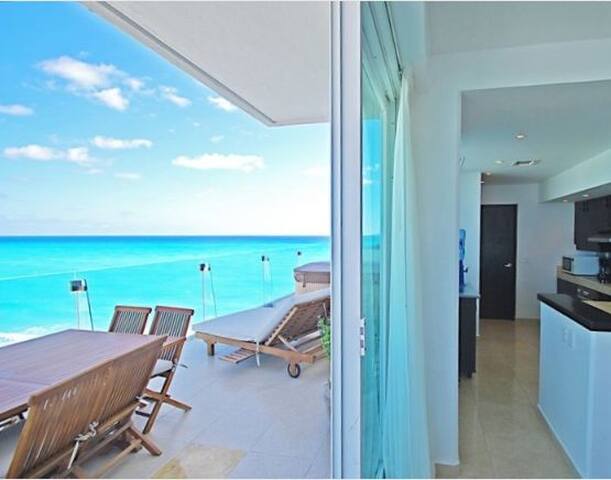 Entire home/apt
10 Guests
5 Bedrooms
8 Beds
About this listing
Rental Limits Do Apply.
Not for a Week but MONTHLY!
Oceanfront, Best Beach
Cancun's best 3, 4 to 5 bedroom Ultra-Condo
Clean, new, nice.
All the Resort Amenities
Beachfront, Best of the Best
---
Check In:
12:00 PM (noon)
Check Out:
12:00 PM (noon)
Room type:
Entire home/apt
---
Kitchen
Space where guests can cook their own meals
Essentials
Towels, bed sheets, soap, and toilet paper
+ More
---
Extra people:
$19 / night after 4 guests
---
The Space
Bay View Grand Residential
VERY UNIQUE: Longer Term / Multiple Bedrooms
There are over 20+ Unique Comfort Features!
The reason there are in several beautiful vacation locations is to give guests a "Boutique Villa Experience."
They are really designed from the ground up to be the only "Concierge Class" Private Ultra-Condo in Cancun, and they rival the resort hotels in a Longer Term Apartment
ROOMY Walk-in "Lockable Closets," and Multiple Safes (complete security)
New Granite Breakfast Bar with a New Stainless Kitchen
Laundry Room with US XL Washer Dryers, and Storage
Dual Private - Covered Parking Spots .

BEST LOCATION IN CANCUN - Stay in "the best" location
Walking 3-7 minutes to 49 restaurants & clubs, great malls, and the entire entertainment center, or heart of Everything
You will not need the $10 to $15 cab rides to go to places.
* NEWEST Five Star, 5 Bedroom 5 Bath condo
* FREE SUPER-SHOPPING be stocked with everything BEFORE you arrive.
* DUAL (2) FULL SIZED FRIDGES and ALL STAINLESS Gourmet Kitchen
* The only Ultra-Condo with Concierge Level Service
* BABYSITTING (quality) Availabl(URL HIDDEN)
* Margarita Machine !
* HUGE 3300 Sq ft space with (2) wrap around balconies.
* XBOX360LIVE (2) - bring their favorite games
* FREE COMPUTER LAPTOP include(URL HIDDEN)PRIVATE MAIDS
* Extra Plush Large Spa Towels and Super Plush Large Beach Towels
* Pool and Beach Toys, Tennis Rackets, all Included
* FREE - Mexican Cell Phone, Long Distance, WIFI
* Six (6) Flat screen TVs with Satelite
* 242 TV Channels, I pod Capable, in EVERY ROOM! DVDs, Stereo, CD Players
* US Quality Posturepedic, (sealed) Beds with high thread count linens
* Laundry with XL GE Signature Washer Dryer(rare in Mexico)
* Relax in a Jetted Jacuzzi tub on your private deck above the beach!
* Your Own Private Concierge for Activity Consulting
* Instant Support via chat, phone and emai(URL HIDDEN)Personal Shopping Service
The Neighborhood
Beachfront, the best upscale part of the Hotel Zone
Getting Around
Amazing easy and fun Transport.
Taxis close by
Bus Service half a block away goes straight to Grocery Stores and even Wal-Mart, Costco, Office Max, etc.
Other Things to Note
Full food service at the Beach and on the Sand
Full His and Hers Refridgerators,
Magarita Machines
The best Transportation
FUN FUN and more FUN
+ More
---
I. DATES OF OCCUPANCY:
II. RENT and PAYMENT POLICY: includes all taxes and cleaning service
2.5% charge is collected for Credit Cards or
Checks are preferred, not having a 2% fee, & must be early to clear
To be initiated, this agreement requires the first payment along with the guest's signature & (owner or agent's.). It is the Lessee's responsibility to keep payment receipts, especially those that would confirm a binding agreement before they make or change travel plans. The Lessor is never responsible for anyone's travel.
III. MAXIMUM PEOPLE & EXCALATOR CLAUSE: Children & infants count as persons.
Additional Headcount of any age creates a $39 per person per night times (x) total length of stay charge, determined by: cleaning services, managers, security, photos or electronic means, from the deposit.
.
IV. SECURITY DEPOSIT: is required 7 days before check-in to avoid any surprises or problems for: Security, Damage, Unpaid Rent, Fees, Taxes, Phone, Keys, Services, Extra People & Cleaning is:
•Payable as an easily reversed: 1) Credit Card Authorization or Charge, at least one week before arrival, or 2) Cash – Funded Check 3) Reversible (URL HIDDEN) (EMAIL HIDDEN)
•There is a credit card section at the bottom of this agreement to help Lessee with Damage Deposit.
•or the Lessee will forfeit all rent paid and forfeit all rights to occupancy.
•Changes in lessee(s) plans are not the responsibility of the Lessor. There is no cancelation but adjustments can be made when mutually agreeable Moneys paid are not refundable but are reversed by an amount if rebooked/
V. MAJOR DISASTERS, are Repairs, Construction, Fires or Certified Hurricanes that close the Cancun Airport for at least a day are the only reasons to delay, rescheduling or slide (only if open and mutually agreed), and available, to shifted time frames of the same rate class. This is solely at the owner's discretion who:
may slide dates with immediately earlier or later days "if open and available."
will be held harmless completely if he gives a credit for the interrupted part of their stay.
is never responsible for airfare, tickets or travel plans; and is not responsible for "acts of god."
if necessary, may substitute an appropriately large, new replacement unit of similar value & location.
For legal reasons, we have to include the following disclaimers for everyone:
"Bottled water is always recommended."
"We recommend the lessee purchases 3rd party trip insurance to protect their investment & vacation."
'Time is of the essence,' meaning time is relevant to all issues in this agreement."
"The Owner is held harmless for changes in Mexican Law or Association rules outside of the owner's control."
"Severability - any illegal or invalid clause of this agreement does not void the rest of this agreement."
"Amenities & prices not included in this agreement are subject to change without notice."
VI. LESSOR SHALL PROVIDE:
1.KITCHEN MATERIALS, utensils, kitchen equipment, pans, plates, glasses, cups, laundry soap & cleaners.
AROUND THE POOL everyone must use acrylic, & plastic glasses, even if not supplied, a critical Association rule. In consideration for this agreement, the Lessee(s) agree: to accept and be solely liability for: their own or any guest's, or child's injury or damage incurred in or around the kitchen, condo and Jacuzzi; infants going through kitchen cupboards, and laundry room, playing with knives, tools, utensils, ingesting chemicals or anything else, and agree(s) to exercise extra care and supervise them at all times, and hold the Lessor harmless and free of liability.
2.LINENS & BEDDING which will be clean at time of occupancy (not guaranteed for early check-ins.)
3.CLEANING SERVICES are "a la carte" are flexible, chargeable and billable to the Lessee.
•Not included is: cooking or clothes washing, & ironing, for which Lessee agrees to hold the Lessor harmless, but extra services may be arranged on the side for $5 - $7.50US Overtime/hr. if available and agreed to.
•Extra services: maids, cooking, etc. must be discussed with the management, & be acceptable to all parties.
•Our people report always primarily to the Manager. Guests should neither be secretive nor negotiate "lowball" alternative prices with workers, or they will be billed the normal price ($5/hour ) regardless for such services.
•Standard is $25/day + Overtime for 4-5 hours. (Typical for Cancun is $35 for 4-5 hours for managed maids.)
•Extra or Long Hours & Sundays (family day) are not obligatory & the worker(s) deserve time off / overtime.
•Extra Mess, Damage, Vomiting or Party Materials will be billed on the damage deposit. Please avoid this!
 
VII. IMPORTANT ASSOCIATION & GENERAL RULES:
All Lessee(s) and all their guests, at risk of losing their damage deposit, rent paid and/or possible eviction,
AGREE TO NOT:
1.Break any Mexican Laws, Ordinances or Association Rules or they risk eviction and/or
forfeiture of damage deposit. Damages & fines will come out of, but are not limited to, the deposit.
•Lessee shall be exclusively responsible for the breaking of any laws.
2.Use or posses any "Contraband," drugs, or illegal items in or around the property.
•Contraband and drugs are serious federal felonies and can be prosecuted by Mexicans.
3.Use any Glass or Stereos around the pool, a critical association rule, use provided plastic cups and glasses.
4.Display any Laundry, Towels and Bathing Suits, visually or publicly on a balcony, or windows.
5.Hold the Lessor liable for Association rules that limit lessee or lessor's options or actions.
6.Sub-let the demised premises, or any part thereof, or assign this agreement.
7.Alter or improve the said premises, without written consent of Lessor.
8.Make loud noise or music anytime before 10AM or after 10PM, an evict-able "Association Rule."
9.Throw anything or "Yell" off the balconies,
10.Allow any Smoking, "Especially Pot" or any Pets Inside at any time including their guests or visitors!
11.Increase the head count or make a "false reservation" without written permission, or lose your deposit.
12.Allow Children to use the pool alone unless accompanied by an adult.
•If there is any injury to children using the pool, it is agreed that the lessor will be held harmless.
13.Take bath towels, linens or condo property out of the unit, except for blue beach towels & plastic cups.
14.Lessee(s) are liable if property is not returned to its original unit, even in the case of multiple condos.
15.Stay in the condo beyond 10AM check-out, expect a late check-out or by previous written arrangement.
16.Trash or damage rooms, fail to clean up seemly garbage, leaving personal hygiene materials and prophylactics, throw up, or damage premises - or pay significant cleaning fees.
17.Stain the Couches or Bedding with Oil, Blood or TEMPORARY TATOOS as these may not be cleanable.
18.Overload the premises with an event or extra guests, especially if you have guests or your group is staying in multiple condos. And not to have Weddings, Events or Parties.
AND AGREE TO:
19.Close all Doors & Windows when using Air Conditioning, or it may fail!, "over-work 250%" and cause:
A/C to Blow Difficult to Access Fuses, - Great deals of condensing water to flood and leak from ceiling.
The system to overload and shut down. - Extra electricity charges ($$$) due from the guests.
20.Give Lessor Immediate Notice of any damage, theft, serious injury, association or legal involvement.
21.Use Assigned Parking Spaces for the Unit and respect all rules of the Association, and all parking rules.
22.Pay all costs, expenses & Lessor's reasonable attorney's fees, if there is any frivolous legal action brought against the Lessor. The Lessee agrees that disputes are to be tried and resolved only under Mexican Law, in Mexico.
23.Exercise extra care around the Pool and Jacuzzis, and consider the Lessor harmless for liability as they are considered dangerous for adults, and especially for children or minors.
24.Return all keys. A key deposit of $300 is part of the damage deposit. All keys must be returned(URL HIDDEN)
•If a key is lost, it is anticipatable that doors will have to be re-keyed.
25.Keep Smoking and Sand from the Beach, Outside. And place sandy towels right in the washer, after shaking them outside, downstairs, so no sand or Sand Fleas get inside the condo.
26.Cleanup after all guests and themselves, and take ultimate responsibility for the clean condition of the unit.
27.Clean up Vomit or unsavory party materials, or be charged extra for maid's services, possibly losing deposit.
28.For liability & fairness reasons, keep cleaning expectations to those items listed in this contract.
29.Pay the Lessor all payments and deposits before check in or Lessor has the right to bar occupancy until paid, possibly by credit card with Lessor, and may ultimately be consider this a non-refundable breach.
30.Limit Group Activities or Events to the contracted number of occupants, or get a waiver in writing from Lessor
31.Disclose in advance any events. In the case of using the common area, there can be an Association Cleaning Deposit, Association Rules and large (potentially 10,000US) fines that apply directly to all guests.
32.Observe the security, noise, wear & tear, music and "good neighbor" standards of the association.
The Association rules always apply regarding fines, all or large part of the deposit & possible eviction.
33.Respect Force Majeure and hold Lessor harmless for unforeseeable events or failures. In the event that a 'force majeure' (fire, earthquake, hurricane, flood, political revolution or other circumstance outside all party's control) prevents the client from normal use of the rental property. Lessor may always supply an equivalent size and quality replacement property for the lessee if necessary and is then not liable for refunds.

VIII. PROPERTY & SECURITY ISSUES:
In consideration of this agreement, it is mutually accepted that:
1.LESSOR'S RIGHT OF INSPECTION & ACCESS TO REPAIR is at Lessor's will, and at any time.
•This extends to the Lessor's Property Management Company, representative(s) or repair persons.
2.THIS WRITTEN AGREEMENT IS ENTIRE AGREEMENT so there is no confusion.
3.GOVERNING LAW: THE PARTIES HEREIN INVOLVED IN THE CONTRACT SIGNED, RECOGNIZE AND ACKNOWLEDGE THAT OBJECT OF THE CONTRACT IS LOCATED IN THE COUNTRY OF MEXICO, IN THE STATE OF QUINTANA ROO, Therefore, the signing parties recognize that: this contract shall be construed and interpreted in accordance with the laws of the State of Quintana Roo, México. It shall not be construed against the party in whose behalf it was drafted solely because of the fact that party drafted it. With respect to Lessor nothing herein shall be considered as consent to personal jurisdiction in (any state in the US) or waiver of such additional and further rights & protections as may be entitled under Mexican law.
3.LESSEE'S PROPERTY is the Lessee's and their guests' sole responsibility, who may purchase their own insurance for their protection. In consideration for this agreement, Lessee waives and holds the Lessor harmless, for any claims against the LESSOR for any theft, damage or negligence.
4.AMENITIES AND SERVICES are subject to change without notice. Extra Services may be chargeable.
5.LESSOR IS RESPONSIBLE FOR SERVICES & AMENITIES only on a best effort basis. Lessor is to use all reasonable skill and effort, but is not responsible for temporary service outages such as an elevator, power, or hot water, if it is not under his control, caused by, or being fixed by the building staff.
6.NO VACATIONING STUDENTS under 25 yrs unless accompanied by parent or responsible senior adult.
7.ASSOCIATION FINES are chargeable to the Lessee.
8.ALL TRASH, DEBRIS, rubbish and discards must be placed in dumpster regularly and must not pile up.
9.MULTIPLE RULE VIOLATING TENANTS MAY BE EVICTED by the owner, representative of the owner, local law enforcement, the association or security company employed by the complex.
10.CANCELLATIONS or shortened stay, are charged the full rent. EARLY DEPARTURE is not refundable.
11.CONDO ITEMS TAKEN AWAY BY ACCIDENT are immediately considered missing and chargeable.
Fees will include: time and materials & transportation expenses.
And if they are critical to other amenities, may effect charges for those amenities also.
Time is of the essence with new guests always arriving. Returning missing items is not always a remedy.
12.MAXIMUM OCCUPANCY IS 10, an Association Rule, and may forfeit deposit & force eviction, & fines.
13.THE MAXIMUM NUMBER of GUESTS herein, on page one (1), is very material to this price & agreement.
Exceeding it may force eviction and/or a $49 additional charge per person, times total length of occupancy.
14.AMENITIES & AMENITY RATES not in this agreement may change or be billable without notice.
15.FALSIFIED RESERVATIONS obtained under false: names, ages, pretense, headcount, undisclosed events or use, will make subject to forfeiture any payments & deposits. And may bar from entry or evict violating Lessees.
16.REPAIRS TO THE BUILDING OR ITS SERVICES (IE: HOT WATER, ELEVATOR) will be handled expeditiously by the Lessor and on a best effort basis. The Lessee will hold the Lessor harmless for outages when a reasonable and very appropriate effort is made to identify and repair any problems, if fixable or not.
The owner must always be quickly notified of problems, for Lessor to respond or be responsible.
17.OWNERS, LESSORS & AGENTS ARE NOT RESPONSIBLE FOR ANY INJURIES OR LOSSES of personal property or valuables that occurs during the rental period. Use the safe and lockable closets. Signatories are acting as all guest's agents, who are expressly assuming all risk of any harm or loss arising from their use of the premises. Lessee(s) accepts all responsibility for injury, losses or damages caused by or to any third party.
18.ANY CREDIT CARD INFORMATION FURNISHED to the lessor is authorized by the Lessee, even if charged after departure, for: cleaning services, shopping, transportation, taxes, rent charges, extra occupancy charges, incidentals, association fines and/or damage, but only as associated only with this rental.
IX. WHEN LEAVING:
a.TOWELS, SHEETS & DISHES can be left in place, floor or Laundry Room or in the Washer. These are the Maid's responsibility for cleaning (but not damage.)
b.KEYS MUST BE RETURNED TO "Manager" or designated party, "NOT BVG Security Staff."
c.FURNITURE, chairs, flowers, and things must be placed in their original, appropriate positions.
19. WHEN NEW GUESTS ARE ARRIVING ON THE SAME AFTERNOON:
a.A LOAD OF WHITE TOWELS should be started that morning to help maids with cleaning throughput.
b.TRASH SHOULD BE DUMPED, and should be placed in the dumpster downstairs .
c.CLEANING SERVICE BEGINS at 10AM. Lessee & guests must not re-dirty rooms or pay a $100/hr. fee.
d.BY 10AM ALL SUITCASES must be packed and left safely in the Kitchen or BR3
e.USE BATHROOMS at the Pool & Nice Spa Bathrooms & Facilities are available to guests before departure.
+ More
---
---
Explore other options in and around Cancún