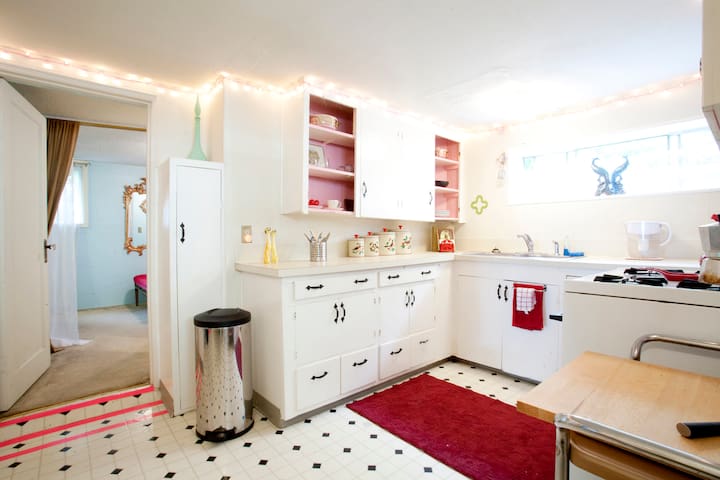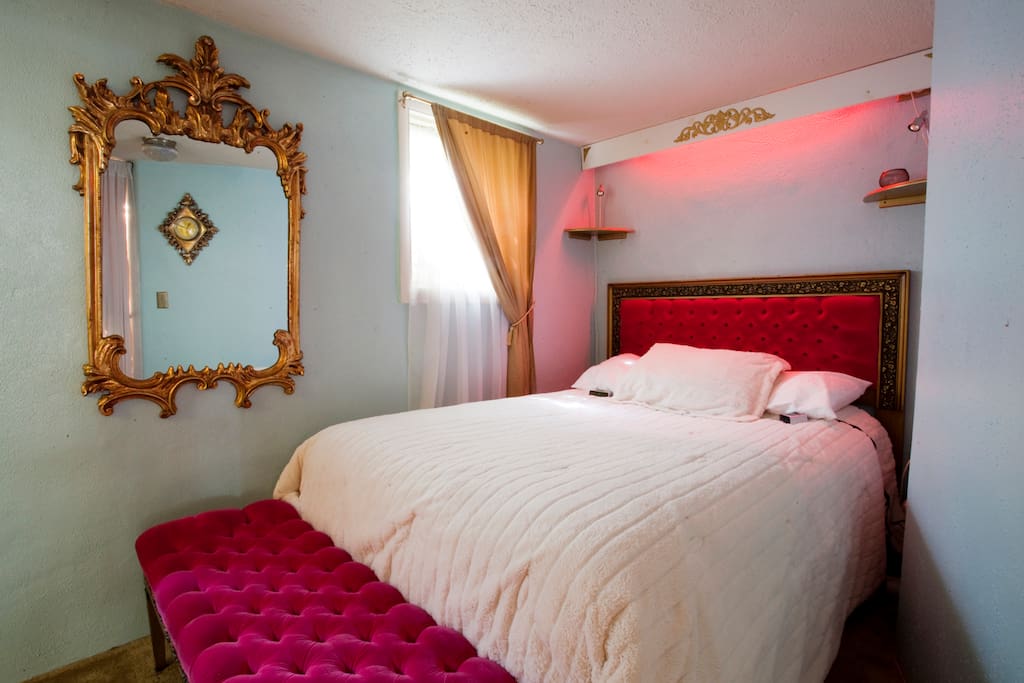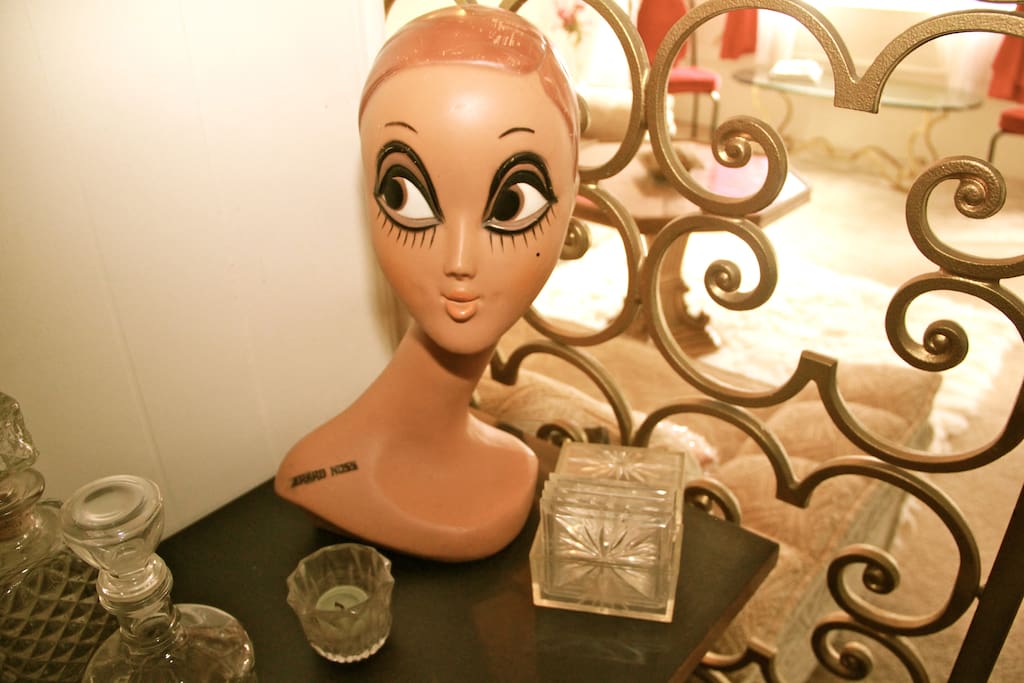 Entire home/apt
2 Guests
2 Bedrooms
1 Bed
About this listing
A vintage-lover's dream nestled in the golden heart of Portland's Sunnyside district! Yay! You're important, you deserve the pink velvet headboard! A soft place to land, velvety, pink, gold, warm, private, safe, and quiet. We like you!
---
Check In:
3PM - 12AM (midnight)
Room type:
Entire home/apt
---
Kitchen
Space where guests can cook their own meals
Essentials
Towels, bed sheets, soap, and toilet paper
+ More
---
---
The Space
Oh Hi!
Please be sure to read the entire description as well as the house rules and message me with any questions whatsoever! I know, it's a lot of words, but you can do it, I believe in you!
*CONDITION*
Like a secret garden where low-brow meets Liberace. We want you to feel like you can kick your shoes off, drink a beer, and just be yourself.
To avoid any confusion imagonna spell out a few need-to-knows... The house was built in about 1890. Through the decades, there have been a patchwork of weird repairs. From the outside, the place is really pretty non-descript - not fancy-shmancy. Also, the ceilings are 7'2", so a few inches lower than normal. Point is... it isn't brand new and untouched by time's meddling hands. It has character... it has scars... it has stories. And I love that about it. But... it's not for everyone and we've all lived the saying that you can't please everyone all the time. But I try.
So it isn't perfect, but if you focus on what it does have rather than what it doesn't, I hope that you will experience something from the past that modern living has abandoned. Something important.
*NUMBER OF GUESTS*
This apartment has only 1 Full size mattress with optional memory-foam topper. It is more well-suited to a single guest or a couple. There is a bonus room off the hallway with a fold-out couch, but as is the nature with fold-outs, it is not as comfortable as a real bed. So please keep that in mind if your booking requires 2 separate sleeping arrangements.
*ABOUT *
Sometimes called the "Peacock Suite", this is a 1 bedroom apartment on the ground floor of a large 3-story house that is split up into 4 separate apartments - each with its own outside entry. This apartment stays cool in the summer and warm in the winter. Step outside your front door and watch the nice people walking their dogs, children, and themselves!
Decorated in a mix of 50's, 60's and 70's - lots of hidden gems! About 890 Sq Ft.
*MAIN BEDROOM*
The main bedroom is in the back of the apartment. There are two windows as you can see in the photos, but also lined curtains as well as front privacy curtains so if you like it light in there, you can have it light, and completely dark, you can have it that way too! There's a mood-lighing valance over the bed and dual-controlled electric blanket.
*BONUS ROOM*
A bonus room off of the hallway is a chill spot to read a book or to spread out all the new clothes you just bought. There's mood lighting in this room as well so you can adjust to your level of comfort.
*KITCHEN*
Super sweet kitchen with pantry cabinets, gas stove, 70's banquette, and ample counter space. There's a place for everything, and everything is in its place. Some spices, a bar cart, pots and pans, a Mocha Pot for making grrrreat coffee, teapot, teas, martini glasses, so on and so on.
*LIVING AREA*
There's a record player and lots of fun records, a 50's curvy sparkly couch, red velvet chairs, 2 barcarts in the hallway, and a gas heater that keeps is super cozy in the winter. Large picture window witih a screen that opens, mirrors, cute swag lamps, and a 60's peacock wall hanging with a jeweled headpiece.
*BATHROOM*
****If you're over 6'2" tall, you might have to maintain poor posture while showering since the bathroom remodel required us to raise the tub a few inches. *****
Small but bright bathroom with a shower and tub and all the other bathroomy stuff!
*LOW-TECH/HI-TECH*
There is no TV or microwave. They're both kinda bad for you. :) There's also a sweet record player and I've stocked the apartment with an assortment of vinyl for you to play. We've also got wifi, so if you are the type who likes to stay in and watch a movie, then bring a device.
*PRIVACY/CONFIDENTIALITY*
We honor a strict confidentiality policy, so if you're shy, starting over, leaving behind, in transition, famous, infamous, handsome, hideous, or anything in between - we'll leave you be and won't tell anyone you're here. This is a really wonderful place to hide from the world too if that's where you're at. This is your private place, it has magic powers.
~Meg
Guest Access
You get your own private apartment with all the usual apartment stuff - and more! And you can hang out in the shared side yard too - there's plenty of space to sit or make a fire in the fire pit, or sit under the cherry tree.
Interaction with Guests
I'll be there to check you in and answer any questions, but from there it's as much of as little communication as you prefer. I'm always available day or night via text message, but I'll stay outta your way if you're shy, private, or grumpy. And I'm also around if you have questions, you're always welcome to hang out in the yard if I'm having a sip with friends or other guests.
As far as checkout, you don't even need to see me if you don't want since there are keyboxes, but I do appreciate a courtesy text letting me know that you've checked out.
The Neighborhood
*LOCATION*
We're located in the golden heart of the Sunnyside district - right in the middle of the cinnamon roll that is Hawthorne and Belmont. This specific location has over 300 amenities within just one mile. Yay!! Everything your heart desires is within walking distance... Stumptown coffee roasters, Bagdad Theater, Laurelhurst park, too many great restaurants to list, Zupan's market, New Seasons, shops full of cute shiny things, and vintage shopping galore. And the people-watching in this neighborhood is unparalleled... so many peacocks! We hope that you treat yourself to a walk through this neighborhood that brought us out of our pumpkin shells and has won our forever love.

Getting Around
Plenty of street parking.
We are within just a few blocks of 3 major bus lines - the #15 Belmont, the #14 Hawthorne, and the #75 Cesar Chavez. Trimet has a site where you can view a route map, plan a trip, etc.
This is also a hotspot for Car2Go - so if you're the plan-ahead type, you can get an account with them and then have a tiny smart car by the hour if and when you need it - super smart! For Taxi's, I use the Curb app and prefer RadioCab. There's also Uber and Lyft. Lemme know if you want to rent bicycles and I can give you recommendations for that as well. But really, you can walk all over the place.
Specific directions are provided to guests with confirmed reservations and are included on their itinerary.
Other Things to Note
**PLEASE NOTE THE FOLLOWING CONDITIONS BEFORE REQUESTING A RESERVATION:**
*SUITABILITY*
This property is probably not suitable for families with elementary school-age children or younger.
I encourage travelers to choose a place that suits their lifestyle first and their budget and location concerns second. You'll have a much better experience if your host's lifestyle and environment compliments your own. So, if you know you'd prefer a climate-controlled condo with stainless steel appliances, manicured lawn, and Ikea furnishings, you prolly won't appreciate or enjoy my home as much as those who appreciate creative re-purposing, thrift stores, DIY crafts, recycling, and working-class cocktail culture.
If you look at the pictures and description and your reaction is unfavorable but it's close to the people you're visiting or the price is right, you set yourself up to be disappointed from the outset, and you set your host up to fall short before you even arrive. But if you look at the pictures and clap your hands or are excited by a place with the kind of style and character that you'd like to step into for a while, then I like you already and I'd love to welcome you here to a culture that gets it.
*NO MEANIES*
If you are offended by other guests, neighbors, or myself who support marriage equality, believe that #blacklivesmatter, are members or allies of the LGBTQ community, or are aligned with other similar viewpoints, then I emphatically urge you to book elsewhere. If you book anyway and your bias is disrespectfully directed in any way at myself, neighbors, or other guests, you'll be lectured and swiftly asked to leave. Buh-bye. Yaaay!
*GUEST VERIFICATION*
With rare exception, I only accept reservations from guests that have been previously reviewed on Airbnb and who have completed at least 3 Airbnb verifications.
I only accept guests who have complete profiles with information about themselves and a clear photograph of you.
I only accept reservations from the guests that will be actually staying here - I don't accept reservations from parents, children, friends, etc. on behalf of potential guests. Those who wish to make a reservation must be the ones actually staying in my home. This is standard Airbnb policy as well.
+ More
---
Not child-friendly (0-12 years)
Check-in time is 3PM - 12AM (midnight).
CHECK-IN (AFTER 3 PM)
I'll message you a day or two before you're arrival date to arrange your check-in time. You can schedule your check-in for any time after 3 pm. Once you've pinned down a time for your arrival, I'll arrange the cleaning/stocking schedule around that. So if you're running late, that's more than OK, there's no rush just keep me posted and we'll roll with it (more time to get stuff done rather than less is a good thing). BUT... if you're earlier than expected, the apartment won't be ready and you'll have to wait. I know, booo, but thanks for understanding. Fortunately, there are about a million places within walking distance to eat, drink, read, shop, etc. while you wait.
PLEASE REMOVE YOUR SHOES
Please please pretty please take your shoes off as soon as you come in the door. And please please pretty please don't puttem back on until you're headed back out the door. If you follow this rule I'll be so so happy and so will everyone else.
PLEASE BE GENTLE
Slamming doors scares sleeping people awake, startles people like me who have what I call 'hamster hearts', and it's also how stuff gets damaged. Please close doors gracefully, like a gazelle.
KEY EXCHANGE
A personalized combination will be provided for the push-button lockbox outside the unit. The key stays in the box and the combination changes on the regular, so there are no concerns about lost keys, lock-outs, or duplicate keys.
SORRY, NO PETS
I love furblins but I also want to be sensitive to those who are sensitive. There's a sweet and demure feral kitty that hangs out in the yard and who I've been feeding for 9 years (and allowed to pet for 2). There are lots of friendly cats in the neighborhood who will flip and roll for you and lots of people walking their friendly goofy dogs. But this apartment itself is pet-free.
SMOKING
Smoking is OK outside in the side yard if you promise to be good and use the ashtrays so that I don't have to pick up soggy cigarette butts with my delicate lady hands.
NOISE
Please observe an 11pm to 10am rule of thumb with respect to loudness - in other words a modest volume. We encourage guest to come alive between 10 am and 11 pm - play some ELO and sing along, teach yourself new dance moves, laugh!
PARTIES AND EVENTS
Please no groups or parties unless expressed ahead of time as a part of your booking. This is a fabulous place to host an event, and we'd be happy to book the suite for that purpose with an extra negotiable deposit and cleaning fee.
LOST AND FOUND
Occasionally people leave personal items behind. All rooms are thoroughly cleaned after each departure. I promise you that anything you forget will be safely and discreetly set aside for your retrieval.
+ More
---
---
The minimum night stay for this listing varies.
---
Your Host
---
Portland, Oregon, United States
·
Member since January 2012
Oh hi!

I like shiny objects, I find it cathartic to paint things gold, and I absolutely love Portland and this neighborhood. It's my mission to provide people in all stages of travel, transition, and transformation with a soft and friendly place to land in-between where you came from and where you're going. For some, change, travel, and uncertainty are thrilling; for others it takes more courage. Either way, it helps to be surrounded by shiny objects, colored lights, and soft blankets. I've created a grown-up playhouse for you – my vision of an idealized 1970's childhood. This is a safe and private place where you can be yourself.

I try to create more than just a place to sleep and sit - there's a warmth and a silent light-hearted narrative in the spaces that I hope you will enjoy and appreciate. And if you're at all interested in 50's - 70's vintage, this might be even more suited to your style.

By day I'm a software engineer - specializing in Oracle ERP B2B and A2A XML integrations. So if you wanna nerd out and talk about tech, yes! If you wanna talk about rainbows and puppy dogs instead, yes!

That's all for now I guess!

Bye!

Meg




+ More
Response rate:
70%
(
last 10 contacts
)
Response time:
within a day
Explore other options in and around Portland