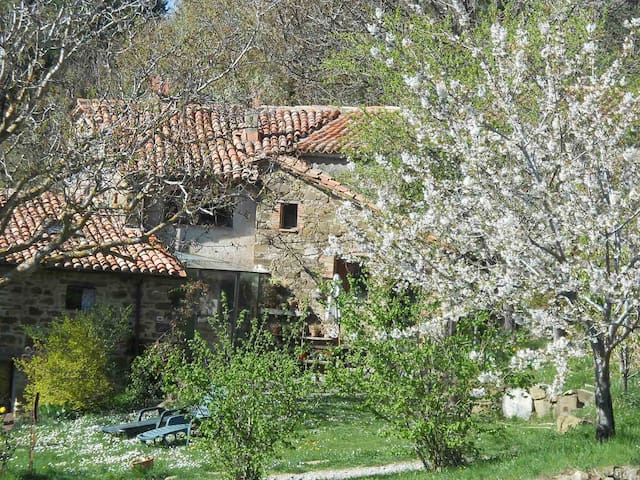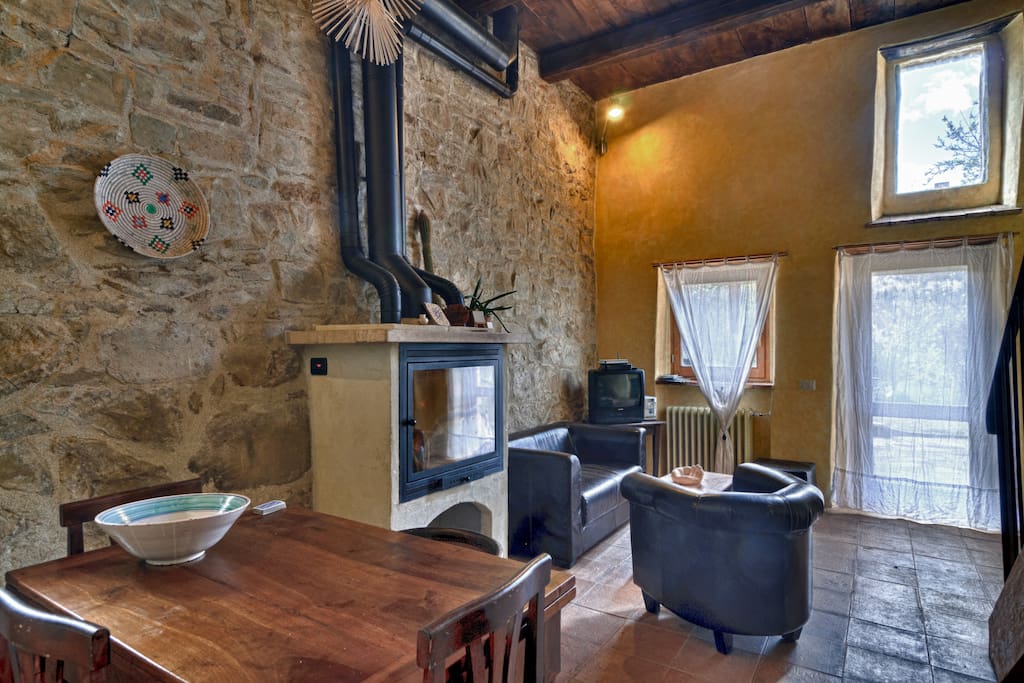 Luca's House is on Monte Amiata, an ancient and fairy vulcan!
please take you're swimsuit with you: several river and free, hot,termal bath all around
The space
Luca's House is in Pescina of Seggiano, on Monte Amiata , in Podere Barbaglia , an old country small-holding dating back to the 19th century. Built entirely in stone it has been renovated respecting the typical architectural characteristics of the area blended with touches of artistic masonry. The result is a small 'village' whose rustic hospitality has grown over the years so that an 'agriturismo' or farmhouse accommodation , has been created. Two apartments are also available for long or short stays for a total of 14-20 people, with a sauna and whirlpool. The agriturismo, that here we offer , is compoused by 2 connected apartments Petra and Fonte: 3 bedrooms, a large living room with a thermal fireplace, two bathrooms and a small kitchen. It is good for 6 people plus children. Alternatively, the two apartments of the 'agriturismo' can be separated, each with its own entrance.
Ciliegio and Brezza are the other apartment of Luca's House.
WiFi connection is avaible inside the house and in the garden. Well accept pets. We are close to termal places as : S. Filippo, Bagni Vignone, Petriolo, and also to winter ski slopes.
The small-holding is in the midst of the countryside, surrounded by the biologically cultivated fields of the farm and by pine and chestnut woods that are typical of the area. It 's not unusual to see roe deer crossing the fields at sunset or the more timid porcupines or badgers or wild boar or even a furtive fox. The area it is completely uncontaminated and visitors can see all types of birds in the trees as well as falcons and buzzards circling up in the sky, watch the fireflies in summer and little clouds of butterflies in spring. The place is ideal for bird-watching enthusiasts, trekkers, mountain bikers and not far practicing paragliding. Ideal to stage Photo Tour, or to get your artistic shots.
---
---
Check in time is 2PM - 9PM
---
This is an amazing hideaway in Tuscany. It is quite out of the way but (SENSITIVE CONTENTS HIDDEN) maps had no trouble finding it (make sure you download before you get on the road). The house overlooks a stunning Tuscan valley with lovely grounds. You stay in an apartment (there are 3 or 4) which is a perfect combination of rustic stone and modern touches. We were there in the dead of summer and still wore a sweater at night. We went to the Bagni San Fillipo baths one day and the Daniel Spoerri art garden (go in the evening when it is cooler) another. Both excellent activities. Highly recommended.
---
Lucas place is the quintessential Tuscan Villa. Everything we hoped for and more. Luca was a helpful host and shared with us everything we hoped for anymore. Luca was a helpful host and shared with us the local sites. Would love to come back with a box of books and spend them up sometime. Highly recommend exclamation mark
---
We booked Lucas house for two families in mid January looking for a peaceful country retreat with a fireplace and great location away from city life. Luca was a great communicator and very responsive. His place was exactly what should be expected of an Agriturismo--quaint, farm setting but updated with modern comforts. We enjoyed sled bobs and skiing at a perfect mountain just minutes from his place that we didn't even realize was there! (Make sure to bring snow chains or 4 wheel drive. As his driveway and the surrounding mountain roads can be tricky when icy). We also spent a day at Bagni San Filippo which was adventurous and relaxing--outdoor natural hot springs in the cold of winter was a real treat. This place would be even more breathtaking in the green of spring/summer or colors of fall. Luca was there to help and made sure we were comfortable. Overall I would highly recommend a stay here especially for kids and families looking for a central location away from the congestion of a city.
---
We had the luxury of staying in Luca's beautiful home for one amazing month and it was a very memorable experience. Tuscany has always been my dream vacation, and Luca & Stella helped make it a reality. His home is up on the Amiata mountain, which is quite a unique and beautiful area of Tuscany, with a ski resort at the top which would be a really fun experience for the winter. It's quite the remote area so renting a car is a very good idea. The apartment was one of the most beautiful places we have stayed at through Airbnb, inside and out. It is very clean, spacious and we absolutely loved the wood burning stove and clawfoot tub. The outside area is stunning, with little ponds, rivers, cats (the sweetest cats ever) and plenty of seating around the home. We were never bored, there are so many beautiful areas to visit in Tuscany. Luca has a list of recommended towns, hot springs, restaurants, and cool areas to visit that we highly recommend people taking his advise. They went above and beyond to make us feel at home inviting us over for dinner and drinks twice and introducing us to their friends. We sincerely felt like family by the time we left this beautiful place and hope to return again one day.
---
We couldn't have asked for a better getaway from the city. Luca's house was right out of a little fairytale: picturesque and quaint. If you want to see the non touristy side of Tuscany amongst the locals and lose yourself in nature then stay at luca's place. The house is comfortable with a kitchen, living area and a beautiful bedroom with a view of the hills. Everything was very clean and organized. Luca was easy to communicate with. We had a lovely time and will definitely return in future!
---
We had a wonderful time at Luca's house, located on the lower slopes of Monte Amiata. The surrounding area is the most beautiful part of Tuscany I have ever seen, forested with chestnut and olive trees, small non touristy hill towns, and a hot spring 20 minutes away. The house has a warm, rustic feel, well equipped kitchen with gas stove, a fireplace and central heating. The grounds outside are also thoughtfully cared for, reminiscent of a zen garden. I would recommend staying here if you desire peace, and hope to return myself one day.
---
Positives - Gorgeous/Spacious/friendly/peaceful... It is on a mountain top over looking the tuscan hills and the sun/moon/stars are quite gorgeous up there. This is the place to go if you are looking to be away from things for a while. It isn't close to any of the major Tuscan cities (Siena/Montepulciano/Montalcino are at least 1 hour drive b/c the roads are winding and not always easy to traverse), but that's just fine. It's a reason to drive through the Tuscan landscape and stop on the side of the road to pick grapes! It is close to some of the thermal baths which are wonderful and free! Negatives: Wi-fi was not reliable. Directions to Luca's house were not good. To get there, you need to drive south from Pescina and turn left (East) on the first major road about 500 meters from Pescina. Once you do that Luca's house is about 2 kilometers up the mountain. The driveway at Luca's house is not in the best shape, so watch out if you are driving a smaller car that sits low to the ground.
---
I'm not born here ,but Monte Amiata conquested me several hear ago, I'm still here to live, paint and work in this wonderful area. And please, if you wish to visit Roma and have a full immersion in our magic, ancient capital, please came and enjoing our apartment
Response rate:
100%
Response time:
within a few hours
Explore other options in and around Seggiano
More places to stay in Seggiano: