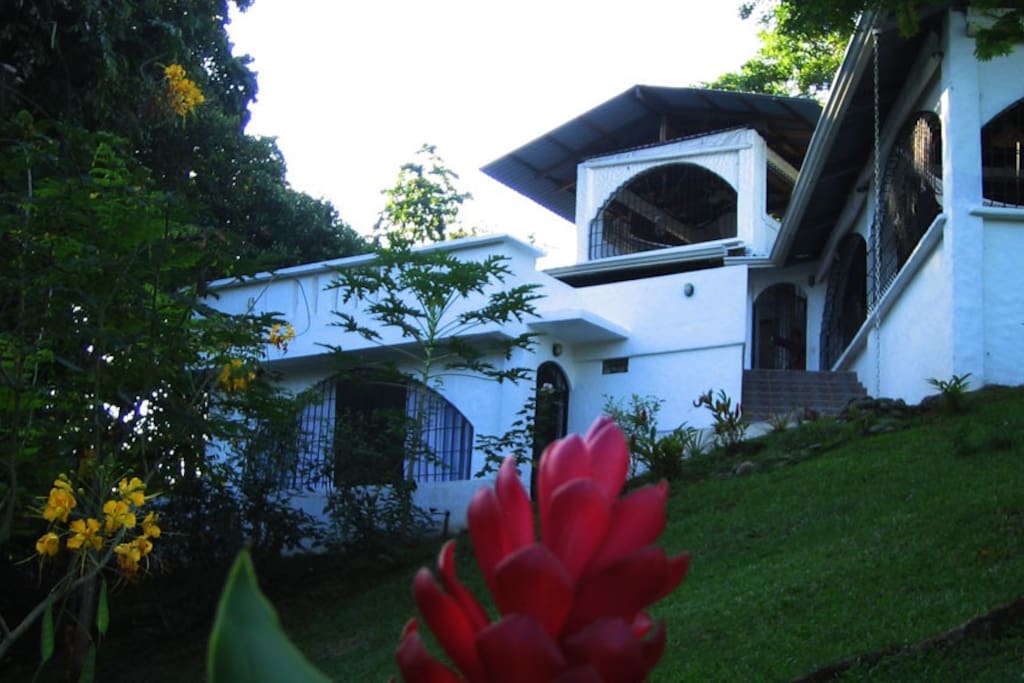 About this listing
Villa Tekla is our family home: a unique multi levelled house on five acres of forest and landscaped private grounds, with ocean and mountain views as well as a pool, situated near Manuel Antonio Park with endless beaches and incredible rain forests.
---
Check In: Anytime after 3PM
Room type: Entire home/apt
---
---
---
Villa Tekla is our family home: a unique multi levelled house on five acres of forest and landscaped private grounds, with ocean and mountain views as well as a pool, situated near Manuel Antonio Park with endless beaches and incredible rain forests.
Villa Tekla is a distinctive three-bedroom, three-level Spanish-Moorish hacienda, an eco-friendly villa designed for the tropics, on five acres of forest and landscaped grounds, with ocean and mountain views, set off the main road. It has extensive patios, is fully furnished and immediately below it is a private lap pool. It can easily accommodate three couples and is suitable for families traveling together.
Especially designed for the climate of Costa Rica's south-central coast, it is an open house, with a screened pool-level en suite bedroom. It is protected from both sun and rain by wide roof overhangs and is intended to provide an optimal experience for nature lovers and yet be entirely secure. Sitting atop a spur over jungle that runs all the way to Manuel Antonio National Park, it commands views west, north and east, towards the ocean and the forests and the mountains. Rare precious and semi-precious flowering hardwoods shade it from the sun.
Some of the acreage is planted in various fruit species, most of it a natural canopied forest. The lap pool has tiled patios immediately adjacent to the house.
The property is midway between the thriving tourist town of Quepos and the beaches of Manuel Antonio National Park. The main beach is five minutes away by car or bus, thirty minutes by foot. Several smaller, unpopulated beaches are even closer and we can provide directions to them. The park, with its crescent beaches, trails and wildlife, offers nature lovers a unique, unforgettable experience. It opens at seven a.m. daily, but is closed Monday. It's best to visit early in the morning, when wildlife is more active.
Though at nine degrees latitude, the climate is benign, the temperature ranging from the lows 20s to low 30s C (low 70s to low 80s F), depending on time and season. The dry season extends roughly from Christmas to Easter, but is variable, and is cooled by fresh breezes from the ocean during the hottest hours. The green season (there is no winter or summer in Costa Rica) is preferred by many, with its rain at night, late-afternoon sun-showers, morning mists, rainbows and verdant growth - and unpeopled beaches. Occasionally, the rain can fall in torrents, and it's an experience which visitors enjoy. Wide roof overhangs and rain blinds keep the villa dry. The house has been carefully situated so that the sun does not enter in the heat of the day, and it offers brilliant sunset views in the Green Season.
As you relax in one of our hammocks, don't be surprised if the titis (squirrel monkeys) come by the house, swinging from tree to tree and clambering over the roof. Cara blancas (white-face monkeys) visit regularly too, but are shyer, and in the early morning howler monkeys can be heard calling from the tall trees. Other animals we have seen from the house include sloths, coatis, raccoons, armadillos, anteaters, pacas, agoutis, land and tree iguanas, a peccary that wandered down from the mountains, a Mexican dwarf porcupine. Birders will be awed by the numbers and variety of parrots, parakeets, hummingbirds, mot-mots, toucans, manikins, orioles, flycatchers, swallows, tanagers, woodpeckers, wrens, thrushes, trogons, hawks, and you'll awake at dawn to a many-throated chorus. At night you'll hear nightjars, owls, pootoos, laughing falcons, a constant melody of crickets and frogs, and the singing geckoes that patrol for small bugs. Birds and butterflies fly in and out.
And from time to time you'll hear the distant crash and rumble of the Pacific surf.
Fully equipped kitchen and washer and dryer. All linen is provided. You will access to our washer and dryer but please do not overload, our maid can also do laundry for an additional fee to be arranged with Rebecca. Twice-a-week maid service and gardening services are provided at no cost to you. Cable TV, broadband internet, and wi-fi are all included.
We live in Canada but our friend and property manager, Rebecca Wells, who lives down the road is available to show you the house and give tons of advice for your stay. We are willing to negotiate a better price for long term renters, please let us know if you wish to stay a week or more.
This neighbourhood is a mix of local Cost Ricans and out of country property owners such as ourselves. There are no hotels along this quiet strip. Monkeys, sloths, and the many species of tropical birds are some of our closest neighbours!
From San Jose's international airport, Quepos is a twenty-minute flight away, or you may enjoy bus ride of a few hours or rent a car, or hire a taxi. Rebecca can assist you with local travel arrangements, including current taxi rates. All taxis become collectivos, charging a flat price per person when they return from the beach toward Quepos. The Quepos-Manuel Antonio bus runs every half hour, more often at busy times. The nearest bus stop (5 minutes away) is in front of Manuel Antonio's soccer field. Beaches and town all within 20-30 minutes of walking. Small pulperias for groceries are steps away.
House Manager
Rebecca Wells is our villa manager in Manuel Antonio, and her husband Jacob is a skilled contractor and a computer electronics consultant. They live only a few minutes down our road. Rebecca can be reached at the numbers in the contact link. She and Jacob and our close family friend Mel are all completely bilingual and will help you with any problems. Rebecca will assist you with arrival arrangements.
Maid and Gardener
Our maid comes mornings twice a week for four or five hours. If you would like additional help, Rebecca can arrange for that at the maid's regularly hourly rate. Mel or Jacob also drop by once or twice a week to do pool maintenance. Our gardener comes twice a week, early in the morning, for grounds maintenance. We hope you will treat our staff with trust and respect - they have ours.
Linens and Towels
We supply all essential household goods, including linens and towels, but please do not take our towels to the beach.
Communications
We have two TV sets for your use, with 66 cable channels, as well as DVD and VCR players, and a small library of movies. A high-speed Internet service will provide those who bring laptops or netbooks with a fast, reliable wi-fi service at our cost, for which Rebecca will provide a password. A 22-inch external monitor, USB keyboard and mouse are available at no cost. Our house telephone line (phone number hidden) does not permit international calls. There is Internet cafe nearby and more in Quepos.
Waste disposal
Please follow basic ecologically sound practices. There's a recycling container in the kitchen which the gardener will sort and empty from time to time. The maid will dispose of garbage, but if you need to do so yourself, you may place bagged garbage into a neighbourhood bin just down the road which is emptied regularly by the municipal service.
Garden
Enjoy any fruit that ripens in the orchard. Bananas, papayas, pineapples, grapefruit, lemons, limes, sour and sweet oranges, mangos, coconuts, avocados and guayabana grow in front of and below the house. Many of these are seasonal, however, and our gardener will offer fruit as it comes available - or ask him to pick for you. Please don't pick fruit yourselves.
Water
We are connected to the municipal system, and the water as in most of Costa Rica is potable, though many locals and visitors prefer to buy bottled water. In case of power outage please close all taps to prevent burnout of the pump that connects to the lines of the government water utility. Please rinse off beach sand in the outside shower before using those inside; otherwise the bathroom drains plug. We are on a septic system, so please do not flush non-biodegradables (dental floss, tampons, condoms etc.) which clog the septic tank.
Climate
The climate tends to make electronic equipment and kitchen appliances more fragile than up north, so take more care with them than you usually would. During the green season, keep anything sensitive and electronic such as computer equipment in the dehumidified built-in wall unit in the living room with the radio, TV, DVD and VCR. The sliding doors should be kept shut and locked when the devices are not in use.
A temporal - two or three successive days of rain and drizzle - occurs rarely, and only in the green season. Leather goods can get a coating of fungus and are not recommended for this climate. Keep clothing free-hung so it has proper air circulation. In this part of the world, people never leave wet clothing in a heap - that encourages mildew. If it pours, just remember that the sun will soon shine. It is only with strong winds that you need lower any of the rain blinds.
Power
We are on the same voltage system as North America, and will run your hair dryer and all our power devices. The refrigerator should not be kept open, as that risks motor burnout.
Keys
Rebecca will give you all necessary keys, and explain their use and the security rules. No one else but she and you will have access to the dehumidified storage unit.
Groceries
An eight-minute walk toward the beach brings you to a supermarket named Super Josette, which has everything you need: fresh meat, fish, vegetables, fruits, and a wide selection of juices, beer, wine, and liquors and an excellent juice and wine selection. Fresh-baked bread and pastries are available at a bakery only several minutes away. There's a wide range of stores in Quepos to suit every need. However, the freshest produce is available Friday evenings and Saturdays, five a.m. till noon, at the Farmers' Market on the Quepos seawall. For simple items (milk, sodas, soap, toilet paper) turn right or left from our gate, and there are pulperias two minutes walk in either direction.
Money
U.S. dollars can be changed at any of several banks in Quepos and Manuel Antonio. The closest are the Promerica Bank and Banco de Costa Rica, both a 15-minute walk toward the beach. There are ATMs there and in Quepos that take bank cards. All businesses and restaurants accept U.S. dollars, and almost all accept major credit cards.
Restaurants
There are many simple-to-high-end restaurants within easy walking distance of the villa, several of which offer the best dining experiences available in the Quepos-Manuel Antonio area. Don't hesitate to ask Rebecca to recommend any of them and give information about quality and pricing.
Traveling
We know this area well (we've been coming here since 1980) but for newcomers we strongly recommend a good travel book such as Lonely Planet or the New Key to Costa Rica (house copies of these should not be removed). It is a good idea to (email hidden) (click on "visitor resources") before arriving, for current information about restaurants, transportation, and local events. The free monthly print version is available at many stores. Lynch Travel, in Quepos, is helpful, especially with local flights.
From San Jose's international airport, Quepos is a twenty-minute flight away, or you may enjoy bus ride of a few hours or rent a car, or hire a taxi. Rebecca can assist you with local travel arrangements, including current taxi rates. All taxis become collectivos, charging a flat price per person when they return from the beach toward Quepos. The Quepos-Manuel Antonio bus runs every half hour, more often at busy times. The nearest bus stop (5 minutes away) is in front of Manuel Antonio's soccer field.
Insect tips
Nature is in balance here, and because of the bountiful bird life, insects are rarely a problem. Little ankle-nippers may visit at dusk, so use the floor fans and the several high-speed ceiling fans. We are rarely bothered by mosquitoes, but for those who react to them, we recommend lotions and the use of our mosquito nets at night. For those who prefer not to use the nets, the pool-level bedroom and bathroom are entirely screened off. The larger bugs are totally harmless and some, like scarab beetles, are a marvel to watch. The fireflies are a delight.
We tend not to use non-organic insect sprays, though we keep organic ones handy: bugs simply don't like white walls and yellow lights, they don't like not having hidden spaces to crawl into, and they are bored by people who put food away and keep the dishes clean.
A well-trimmed lawn keeps bugs away from the house. The nightjars and the flycatchers and the swallows and the blue-grey tanagers and house wrens do the rest. Tiny ants, however, will sometimes mysteriously appear, and they do an efficient job of cleaning up - if you haven't - but disappear if there's no work available.
---
Check in is anytime after 3PM
Please respect our home as you would your own. We do not rent it as a profit-making business, but only to ensure that we will not have to lay off any of our loyal, longterm staff for the months we aren't there. We hope you have as pleasant a stay as we do when we are there, and at the end of it, if you have any comments - useful, critical or otherwise - please let Rebecca know. Enjoy the house and the wonders of nature and Tico culture that surrounds it. Smoking is permitted outside on the many patios. Pets are allowed but discouraged because of the local wildlife.
---
Moderate
Cancel up to 5 days before your trip and get a full refund, including service fees.
---
---
This house was perfect for our family with 3 little kids! Everything you need is there and the house is ideally located if you want to visit the Manuel Antonia area! We loved the openness of the house-yet feeling very safe with all fenced towards windows and doors! The pool area is great and completely in nature! We could see sloths and many beautiful birds every day! We booked everyday cleaning as a supplement and enjoyed it very much! Perfect for travelling families!
---
Our family had a great stay at Villa Tekla. Everything was as advertised and lived up to all of the great reviews. The pool was like your own private oasis. You would never know you were right off a main road. Seeing all of the wild life from the pool and patio was great. We saw a sloth, monkeys, HUGE iguana (around 4 feet long, up in the trees), toucan, and even a kinkajou. Plenty of great places to eat. All of the recommendations from Rebecca were spot on. There is even a great little burrito place about 30 yards from the house gate that is very reasonably priced. We also used Tamara's recommendation and took several tours (whitewater rafting, waterfalls, and natural hot springs) with Costa Rica Tropical adventures co owned by their family friend Mel. Would definitely recommend Villa Tekla to anyone wanting a true Costa Rican experience.
---
I was travelling with a group of 7 people for 8 days in Costa Rica, and staying in this home was easily one of the best parts of our trip. Check-in and check-out was incredibly easy thanks to the extremely attentive house manager. We spent a lot of time hanging out in the open floorplan living space. The hammock in the living room and the private pool outside made for a really great experience. Kitchen was well-stocked with equipment—everything we'd need to cook for a group of 7 people efficiently. Would highly recommend this home for anyone travelling to the Quepos area with access to a car.
---
This place was beautiful with lovely design touches and art. It was perfect for two couples, with a downstairs bedroom with attached bath. Rebecca the manager was incredibly helpful in welcoming us and giving us the information we needed about the home and area. The kitchen was well-equipped, including a bag of complimentary coffee. We found the home totally comfortable without AC because of the design, fans, and pool. We are birders and enjoyed seeing the birds in the yard and around the pool. The many keys and locks gave us some challenges, but that was a very minor issue.
---
Tamara and Rebecca went way above and beyond the call of duty. Tamara was so kind as to allow us to modify our dates last minute as we had a flight change. Rebecca helped to organize airport transportation, groceries, and a terrific authentic Costa Rican meal cooked by a wonderful local woman. The house itself was absolutely perfect. Amazing views and amenities, overlooking the jungle with many friendly visits from all sorts of wildlife; Sloths, monkeys, iguanas and more. The location was great as well. Right between Quepos and Manuel Antonio with a ton of beaches and restaurants nearby, but remaining secluded and private. Thank you so much for hosting us - we hope to return soon!
---
I am a Production Designer in film and television living and working in Toronto. I am married with two grown kids. I love to travel and I use airbnb often. Favorite pastimes: hiking, writing, photography, and sketching.
Response rate:
100%
Response time:
within an hour
Exact location information is provided after a booking is confirmed.