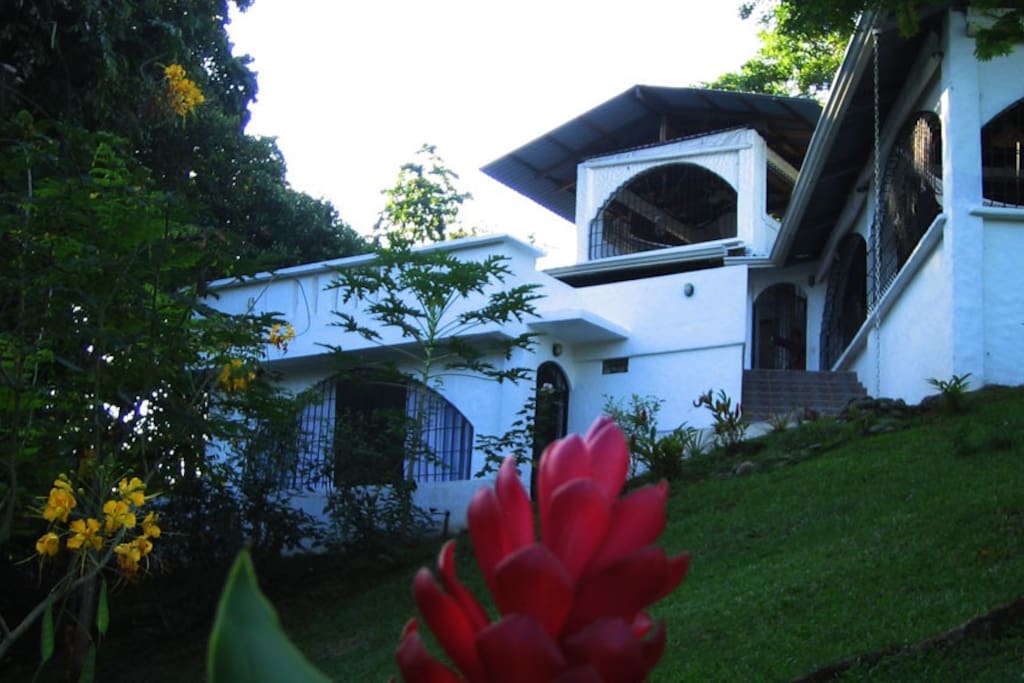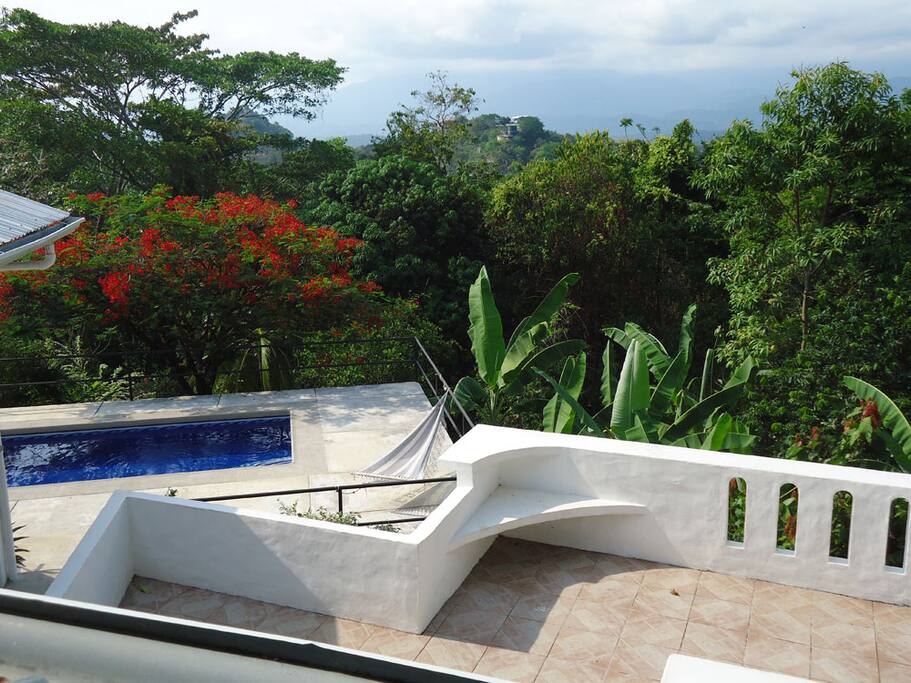 Villa Tekla, Costa Rican paradise!
Villa Tekla is our family home: a unique multi levelled house on five acres of forest and landscaped private grounds, with ocean and mountain views as well as a pool, situated near Manuel Antonio Park with endless beaches and incredible rain forests.
The space
Villa Tekla is a distinctive three-bedroom, three-level Spanish-Moorish hacienda, an eco-friendly villa designed for the tropics, set off the main road between Quepos and Manuel Antonio park. It has extensive patios, is fully furnished and immediately below the house is a private lap pool. It can easily accommodate three couples and is suitable for families traveling together.
Especially designed for the climate of Costa Rica's south-central coast, it is an open house, with a screened pool-level en-suite bedroom. It is protected from both sun and rain by wide roof overhangs and is intended to provide an optimal experience for nature lovers and yet be entirely secure. Sitting atop a spur over jungle that runs all the way to Manuel Antonio National Park, the house is nested in the jungle but with views west, north and east, towards the ocean and the forests and the mountains. Rare precious and semi-precious flowering hardwoods shade it from the sun. Some of the acreage is planted in various fruit species and flowering tropical hedges, but most of it is a natural canopied forest.
The property is midway between the thriving tourist town of Quepos and the beaches of Manuel Antonio National Park. The main beach is five minutes away by car or bus, thirty minutes by foot. Several smaller, unpopulated beaches are even closer and we can provide directions to them. The park, with its crescent beaches, trails and wildlife, offers nature lovers a unique, unforgettable experience. It opens at seven a.m. daily, but is closed Monday. It's best to visit early in the morning, when wildlife is more active.
Though at nine degrees latitude, the climate is benign, the temperature ranging from the lows 20s to low 30s C (low 70s to low 80s F), depending on time and season. The dry season extends roughly from Christmas to Easter, but is variable, and is cooled by fresh breezes from the ocean during the hottest hours. The green season (there is no winter or summer in Costa Rica) is preferred by many, with its rain at night, late-afternoon sun-showers, morning mists, rainbows and verdant growth... and unpopulated beaches. Occasionally, the rain can fall in torrents, and it's an experience which visitors enjoy. Wide roof overhangs and rain blinds keep the villa dry. The house has been carefully situated so that the sun does not enter in the heat of the day, and it offers brilliant sunset and sunrise views in the Green Season.
As you relax in one of our hammocks, don't be surprised if the titis (squirrel monkeys) come by the house, swinging from tree to tree and clambering over the roof. Cara blancas (white-face monkeys) visit regularly too, but are shyer, and in the early morning howler monkeys can be heard calling from the tall trees. Other animals we have seen from the house include sloths, coatis, raccoons, armadillos, anteaters, pacas, agoutis, land and tree iguanas, a peccary that wandered down from the mountains, a Mexican dwarf porcupine. Birders will be awed by the numbers and variety of parrots, parakeets, hummingbirds, mot-mots, toucans, manikins, orioles, flycatchers, swallows, tanagers, woodpeckers, wrens, thrushes, trogons, hawks, and you'll awake at dawn to a many-throated chorus. At night you'll hear nightjars, owls, pootoos, laughing falcons, a constant melody of crickets and frogs, and the singing geckoes that patrol for small bugs. Birds and butterflies fly in and out.
And from time to time you'll hear the distant crash and rumble of the Pacific surf.
Guest access
Fully equipped kitchen and washer and dryer. All linen is provided. You will access to our washer and dryer but please do not overload, our house keeper can also do laundry for an additional fee to be arranged with Rebecca. Twice-a-week cleaning service and gardening services are provided at no cost to you. Cable TV, broadband internet, and wi-fi are all included.
Interaction with guests
We live in Canada but our friend and property manager, Rebecca Wells, who lives down the road is available to show you the house and give tons of advice for your stay. We are willing to negotiate a better price for long term renters, please let us know if you wish to stay a week or more.
Other things to note
House Manager
Rebecca Wells is our manager in Manuel Antonio, with her husband Jacob, a skilled contractor and a computer electronics consultant. They live only a few minutes down our road. Rebecca can be reached at the numbers in the house manual once you book. Rebecca and Jacob are all completely bilingual and will help you with any problems. Rebecca can also assist you with arrival arrangements. We also have a close friend Melvin Bejarano who is an excellent bilingual tour guide offering white water rafting, hiking, and other amazing nature tours through Costa Rica Tropical Adventures/Manuel Antonio Rafting, contact info will also be provided at booking.
Housekeeper and Gardener
Our housekeeper comes mornings twice a week for four or five hours. If you would like additional help, Rebecca can arrange for that at her regularly hourly rate. We have reliable company once or twice a week to do pool maintenance. Our gardener Alex comes twice a week, early in the morning, for grounds maintenance. We hope you will treat our staff with trust and respect - they have ours.
Linens and Towels
We supply all essential household goods, including linens and towels, please no towels to the beach.
Communications
We have one TV set for your use, with 66 cable channels, as well as DVD and VCR players, and a small library of movies. A high-speed internet service will provide those who bring laptops or netbooks with a fast, reliable wi-fi service at our cost, for which Rebecca will provide a password. We have speakers that connect with personal devices for music, as well as a separate player that can be used in lower level room. Our house telephone line does not permit international calls but can be used for local taxis and food delivery. There is an internet cafe nearby and more in Quepos and many along the road to Manuel Antonio Park and beaches.
MORE VALUABLE INFORMATION WILL BE INCLUDED IN THE HOUSE MANUAL ONCE YOU BOOK!
---
---
Check in is anytime after 3PM
Please respect our home as you would your own. We do not rent it as a profit-making business, but only to ensure that we will not have to lay off any of our loyal, longterm staff for the months we aren't there. We hope you have as pleasant a stay as we do when we are there, and at the end of it, if you have any comments - useful, critical or otherwise - please let Rebecca know. Also, please feel free to use our guest book and Airbnb reviews to recommend some of your favourite "to-dos" for other guests. Enjoy the house and the wonders of nature and Tico culture that surrounds it. Smoking is permitted outside on the many patios. Pets are allowed but discouraged because of the local wildlife.
---
What a beautiful house! It was the perfect spot for our family. We particularly enjoyed the pool and the privacy of the grounds. We cooked many great meals in the well-equipped kitchen with groceries from the nearby store. The bus down to the beaches was super convenient too. Loved seeing all the fantastic wildlife from the comfort of this spacious, open air haven. Rebecca was, as ever, super helpful and friendly. We would definitely return. Thank you!
---
Villa Tekla is a beautiful home. Very clean and comfortable. Everything is close by. We were a large group. 4 adults and 7 children ages 10-6months. They all had a great time and enjoyed the pool. The only reason I didn't not give a 5 star was because I got stinged by a scorpion in the main bedroom. It was around 10:30 in the morning. I was walking into the bedroom when I felt it on my right foot. I was horrified to see what it was. I was glad it was me and not any of the kids because it was extremely painful. After that we didn't feel 100% safe so we all wore shoes in the home at all times. If you're planning a to stay, just wear shoes at all times! Especially if your bringing children.
Sorry about the bite. As clearly indicated in our house manual, this is a house that is connected with nature and bugs in this wonderful tropical rainforest... even the nasty ones, are a part of that. Regular sweeping and cleaning up of wet laundry and food mess helps keep them away. Also, I recommend guest shake towels/clothes and leave to hang to keep away unwanted guests. We will have our cleaning staff be more vigilant.
---
Such an awesome and unique place! We saw monkeys in the trees and iguanas. The pool was perfect. I would 100% stay here again. Be sure to read and listen to what is written in the folder to avoid any critters you don't want in the kitchen. And keep in mind, there are really no real doors or windows, just bars so if you can't handle "roughin'" it a bit, this might not be the best place for you (aka two of my friends). The pictures are very accurate though, so there shouldn't be any surprises as to what the place is like. Very very easy to communicate with the host.
---
Calling all wildlife lovers!!! We liked the location, we loved the wildlife we saw- different monkey species, 2 sloths, lizards, butterflies, toucans- you name it....but there was definitely a downside to this nature lovers paradise which involved lots of ants inside, used bandaid by the pool, raccoons in the kitchen, stray cat wondered in and being woken up every morning about 5am from neighboring roosters. This Costa Rican villa is not for the faint of heart and a person/persons must be completely on top of the cleanliness. My husbands only complaint would be the comfort of the beds (very firm) and the ants....
Glad you enjoyed the wildlife Jessica. The ants and raccoons are not welcome guests but we have always found that putting food away helps keep them iat bay, as clearly stated in our house manual. Hard to welcome nature without welcoming all parts of it. Roosters and all the other wildlife are up at dawn! Sorry that you weren't happy with cleanliness, we will endeavour to fix what we can.
---
Our family had a great stay at Villa Tekla. Everything was as advertised and lived up to all of the great reviews. The pool was like your own private oasis. You would never know you were right off a main road. Seeing all of the wild life from the pool and patio was great. We saw a sloth, monkeys, HUGE iguana (around 4 feet long, up in the trees), toucan, and even a kinkajou. Plenty of great places to eat. All of the recommendations from Rebecca were spot on. There is even a great little burrito place about 30 yards from the house gate that is very reasonably priced. We also used Tamara's recommendation and took several tours (whitewater rafting, waterfalls, and natural hot springs) with Costa Rica Tropical adventures co owned by their family friend Mel. Would definitely recommend Villa Tekla to anyone wanting a true Costa Rican experience.
---
I am a Production Designer in film and television living and working in Toronto. I am married with two grown kids. I love to travel and I use airbnb often. Favorite pastimes: hiking, writing, photography, and sketching.
Languages:
English, Français
Response rate:
100%
Response time:
within an hour
Explore other options in and around Quepos
More places to stay in Quepos: