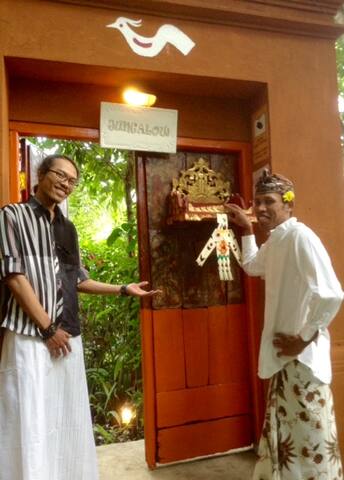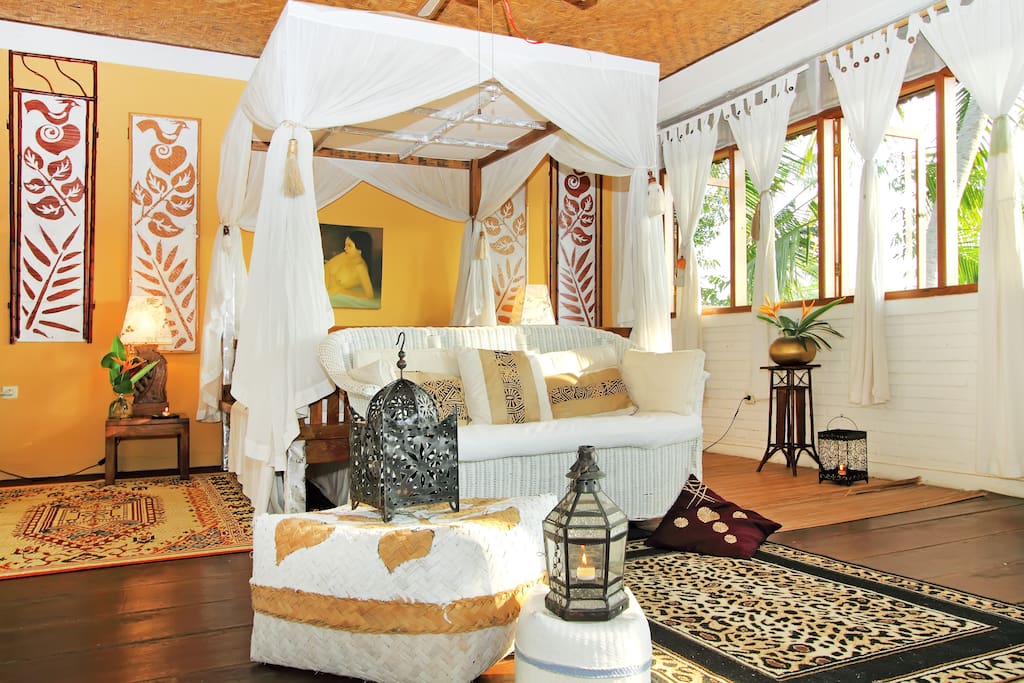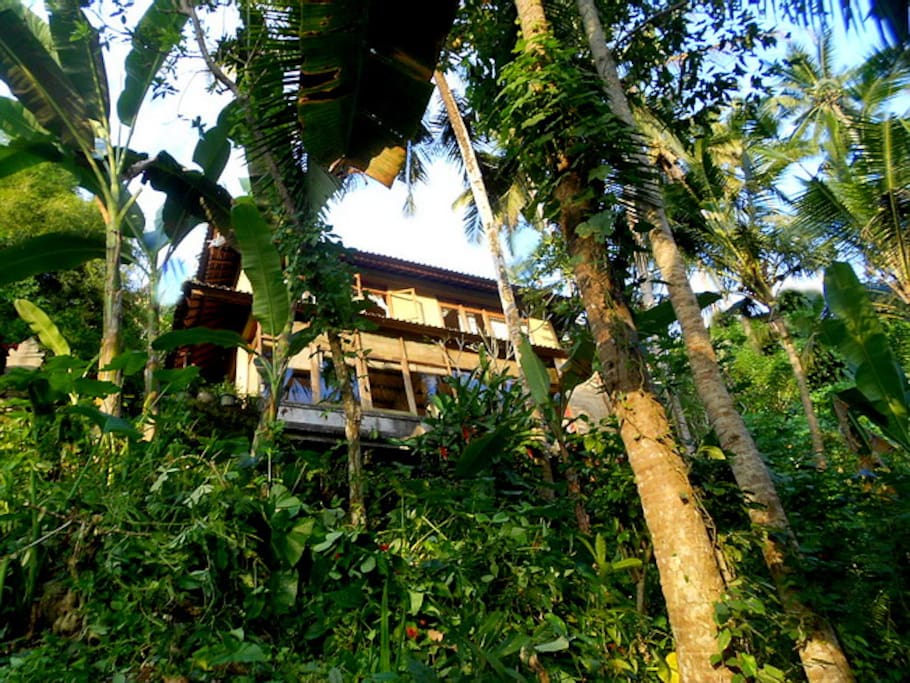 About this listing
• STUNNING views, jungle, DIRECT ACCESS via steps to river AYUNG
• QUEEN bed + single FUTON
• STEPS to access the Jungalow
• Kitchenet w/ Fridge
• Free Tea and coffee + creamer and sugar
• bathroom, Hot shower, Western Toilet
• WIFI up to 10Mb
• Housekeeping service every other day
• On-call massage
• Sarongs, candles, essential oils & more
- Jungle and Nature's sounds
- Spirit Journeys with Healer, Hi Priestess, Mystic Bali with Brahman, Meditation, Balinese rituals...
The space
The "TREE-TOP NEST" is a romantic, comfortable, safe and spacious one-bedroom apartment (at 2nd floor) with bathroom and kitchenette
(The "TREE-TOP LOFT" is at Garden floor: http://www.airbnb.com/rooms/286363)
Windows overlook exceptional views:
protected Greenbelt along AYUNG River Valley and its jungly banks.
LARGE BEDROOM
- QUEEN SIZE BED
- Wooden floors
- 12 bay windows overlooking Ayung River valley
- 1 Extra FUTON,
- ceiling fans
- DINING and WORKING area,
- original art works, sculptures & paintings by Indonesian and European artists

- KITCHENETTE:
- Intended for breakfasts and quick snacks ONLY
- gas cooker, fridge
- EN-SUITE BATHROOM:
- Hot shower, electric water heater
- Western toilet
WE PROVIDE:
- Self-service tea and Bali coffee, creamer and sugar
- Home and bath linens
- Soap and shampoo
- ESSENTIAL OILS, natural insect repellents
- Incense
- SARONGS (for ceremonies. OR use them as towels: they dry faster !)
- Telephone line (incoming calls only)
- WIFI up to 10Mb
Beautiful natural surroundings:
Jasmine, papyrus, heliconias, frangipani, orchids, flame tree;
Fruit trees: papaya, avocado, banana, lychee trees, coconut groves - Banyans, giant ferns & mysterious vines growing strange fruit..
NOTE:
- there are about 30 STEPS between the street and the house, nothing athletic though (a guest aged 64 yrs old called it "my daily yoga!").
Just be aware: it might be SLIPPERY due to rain, moss, mold.. -
Use the railing, stay focus. Breathe, smile!
- The place is called JUNGALOW:
expect some "uninvited visitors" : insects, lizards, squirrels, birds, butterflies, dragonflies, ants..... etc
Use Natural essential oils, provided
Note: Washing your clothes is NOT allowed in the apartment:
contact us for your laundry .
Guest access
Full access to your "Tree Top Nest", with private access.
SWIMMING POOLS:
We do not have one, but there quite a few nearby (for a small fee)
- BALI WOOD (large park, lounge chairs, small individual pavilions, Kids PlayGround, Gym equipment, Spa, drinks and food - 700M away),
- d'OMAH Bali Penestanan village, 1.5Km away
- SUGAR Villas Restaurant (5km away, Botanic Garden street) sea-salt water: free access if you have your meal there.
- JUNGLE FISH (about 150K incl Buffet food)
- Om Ham Retreat center
=> See the photo album. Enjoy !
Interaction with guests
We prefer to give you privacy, and management will only interact as needed, based on your request or if there is some sort of issue that requires attention.
Want a massage? a Scooter? Car Transport?
Contacting us in advance is best!
Other things to note
Upon Arrival
please provide:
-- HARD COPY of each PASSPORT (NO Xerox, NO printer at Office)
-- settle 25K Rp for your 20 Liter Mineral Spring Water jug: leave payment on yr table inside.
WE KINDLY RECOMMEND:
Please be aware of your neighbors downstairs at the LOFT:
- The NEST has a nice wooden floor, yet SOUNDS travel through it
- Please avoid noises,
- take off your shoes,
- Tread gently - Lift up chairs rather than dragging them
- LOWER your music, lower your voice when talking, or on the phone..
- you can be heard as well as you could hear yr downstairs neighbours.
In case of disturbance, just pls kindly communicate in a polite and respectful way with the other guests.
Expressing one's request with a calm attitude is always best and very much appreciated. Call us only if need be.
MOSQUITOES:
While there is no malaria here, dengue fever is a slight possibility, please get information from the Embassy or online forums.
We provide natural essential oils as mosquito repellent.
You should protect yourself round-the-clock .
BE RESPECTFUL OF BALINESE CULTURE, TEMPLE & CEREMONY RULES:
Whenever attending a ceremony, be sure that you are NOT bare shoulders/chest, avoid wearing short pants or Bermudas.
wear a Sleeved top/shirt, a sarong with a SASH (scarf) tied at the waist
Menstruating women are not allowed on temple grounds.
---
Check In: Anytime after 2PM
Room type: Entire home/apt
---
---
Extra people: 12 / night after 2 guests
Always communicate through Airbnb
To protect your payment, never transfer money or communicate outside of the Airbnb website or app.
Learn more
---
Common spaces
1 queen bed, 2 floor mattresses
---
Not safe or suitable for infants (Under 2 years)
Check in is anytime after 2PM
We believe in responsible, mindful, educated travellers.
Our main rule?   ~;+)    mindfulness IS happiness     ~;+)  
Yet we had to set up a few points, inspired by experience. Kindly please read.  
— Compulsory, upon arrival: a HARD copy of each passport's relevant pages (including children) for Police declaration, for all foreigners 
(sorry, no Xerox machine, no printer at our office...).
- BREAKFAST: self service - consists of:
• Tea, Bali grown Coffee (not 'instant'), creamer, sugar
Mindfulness is about respect and consideration of others and of the environment
Please share our ECO-FRIENDLY approach: 
- Switch OFF lights AND fans before going out!
- Be conservative with your use of WATER, a very precious resource here.
- Washing your clothes in the accommodation is NOT allowed.
=> Contact us for your Laundry (see House Keeper Nr in "HOUSE MANUAL")
• We RECYCLE Metal cans, glass & PLASTIC bottles: keep them SEPARATE from other garbage -
- Use our spring mineral Water 20L dispenser BETTER than buying single-use plastic bottles; 
- We support the Association "Say No To Plastic" = Use fabric bags BETTER than bringing in more plastic, hard to dispose of!
- Our soap (hands, kitchen) are diluted, to LIMIT toxic, harmful waste in our homes, ground water, rivers and streams. 
- Smoking is allowed OUTSIDE only. NOT IN THE ROOM. Please dispose your cigarettes in an ashtray, NOT in the garden.
PETS: We love them. Yet we reserve the right to allow them on the property. Kindly please TALK TO US first.
SAFETY: 
Our place is very safe. Nevertheless, we advise our guests to act in a responsible way: 
- Lock your door & Main Gate, close your windows whenever going out. 
- keep your valuables INSIDE a cabinet, rather than in plain sight - 
- OPEN FLAMES (candles, incense, oil burners, gas cooker...) : 
NEVER leave them unattended for obvious safety reasons, for yourself & others. Make sure to keep them on a metal/glass plate. 
- WATER HEATER is already set up: please do not change it - if need be, contact us asap, our Maintenance man will do it.
- Bring your OWN FLASH LIGHT with you when coming or going after dark. 
- Be aware that pathways and steps can be SLIPPERY. It's a tropical island: Moss, mold, rain, water from rice fields etc, can be expected 
- Please read as well our "Driving tips" section here.
ELECTRICITY, Water, Internet service:
While these are all currently active in the listing, from time to time there can be a LAPSE in their accessibility due to the more primitive infrastructure of services on the island (remember, this is Bali!); 
nothing can be done about this and does NOT constitute a valid reason for cancelling with the expectation of a refund. We appreciate your understanding regarding this.
- USEFUL INFOS:
- Our employees are OFF from 2PM
- AirBnB hosting is NOT like staying at a Hotel:
-> NO 24/7 Reception Desk open for a welcome service
-> Owner and employees do NOT live on-site!
-> Always mention your ARRIVAL TIME so that the KEYS can be organised for you, and access to your accommodation facilitated.
- Make sure to always have with you at all times:
-> Address, directions, distances. landmarks - Contact Nrs.
- >Use our OWN drivers rather than an unknown taxi (who will say: "Yes, yes i know Ubud" but might be unable to locate the place..)
- Addresses in Bali rarely have a clear Nr mentioned on the street,
OR the SAME Nr might exist TWICE in the same street!
Even and odd Numbers are not a concern here: Nr 24 might be next to Nr 103...
Street lights might not operate properly, making it difficult to find the place after sunset
-> Our own drivers know all the short cuts, they know about the KEYS, where are the lights, they have our private contact Nr .
-- Besides they help you with luggage and make sure you are safely in before leaving.
These advices are just meant to assist you, specially if you are a new comer in Bali and S/E Asia... these recommendations remain of course entirely up to you.
---
Strict
Cancel up to 7 days before your trip and get a 50% refund. Cancel within 7 days of your trip and the reservation is non-refundable.
---
---
My partner and I stay 3 night over there, was perfect for us. The place was clean, and calm. Be part of Ubud with local people was amazing and also amazing team first thanks to Tini,Diani,Sukri,and Nyoman, for all the help and advice they give to us. They always been there when we need it. Definitely recommended.
---
Nice home, but a bit out of town - which is nice for quiet and a lovely river at end of steep staircase. The pool in the photos is not at this villa which is quite annoying since our daughter was looking forward to a swim and this a main reason we chose this place. We would have preferred somewhere closer to centre and to places to eat. Taxi is about $9 each way so the value of the stay took a bit of a hit. Plus we found nicer places with a pool close to cafes and centre for half the price (if you book outside air BnB) - most locals don't like the effect of airbnb or uber on their cultural and village life. Next time in Bali we won't use air BnB.
Mr Graham sent just 1 small message (Re bathroom) within their 3-day stay, never communicated with us about anything else. Now we read the critical review, all points could easily have been answered to while they were here. Besides, ALL critics are unfounded, since - QUOTED, copy/pasted from Listing - details ARE clearly given in the listing...! "Nice home, but a bit out of town…. " ".... Taxi is about $9 each way so the value of the stay took a bit of a hit." => Within Listing, in "THE NEIGHBOURHOOD" section: SAYAN, UBUD: one of the most privileged areas of Bali. Accommodation is located 4KM from Ubud. We give the distance in KILOMETERS, an objective mesure, rather than in terms of TIME subjective to speed, traffic… => DRIVERS, OUR OWN TEAM, reliable, safe: List provided in the "HOUSE MANUAL": " > DRIVERS we recommend: - Mr NYOMAN: email + WA Nr - Mr MADE AGUS: email + WA Nr - Mr ASTAWA: email + WA Nr - OJEK (Taxi-Scooter) Ms WAYAN = Mobile + Home Tel Nrs All our team speaks good English." ......." $9 each way " ?? => From JUNGALOW to Ubud centre OUR DRIVERS charge no more than 60.000Rp (= 6AU$), possibly down to 5AU$ when regular trips negotiated over 3 days… Mr Graham has never contacted any of them personally. => Plus, also mentioned : "For all your TRANSPORT NEEDS Please submit ahead of time: - SCOOTER, automatic (60K Rp/D, home delivered, helmets + raincoat); - Bicycle (30K Rp/D ) - TOURS (DownHill Cycling, Volcano trekking...): 1/2 or full Day" To our question Re SCOOTER, Mr GRAHAM wrote: " well a day or two and get our bearings before hiring one" Yet he never did get back to us.. " somewhere closer to centre and to places to eat." => within "NEIGHBOURHOOD" section: "FOODIES: NEARBY, you'll find local places where to eat : - "Made's Warung" 500M away: fresh fish for 25-35K Rp... - "Sayan House": 300M away: great food, great views.. - Food court at "BALI WOOD" (800M away); - GAYA GELATO 50M away, cakes n tropical fruit sherbets ; Trendy places in Penestanan.. delicious food: - "Vespa Cafe", "Kopi Desa", "Alchemy", "Bayu's Kitchen" (live band) and many local warungs all along Jl Raya Sayan. You'll find local shops, mini-markets, fruit and vegetable markets all along the main road. Food delivery is available from a wide variety of places: Bali Buda, Pizza Bagus, Kafe, etc (see our folder in unit). "...a lovely river at end of steep staircase" and in his "private feed Back": "warning of the steep staircase would be good to include in your description." in fact IT IS, before writing, please do take a minute to READ: => in section "THE SPACE" "NOTE: - there are many STEPS between the street and the house - nothing athletic though (a guest aged 64 yrs old called it "my daily yoga!")... " In "Check In Feed Back" Mr Graham writes: "Very dark, steep and slippery walk to the entrance -". => YET here again, in HOUSE Manual section: "Remember -- Bring Your own FLASH LIGHT" This advice ALSO sent via thread on Airbnb to Mr Graham, email dated 3 May 2017. We DO regularly replace bulbs in the lane, yet Reason why we mention to "Bring Your own FLASH LIGHT" is that the new bulbs keep either "disappearing", or taken as easy targets by kids with sling shots… => PLUS, in section ' THE SPACE": "just be aware that it might be slippery due to rain, moss, etc - Use the railing, stay focus. Breathe, smile!" BALI is tropical, wet, humid, rainy season is Oct-May/June, sorry can't move our position on the planet, nor change the weather…! Not mentioned by Mr Graham though: their plane landed with OVER ONE HOUR delay, however Mr Astawa, our driver, patiently waited at the Main exit, delaying his own return to his family home… we very much appreciate his dedication to our clients. "The pool in the photos is not at this villa which is quite annoying since our daughter was looking forward to a swim and this a main reason we chose this place." and AIRBNB writes to us in the "Accuracy feedback" section: "Your guest mentioned some issues that weren't accurately reflected in your listing description: photos. Additional comments [by Mr Graham]: "Photo of pool in description was from a different property". => THIS generated a serious issue for us as a small family business; we had to respond so as to avoid any penalty, sending a copy/paste of our description, adding the captions as mentioned below: => in "GUEST ACCESS" section: SWIMMING POOLS: We dont have one, [should we write we DO NOT have a pool"? in bold capitals?] but there are many nearby (fee about 40-50K Rp/day) - BALI WOOD (large park, individual pavilions, Kids PlayGround, Gym equipment, Spa, drinks and food - 700M away), - SAYAN TERRACE, 600M away - d'OMAH Bali Penestanan village, 1.5Km away - SUGAR Villas: Sea-salt water (Botanic Garden street, free access when meal there). - JUNGLE FISH overlooking jungle (fee 150K incl Buffet food) - Om Ham Retreat Center, Yoga + X LARGE POOL See the photo album." However, Mr Graham apparently has NOT, since ALL pics have CAPTIONS, example: "SWIMMING POOL AT 'SAYAN TERRACE' RESORT, JUST 300M AWAY" "Swimming Pool at Jungle Fish" Resort, near by" "swimming pool at BALI WOOD, just 500M away" "SWIMMING POOL + YOGA CLASSES AT OM HAM RETREAT CENTER. JL TIRTA TAWAR (BOTANIC GARDENS STR)"…. --- no reason then to believe that there IS a pool here, IF there was one it would be mentioned WITHIN listing, and why would we then show other pools…?! So that we are really sorry for the child, yet we can't take responsibility for this misinterpretation. Kind advice: - Before booking, please do take a minute to READ, incl captioned pics... is this space right for you? - Before Reviewing, make sure to re-Read: any infos escaped yr attention, by any chance? Thank you for caring.
---
We had a lovely stay at this fairytale-like little intimate house. We cooked nice little dinners on the stove, dimmed the lights, lit candles bought a local wine at the supermarket just 5 minutes away by bike, and had a wonderful time here.
AH the TREE TOP NEST JUNGALOW qualified as a "fairytale-like little intimate house"? is a most appreciated description of the place, we LOVE it! Hakim must have the soul of a poet and be a nature lover, and it is what the Jungalow reveals to everyone's sensitivity. It is a great pleasure to hear that you had romantic dinners here and a "wonderful time". Please do comeback anytime !
---
This place is simply a tropical paradise. I could have spend days just listening the sounds of the tropical forest and looking at the amazing view. Getting to the location requires climbing few deep steps. So try to avoid huge heavy luggage when going to Tinis tropical paradise. I for one hope to return soon!
---
This place is creepy and far from central Ubud. So we have to go home before night. The main road / stairs to jungalow was very dark and slippery at night. We booked Jungalow nest for two nights, and hope to never coming back again. All I can say, there was ghost spirits haunting the Jungalow. Please get rid of "scary old" furnitures at the Jungalow, like Buddha statue in the garden, nude lady painting (I think her eyes can moves by itself), tiny statue in kitchen, near bed and dining table, also old mirror and old cupboard. We hate those wooden floor cause the sound really bothering us day and night. Add TV to make your place "warmer" and better request your employees to stay/sleep at house to make your jungalow less creppier, and (of course) add more lamps / lighting. It is very dark at night to reach jungalow. We never meet Tini, but she help us getting there. The hot water didn't work well. And the worst part, we heard noise sound downstair, when no one staying there. This is totally nightmare!
The Jungalow is as described, 4Km away from UBUD, we are very honest in the listing and give distance in Km rather than in terms of time - There are Lights all along the steps, and all along the lane within the property; maybe the guest didn't think of using them - as mentioned in the listing, the steps can occasionally be slippery: this is a tropical country, mould and moss happen after it rained. As to the furniture, paintings in the bedroom (by a Javanese lady artist), Buddha statue, Carved teak cabinets, wooden sculptures, etc: every piece has been handpicked by the owner, they are beautiful antiques, gathered and collected over a period of ten years - We are sorry but do not intend to "add TV ". Guests who come here prefer to spend time contemplating the beauty of the surrounding jungle, rice fields, river valley, rather than watching news on a screen. We never heard anybody mention about ghosts or spirits haunting the place...! ;>) What you have heard is possibly rather sounds coming from the Jungle Pheasants (they have a funny shriek and fly low with a long chocolate brown feathered tail), or maybe it was our usual visitors: a beautiful grey owl, or squirrels who come to the garden .
---
The place was great but we would've preferred to have more contact with the host, as we never met him.
When guests stay a very short time, its not always easy to meet them: we manage seven other houses in various locations, we come to visit and the guests are out. we are busy indeed and we do our best to meet you, most of the time it works, sometimes not - But Diani and Putu our lovely housekeepers are offering time to have a little chat and exchange infos !
---
I am a Balinese woman married with two young sons; I work as a Cook, House Keeper and Masseuse, so that keeps me busy...
My husband used to work on cruise boats, his English is quite good, he is a driver and takes care of the Scooters.
We are a great Team!
As a small family business, we like to make our guests enjoy their stay, making sure the house is clean, the garden trimmed, transport organized safely.

We are more than happy to welcome you here!
Languages:
Bahasa Indonesia, English
Response rate:
100%
Response time:
within a few hours
Exact location information is provided after a booking is confirmed.
Explore other options in and around Ubud
More places to stay in Ubud: